WPF Holiday Party
Wednesday, January 11
11:30 am - 1:00 pm
Ridglea Country Club
3700 Bernie Anderson Ave
Fort Worth, TX 76116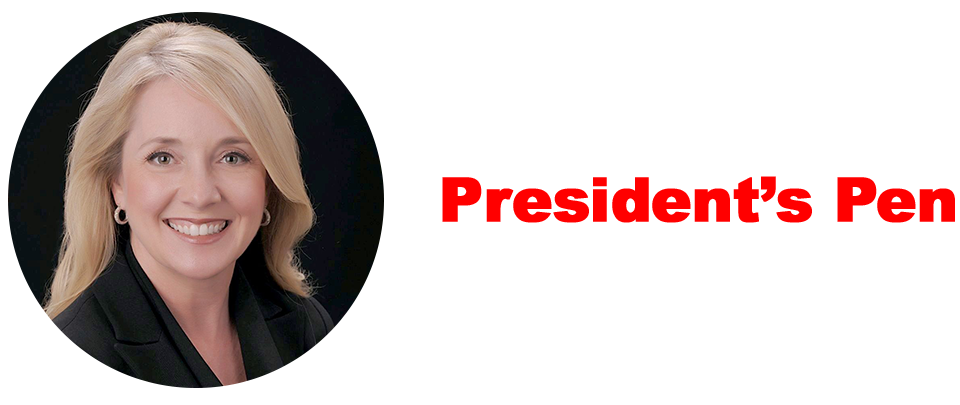 Life should not be a journey to the grave with the intention of arriving safely in a pretty and well-preserved body, but rather to skid in broadside in a cloud of smoke, thoroughly used up, totally worn out, and loudly proclaiming "Wow! What a Ride!"
- Hunter S. Thompson

Happy New Year everyone, it's 2023! The last few years have been, well, challenging. But not to worry, we all have the chance to do it again, as Oprah shares "Cheers to a new year and another chance for us to get it right."
What is your word of the year? Give it a thought. How do you want to show up, be seen, accomplish, and make steps forward to that big goal? I chose "Audacious". Let's support one another living in our word of the year.
Our first highlight of the new year will be hearing from former Senator Beverly Powell during our January 11th luncheon. Beverly will share her experiences as a female legislator working to pass legislation for the betterment of our communities and in the minority. All, be ready with your questions, nothing is off the table.
Michelle Crim, Chair-elect and Program Chair will continue bringing amazing speakers for us to learn, stretch, think twice and encourage conversation... In advance, Michelle thank you for your service to our mission.
December was busy with our Holiday Luncheon followed by our annual board retreat, where our board members discussed and identified opportunities to increase membership participation. Our board supports the creation of two new committees: Marketing/Social Media and Awards & Recognitions. This month, be on the lookout, via email a short WPF survey will be sent to you. Be sure to select the committee you would like to participate on:
Marketing/Social Media
Membership
Awards & Recognitions

Also, at our January luncheon we will unveil our new Women's Policy Forum logo, and our new Marketing/Social Media Committee will be ready to spread the word!
I look forward to working with each of you and I am open to your comments and suggestions on how we continue to engage and impact our community. Feel free to contact me.
Wishing you and your family a happy new year filled with hope, health, and happiness - with a generous sprinkle of fun!
Fight for the things you care about but do it in a way that will lead others to join you.
- Ruth Bader Ginsburg


Rebecca Montgomery
Women's Policy Forum Chair

Monthly Membership Meeting
11:30 am - Registration
11:45 am - Lunch Service
12:00 pm - Program
Cost per person is $35. Unpaid no-shows will be billed.

We recommend wearing a mask if you are not fully vaccinated.
Thank you for your consideration of fellow members.
WPF is a non-partisan educational and networking organization. Views expressed in presentations are those of the speaker and do not imply endorsement by WPF.
Senator Beverly Powell is a fourth generation Texan, a determined advocate for public education, and a successful real estate professional and small business owner.
A graduate of Texas public schools and the daughter of a respected public school teacher, Beverly is committed to quality educational opportunities for all Texans. As a former Senator and a former school board president, Beverly is a respected leader on education issues. During her first session, Beverly worked across party lines to pass historic school finance reform, increase teacher pay, and reform Texas' controversial standardized testing system.
As a non-traditional student and working single mother, Beverly went back to college at 39, graduating from her parent's alma mater, Texas Wesleyan University, with a BS in Psychology and an MBA. Her commitment and belief in the power of higher education earned Beverly a position on the school's Board of Trustees. In the Senate, she worked to promote higher education and career training. Beverly passed the Texas WORKS program to provide on-the-job training opportunities for students enrolled in Texas universities.
The daughter of a highly decorated World War II veteran and the granddaughter of a Gold Star Family, Beverly's legislative priorities are influenced by her life experience. She led efforts to preserve the Operation Welcome Home Program for returning service members and authored legislation to streamline loan funds for military communities.
Senator Powell and her husband Charlie are involved in civic organizations throughout Tarrant County and are active in their church. The Powells are parents to three sons and have seven grandchildren.
Congratulations to Elva LeBlanc for being named Chancellor of Tarrant County College!
Tarrant County News & Announcements
Future Businesswomen Participate in Largest Girl-Led Entrepreneurship Program in the World

Each January brings Girl Scouts to storefronts across the area selling famous Girl Scout Cookies. To the buyer, the package of cookies is a delicious snack, but to a Girl Scout, that package of cookies means opportunities. Girl Scouts learn the necessary skills to run a business of their own and reap the rewards from a successful cookie program.
Because of the cookie program, Girl Scouts travel throughout Texas, the US, and even the world. They give back to their community through Cookies for Heroes, donating cookie packages to local first responders and hospital staff. Girl Scouts have their first experience of being successful entrepreneurs through the Girl Scout Cookie Program.
Girl Scout Maile, from Troop 7302, explains why the Girl Scout Cookie Program is important to her. "I sell Girl Scout Cookies because of everything I do with younger Girl Scouts at our cookie booths. I can teach them money management and life skills that they can bring on as they get older and start selling more on their own. Also, learning how to talk to people is a very useful skill. If you have some younger Girl Scouts who are shy, you can show them how to have more courage to talk to others."
This year, when you see a Girl Scout Cookie Booth in your neighborhood, stop and ask the Girl Scouts what their goals are, how they plan to utilize their Cookie Bucks, and thank them for learning how to run a business. Learn more about Girl Scouts and where to find a Cookie Booth near you by visiting www.gs-top.org.
The Girl Scout Cookie Program runs from January 13 - March 5, 2023.
North Texas Community Foundation's 2023 ToolBox grant cycle opens on January 4th. The grant cycle will provide capacity-building support to eligible Tarrant County-based nonprofits in order to improve their strength and stability.

Click here for more information
WPF Board Meeting

Thursday
January 19, 2022
4:00 p.m. - 5:00 p.m.
Virtual Event Via Zoom

Join our Facebook Page


 Women's Policy Forum has a public Facebook page and a Facebook group for members only. Only members will see posts on the Facebook group site. This is an opportunity for you to let members know of upcoming events, provide links to articles about important issues, or provide other information valuable to WPF members. Members must have a Facebook page, which is free, to participate.
Send news or announcements to Lacey Chenault at [email protected] by the 20th of the month. Submissions are subject to the guidelines for posting per the WPF Social Media Policy and must be received by the 20th of the month in order to be considered.


Send website edits or suggestions to Lacey Chenault at [email protected]
 
Mission Statement
The Women's Policy Forum is an organization of influential women
who investigate and support policies and initiatives that will effect positive
change for Tarrant County women and our community.
Women's Policy Forum
P.O. Box 11246
Fort Worth, Texas 76110

All information herein is for your information only and does not necessarily reflect the viewpoints of the Women's Policy Forum.
Unsubscribe