Membership Meeting
Paige Charbonnet | LVT Rise
Wednesday, September 14, 2022
11:30 a.m. - 1:00 p.m.
Ridglea Country Club
3700 Bernie Anderson Ave.
Ft Worth, TX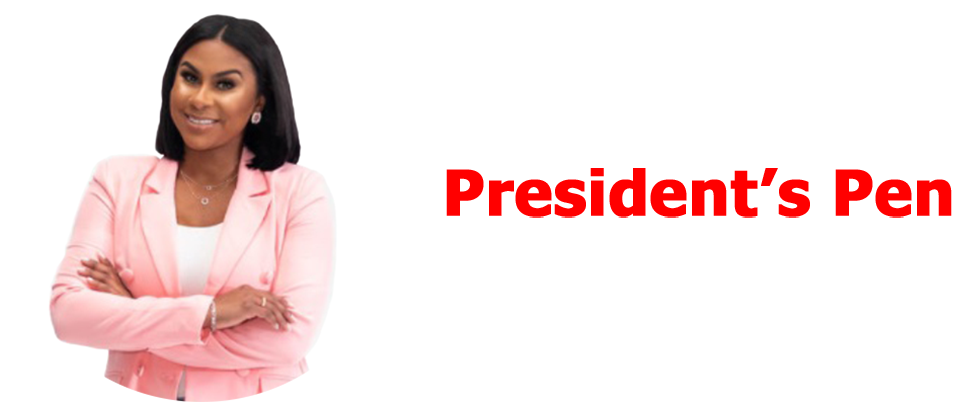 Greetings,
Welcome to September, one of my favorite months of the entire year. It is by no surprise that many workers gain a much-needed day off to celebrate the labor they have provided all year long. This month also marks the first official sign of the Fall season. School has started, the weather may finally cool down, and pumpkin spice aromas begin to fill every coffee shop you enter.
Aside from being so excited to welcome this month, I am reminded of just how quickly the year and the time for productivity fly by. Hopefully, Women's Policy Forum has provided you with valuable programs and resources to assist you with advancing advocacy efforts throughout your communities. Our goal is to make sure you connect and serve in the areas that inspire you the most.
This month we will hear from an organization impacting many lives in the West Fort Worth area. From community services, school-based programming, and workforce development initiatives, LVT Rise continues to make a difference for those in need and create a path forward to a better future.
As we near the final quarter of the year, we have so many events scheduled, including our New Member Mixer and our Annual Emerging Issues Symposium. The new member mixer will give all new members a chance to meet our board of directors, committee chairs, and fellow Women's Policy Forum members. We are so excited to be welcoming this in-person event back to our calendar and look forward to meeting all new members from 2021 and 2022.
The Emerging Issues Symposium is almost here and, like many of our symposiums, we are tackling a topic that has affected us all at some point or another. With facing national crises, global pandemics, and the rising cost of daily expenses, our mental health is constantly under attack. This year we will hear from experts sharing the importance of remaining mentally balanced and identifying resources that benefit those who are most at risk. Be sure to save the date for November 11th and visit the Women's Policy Forum website for updated information and to register.

As always, be sure to like and follow the Women's Policy Forum Facebook page to stay up to date and see all the happenings in our organization. I look forward to seeing you all on September 14th.

Thanks,
Karmen Rubin
Women's Policy Forum Chair

Monthly Membership Meeting
Paige Charbonnet | LVT Rise

11:30 a.m. - Registration
11:45 a.m. - Lunch Service
12:00 noon - Program

REGISTER HERE

Cost per person is $35. Unpaid no-shows will be billed.


We recommend wearing a mask if you are not fully vaccinated.
Thank you for your consideration of fellow members.

WPF is a non-partisan educational and networking organization. Views expressed in presentations are those of the speaker and do not imply endorsement by WPF.
2022 Emerging Issues Symposium
WPF Emerging Issues Symposium | Friday, November 11, 2022

Location: The Nick and Lou Martin University Center at Texas Wesleyan University
1205 Wesleyan Street, Fort Worth, TX 76105


Click here for sponsorship opportunities




The Symposium Committee meets monthly on the 3rd Wednesday of each month. Please join in the planning for the event either at the committee level or the overall level. Zoom meeting invitations will be sent by the WPF Administrator and notes for each meeting are delivered shortly after the meeting. Dates for upcoming Symposium full committee meetings (all meetings begin at 5:30 pm) are: September 21 and October 19.
For updates on the project visit the website.


Please never hesitate to reach out if I might provide additional information or be of assistance.


Cell: 817-366-3319
Email: [email protected]



Gratefully,
Cathy Neece Brown
2022 Symposium Committee Chair



Zoom Link for September 21st Meeting:
https://us02web.zoom.us/j/82540719128?pwd=QUFPamdoYnl3MXdvVXNHQkkvbnhrdz09
Carol Cooper has led an accomplished career as a Catastrophe Adjuster for State Farm Insurance, where she traveled around the country assisting people affected by natural disasters. She is an active member of the Psi Zeta Chapter of Zeta Phi Beta Sorority and Altrusa International.

Welcome, Carol!
The Girl Scouts of Texas Oklahoma Plains honored WPF member Sandy Kautz for 80 years of membership. They are honoring her by changing the name of their office to the Girl Scouts of Texas Oklahoma Plains Sandy Kautz Leadership Center.
Sandy is a long-time member of Women's Policy Forum, as well as a leader in the Fort Worth Community and the Girl Scout Movement.


Congratulations, Sandy!
Sharen Wilson, Tarrant County Criminal District Attorney, was honored by Guardianship Services as their 2022 Colleen Coltron Award Recipient.

Congratulations, Sharen!

Tarrant County News & Announcements
Honoring those who have made significant contributions
to the arts in Fort Worth


Arts Fort Worth invites you to join us for the 10th Annual Heart of Gold Awards Luncheon! We host this special event to focus on community leaders who have made a difference in the arts community.
Wednesday, September 21, 2022, 11:30 a.m.
McDavid Studios at Bass Hall 301 E 5th St, Fort Worth, TX 76102
Honoring Louise Appleman and Ginny Tigue
The Heart of Gold Awards Luncheon wouldn't exist if not for the vision and passion of this year's honorees, Louise Appleman and Ginny Tigue. Ten years ago, these two incredible women saw an opportunity to bring together others who are passionate about the arts for an event which would support the arts at a greater level in Fort Worth - and the Heart of Gold Luncheon was born! Louise and Ginny are leaders whose impact continues to benefit Fort Worth in far-reaching ways.
Do you know someone who is interested in a career in the food service industry?
Fort Worx is recruiting for an "Earn as you Learn" job training program. Participants are paid $12.50/hour for on-the-job learning of the fundamentals of food preparation. Graduates receive job placement and are eligible to continue education in The Culinary School of Fort Worth's apprenticeship program.
The next class begins on October 10, 2022.
The Fort Worth Botanic Garden invites guests to celebrate Hispanic Heritage Month from September 15 to October 15 during ¡Celebramos!, a series of events in the Garden celebrating Hispanic culture.

"This year ¡Celebramos! offers new additions to the lineup following last year's successful inaugural series," said CEO and President Patrick Newman. "Celebrating the rich heritage of one of our many diverse communities is a reinforcement of our commitment to serve and be welcoming to all."
When entering the Garden during Hispanic Heritage Month, guests will be greeted by a colorful art display, turning the Leonard Courtyard into the Garden's own version of Frida Kahlo's La Casa Azul in Mexico City. The final ¡Celebramos! event will be an evening for adults. "An Evening at Casa Azul" will feature food, drinks, and music.


WPF Board Meeting

Thursday
September 15, 2022
4:00 p.m. - 5:00 p.m.
Virtual Event Via Zoom

Join our Facebook Page


 Women's Policy Forum has a public Facebook page and a Facebook group for members only. Only members will see posts on the Facebook group site. This is an opportunity for you to let members know of upcoming events, provide links to articles about important issues, or provide other information valuable to WPF members. Members must have a Facebook page, which is free, to participate.
Send news or announcements to Lacey Chenault at [email protected] by the 20th of the month. Submissions are subject to the guidelines for posting per the WPF Social Media Policy and must be received by the 20th of the month in order to be considered.


Send website edits or suggestions to Lacey Chenault at [email protected]
 
Mission Statement
The Women's Policy Forum is an organization of influential women
who investigate and support policies and initiatives that will effect positive
change for Tarrant County women and our community.
Women's Policy Forum
P.O. Box 11246
Fort Worth, Texas 76110

All information herein is for your information only and does not necessarily reflect the viewpoints of the Women's Policy Forum.
Unsubscribe