Membership Meeting
Mayor Mattie Parker
Wednesday, August 10, 2022
11:30 a.m. - 1:00 p.m.
Ridglea Country Club
3700 Bernie Anderson Ave.
Ft Worth, TX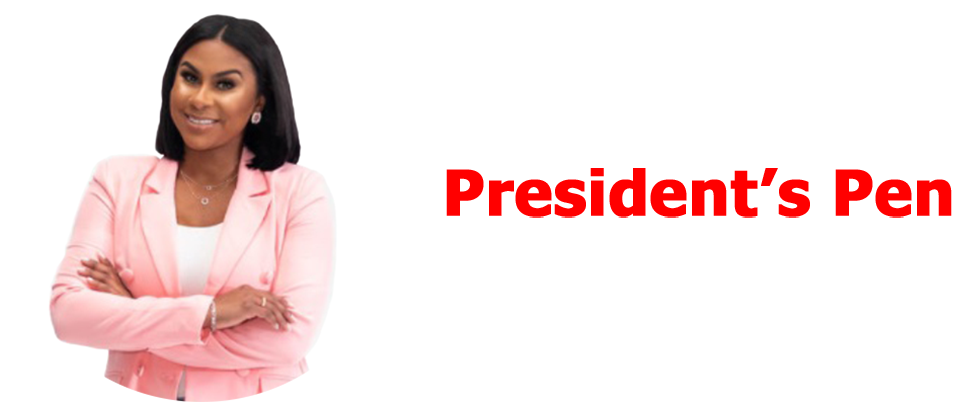 I recently watched a TED Talk, as I often do while sitting at my desk working, and one phrase shared by the speaker resonated with me so much that I had to stop and ponder for a while. The statement was "an injury to one is an injury to us all." This notion, that we are better together, has always been my belief but I guess the words were so much richer this time because I was hearing someone else validate what I believed was true.

What we say matters. Our spoken words are the key factors in defining new pathways for our communities and generations to come. As many Americans face the harsh realities threatening our country each day, I encourage you to remain vocal and be able to empower those around us. It is important to remember that no matter what resources you have or lack, feeling empowered to use and maximize what you have makes all the difference.

Education is one of the many avenues to encourage future leaders to use their voices and talents. As many begin a new school year this month, I want to remind you of the importance of investing in others and being a support to those in need, even if it's just a listening ear followed by a few words of encouragement. The impact you can have on someone's mental state is incredible.

To make sure we are providing you with relevant resources that help combat mental health challenges, our theme for this year's Emerging Issues Symposium is Mental Health Awareness. The new date is November 11th so please mark your calendars and look for more information on how to support and attend the event. The Women's Policy Forum plans and produces the symposium each year, with proceeds benefiting the Women's Policy Forum Foundation, whose purpose is to raise awareness and distribute funds to organizations that impact women and girls.
This month I am excited to hear from Fort Worth's very own, Mayor Mattie Parker, as she shares how the city of Fort Worth is empowering community members and leaders to have a positive impact for years to come. She will share with us the grand initiatives the city of Fort Worth is leading and the implementation of programs that will benefit our communities.

As a reminder, we are in a peak season of COVID, and I want to caution you to stay safe and take the necessary steps to remain healthy. We are watching our registration numbers for this month's luncheon and will have masks and sanitizing items available.
Stay up to date by liking our page on Facebook, sharing the newsletter with a friend, and visiting the website regularly!

Best,
Karmen Rubin
Women's Policy Forum Chair

Source: TED Talk. Racism has a cost for everyone. Heather C. McGhee

Monthly Membership Meeting
Mayor Mattie Parker

11:30 a.m. - Registration
11:45 a.m. - Lunch Service
12:00 noon - Program

REGISTER HERE

Cost per person is $35. Unpaid no-shows will be billed.


We recommend wearing a mask if you are not fully vaccinated.
Thank you for your consideration of fellow members.

WPF is a non-partisan educational and networking organization. Views expressed in presentations are those of the speaker and do not imply endorsement by WPF.
Mattie Parker was elected in June 2021 as the 45th Mayor of Fort Worth. Leading one of the fastest-growing large cities in the nation, Parker has set her focus on key issues that move Fort Worth forward including economic development growth, innovative transportation, and mobility solutions, quality education opportunities for every student, and building safer, more prosperous communities.
Parker is a licensed attorney, with more than seventeen years of experience in national, state, and local public affairs, including her service as the chief of staff for Mayor and the Fort Worth City Council where she helped shape major policy decisions on a variety of complex issues. She was the founding CEO of Fort Worth Cradle to Career and the Tarrant To & Through (T3) Partnership.
Originally from Hico, Texas, Parker graduated from the University of Texas at Austin with a Bachelor of Arts in government and has a law degree from Texas A&M University School of Law where she was awarded the prestigious MacLean & Boulware Endowed Law Scholarship.
She and her husband, David, are raising their family, one daughter, and two young sons, in Fort Worth.
2022 Emerging Issues Symposium
WPF Emerging Issues Symposium | Friday, November 11, 2022
Please note the date change to Friday, November 11th
Location: The Nick and Lou Martin University Center at Texas Wesleyan University
1205 Wesleyan Street, Fort Worth, TX 76105

Click here for sponsorship opportunities
The entire Symposium Committee meets monthly on the 3rd Wednesday of each month. Please join in the planning for the event either at the committee level or the overall level. Zoom meeting invitations will be sent by the WPF Administrator and notes for each meeting are delivered shortly after the meeting. Dates for upcoming Symposium full committee meetings (all meetings begin at 5:30 pm) are: August 17, September 21, and October 19.
Please never hesitate to reach out if I might provide additional information or be of assistance.
Cell: 817-366-3319
Email: [email protected]


Gratefully,
Cathy Neece Brown
2022 Symposium Committee Chair


Zoom Link for August 17th Meeting:
https://us02web.zoom.us/j/85217374312?pwd=em9mdU4vZG5qZ2dmL1dkUWFIRXg1Zz09
Patricia Ward works with several nonprofits in the area of affordable housing and community development, helps feed the homeless through outreach from All Saints, and is a member of Citizens on Patrol. She served on the COC board for several years and had the significant role of Director of Community Development/Housing for 29 years. Patricia was awarded the Roy Hoover Award, a national award for community development.
Welcome, Patricia!
Natalie Taylor graduated from Texas State University with a Bachelor in Science of Nursing in 2016 and has been a registered nurse since then. She worked in the ER for 2 years, the CVICU for another 2 years, and ended her bedside RN job as a travel COVID ICU nurse in June of 2021. Currently, she is in a doctorate of nursing practice anesthesia program for CRNA school at TCU. In her nursing career, she has used her platform and education to travel all over the hospital helping other nurses with their patients and training. Recently she was selected for a highly competitive opportunity to travel to Moscow, Idaho, for specialized training and education. Natalie also serves as a volunteer with Planned Parenthood and the Tarrant County Democratic Party.

Welcome, Natalie!
Congratulations to Dr. Elva LeBlanc, who was appointed Interim Chancellor at Tarrant County College!

Tarrant County News & Announcements
Fort Worth Botanic Garden is hosting Dog Days in August

The dog days of summer have arrived. Enjoy the Garden with your pup for an entire weekend! This Dog Days weekend will be held on August 20th & 21st, 8 a.m. – 1 p.m. Hydration stations for dogs will be provided by the Garden across campus.
Honoring those who have made significant contributions
to the arts in Fort Worth


Arts Fort Worth invites you to join us for the 10th Annual Heart of Gold Awards Luncheon! We host this special event to focus on community leaders who have made a difference in the arts community.
Wednesday, September 21, 2022, 11:30 a.m.


McDavid Studios at Bass Hall 301 E 5th St, Fort Worth, TX 76102
Honoring Louise Appleman and Ginny Tigue
The Heart of Gold Awards Luncheon wouldn't exist if not for the vision and passion of this year's honorees, Louise Appleman and Ginny Tigue. Ten years ago, these two incredible women saw an opportunity to bring together others who are passionate about the arts for an event which would support the arts at a greater level in Fort Worth - and the Heart of Gold Luncheon was born! Louise and Ginny are leaders whose impact continues to benefit Fort Worth in far-reaching ways.
Tarrant Area Food Bank is now accepting applications for its new Junior Ambassador Program. The program is an opportunity for high school seniors who are enthusiastic about ending hunger and want to engage in advocacy efforts, become knowledgeable about TAFB's work, receive hands-on leadership training and earn community service hours. The program culminates in a student-designed project that is presented to Tarrant Area Food Bank's senior leadership team. Participants are eligible to receive priority selection for paid internships next summer at TAFB.


For any questions, please contact Viviana Martinez, Youth Programs Coordinator
817-857-7154
[email protected]
WPF Board Meeting

Thursday
August 18, 2022
4:00 p.m. - 5:00 p.m.
Virtual Event Via Zoom

Join our Facebook Page


 Women's Policy Forum has a public Facebook page and a Facebook group for members only. Only members will see posts on the Facebook group site. This is an opportunity for you to let members know of upcoming events, provide links to articles about important issues, or provide other information valuable to WPF members. Members must have a Facebook page, which is free, to participate.
Send news or announcements to Lacey Chenault at [email protected] by the 20th of the month. Submissions are subject to the guidelines for posting per the WPF Social Media Policy and must be received by the 20th of the month in order to be considered.


Send website edits or suggestions to Lacey Chenault at [email protected]
 
Mission Statement
The Women's Policy Forum is an organization of influential women
who investigate and support policies and initiatives that will effect positive
change for Tarrant County women and our community.
Women's Policy Forum
P.O. Box 11246
Fort Worth, Texas 76110

All information herein is for your information only and does not necessarily reflect the viewpoints of the Women's Policy Forum.
Unsubscribe