Spring 2023
Spring is Here 🌷🌷🌷
Melting snow, longer days, and sunshine herald the coming of a much-awaited Spring bringing warm weather and a return to the outdoors.
Non-profit organizations welcome warm weather with a myriad of outdoor fundraising opportunities from marathons to art shows, concerts, and the ever-popular charity golf tournaments.
Golf tournaments, almost always coupled with a silent auction, remain a popular fundraising option. Golf is a popular pastime and golf events are relatively easy to plan and manage with the help and organizational skills offered by most golf courses.
In the past, golf auction events were limited by the number of golfers participating in the event - sometimes joined by dinner guests - and the challenge after a round of golf at a busy social event to check out the auction items and place bids.
All that has changed now with mobile and online silent auction options making it easier to set up and manage auctions while serving a larger group of bidders. If you are planning a golf fundraiser this year, check out the MobilBid Golf Fundraiser tip sheet by clicking here.
The Impact of Canada's Charity and Not-for-Profit Sector
Earlier this year the Canadian Charity Law website published a blog highlighting statistics on Canada's charity and non-profit sector for 2023. The website owner is Blumberg's Professional Corporation, a Toronto law firm specializing in legal services and advice to Canadian non-profits and registered charities.
The blog, written by Mark Blumberg, reinforces the startling impact that charities and non-profits have on the Canadian economy and on Canadians in general. His blog states that the registered sector of non-profits in Canada stands at 86,000 organizations. It also points out that an estimated 80 – 100,000 non-profits are not registered.
Market Partner
Tracey James is President, and Chief Fundraising Ninja at Silent Auctions Canada, a full-service charity auction company located in Newmarket, just north of Toronto. When asked what changes she's experienced in the auction business over the past five years, she'll pause briefly, then eagerly share the challenges and changes Tracey and her company have made to deal with the new reality of fundraising and charity silent auctions.
Tracey left a successful marketing and purchasing career in the fashion industry to fulfill her need and desire to help those in the non-profit sector. First joining Silent Auctions Canada as a co-owner, she became president in 2020.
Fundraisers ask…
"Why should we use MobilBid for our charity silent auction?"
We've found the best response doesn't include a detailed discussion of advanced technology or a long list of features. The question they're really asking is -
"What are the benefits of using MobilBid and how do these benefits help us reach our fundraising goals?"
Our value statement:
"MobilBid is designed to help non-profits improve their silent auction fundraising proficiency and results, by reducing tedious auction setup and management time while boosting bidder engagement with an easy sign-in, bidding, and payment, experience."
MobilBid auction setup is straightforward using step-by-step video instruction coupled with proactive support. During the auction, scheduled messaging, bidding, and out-bid alerts flow with no manual assistance.
Real-time reporting during the event lets administrators monitor and manage the auction. An enhanced bidding experience for both in-person and virtual bidding encourages participation from a wider audience.
Pre-set opening and closing times with custom messaging allow the auction to run itself, so organizers can focus on other tasks.
With minimal setup, the platform automatically closes the auction, generates invoices, and processes payments. Guests are spared long waits for billing and payment. While staff avoids the usual closing confusion.
Extensive reports in multiple formats eliminate tedious manual assessment of results and helps planning of the next event.
Each year hundreds of non-profits, of all sizes, use MobilBid to achieve and surpass their fundraising goals."
🛠 MobilBid Setup Tips ⚙️
Unlike many silent auction platforms, MobilBid has no restrictions on the number of bidders, auction items, or length of the auction. This relieves users' concerns about additional payments for breaking any bidder participation, items, or time limitations.
We Have a Quick Favour To Ask of Our MobilBid Clients
Would you be willing to provide a brief review of your experience using MobilBid on the popular business-to-business software reference website, Capterra? Your opinion is valuable in helping us understand your needs while helping others like you contemplate the pros and cons of various fundraising software options.
To submit a review, Click Here or the button below.
Thank you for supporting MobilBid.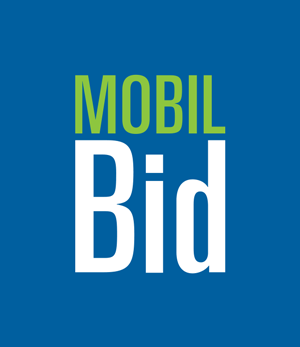 MobilBid
199 Albertus Avenue, Toronto
Canada
Helping those who help others