Summer 2022
Finally, Summer 2022…
This year, summer heralds the reinstatement of in-person gatherings as NPO's, and charities adjust to the new landscape of fundraising. Folks are looking for reasons to gather and fundraisers are looking for people. 
Further to our spring article highlighting how MobilBid can help with your golf fundraiser. Here's a quick tip on how to improve your results at a golf gathering or any summer event.  
Simply open your event to a wider audience through publicity, social media, and local advertising. Hybrid events are here to stay.
MobilBid is perfect for your summer events, easy to setup and manage. Billing and closing are a snap. 
Happy Summer 😎
A Canadian Company
MobilBid is an all Canadian product of Toronto-based software technology company Net Directories Inc. that has been helping non-profits for more than 20 years.

Designed With the Help of Expert Fundraisers
MobilBid was designed to meet the needs of non-profits and professional fundraisers. With their consultation and help, we developed a new, easy to use, full featured, smartphone-based silent auction bidding platform.

We Set Out to Tackle 3 Key Silent Auction Problem Areas
Encouraging guests to sign in. Keeping bidders engaged. And the big one – closing, invoicing, and payment. All improved? Yes.
For the past two years, with the cancellation of live events, the convenience, versatility, and advanced features offered by MobilBid have helped make it the go-to platform for virtual and hybrid charity silent auctions. Lately, we've discovered that many of our newer clients and prospects don't associate MobilBid with in-person fundraising events.
We offer a brief refresher.
MobilBid was designed specifically for in-person events. We listened carefully to our experienced fundraiser advisors. As a result, we included features such as leaderboards projected on a large screen with or without sponsor recognition, instant out-bid alerts, easy sign-in, assisted bidding when requested. We now offer a new a new feature. The convenience of printing item information sheets to be displayed with the auction items on display.
Combining these features with the ease of smartphone bidding, quick response to outbid alerts, and the convenience of lineup-free closing. Invoices are generated automatically when the auction closes, and winning bidders can pay from their phones. Bidders who prefer, can participate using a computer.
An advanced option requests credit card information as bidders place their first bid. Upon close, the cards of successful bidders are processed automatically, and they are sent a receipt used to claim their item. Presto no lineup.
As well, many fundraisers are now opening their live auction events to a wider audience. Combining a live event with a virtual event means attracting more participants, increased bidding, and better results. Enjoying the best…and the rewards of both worlds.
The following article A Quick Guide to Non-profit Website Redesigns [+Best Practices] is timely as many charities and NPO's are resetting and developing new practices. The guide highlights not only the important phases of the website project, but also the common hazards of the project.
HubSpot is a well-respected American company that develops and markets software products to support and improve inbound marketing, sales, and customer service.
This includes among other areas, social media, website design, SEO, analytics, and content management. The company is a valuable source of blogs, articles, and downloadable resource materials.
Enjoy
Top Three Reasons Why MobilBid Chose Amazon Web Services (AWS)
Because Amazon Web Services is Amazon Web Services
AWS is the leading cloud computing service provider on the planet with a reputation for innovation, dependability, security, and efficiency. A list of AWS clients includes Netflix, LinkedIn, Facebook, BBC, Disney, BMW, Harvard University, Dow Jones, Pfizer…and the list goes on…AWS serves more than one million users. That's why we chose AWS. And this is a great list to be part of.

Security
AWS provides the highest possible level of security. A level that can't be matched by most companies hosting their own servers. AWS maintains data centres across the globe that are monitored and maintained around the clock and managed by a fleet of highly trained technical personnel. MobilBid chose AWS not just for reliability but to ensure the safety and security of our client information.

Scalable Cost Structure
The cost of using AWS is based on use. This means that rather than customers estimating, committing to, and then paying for, services to meet their anticipated maximum needs. Cost is based only on the computing power that is actual used. This feature alone, allows MobilBid to provide clients with the highest possible level of computing service AWS provides, at the best possible price. The savings cost is reflected in our client pricing.
Questions? Check out Amazon Web Services
🛠 MobilBid Setup Tips ⚙️
Just in time for the return of in-person events. We now offer a new convenience feature that lets organizers print auction item information sheets for placement next to displayed items. Guests can now review actual auction items with full descriptions.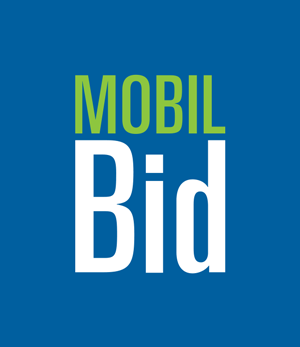 MobilBid
199 Albertus Avenue, Toronto
Canada
Helping those who help others