| | | |
| --- | --- | --- |
| | | Fun Factoids, Writing Life, & Reviews |
Newsletter exclusive
POEM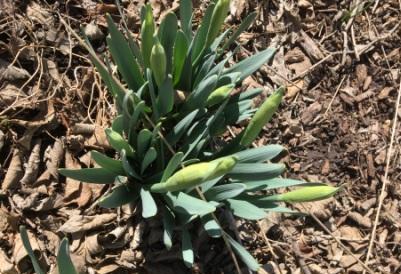 Slender green daffodil fingers
reach up through the cold earth,
tasting spring sunlight.

Inspired by a recent poem by Theodora Goss comparing tulip leaves to green rabbit ears.
BEHIND THE MYTH: Sibling Rivalry
I'm writing a fictional retelling of Descent of Inanna (an ancient  Mesopotamian myth) for my Storyville class with Richard Thomas.
Non-binary gala play a critical role in the story, but it's primarily a power struggle between two ambitious sister-gods: Inanna the Queen of Heaven, and Ereshkigal, Queen of Death. 
My research was almost as much fun as writing the story!

WRITING LIFE

I'm thrilled to announce that fellow writer Annie Reed has a book coming out Spring 2024!!! Catch Her If You Can, is a historical biography of Cassie Chadwick, a con artist extraordinaire who captivated the Gilded Age imagination, and is sure to capture yours.
I was privileged to read some early drafts of Annie's book and it's equal parts fascinating and informative. Read her article on Cassie Chadwick.
IN THE WORKS
I'm putting Captain Palaio's Twilight Flight through another revision.
The story got to the second round of review at one professional-level magazine (only 10% of submissions reach that level of consideration), but they "wanted more character and description in the opening pages."
A second pro magazine said:
"We really enjoyed your story, but this isn't the right story for us right now. We did find much to admire in your work, though, and we hope you'll send us more to consider soon."
Receiving personalized feedback like this is an indication that my work is approaching pro status. Woohoo! I'll keep you posted when Captain Palaio finds its forever home.

Fantasy Fiction

I enjoyed Fire Logic by Laurie Marks enough that I bought a copy to study (& enjoy again), and I ordered the sequels from the library. 

And they came in today!
CREATIVE JOURNEY
I've been incorporating the lessons I learned from the January Odyssey workshops into my own creative process. I took one of my stories, a "hydropunk" science fiction tale set in a futuristic New York City, and broke it down scene by scene.
I explored story theme (Forgiveness); key turning points (where the situation changes); scene polarity change (positive or negative situation); scene goals (what she wants); and emotional beats (what she's feeling).
The resulting story is, I believe, much more compelling and focused than previous versions.
Fascinating Factoids to spark your imagination
STORY SPARKS
I have two stories that explore the cultural ramifications of parthenogenesis. One on a dwindling alien race searching the galaxy for compatible DNA to revitalize their species (Captain Palaio's Twilight Flight). The other follows the adventures of a cloned daughter who forges a path distinct from her ancestors--with surprising consequences.  None thus far on lesbian lizards.
UPCOMING
Assuming the kitties will stop holding my writing notebook hostage and allow me to work . . .
March 1st, I'm attending Literary Citizenship by Jane Friedman at Craft Talks.
I've signed up for a Zoom workshop on March 8 entitled The Heart of Story.

Thanks for supporting my creative journey!
This newsletter helps me connect with readers, celebrate my progress, and develop my author "voice." I appreciate the opportunity to share my writing with you.
Lyri Ahnam
Poet,  Story Spinner,  Avid Reader
You received this email because you signed up on our website or made a purchase from us.
Unsubscribe