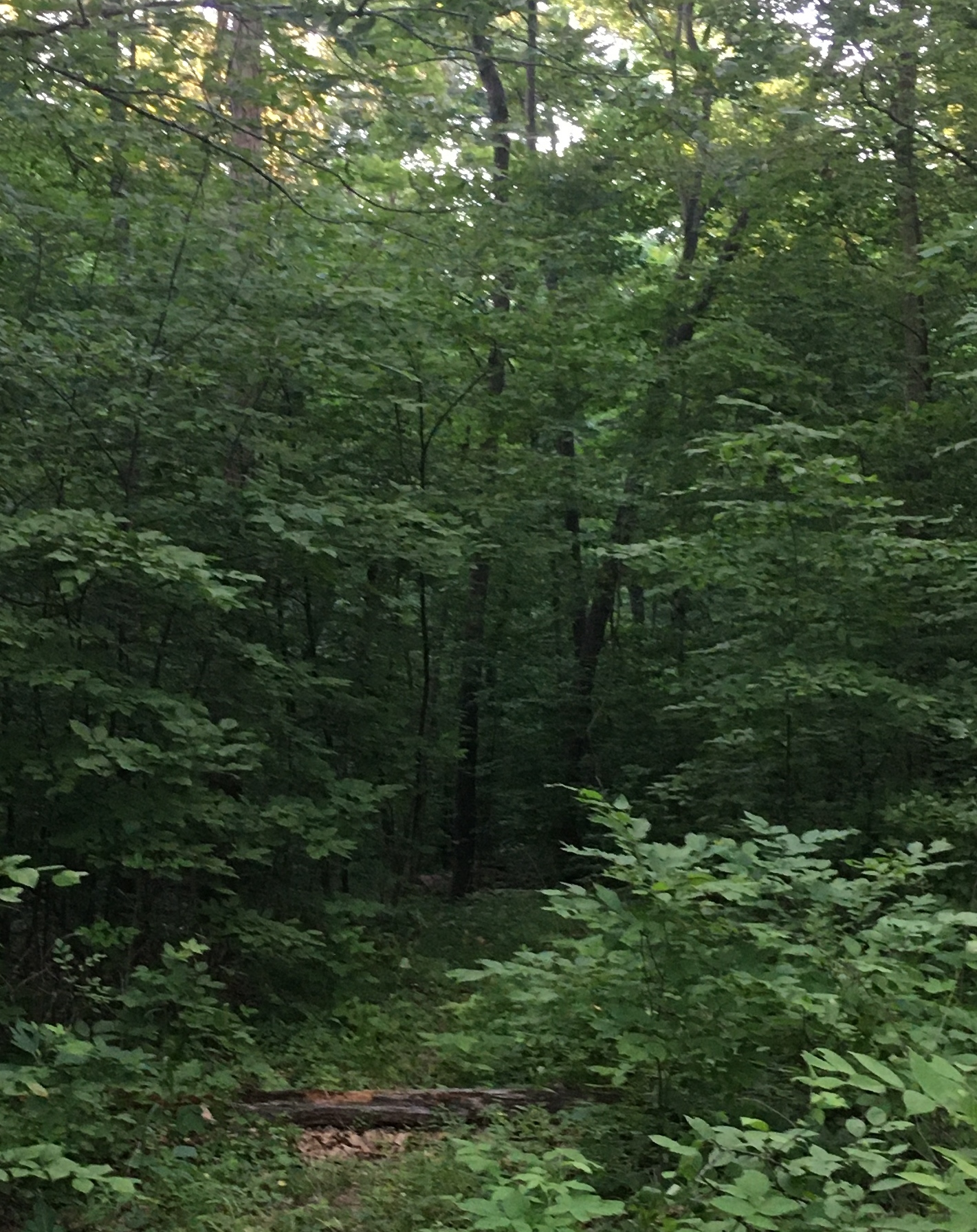 Newly published work!
"Forest Heart" is in this month's edition of Eternal Haunted Summer (Summer Solstice 2022). The issue also features my review of The Four Profound Weaves by R. B. Lemberg. 
Scroll down for more of my inaugural newsletter. Thanks!
Creative Journey: Poems Behind the Poems
Newsletter Exclusive!
Every writing project is as dependent on revision as it is on divine inspiration.  Here are early versions of two published poems, both of which underwent numerous revisions.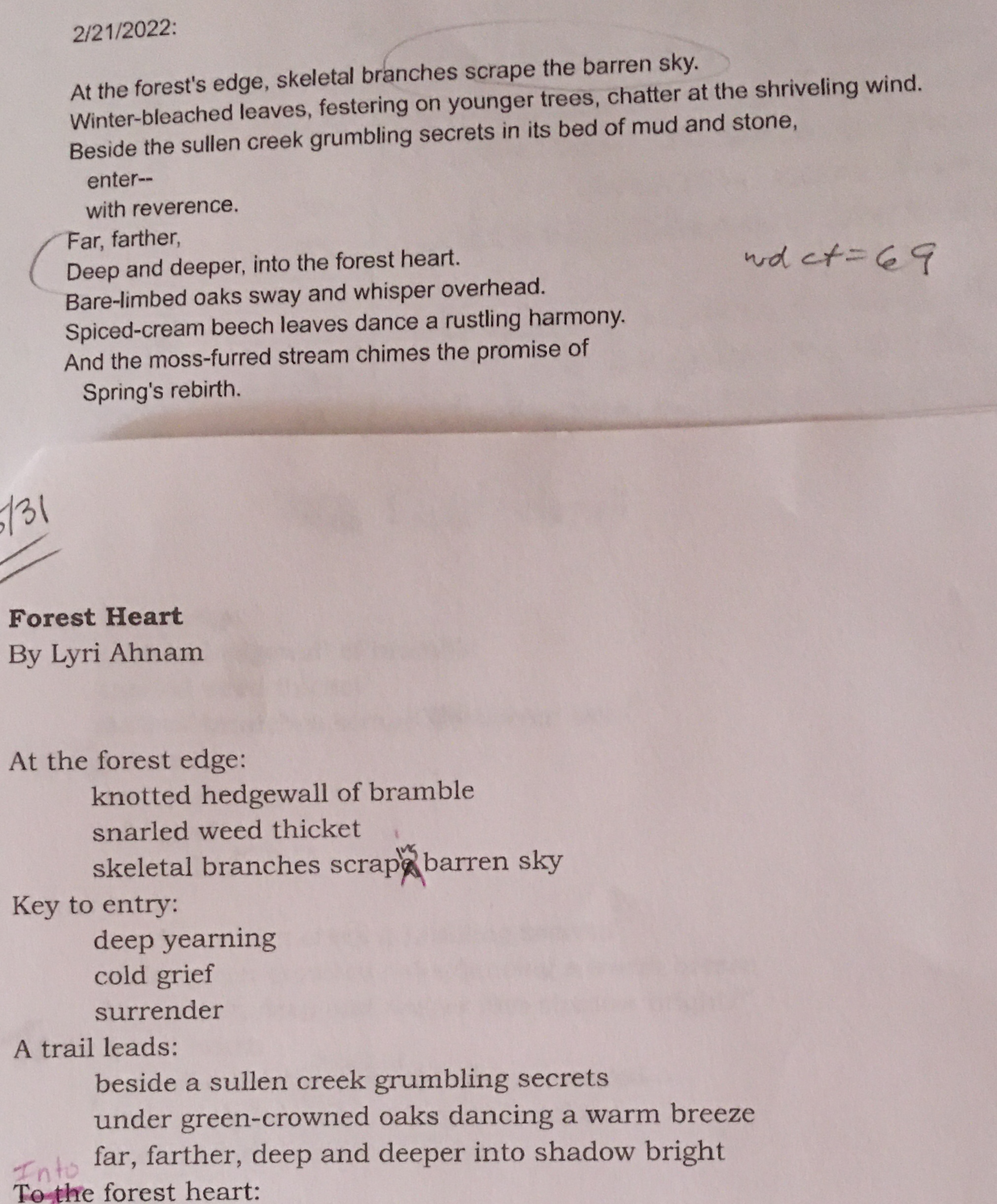 An early draft of "Forest Heart," recently published in Eternal Haunted Summer, which started as a meditation on how the forest changes depending on my mood and perception, and morphed into a more textured exploration of forest magic. Thanks to Anya for extensive feedback.
Some of the deleted text:
Bare-limbed oaks sway and whisper overhead
Spiced-cream beech leaves dance a rustling harmony
And the moss-furred stream chimes the promise of Spring's rebirth./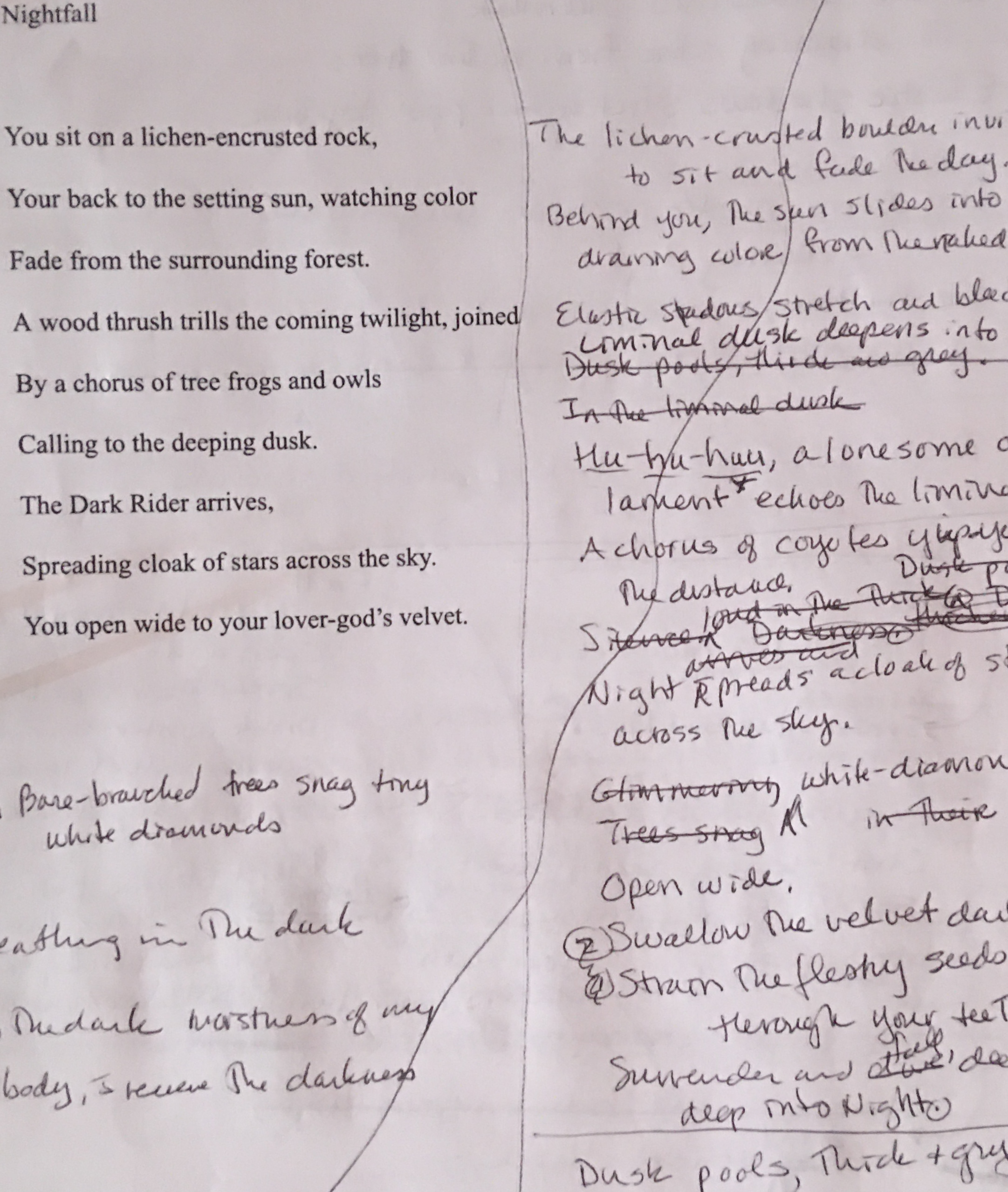 My poem Night Communion, published by Eternal Haunted Summer (which began life as Night Fall), underwent a similar revision process:
Some of the deleted text:

A wood thrush trills the cooling twilight, 
joined by a chorus of frogs and owls/
These phrases became, "A chorus of coyotes," then disappeared in subsequent drafts.
I also deleted much more explicit sexual imagery. 
(You're welcome!)
Story Sparks
Our world is so amazing, you don't have to read science fiction to expand your vision of the universe. Every time I research a story, I learn fascinating new facts. 
For example, some cockroaches release both "male" and "female" pheromones, and female cockroaches are capable of procreating without male sperm (parthenogenesis). 
I have a story out for submission similar in tone to Twilight of the Cockroaches (in Japanese with English subtitles).

Medusa Turns Supreme Court Justice into Stone!
Putin is next . . .
If Medusa returned today and unleashed her rageful glare, there'd be a lot of statues in the halls of power . . . just saying!
Myths are usually so ingrained in our cultural psyche, we rarely question them. I love finding new angles on old myths. For example, some consider Medusa the embodiment of righteous female anger.
My NEW BLOG highlights modern stories and images reimagining her ancient myths.

Fave Books
June reviews:

Shit Cassandra Saw by Gwen E. Kirby

Wordslut: A Feminst Guide to Taking Back the English Language by Amanda Montell 

The War of Art by Steven Pressfield
(Updated) May reviews:
Fevered Sun by Rebecca Roanhorse

The Four Profound Weaves by R.M. Lemberg
UPCOMING
July 3 is International Plastic Bag Free Day. Most local grocers now allow your own bags (you may have to pack them yourself).

July 15 is National Give Something Away Day. Consider donating gently used items to your favorite thrift store.

July 17-23 is Capture the Sunset Week. Send me your pictures celebrating this marvelous feature of our beautiful world, and I'll include them in my July newsletter!
Your Turn!
Please reply and let me know what you most enjoyed, what left you wanting more, and what you skipped, skimmed, or didn't like, and was the newsletter too long, too short, or just right? Thanks for reading!
Lyri Ahnam
You received this email because you signed up on our website or made a purchase from us.
Unsubscribe