Congratulations Daniel Keane on becoming our new Operations Manager
How long have you been working for TB, in what position?
"I joined Town Break in September 2018 as a Strategy and Engagement Officer; this followed a time with Multiple Sclerosis (MS) Society Scotland as an External Relations Officer. So I've worked at Town Break for four and a half years – I can't believe it has been that long already and the amount of change that has happened!"

What is your new role?
"Operations Manager oversees operational activities at every level of an organisation from liaising with partners, to referrals for services to joining in group activities. This new role will work closely with Town Break's CEO and wider team in driving operational excellence as we scale up throughout Stirling, Falkirk, and Clackmannanshire to become Forth Valley-wide. This new role will help Town Break manage and share information learning internally and externally, improve our processes and help us better understand the impact of our services. It's a new challenge for me but something I look forward to."

What are you looking to achieve for the future of TB with this new role?
"It's as simple as becoming the number one service provider for people affected by dementia and their carers in Forth Valley, helping as many people as we can and ENSURING everyone knows who we are and what we do!"
What are you most proud of from working with TB?

"When I first joined Town Break we were a small team covering only the Stirling area. Along with a great team, I have helped Town Break grow in terms of staff, people who use our service, and the physical area we cover – that is something to be proud of! Watch this space…"
We're so pleased to announce our 2022 fundraising goal of £30,000 for 30 years of support has been surpassed!!

Thank you to everyone who has fundraised, donated, helped at events, donated raffles and volunteered throughout the year.
Your support helps Town Break deliver services to families affected by dementia across Forth Valley and we couldn't do it without you.
THANK YOU!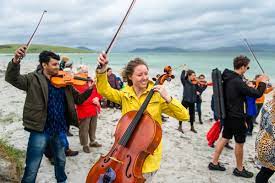 NEVIS ENSEMBLE
Town break had the absolute privilege of having Nevis Ensemble drop in at one of the services last month.
"Nevis Ensemble is different. There's nothing else quite like us in Scotland. Our vision is music for everyone, everywhere. And we mean business."
Check out the Finale below, just incredible!
Health tip of the month
Holy Basil
Holy Basil is one of the more popular herbs in use for treating dementia, due to its ability to reduce brain stress and fatigue which may result in dementia in the long run. Holy Basil is a good herb to be used to counteract dementia, and it is said to not only to help treat memory loss, but also improve the neuronal functioning of the brain.
Holy Basil can be consumed in many ways. Dried leaves can be turned into a tea by simmering 2 g of dried herb in 16 ounces of water for 30 minutes. The tea can be consumed three times a day. Similarly, it can also be consumed as juice or smoothies by adding Holy Basil extract from tinctures into them. Holy Basil can also be supplemented in the form of capsules.
Holy Basil is consumed at different dosages depending on individual needs. The recommended dosage is 2 g of the dried herb twice a day.

You can now support Town Break through the Stirling Community Lottery!
Stirling Community Lottery is an exciting weekly lottery that raises money for good causes in Stirling. All good causes supported by the lottery will benefit Stirling and its residents.
Play the lottery, support Stirling - it's that simple!
Tickets for the lottery cost just £1 a week. Each ticket has a 1 in 50 chance to win a prize each week, with a top prize of £25,000! That's a better chance of winning than the National Lottery or the Health Lottery.
CLICK HERE to find out more and play.

MENSTRIE OPEN DAY - 11th January (11am-3pm)
Dumbarton Centre
Main Street 
Menstrie FK11 7BL 


ALVA OPEN DAY - 12th January (11.15am-3pm)
Parklands Centre

192 West Stirling Street
Alva FK12 5BG 
TILLICOULTRY OPE DAY - 13th January (11am-3pm)
Ben Cleuch Centre
Park Street
Tillicoultry FK13 6AG 
Check out what weekly services we offer by clicking the links below.
Exciting Job Opportunities! (Age 16 - 24)
We are hiring not one, but two positions through SCVO Employability Support Programme.
The following vacancies are only open to people through SCVO Employability Support Programme.
Exciting Job Opportunities!
Again we finish with a little bit of fun for you and the family to get involved in (courtesy of Diane Cherry) with a list of the Events/Celebrations going on around the world this January.
1 Springkerse Road
Stirling
United Kingdom