INTRODUCING PAUL CASSIDY AS THE NEW TOWN BREAK CHAIR
It is an absolute honour and pleasure to take up the role as Town Break Chair.
Alasdair Tollemache has left me with a wonderful legacy as the previous chair and for that I am truly grateful.
Thankfully, Alasdair has decided to stay on as a trustee therefore, I know I can continue to look toward him for his guidance and support in my new role.
I know as chair that it carries a lot of responsibility, and this is something that I very much look forward to.
Town Break is in very safe hands and has my very firm commitment to do all that is within my gift to ensure that we continue to grow and be there for those who need the support of our invaluable service.
I am truly blessed to have such a fantastic team who work at Town Break along with all those who volunteer too. Without them we couldn't deliver the care and support that is so desperately needed.
Again, I know that I can count on the team, and this gives me great comfort in my new capacity.
We are now in our 30th year and along with the trustees and of course Helen Duncan our Chief Officer we will continue to deliver on our strategic goals for Town Break and further strengthen the service so that we are fit for purpose to successfully meet the demands of the future.
We're so pleased to announce our 2022 fundraising goal of £30,000 for 30 years of support has been surpassed!!
The goal was broken at our 30th-anniversary ball on Saturday 26th November. The Ball was a huge success, and we'd like to thank everyone who attended in support of Town Break, especially our headline sponsor The Stirling Highland Hotel and of course our fabulous patron and host Gina On The Radio.
Our thanks is extended to everyone who has fundraised, donated, helped at events, donated raffles and volunteered throughout the year.
Your support helps Town Break deliver services to families affected by dementia across Forth Valley and we couldn't do it without you.
THANK YOU!
SHOUT-OUT TO...

LEIGHANN RUSHFORTH

Thanks goes to Leighann who put Town Break forward for the Central FM radio station 'Local Heroes' award.
Sadly, we didn't receive an award, but we were all incredibly grateful to have been a potential in the running.
A massive thank you to everyone supporting Town Break to have even made this nomination possible.
Q & A with our newest Trustee
Welcome, Graeme Young
Why dementia, why Town Break?
My uncle John was diagnosed with vascular dementia when I was in my early twenties. I watched his rapid decline and the impact this had on him and the family and felt powerless because I didn't understand the condition or just how much it can impact loved ones. From his diagnosis came a greater understanding of dementia and the need for greater care and support for both those living with it and their families. Town Break is a fantastic organisation dedicated to that cause, and it's an honour to join the organisation as a trustee.
I have worked in the public sector now for over fifteen years and I'm passionate about community building and creating resilient communities that support each other to overcome structural barriers. Knowing Helen (CEO) personally, and the amazing work done by everyone at Town Break, joining as a trustee means I can help to support the continuing work of such a fantastic organisation.
Biggest priority for the coming months?
My biggest priority is to become more engaged with the Board and Management of Town Break and support the Chair of the Board with developing and delivering the strategy for the organisation. This means becoming more of an advocate for the organisation as we seek to grow and build new partnerships, helping to identify new opportunities that enhance the services.

Most important thing you've learned from a person with dementia?
Dementia is a challenging condition, for people with it and those around them. Personally, it's important to remember that there is always a person there and people living with dementia are capable of more than we can imagine. They still have stories and individual characters, and they just need to be interacted with on a human level. 
What do you find most rewarding about being a Trustee?
Being able to support local charities that make a difference in our communities is the most rewarding part of trusteeship for me. We all have different commitments and time pressures, but to dedicate some time to a worthy cause, and work with a diverse range of people all committed to that same cause, is a valuable experience in life.

What motivates you as an individual?
I love learning and using that knowledge to try and make a difference in life. I love to see other people happy and getting the support they need, especially those who have difficulties with their mental health and well-being.

What's your proudest achievement so far in life?
I have a great supportive husband who has kept me on the straight and narrow and that has allowed me to excel professionally and achieve beyond what I ever dreamed of when I was younger.
On a personal level, I am proud of the opportunities I had in education. I left school with basic standard grades and decided about ten years ago now to do a part-time degree with the Open University. Since then, I've graduated and am now a PhD Researcher at the University of Ulster examining community building through restorative justice.
This work speaks to my passion for communities and empowering both people and the collective to achieve and be their best.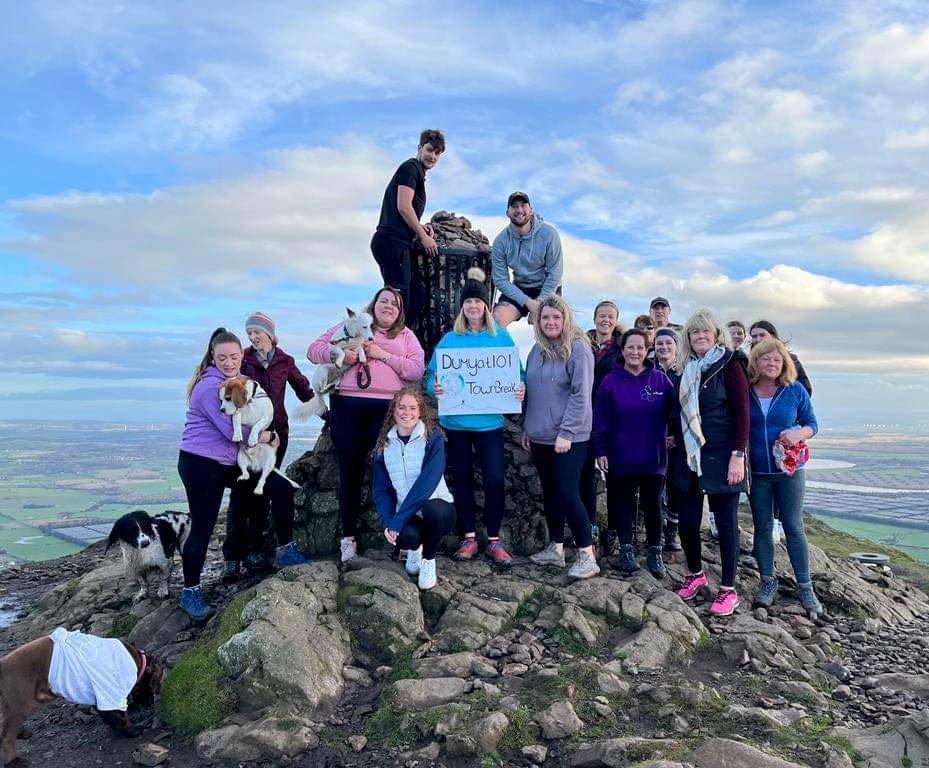 WELL DONE JAN - DUMYAT 101 FUNDRAISER
Jan: "I chose to fundraise for Town Break as they are a local charity that supports people affected by dementia. My mum and I have benefited from their many wonderful services. The charity is close to my heart, so it just made sense. Any donation will go a long way."
Jan completed her final assent last month, and we are all so very proud of her! Jan began her climbs of Dumyat in January 2022 and has been supported along the way by friends, family, Town Break and of course various four-legged friends including her loyal companion Duffy the cocker spaniel. 

We at Town Break want to say a massive Thank You, to Jan (and everyone involved), for this amazing fundraiser and many congratulations on completing the 101st climb! 
Jan has raised £1,775 to date, absolutely incredible. To support Jans' achievement please click below.
Health tip of the month
Ginseng
Ginseng has been used in China for at least 1,650 years in helping to prevent disease and aging. There have been two notable studies that reveal the herb to be of great help; one of which involved 40 patients with mild or vascular dementia, with 25 showing significant memory improvement after 12 weeks of ingesting the herb daily. The other more recent study proved that ginseng protects against ischemia-induced neuronal and cognitive impairment ( Mini Stroke, TIA) and could be used to help vascular dementia.
Daily doses of 1–2 g of raw ginseng root or 200–400 mg of extract are suggested. It's best to start with lower doses and increase over time. Look for a standard ginseng extract that contains 2–3% total ginsenosides, and consume it before meals to increase absorption and get the full benefits.

Check out what weekly services we offer by clicking the links below.
Again we finish with a little bit of fun for you and the family to get involved in (courtesy of Diane Cherry) with a list of the Events/Celebrations going on around the world this December.
Have a very Merry Christmas!
1 Springkerse Road
Stirling
United Kingdom