SPOTLIGHT
Our new Group Service at Falkirk Stadium.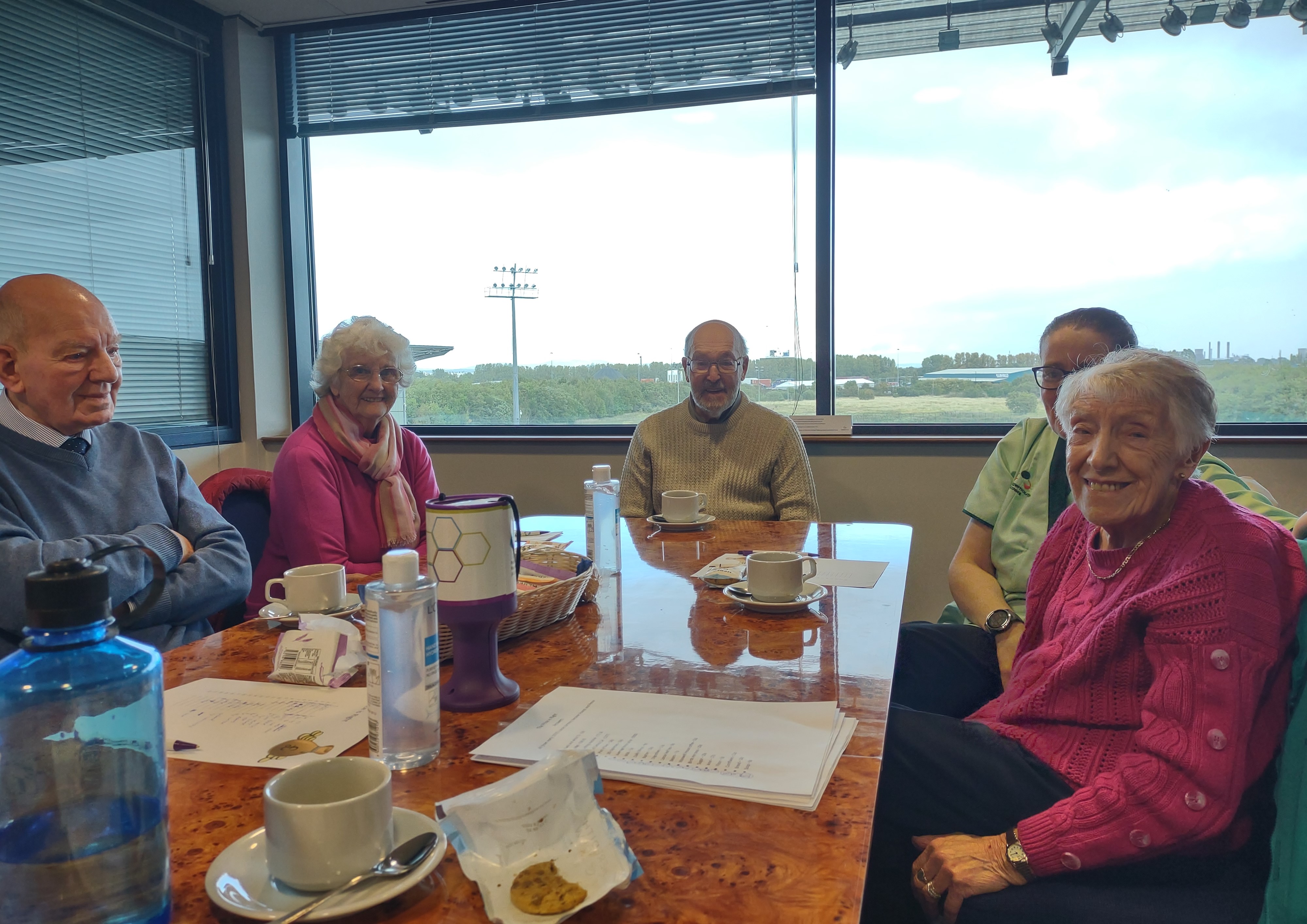 On the 6th October we opened up yet another group to our Falkirk Services in the lovely bright and welcoming Football Stadium running every Thursday 1.30pm – 3.30pm.
Our guests are really enjoying this new venue, and we even have some people back with us now after a break. It's such a good central location, we're hoping word will spread and we'll have even more new guests joining us shortly.

Conversations have been flying at the group, we've even played a reminiscing game "the price is right". What fun we had, brought back lots of memories to the group.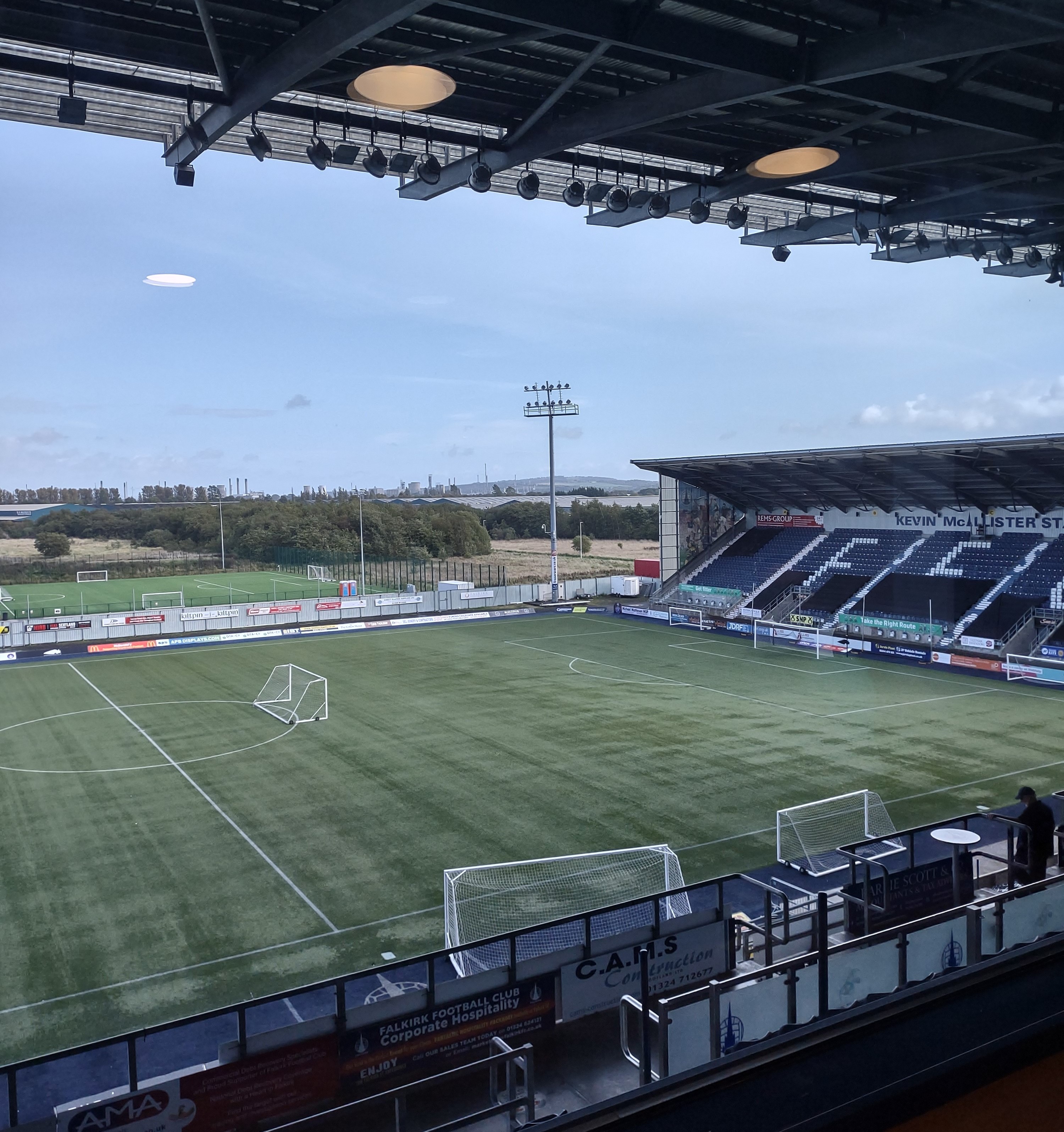 Look at that view!
We had a game of "guess the song" and we played some charades, it really has been all go at the Falkirk Stadium group.
For the future we're really hoping to see this new group grow. We'll be offering different activities each Thursday and we'll have the wonderful music group "Nevis Ensemble" joining us in the future for a session plus much more. 

We are so honoured and thankful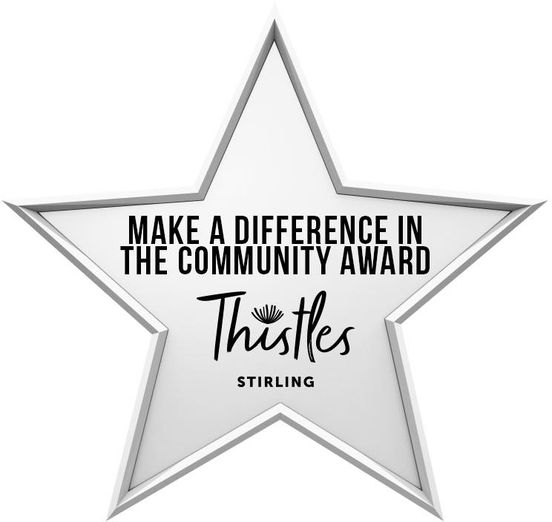 We are over the moon to receive news that during Town Break's 30th anniversary year we have been shortlisted for the 'Making a difference in the community award' at 103.1 Central FM Local Hero Awards 2022 The winner of each category will be revealed at an awards ceremony on Friday 11th November at Airth Castle Hotel & Spa. Without our dedicated staff, Board of Trustees, loyal volunteers, people affected by dementia and supporters, we simply couldn't do what we do. Here's to you all. 
Health tip of the month
Honey
Research suggests that honey supplementation can protect from neuro inflammation, reduce oxidative stress, and increase brain-derived neurotrophic factors. On a cognitive level, honey has been shown to improve memory and learning, slow down cognitive decline associated with aging and reduce anxiety.
Black Cumin
Black cumin, this little seed will sharpen your brain - the black seed, or black cumin, is edging into the health spotlight, and trust us, you're going to want a handful. A study recently published in the Journal of Ethno pharmacology, has shown that after taking two 500 mg capsules of pure ground black seed powder each evening for 9 weeks, 20 people over the age of 50 tested markedly better on measures of memory, attention, and cognition than 20 placebo-popping counterparts.
So why not add two capsules of black seed powder and one tablespoon of honey daily to your diet. Try honey in your tea instead of sugar, spoon it over your porridge or spread it on toast.
SHOUT-OUT TO...
We heard of an incredible achievement and just had to share it with you all this month. Iian Harvey is living with Dementia and attends our groups along with his wife Sandra, pictured below is the two of them and their daughter Lynn. In August Lynn took part in an Ironman competition in Tremblant, Quebec, which qualified her to be invited to take part in the Ironman (Triathlon) WORLD Championships. Lynn competed in the Worlds on the 6th of October in Hawaii, involving a 2.5 mile swim, cycling 112 miles then running a marathon (just over 26 miles). What an accomplishment, and from all of us here at Town Break a MASSIVE well done to Lynn.
Winter raffle ❄️
Raffle tickets will be available across all of our services or by visiting our Stirling Head Office from Monday 17 October - Friday 25 November.
Strips are only £1❗
The draw will be announced live on Facebook Monday 28th November.
Prizes include -
1️⃣ Les Georgettes Paris Bangle
2️⃣ Bolero Collection Pearl Necklace
3️⃣ Sterling Silver Orchid Bottle Stopper
4️⃣ Edinburgh Crystal Tankard
5️⃣ Johnnie Walker Black Label Whisky
6️⃣ Barton Street Barbers Haircut
7️⃣ Afternoon Tea for two at The Orangery Stirling
8️⃣ £10 Cisco's voucher
9️⃣ £10 Wax 32 voucher x 2
1️⃣0️⃣ £50 Tesco voucher
And much more!
Q & A with Trustee
Paul Cassidy
Why dementia, why Town Break?
My mother in law Carole sadly was diagnosed with dementia at the age of 66 and lived with it for 12 years. In the early diagnosis Town Break allowed both myself and my wife some respite when we were able to drop Carole off for a few hours. Kirsty, Linda and Davina were fabulous with her, and this really put our minds at rest and we were able to switch off for that period. Carole lived with us so we had the responsibility of looking after her 24/7. Clearly the majority fell to my wife as I was working during the day. I took early retirement and knew that I wanted to give something back and Town Break was an obvious choice for me.
Biggest priority for the coming months?
Laser focus on delivering our strategy for both the short and medium term. Attract new talent in the form of trustees from different backgrounds to give is a greater breadth of both knowledge and experiences. Onboard new volunteers so that we can meet the growing demand for our service which includes the commitment to extend and embed dementia post diagnostic support. Seek out new locations within the community so that our support and services are accessed by those who need it. Continue to steer Town Break in the right direction to grow our services for the future. Create new long term partnerships and grow the brand of Town Break and reach a wider audience so that others know who we are, what we stand for, what we offer in terms of a service and support.
Most important thing you've learned from a person with dementia?
Not to try and change the person living with dementia but to go with the flow as they transition. Let them know you love and care for them daily either with a smile or just holding their hand. The diagnosis isn't the end it's the start of a journey and that includes living your life well with dementia. Continue to build new memories and sharing old memories constantly.
What do you find most rewarding about being a Trustee?
The ability to give something back to a charity that is close to my heart. It's about making a difference and using my previous business experience to help point the charity in the right direction and keep us on track. That you are not alone as you have other trustees who you can collaborate with and decisions are made by the collective.
What motivates you as an individual?
Knowing that I am making a difference and an insatiable appetite to always do better and be better.
What's your proudest achievement so far in life?
The obvious answer would be to talk about my family and all that I have achieved personally during my career.
However, I am going to say that I am extremely proud of who I am, what my values are and knowing who I am as a person. Having taken early retirement I am proud of my other roles as a volunteer for Equip Mentor working with children with mental health issues and Police Scotland Youth Volunteers again working with youngsters.
I continue to strive to make a difference and add value to people's lives who may otherwise not have been so fortunate.
Of course it would not be right for me not to mention being chosen by Town Break as one of their trustees.
I'm proud to say that I am not just standing still and the overwhelming ambition is to continue to make a meaningful contribution in my community.
WELL DONE GAIL BARTON
I knew I would continue to support the charity I left as Chief Officer in June this year. Other people had walked the Glasgow Kiltwalk route in the months prior to me leaving, so I signed up for the Edinburgh route. What's the worst that could happen! I love walking and being outdoors so thought this would be a good way to keep fit as well as raise funds for a charity very close to my heart.
I began my training in July as the walk was planned for 18th September, so I thought I would give myself plenty of time to get the feet and legs ready. As well as lots of smaller walks, I managed four fifteen mile walks in the weeks prior to the big day so I knew I was set.
On the day itself, a couple of friends joined me and it was lovely to have good company on the way round the 21.3 route. The first couple of miles were steady paced, we consumed a few calorific treats which helped to boost the energy levels, and then the next few miles went by quickly. Various charities had set up refreshment posts at regular intervals which helped keep the energy up and this really helped us.
We enjoyed the experience walking round the Edinburgh route and were pleased the weather behaved itself. I was delighted when we reached the halfway point. We took a break, massaged the feet and enjoyed a much needed soup and sausage roll.
The next few miles went by in a blur. However, I noticed my feet were starting to complain, but I pushed on. The momentum was kept high by chatting and laughing with friends and other walkers and eventually the end was in sight. We had done it! 21.3 miles walked in approximately seven and a half hours. I am proud to have raised, with the Hunter Foundation 50% top up, a grand total of £642.50 which I know will be put to very good use by Town Break.
I am personally affected by dementia so I know how important this money will be in helping many families living with a diagnosis of dementia and I am proud to have played my part.
If you can, please think about taking part in a similar event. It makes such a difference to the charity and I promise you that you will enjoy the experience. Here's to next year!
Gail Barton
Again we finish with a little bit of fun for you and the family to get involved in (courtesy of Diane Cherry) with the Events/Celebrations list going on around the world this November. Enjoy! We'll see you all next month.
1 Springkerse Road
Stirling
United Kingdom