Keep connected to the life and mission of Grace Episcopal Church.
View in browser
Grace Notes • November 9, 2023
Beyond Our Imagination
And now to God who by the power at work within us is able to accomplish abundantly far more than all we can ask or imagine, to God be glory in the church and in Christ Jesus to all generations, forever and ever. Amen.
— Ephesians 3:20–21
From the Desk of Father Ted
Dear People of Grace,
In the middle of his letter to the church in Ephesus, Paul breaks out in doxology. He spontaneously praises the God who has given us his Spirit and thus is able to accomplish great things in and through us, things abundantly far more than we could ever ask or even imagine. Paul ends his praise with an hearty "Amen." I love when passages like this are read in worship, because the congregation—who has been shaped by the liturgy—will automatically say "Amen" along with the lector.
The reason Paul breaks out in doxology is because, for the first three chapters, he has been expounding the rich abundance of God's grace. He has been explaining the mystery of the Gospel, namely, that God has and is reconciling all peoples to himself and to one another. In Jesus, God has torn down the dividing wall that separates human beings and is repurposing those stones to create the walls of a temple that encompasses all humanity. And so, in light of these riches of God's glory, Paul prays that Jesus may dwell in our hearts through faith, as we are being rooted and grounded in love, that we may know the love of Christ that surpasses all knowledge and be filled with all the fullness of God.
That's a really good reason to break out in doxology, and that is exactly what we are going to do at our Ingathering Feast on November 19. After the 10:15 am service, we are going to gather together and share a wonderful, catered meal, and we are going to reflect on the life and mission of Grace over the past year. In particular, we are going to celebrate the abundance that we experienced, which at times was far more than we asked or even imagined. Does anyone remember the Rosary making or The Family Fun Night?
So, join the celebration of God's abundance, and sign up for the Ingathering Feast on Sunday, November 19th. All the food will be provided so all you need to do is bring yourself.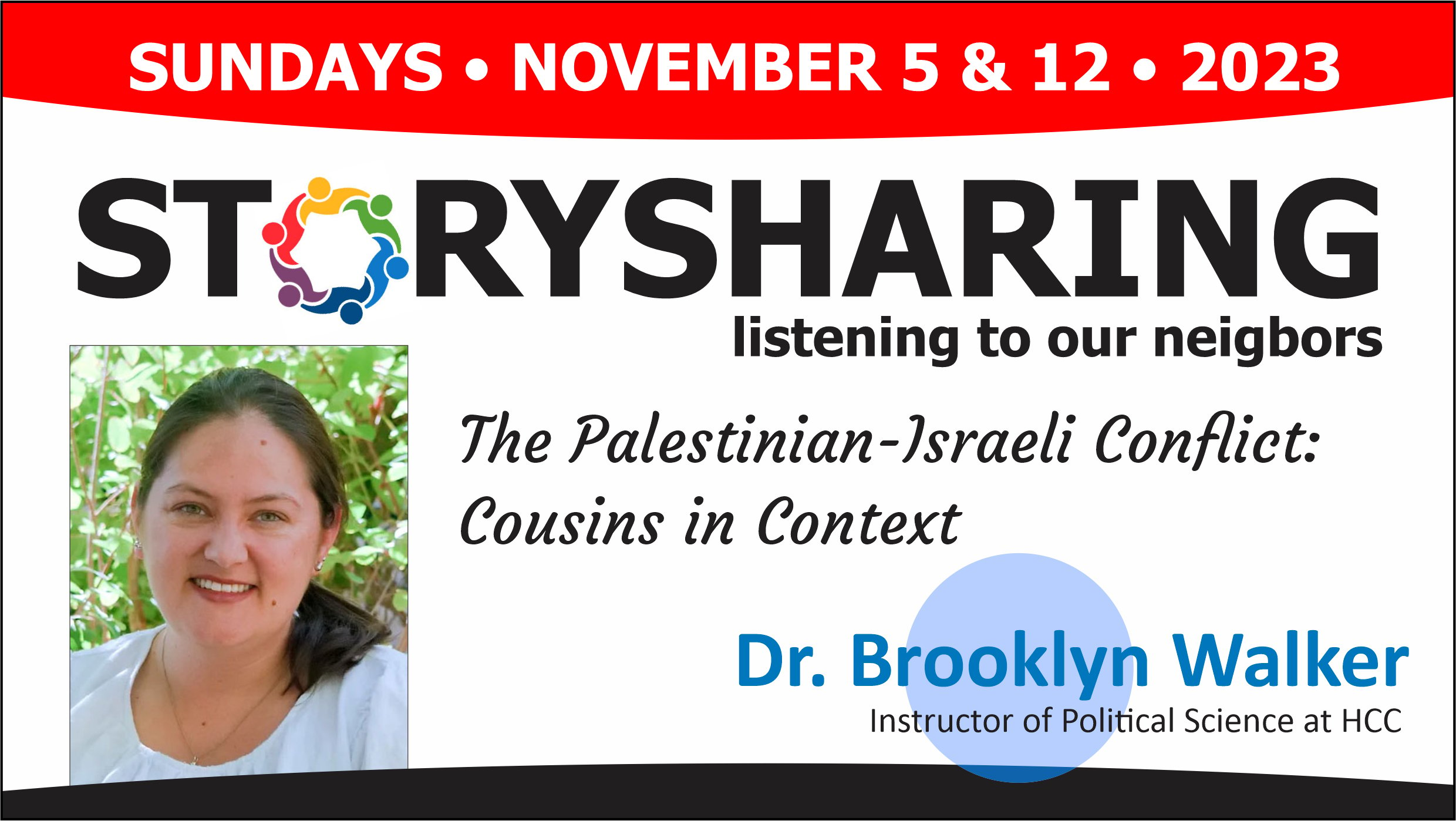 010. The Palestinian-Israeli Conflict: Cousins in Context
Recent events in Israel and Palestine have gripped the attention of the world. Sometimes it can feel hard to understand—so much history, so many wars, so many political actors, so many strong feelings. Brooklyn has specialized in Middle Eastern politics and has taught college courses on the Palestinian-Israeli conflict.
LAST SUNDAY in Part 1, Brooklyn offered some historical and political context so we can better follow the news. THIS SUNDAY in Part 2, Dr. Walker will focus on the current conflict. This will take place in Parish Hall from 9:15 to 10:00 am in Parish Hall, and it will also be live-streamed on our Facebook page starting at 9:10 am.

Ending hunger in Reno County isn't a job for one church or one organization. It takes a group, a group of friends who believe that together we make a difference. This is the sixth year for our county-wide Thanksgiving Food Drive, "We'll Leave Our Lights On"! Lights in sanctuaries will shine in area churches as they collect donations of non-perishable foods.

Suggested Items: peanut butter, mac & cheese, pasta, cereal, canned meats, vegetables, fruits, and canned soups. Monetary donations to the Food Bank of Reno County are also welcomed.

Visit Your Neighborhood Church. You can bring these items to Grace on November 15th, but we also encourage you to take them to a participating church near where you live.
Grace Youth on the Stage
This Weekend

Lucy Steen will be playing Felicity Cunningham in Tom Stoppard's, The Real Inspector Hound, where British murder mystery and British humor collide.

7:00 pm • Friday, November 10
7:00 pm • Saturday, November 11

Fairfield High School
16115 S Langdon Road

DO YOU know someone at Grace who is doing something in the community or is being recognized in the community? Send the details and any links or pictures to the church office ([email protected]), and we will see about getting them into Grace Notes Weekly.
The 24th Sunday after Pentecost
WORSHIP WITH US!

8:00 am
HOLY EUCHARIST, RITE 1... spoken

10:15 am
HOLY EUCHARIST, RITE 2... music
• Facebook Live begins at 10:15am
• Children's Chapel



CLICK THE BUTTONS BELOW


EDUCATION & MORE!

9:15 am
SUNDAY SCHOOL
• Adults meet in Parish Hall
• Youth meet upstairs in Youth Room

NURSERY
Nursery Care is available in our undercroft from 9:45 to 11:45 am.

CHILDREN'S CHAPEL
Children's Chapel is an opportunity for kids, aged 3 to 12, to learn about the Gospel and the prayers of the Episcopal church at their level. They leave worship during the Gloria and return at the Peace.

SNACKS & CONVERSATION
Come to Parish Hall after the 10:15 am worship service for food & fellowship
Read the Scriptures for Sunday
YEAR A, Proper 27, Track 1
• Joshua 24:1-3a, 14-25
• Psalm 78:1-7
• 1 Thessalonians 4:13-18
• Matthew 25:1-13
PICK UP THE NEW
FORWARD DAY BY DAY


Forward Day by Day is a booklet of daily inspirational meditations reflecting on a specific Bible passage, chosen from the daily lectionary readings as listed in the Revised Common Lectionary or the Daily Office from the Episcopal Church's Book of Common Prayer.

You can pick up your free copy at the in the Narthex or in the black box outside the carport doors. We have both small-print and large-print versions.
Thank you, Kathy Milliken, for another wonderful bulletin board that helps keep us connected to one another.
NOVEMBER BIRTHDAYS

11/1 Cece East
11/3 Ava Waln
11/6 David Jarrett
11/7 Don Adams
11/8 Joyce Carver
11/10 Ted Blakley
11/13 Helen Bornholdt
11/14 Benjamin Blakley
11/15 Aidan Minner
11/15 Bob Stone
11/17 Michael Franklin
11/17 Mike Torrence
11/21 Braelyn East
11/23 Jennie Barber
11/24 Roger Sullivan
11/28 Amy Long
11/29 Shannon Martinez
11/29 Gin Torrence
11/30 Kathy Moll

NOVEMBER ANNIVERSARIES

11/5 David & Archer Jarrett




SUNDAY, November 12
8:00 am • Holy Eucharist, Rite 1 (spoken)
9:15 am • Sunday School
10:15 am • Holy Eucharist, Rite 2 (music)
After the Service • Fellowship Hour (Parish Hall)
MONDAY, November 13
7:00 pm • Al-Anon (Conference Room)
WEDNESDAY, November 15
9:30 am • Holy Eucharist, Rite 1 (Chapel)
10:00 am • Adult Bible Study (Parish Hall)
6:30 pm • Elementary Youth Group (ends at 7:30)
6:30 pm • MS-HS Youth Group (ends at 8:15)
GRACE EPISCOPAL CHURCH


2 Hyde Park Drive
Hutchinson, Kansas 67205


You received this email because you asked to be on our mailing list. If you no longer wish to receive Grace Notes Weekly. Unsubscribe below.