Keep connected to the life and mission of Grace Episcopal Church.
View in browser
Grace Notes • October 26, 2023
Rejoice • Pray • Give Thanks
See that none of you repays evil for evil,
but always seek to do good to one another and to all.
Rejoice always,
pray without ceasing,
give thanks in all circumstances;
for this is the will of God in Christ Jesus for you.
— 1 Thessalonians 5:15-18
From the Desk of Father Ted
Dear People of Grace,
This past Monday, I woke up in the middle of the night, and I heard-felt the words, "Pray for the Church." I understood that I was to pray specifically for Grace. I didn't sense that this was urgent call, that God was waking me up to pray for Grace at that very moment, so I drifted off back asleep. I was grateful that, when I awoke in the morning, the call to pray was still in my awareness.
But what to pray? And how to pray? I wasn't sure, and not knowing makes me a bit frustrated. After all, I have been in the church my whole life; I have been trained and equipped as a priest; I am nearly 54 years old; and I would think that by this time in my life and vocation, I would have a lot more clarity about such things. Instead, I feel like I am starting from scratch all of the time. Not least when it comes to praying.
But today, I am feeling grateful because I sense within my spirit and my body a renewed desire and energy to pray... to pray for Grace. I still don't know what or how I am to pray for Grace; I still don't know what or how we are to pray for Grace, but I am grateful for the longing to pray—which to be honest is not always a reality for me. As I was reading yesterday in Walter Wink's book, The Powers That Be, "We are not easily reduced to prayer. Many of us who grope toward praying today are like a city gutted by fire. Exhausted, overcommitted, burned out, we scarcely have the time or energy to pray" (180).
So again, I thank Jesus for this renewed desire to pray for the Church. And while I think that it will be important to come to a place where I (and we) gain greater clarity on what and how to pray, for now I think it sufficient that we jump into praying for Grace on a regular basis... right where we are... and then see where God leads us in our pray.
Christmas Wreaths for Sale


The MS-HS Youth who are going on the 2025 Pilgrimage to England are selling Christmas wreaths and garlands. They are fresh cut and American made and should be available before Thanksgiving.

• $35 Small Wreath
• $40 Large Wreath
• $35 10' Garland

ORDER DEADLINE: October 29
The order form is located in the narthex, or order online by clicking here or by emailing the church office with your order to [email protected].

You can also pay online; just click the button below, and choose "Christmas Wreaths" from the drop down menu.
ALL SAINTS' SUNDAY

SUNDAY, NOVEMBER 5. On All Saints' Sunday, we remember and give thanks for the Communion of Saints, the Church Expectant who awaits the final coming of the kingdom and the consummation of the New Creation when death will be no more and God wipes away all the tears from our eyes. To celebrate All Saint's Sunday, we invite you to submit the names of those who have passed away on the sheet in the Narthex, or you may send us an email. We will remember them by saying their name aloud during the Prayers of the People on November 5th.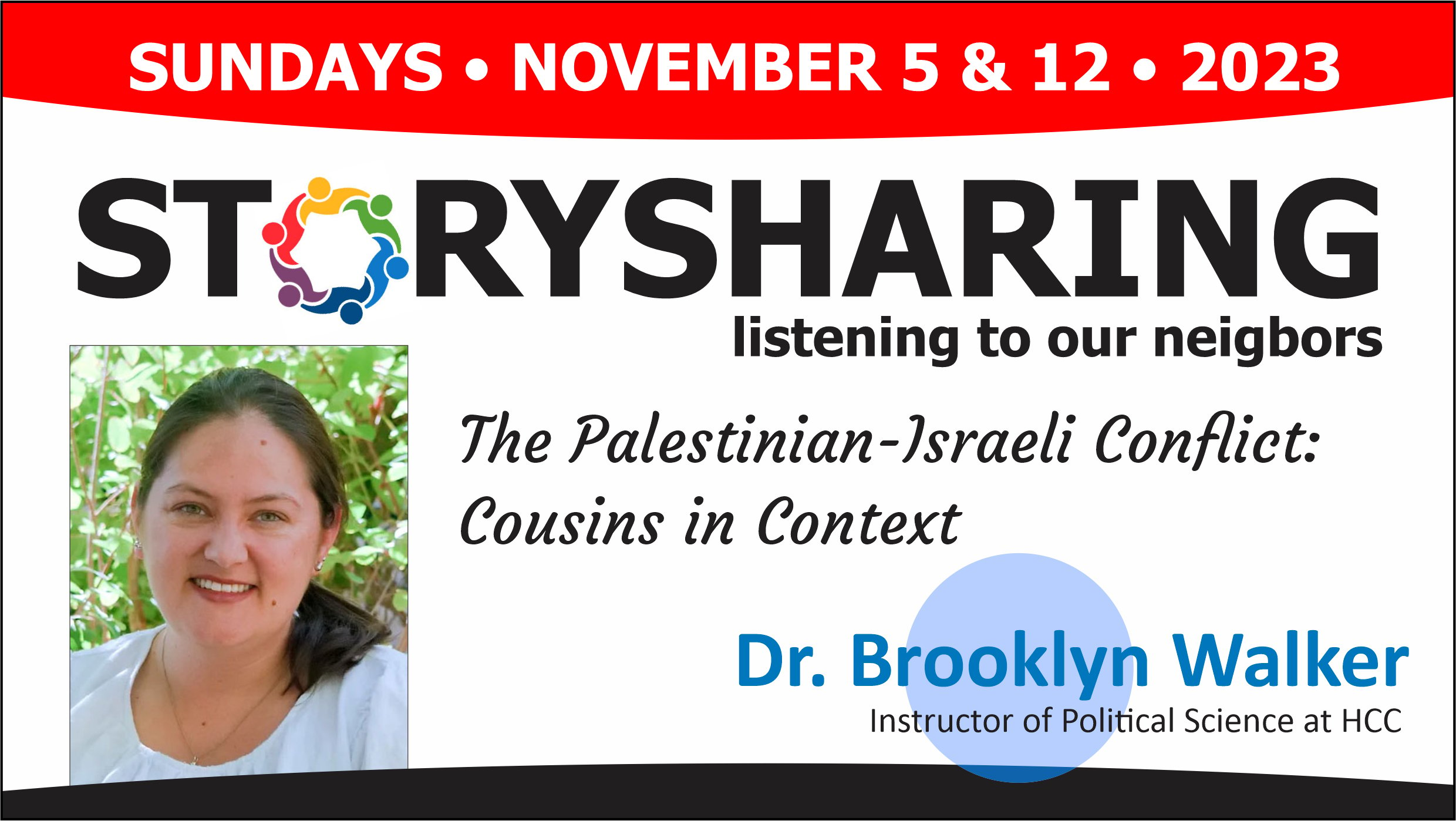 010. Dr. Brooklyn Walker
COMING SOON. Recent events in Israel and Palestine have gripped the attention of the world. Sometimes it can feel hard to understand—so much history, so many wars, so many political actors, so many strong feelings. Brooklyn has specialized in Middle Eastern politics and has taught college courses on the Palestinian-Israeli conflict.
In this special edition of StorySharing, Brooklyn will offer some historical and political context so we can better follow the news. She will also talk about how her faith has influenced her work and perspectives. This two-part episode will take place on November 5th and 12th from 9:15 to 10:00 am in Parish Hall, and it will also be live-streamed on our Facebook page starting at 9:05 am.
To read summaries of Brooklyn's recent research click below.
The 22nd Sunday after Pentecost
WORSHIP WITH US!

8:00 am
HOLY EUCHARIST, RITE 1... spoken

10:15 am
HOLY EUCHARIST, RITE 2... music
• Facebook Live begins at 10:15am
• Children's Chapel



CLICK THE BUTTONS BELOW


EDUCATION & MORE!

9:15 am
SUNDAY SCHOOL
• Adults meet in Parish Hall
• Youth meet upstairs in Youth Room

NURSERY
Nursery Care is available in our undercroft from 9:45 to 11:45 am.

CHILDREN'S CHAPEL
NOTE: Children's Chapel will not meet this week, but will be back next Sunday.

SNACKS & CONVERSATION
Come to Parish Hall after the 10:15 am worship service for food & fellowship
Read the Scriptures for Sunday
YEAR A, PROPER 25 • TRACK 1
• Deuteronomy 34:1-12
• Psalm 90:1-6, 13-17
• 1 Thessalonians 2:1-8
• Matthew 22:34-46
"HELPINGS" a Success & Next Steps
Last week at the Episcopal Diocesan of Western Kansas Convention, clergy and lay delegates worked together to assemble 1,000 bags of shelf stable food to be distributed in each of our communities across the diocese. (See below for some pictures of the process.)


AND NOW, the work of the people continues. Please take some HELPINGS bags with you, and give them to people you come across in your daily life, who could use a meal and the knowledge that someone is looking out for them. Just give them a HELPING, and let them know that you are doing this as a concrete way to share God's love.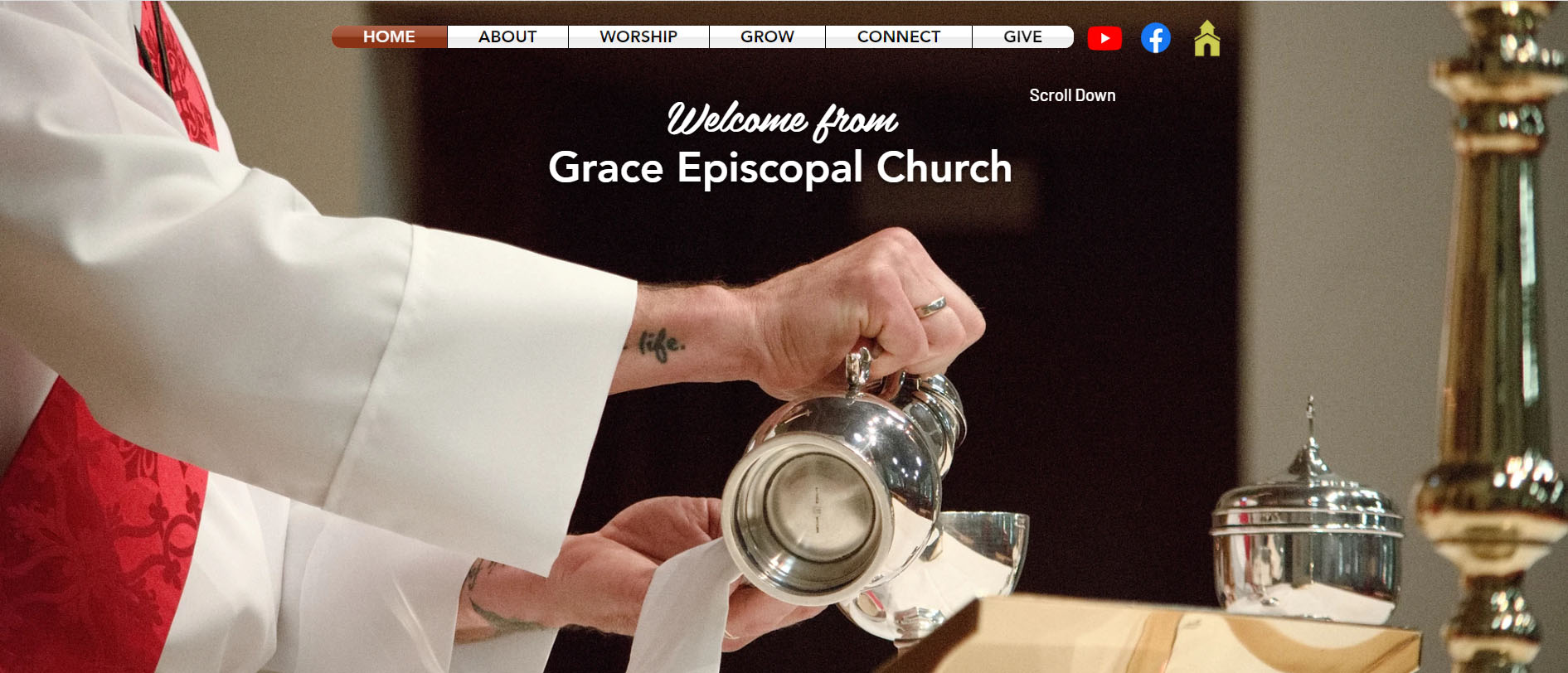 Visit Our Homepage Weekly
In our efforts to convey the life and mission of Grace Episcopal Church, both to the people of Grace and the larger community, we update our homepage every week with news of what's coming next or updates on what has been going on. So plan to visit the homepage weekly to stay informed and inspired.

SUNDAY, October 29
8:00 am • Holy Eucharist, Rite 1 (spoken)
9:15 am • Sunday School
10:15 am • Holy Eucharist, Rite 2 (music)
After the Service • Fellowship Hour (Parish Hall)
MONDAY, October 30
7:00 pm • Al-Anon (Parish Hall)
WEDNESDAY, November 1
9:30 am • Holy Eucharist, Rite 1 (Chapel)
10:00 am • Adult Bible Study (Parish Hall)
6:30 pm • Elementary Youth Group (ends at 7:30)
6:30 pm • MS-HS Youth Group (ends at 8:15)

SUNDAY, November 5 • ALL SAINTS' SUNDAY

GRACE EPISCOPAL CHURCH


2 Hyde Park Drive
Hutchinson, Kansas 67205


You received this email because you signed up on our website or made a purchase from us.