Port Moody Music


Newsletter
Inlet Theatre Music Series
Norman Foote - Sunday, November 26

There is NOTHING better than enjoying fun entertainment with the whole family! So Moms and Dads, Aunts and Uncles, Grandparents, Kids .... here is a fun Matinee Concert for the entire family!

Date: Sunday, November 26, 2023

Place: Inlet Theatre - 100 Newport Dr. Port Moody
Doors: 3:00pm Concert: 3:30pm
Parking: around and under the Theatre complex - all free.

Tickets online: $20.00 (+ GST/ s/c), Door (if any left!): $30.00
Ticket Link:
| | | |
| --- | --- | --- |
| This afternoon concert features funny, entertaining, Juno award winning Norman Foote, along with the Coastal Sound Kids & Junior Choirs. (Grades 1 - 6) | | Norman's passion for songwriting, story telling and comedy has taken him to amazing concerts and communities throughout the world. His ability to find ageless melodies and interesting subject matter brings laughter and singing to audiences big and small. He has gathered music awards along the way including a Juno and several WCMA awards. Norman has written and recorded for Disney records, CBC, Shari Lewis, Max and Ruby and others. |
Get ready for some BIG SMILES !

Next Month - it's Laila Biali !
Multi award-winning Canadian singer-songwriter, pianist and CBC Music national radio host Laila Biali has headlined festivals and venues spanning five continents from New York City's Carnegie Hall to Beijing's National Centre for the Performing Arts.

Saturday,


December 16


at 7:30pm ...

a Holiday themed concert.

For much more info and details - check out Port Moody Music
Tickets are going fast!
Get yours early.

An overheard conversation between 2 people at the Inlet Theatre Galleria
before the start of our last concert .....

when a couple had come early to check out the seating situation

because they had never been to the Inlet Theatre before:
"We didn't have to worry -
every seat in the house is a good seat!"

Upcoming 2024 Concerts.. Inlet Theatre Music Series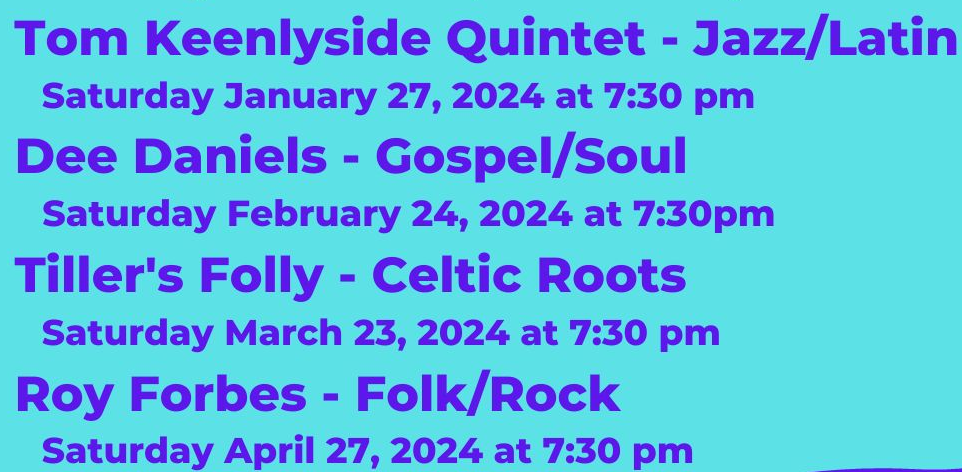 Our Season Sponsor

Placemaker is most certainly having a positive impact on our community.


As Sponsor of our 2023-2024 series - they are helping music stay alive and affordable in our City.


We are so thankful!

Learn more at: https://www.placemakercommunities.com/
Our Media Sponsor this season

Thanks for the music!



Graham Lindsey & Maddy O'Regan ~ Celtic/Folk

Friday, November 17, 2023 at 7:30

In Partnership with HomeRoutes, SchmidtHaus presents Graham Lindsey & Maddy O'Regan in Anmore.

Tickets limited ~ available online only



Graham Lindsey has become a household name in the world of Canadian folk music by infusing his performances with an infectious energy and his mastery of instruments like the mandolin, tenor banjo, and guitar.

Maddy O'Regan is no ordinary musician; she's a singer-songwriter, a violin virtuoso, and a fiddler, all rolled into one. When this Ottawa-based musician takes the stage, her presence and her music combine to produce masterful violin performances with powerful vocals, delivering deeply resonant songs.


A home concert at SchmidtHaus offers up the chance to hear amazing
musicians in a cozy setting and meet new friends. We hope you'll join us.

More about this artists and TICKETS can be found here: https://GrahamLindsey-HomeroutesAtSchmidtHaus.eventbrite.ca



Saturday, November 18 at 6:00pm
Come together for a fun night of giving, dining, and dancing, featuring The Taxmen Beatles, Tribute Band.

Full dinner buffet starts at 7:00pm
"The Beatles" play at 7:30 pm
More info at:

Beatles Event Link
CP Holiday Train - December 18
The CP Holiday Train will be pulling into stations in Port Moody and Port Coquitlam for its annual visit on Monday, December 18.
The cross-North America journey by two trains, decorated with thousands of colourful LED lights and seasonal designs, is celebrating its 25th anniversary of raising money, food and awareness for local food banks.
Since its inception in 1999, the trains' stops in communities as far east as Hermon, Maine, to Shreveport, La., in the south to its final destination in Port Coquitlam, has raised more than $22.5 million and five million pounds of food.
The Holiday Train program rolls out Nov. 20 and will visit six provinces and 14 states, with 191 live music shows from a roster of 10 musicians that perform from a special rail car equipped with its own stage, lighting and sound system. Each train is 1,000 feet long.
The musicians scheduled for the stops in Port Moody and Port Coquitlam are Vancouver-based artist, producer and actor Tyler Shaw and Canadian singer-songwriter Kiesza.
The train will arrive in Port Moody, on the tracks behind City Hall, at 5:20 p.m., Monday December 18, with the musical performances scheduled from 5:45 to 6:15.

Port Moody Music

BC, Canada

You received this e-newsletter because you signed up on our website or at an event.