Issue 11, October-November 2022

Hello and welcome to October, the Blob issue.


Where I put the BLOB under the microscope .... to discover it's made up, not of molecules, but of habits!
Why blob? Coz that's what winter does to us, folks. Blobbifies. 
Suddenly it's time to shed the winter layers and murmur a shy hello to our summer body. 
(You're right: blobbify is not in the Dictionary. Should be). *
*
Please pick your way through the blab below. You'll meet Lennie the blob, an endearing empath. Plus the wisdom of some de-blobbing experts I love. And the usual windows into ordinary life.
BLAST THE BLOB: Anna-Louise Bouvier
What if unblobbing is a lot easier than you think? 
DID YOU KNOW you can strengthen the bones of your skeleton simply by standing with your weight evenly balanced on both feet? Basically, it's the reverse of the leaning-slouching position we all love so well. 
Slouching blobbifies. Slouching is bad news people.
Anna-Louise Bouvier is a topnotch physio and media personality. Her easy-read books and chirpy tv/youtube appearances blast the lob out of blob. Many a Bouvier tip informs my yoga classes. Coz she's so sensible. Highly recommended.
DE-BLOB YOUR SUPERPOWERS: Amy Cuddy
Standing tall not only strengthens the spine. It awakens your inner-warrior high-achiever superpowers.
TRY THIS ONE. Strike the pose of a marathon winner (arms out, chest out, head back), hold it a while and see how it feels. Then huddle into a ball of misery. See how that feels. Compare the two. Science done.
Amy Cuddy's body language Ted Talk is the second most-watched Ted of all time. Spoiler alert: the subservient "I'm-so-small-and-insignifiant" posture (yup, aka SLOUCHING) does no-one no good.
hi my name's lennnie. i am a little blob just trying to help u get through the day 🌱. @lennniesworld
Lennie the blob is my latest hero. (And also the Banksy of the internet, good luck if you can discover their identity).  Lennie's generous gems of wisdom, adorably delivered, are top class mindful wisdom. The 'comments' leave no doubt that Lennie is out there changing lives.
note: the links in pics above are not active.


Lennie: links & extracts   (F-bomb warning)
"This week is going to be amazing. It is a scientific fact that one week of your life will be the best week of your life and it might possibly very well probably be this one so congrats in advance." This week best week
.
Send it to a loved one: I love you
.
A reviewer, Amber, writes "Here sobbing as I listen to this for the third time in a row. I love how Lennie's messages contain the exact words I want to say to a friend one week and just the words I need to hear the next." Just Checkin in on u
Find Lennie on all the social platforms
Study mindfulness with me
"Did you design the course just for me?" inquired a participant at the conclusion of the course last week.
Well not exactly, I could reply. But it works wonderfully for me, too.
"Learning to trust body sensations has been life changing. Under stress I used to freeze, and had no clue how to react. These methods are now tools I use every day."

Watch this space. I'll be running this six-week course for a group of six starting in March next year. Join the list here. More info.
Puttin' the TALL back in y'all.
ONLINE POSTURE WORKSHOP

Meet me ONLINE
Sunday 27th November (3pm) OR Wednesday 30th November (6pm)
for an informative, fun-filled Posture Workshop (1.5 hours).

more info here
EDEN CREEK MINDFULNESS MORNING
Sunday 9th October 9am - 1pm at Eden Creek Hall (15 minutes from Kyogle NSW). Yoga, meditation, playful mindfulness activities. Details here
COUCH POTATO
A couch fits the blobby theme. It's for blobbing on. But what happens when your spiffy new couch won't fit the lift or fire escape? Do what my sister Margie (eventually) did: call Airtaskers and before you know it, a team of Bulgarian weight lifters will be hoisting your couch with ropes and belts, five stories up over the balcony. 
Fun fact: her abode is located in Albo's electorate.
CHEW WATER

Once, holed up (blobbing, you could say) at an Indian Hill station, I chanced across a dusty health journal. Within, a recommendation that's been handy in the 30-odd years since. "Drink food. Chew water." Drink food of course refers to chewing well. But chew water? Try it in cold weather (like the recent winter!) to take the chill off liquid and avoid freezing your esophagus. Bonus: saves on power bills (omg the power bills)!
A SPOT OF CLEANING
Are you a cleaning blob like me? Surely not. But let me tell you (disclaimer, not affiliate marketing) about the magic discovery that has transformed my turn-a-blind-eye-to-lint-and-dust home into a sparkling shiny kingdom that would have Marie Kondo gasping.
It's a $250 Electrolux WELL Q7 vaccy and I love everything about it (stands up by itself, light as a feather, headlight at the front). At that price you can scatter a few through the house.
I'm on domestic cloud nine.
We've been in the streaming doldrums lately, with inspiration thin on the ground. 
Oh well, there's always replays of Grand designs, Escape from the City and the under-rated hilarous masterpiece, Friends. 
For something fun, MADAME with Toni Collette, Harvey Keitel and Rossy de Palma. A wealthy American couple host a luxurious dinner at their Parisian mansion. When they bring in their loyal maid as a stand-in, the fun begins (SBS On Demand, expires 31 January 2023, be quick).

Oh, did you catch the passing of Queen Eliz? What, you missed it? This take on Lady Di was an eye-opener.
Dharma friends, James Low.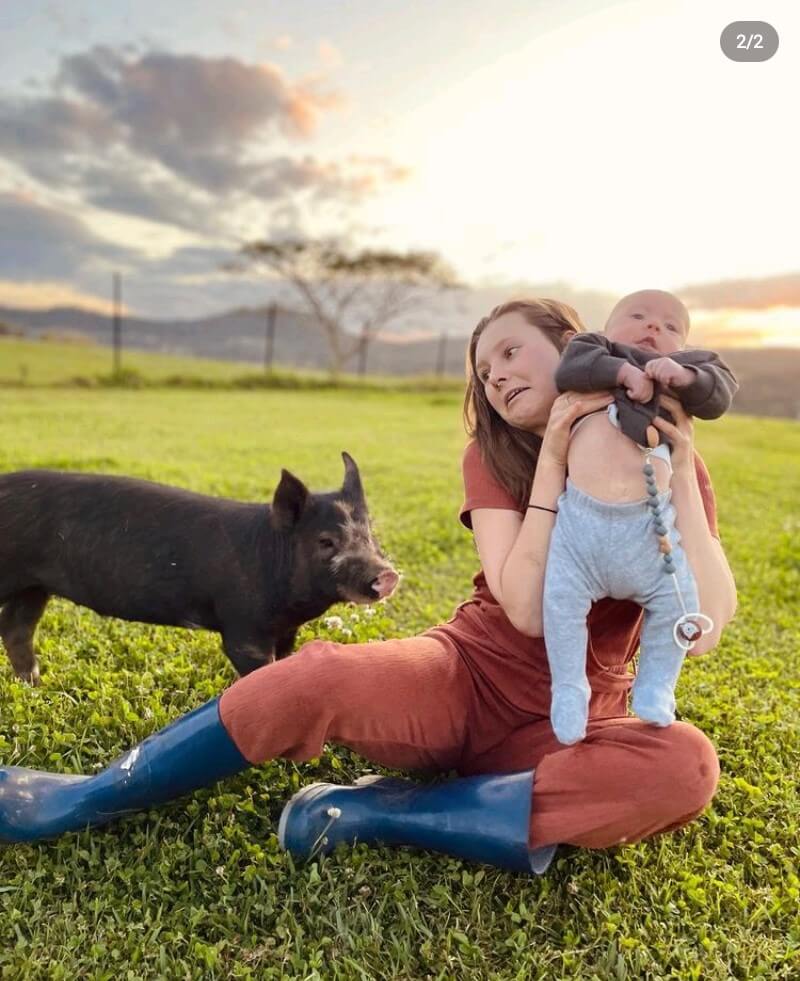 No so close!
When the pet pig gets a bit too close to the new bubba.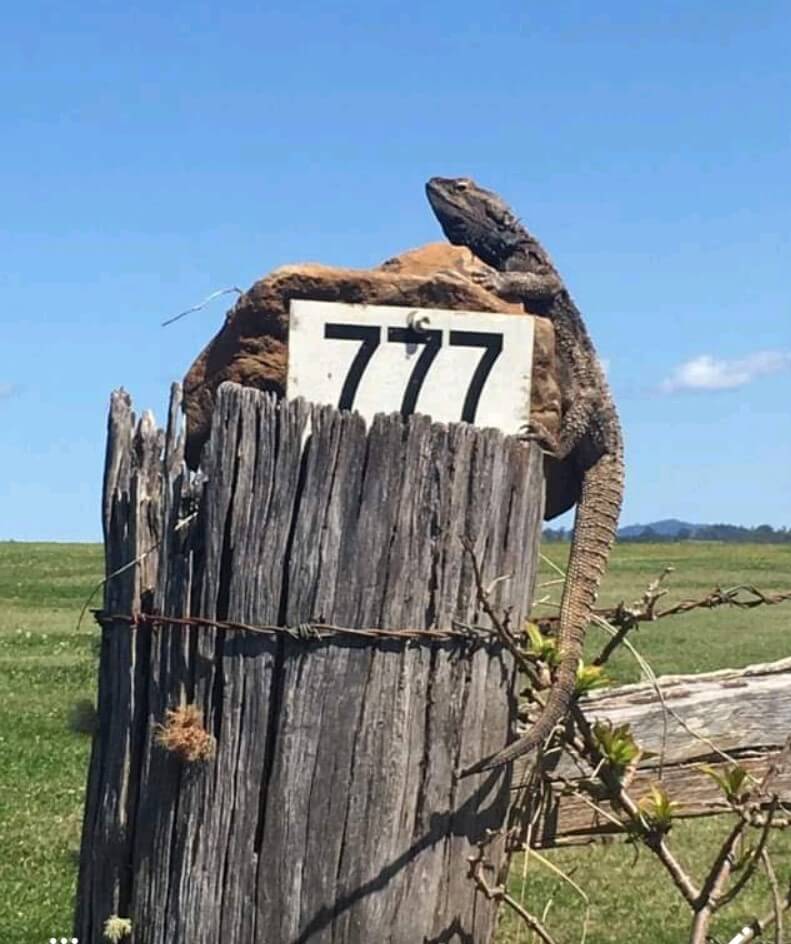 If you build it they will come ...
Rock positioned on gatepost for grandpa to take home. Left behind and claimed by someone else. A scaly someone else.
That's all folks!
Thanks for opening and reading. Truly, I appreciate your kindness and generosity.

If you've got nothing better to do (not that you're blobbing around or anything) feel free to send thru a Hi. 
It can be lonely on this end of the Newsletter!
Till next time,

STAND UP STRAIGHT! (lol)
* if you've been forwarded this newsletter and would like to get your own, please subscribe.
- Look out for the next edition of the Joyfulmind Newsletter on 1st December-

*
BLOB:  noun- a soft mass or drop, as of some viscous liquid a spot, dab, or blotch of colour, ink, etc. An indistinct or shapeless form or object. 
BLOBBIFY- Not officially a word ... How about: "to make blobby".
 BLOBBY is a word: 1: covered or filled with blobs 2:  made up of blobs.  

BLOBBINESS makes the grade: (noun) "… he couldn't have imagined the depths of sedentary blobbiness into which we'd sink in this Computer Age."
Find all the usual goodies on my website:
> My Guided Meditations on Youtube
>A six-session online Gentle Yoga Course
>The Self-Kindness Bootcamp online course

> Picture books  Rest is Best and ZipZap Brain Snap: Meet the Amygdala
Yoga in Kyogle happens fortnightly, Mondays 4pm 
joyfulmind
PO Box Joyfulmind, Maclean
Australia
You received this email because you signed up on our website or made a purchase from us.
Unsubscribe