Special Edition: An Overview of Critical Conversations and Partner Experiences at the 2023 International Maternal Newborn Health Conference
Maternal Mental Health Evidence to Policy in Sub-Saharan Africa as a Model for Future Research and Implementation
Above: Dr. Emily Peca, University Research Co. LLC; Molly Naisanga, Infectious Diseases Institute; Dr. Andrew Silumesii, East, Central and Southern Africa Health Community; Dr. Victoria Ngo, City University of New York; and Dr. Dilys Walker, University of California San Francisco
According to the World Health Organization, worldwide about 10% of pregnant women and 13% of women who have just given birth experience a mental disorder, primarily depression. In developing countries this is even higher (15.6% during pregnancy and 19.8% after child birth). 
During the 2023 International Maternal Newborn Health Conference (IMNHC) in Cape Town, South Africa, the session "Advancing Evidence to Practice for Maternal Mental Health: Lessons learned from the Africa region" was hosted by ISC partners the Infectious Diseases Institute, the East, Central and Southern Africa Health Community (ECSA-HC), University of California San Francisco, and the City University of New York. It was moderated by Dr. Emily Peca, University Research Co. LLC. 
The discussion identified gaps and practical opportunities to advance the intersection of maternal health and mental health evidence to policy efforts through highlighting innovative interventions from Ethiopia and Uganda and provider mental health evidence from Malawi. The discussion explored implications for service delivery and subregional policy opportunities.
Integrating Maternal Near Miss Case Reviews
Dr. Luis Gadama, Kamuzu University of Health Sciences, presented Advancing Post-Partum Hemorrhage Care study findings from three hospitals on the topic of integrating maternal near miss case reviews into pre-existing maternal death surveillance and response systems in Malawi. This work has generated interest in scaling up integration, with training and mentoring occurring in several districts. 
Reviewing Perceptions of Respectful Maternal Care Among Health Workers in Malawi
Carolyn Smith Hughes, University of California San Francisco, delivered a respectful maternity care (RMC) presentation which drew on evidence from the Advancing Postpartum Hemorrhage Care implementation research in Malawi. She summarized findings related to health worker perceptions of person-centered maternity care (PCMC), understand the factors which predict health worker reporting of PCMC (including health worker burnout), and ways to improve quality and experience. "At IMNHC,  it was great to see how much time and importance were placed on the critical role that RMC, and especially communication, autonomy, and engagement of women in their own care, plays in quality of care and outcomes," Ms. Smith-Hughes reflected.
ISC Partner Reflections
Takeaways from the 2023 International Maternal Newborn Health Conference.
Dr. Andrew Silumesii, Manager Family Health and Infectious Diseases; ECSA-HC

"I was awakened to the stark reality that many women silently suffer from mental health challenges during the process of child-bearing, often navigating through health systems that are not only unresponsive but may even be unaware of their needs. This underscores the importance of formulating health policies that address maternal mental health in a multi-sectoral manner."
Molly Naisanga, Researcher, Infectious Diseases Institute, Makerere University

"I learned a lot about looking at issues from a global scale. Issues like where is the perinatal mental health movement, who is able to influences policy and how can I be a part of that? What is success and who defines success when it comes to the healthcare process? How can I contribute to better healthcare processes?"
Dr. Dilys Walker, Professor, University of California San Francisco

"I attended a dynamic session on Networks of Care that provided a thought-provoking framework for how to think holistically about the structural, functional and interpersonal elements necessary for a health system to provide high-quality, respectful maternal and newborn care."
Dr. Victoria Ngo, Director, Center for Innovation in Mental Health, City University of New York

"There is strong interest in mental health integration into maternal and infant health as well as promising models of integration, including M-DEPTH. We need to move what we know into the respectful maternal care / maternal health circles."
Showcasing Maternal Mental Health Interventions
The ISC's session at IMNHC featured a series of videos showcasing three distinct maternal mental health interventions in the Sub-Saharan region. These videos provide insights into the impact of the interventions, the challenges faced during implementation, and the strategies employed to address challenges.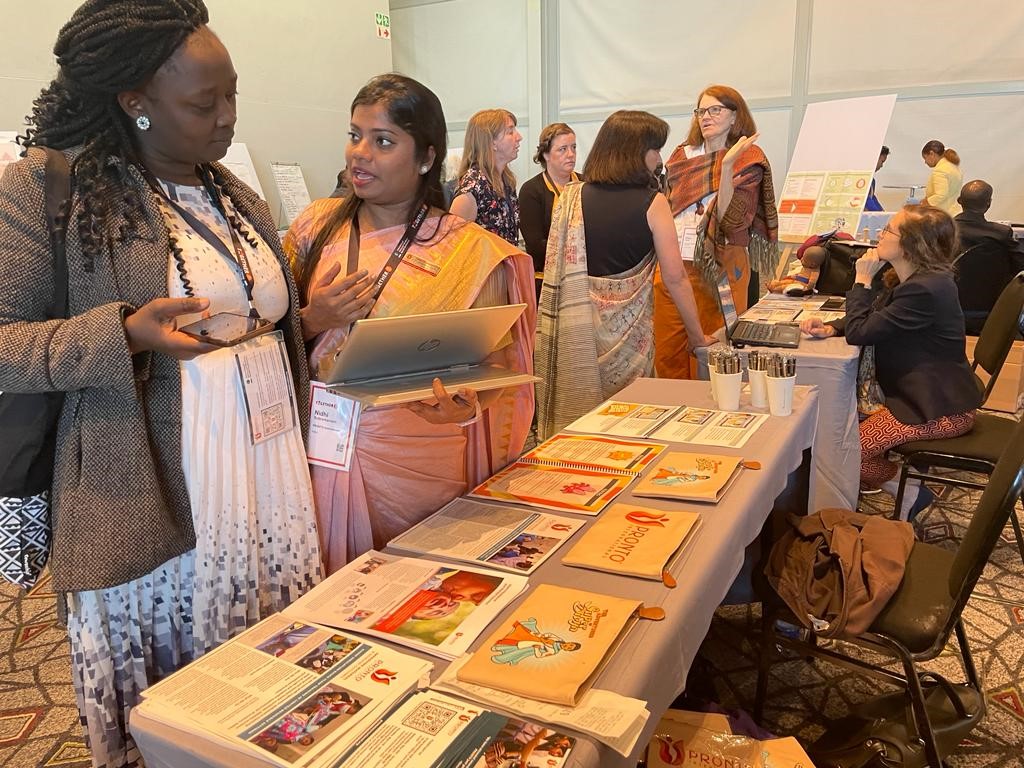 Promoting Innovative Post Partum Hemorrhage Interventions
Dr. Dilys Walker, UCSF, worked a booth in the IMNHC technical marketplace to discuss the effectiveness of PRONTO, a simulation, team training and communication intervention that addresses provider knowledge, preparedness, and teamwork in managing postpartum hemorrhage.
Request for Application: Support to Honduras' National Response Plan for the Prevention of Violence against Children and Adolescents (2021-2026): Supporting data-informed implementation and dissemination of implementation learning at national and municipal levels
The United States Agency for International Development's (USAID) Health Evaluation and Applied Research Development (HEARD) Project is seeking a partner institution(s) to support the efforts of the Government of Honduras to end violence against children. The partner institution(s) should be based in Honduras, or based in the region, but with operational presence in Honduras. 
Registration Open for Women Deliver 2023
Where: Kigali, Rwanda and Virtual
When: July 17-20, 2023
The Women Deliver 2023 Conference will enable inclusive and co-created spaces that foster solidarity for sustainable solutions on gender equality.
Click here to register today. 
Registration Open for the International Society for Prevention of Child Abuse and Neglect Congress
Where: Edinburgh International Conference Center in Edinburgh, Scotland
When: September 24-27, 2023
This year's theme is "Advancements in Data and Solutions for Tackling Child Abuse."
Click here to learn more. 
Implementation Science Collaborative (ISC) is a multi-stakeholder network addressing a range of health and development priorities through the better use of evidence to inform implementation. The ISC leverages USAID's Health Evaluation and Applied Research Development (HEARD) Project partnership to advance priorities across diverse thematic areas, such as woman-centered care, mental health and psychosocial support, protecting children from violence, and assistive technologies.
We acknowledge support from the Health Evaluation and Applied Research Development Project funded by United States Agency for International Development (USAID) under cooperative agreement AID-OAA-A-17-00002. The project team includes prime recipient, University Research Co., LLC (URC) and sub-recipient organizations. The information provided is not official U.S. Government information and does not represent the views or positions of the U.S. Agency for International Development or the U.S. Government.
Implementation Science Collaborative (ISC)