Critical Conversation about Maternal Mental Health in Africa at Global Maternal Newborn Conference
As part of a concurrent thematic session at the International Maternal Newborn Health Conference (IMNHC) 2023, Implementation Science Collaborative (ISC) partners will advance a critical conversation on maternal mental health evidence and emerging policy action by drawing from examples in Sub-Saharan Africa. Moderated by University Research Co., LLC, the session, entitled "Advancing Evidence to Practice for Maternal Mental Health: Lessons learned from the Africa region," will convene the University of California San Francisco, the City University of New York, the East, Central and Southern Africa Health Community; and the Infectious Diseases Institute. This session builds upon the ISC's Mental Health and Psychosocial Support (MHPSS) work and webinar as well as its woman-centered care partner efforts. 
Additionally, Dr. Luis Gadama from Kamuzu University of Health Sciences in Malawi, will present Advancing Post-Partum Hemorrhage Care study findings from three hospitals on the topic of integrating maternal near miss case reviews into pre-existing maternal death surveillance and response systems in Malawi. Other partners presenting at the conference include: African Population and Health Research Center, London School of Hygiene and Tropical Medicine, Makerere University, Pathfinder International, PRONTO, Population Council, and White Ribbon Alliance. Click here for an overview of the topics on which they will be presenting.

Live Streaming Available!
All plenary sessions will be live streamed free of charge and available on-demand post IMNHC. They will be available for open access here: https://imnhc2023.dryfta.com/
World Health Organization's Wheelchair Provision Guidelines a Focus at the ISPO World Congress in Mexico
Pictured L-R: Kylie Shae (WHO), Chapal Khasnabis (WHO), Claude Tardif (ISPO), David Constantine (ISPO), Alex Kamadu (ISWP), Silvana Contepomi (AATA) and Mariette Deist (ISPO)
The World Health Organization (WHO), the International Society of Prosthetics and Orthotics (ISPO) and the International Society of Wheelchair Providers (ISWP) did a soft launch of WHO Wheelchair Provision Guidelines at the ISPO World Congress in Guadalajara, Mexico on April 24, 2023. Wheelchairs are one of the most commonly used mobility devices, and have the potential to enhance individual's health, independence, productivity and quality of life. However, many people are denied access due to a lack of services and/or have poor outcomes due to their needs not being matched to the best wheelchair solution for them.
These Guidelines build on lessons learned from the 2008 WHO Wheelchair Guidelines on the Provision of Manual Wheelchairs in Less Resourced Settings and have drawn on the growing body of knowledge of best practice in wheelchair provision. This will provide evidence-based recommendations and best practice guidance to support countries in developing or improving essential wheelchair services. The Guidelines aim to ensure wheelchair users everywhere have the opportunity for timely access to, and support to use, an appropriate wheelchair through wheelchair services that are people-centered and responsive to individual needs and goals. The final version of the Guidelines will be available by the end of this month.

ISWP Sessions at the ISPO Congress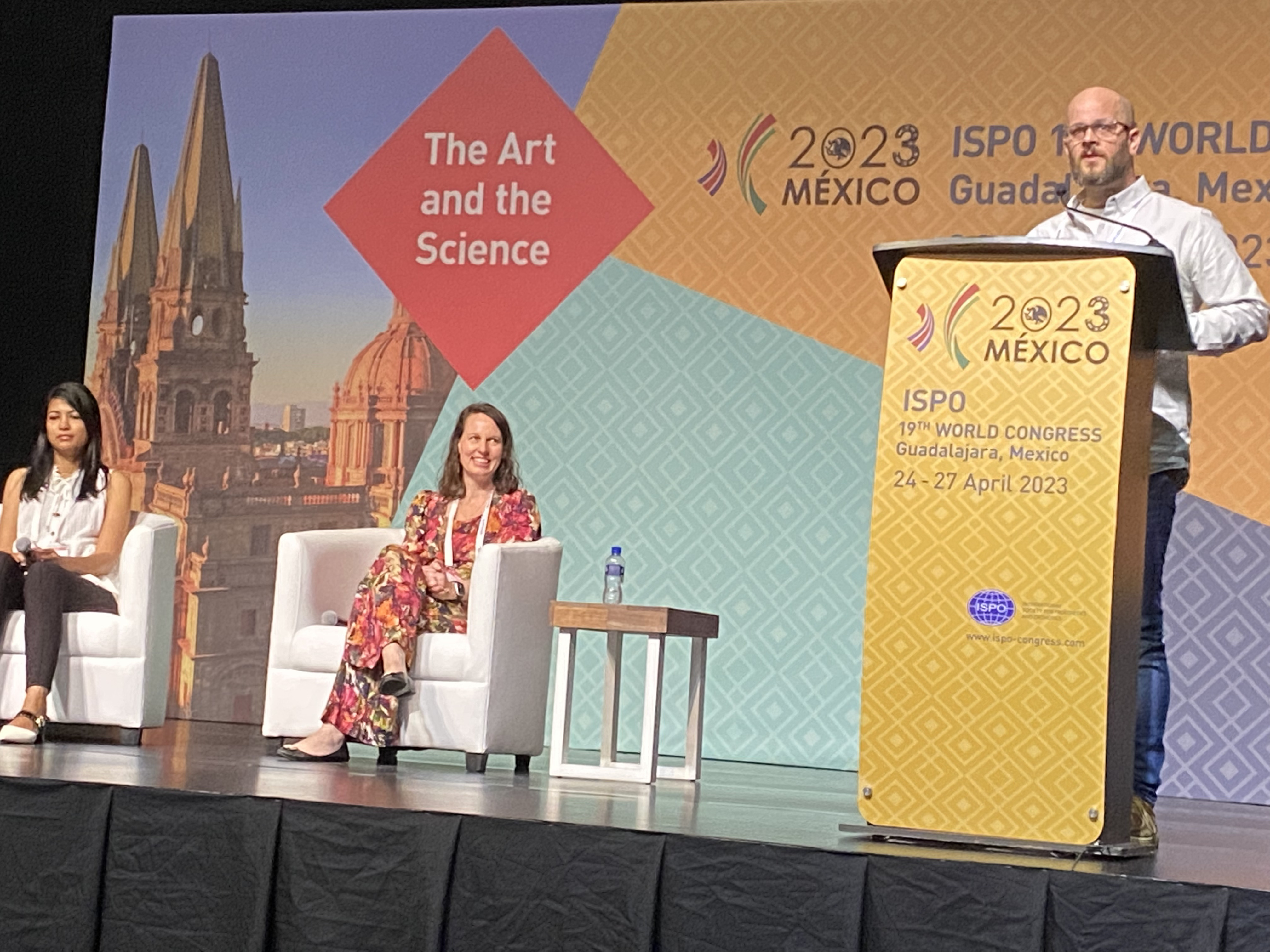 The Wheelchair Educators' Package: A tool to integrate wheelchair-related content into prosthetics and orthotics curricula
The team elaborated on the features of the Wheelchair Educators' Package (WEP), which will guide educators to integrate wheelchair content into their curriculum in advocating, planning and evaluating. The WEP was developed as an online, living resource to guide educators in the integration of wheelchair content into university health care professional programs and regional training center curricula. Developed by a team of wheelchair provision experts from across professions and settings, the WEP is intended to be applicable worldwide.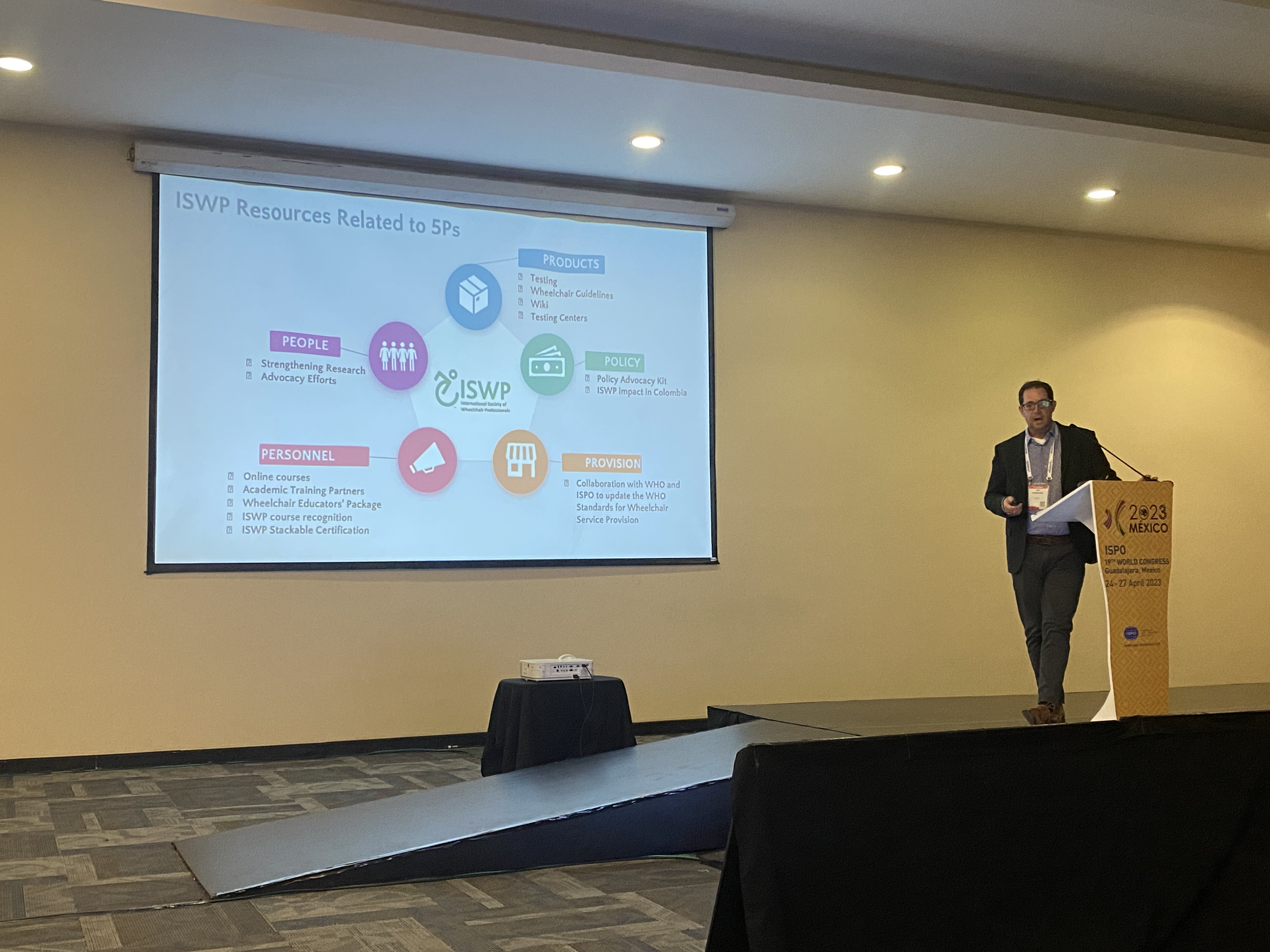 Evolution of Standards in the Wheelchair Sector: Standardizing products, services and training
The ISWP team described the history of the development of standards and related documents including:
WHO Guidelines on the provision of manual wheelchairs in less resourced settings, 
Follow-on WHO wheelchair service standards led by ISPO and the ISWP, and 
Various product standards that are recognized by the International Standards Organization and other bodies. 
Introducing the ISC's New Searchable Resource Center
From case studies and research briefs to webinars and presentations, this database houses 137 (and counting) partner-produced resources types across seven thematic networks, including woman-centered care and mental health and psychosocial support, and 14 countries. Some of our resources are also available in other languages, including Spanish, French and Chichewa. 
International Conference on Urban Health
Abstract submissions will be accepted through May 15, 2023. Submission details are available on the website.


Oceania Seating Symposium
Submissions will close on May 21, 2023. Details are available on the website.

Global Mental Health Research Without Borders Conference


Abstract submissions will be accepted until 5 p.m. EST May 31, 2023. Submission details are available on the website.

Evidence and Implementation Summit


The call for abstracts for this event (Oct. 9-11, 2023 in Melbourne, Australia and virtual) is open until June 4, 2023.  Submission details are available here.
Registration Open for Women Deliver 2023
Where: Kigali, Rwanda and Virtual
When: July 17-20, 2023
The Women Deliver 2023 Conference will enable inclusive and co-created spaces that foster solidarity for sustainable solutions on gender equality.
Click here to register today. 
Registration Open!
Where: Edinburgh International Conference Center in Edinburgh, Scotland
When: September 24-27, 2023
This year's theme is "Advancements in Data and Solutions for Tackling Child Abuse." Register by July 15, 2023, to secure the early bird rate. 
Click here to learn more. 
Implementation Science Collaborative (ISC) is a multi-stakeholder network addressing a range of health and development priorities through the better use of evidence to inform implementation. The ISC leverages USAID's Health Evaluation and Applied Research Development (HEARD) Project partnership to advance priorities across diverse thematic areas, such as woman-centered care, mental health and psychosocial support, protecting children from violence, and assistive technologies.
We acknowledge support from the Health Evaluation and Applied Research Development Project funded by United States Agency for International Development (USAID) under cooperative agreement AID-OAA-A-17-00002. The project team includes prime recipient, University Research Co., LLC (URC) and sub-recipient organizations. The information provided is not official U.S. Government information and does not represent the views or positions of the U.S. Agency for International Development or the U.S. Government.
Implementation Science Collaborative (ISC)