Check out the latest construction industry news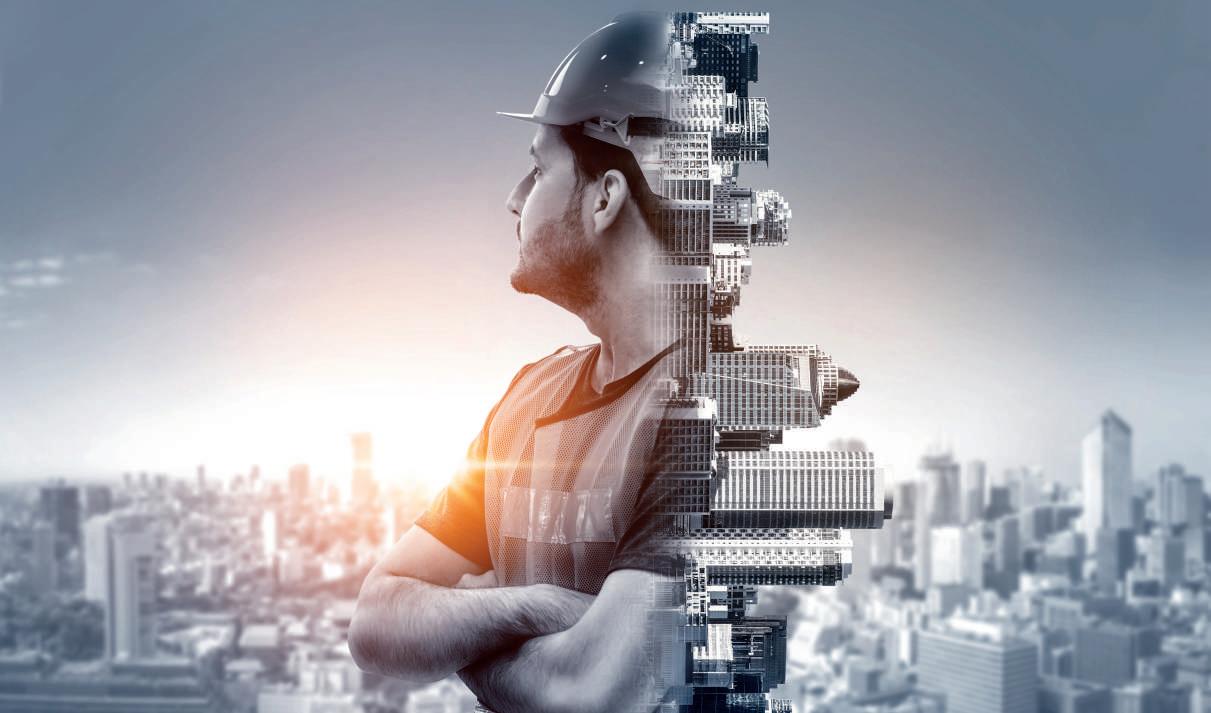 Revista Negocio y Construcción Julio 2022
CICA on Business and Construction Magazine!
CICA Director General Fanny Dastugue gave an interview to the Negocio&Contruccion magazine. A chance to introduce CICA's mission as representative of the construction industry worldwide. Since its creation in 1973, CICA has been engaging with major international organizations, multilateral development banks, and contracts providers such as FIDIC, NEC... to expose and defend the industry's interests. In that regards, CICA plans each year a mission to Washington, in the margins of the World Bank and IMF Annual or Spring meetings. The 2022 mission will take place from October 10th to October 14th : subjects such as asset recycling, infrastructure and PPPs will be discussed.
Read CICA's full interview, to learn about the construction industry worldwide, with a focus on the Chilean and Latin-American markets.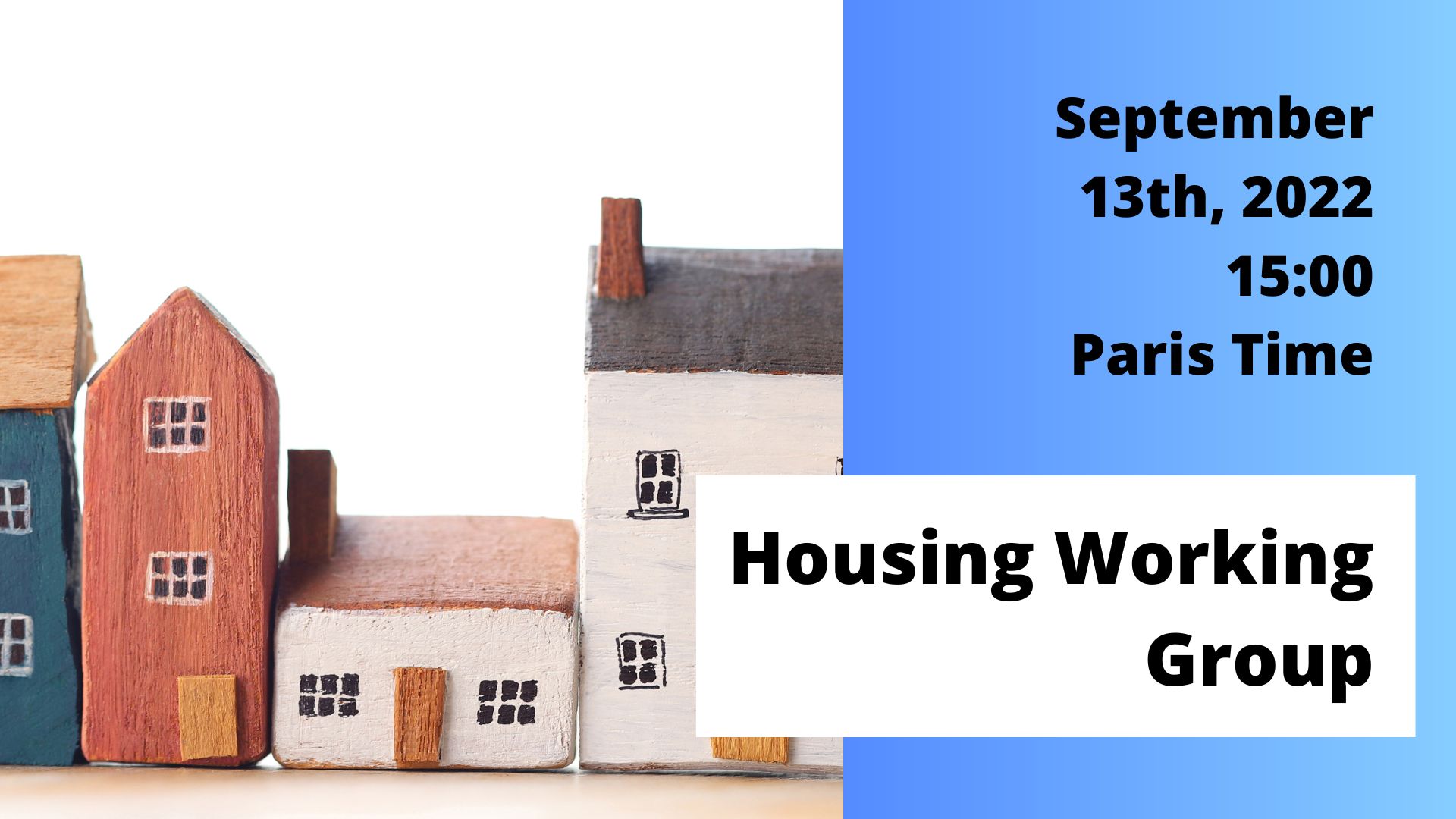 CICA & CAMACOL
CICA Housing Working Group met in September!
CICA Housing Working Group had the honor to welcome Silvia Solano, Regional Lead for Latin America's International Financial Corporation (IFC) Green Building Program. It was a chance for CICA to learn more about the green buildings sector in Latin America and discover the EDGE (Excellence in Design for Greater Efficiencies) certification, an IFC initiative, making it easy to design and certify resource-efficient and zero carbon buildings. 20%, 40% or 100%: 3 certification layers of water, materials, and energy savings.
"IFC succeeded at creating an ecosystem of stakeholders, going in the same direction: one team, one language, one standard", stated Silvia Solana.
By 2050, all Latin American buildings should be carbon-free.
You wish to take part in the discussion? Contact CICA Management.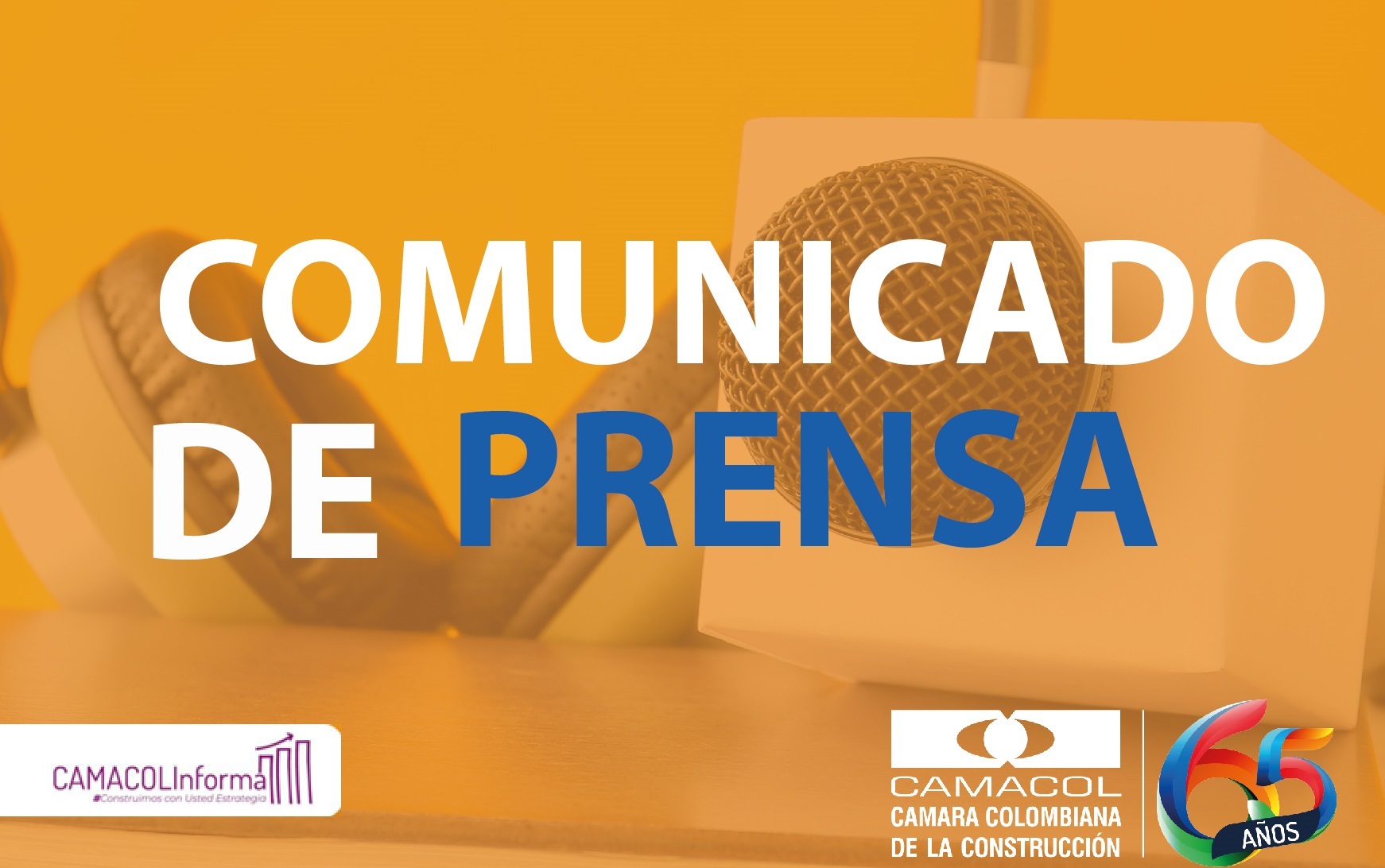 CAMACOL
The Colombian Construction Congress will take place in October 2022!
From the 19th to the 21st of October, the Colombian Construction Congress is coming back after two years of virtuality.
For the first time, it will be held in Barranquilla, a city that is a reference in terms of innovation and urban development: "a city to invest, visit and live".
This Congress will bring together national governments, regions, opinion leaders, actors in the construction value chain, academia, around the slogan "Construction 2050: Well-being, Housing and Sustainability".
The discussion will navigate from housing deficit, poverty, building quality cities, boosting productivity to workers' welfare. International experts such as Albert Saiz, director of MIT's Urban Economics Laboratory; Adam Matthews, President of the International Global BIM Network; Joan Clos, former Executive Director of UN Habitat; Andrés Velasco, Dean of the School of Public Policy at the London School of Economics; and Ricky Burdett, British architect, and urban planner, will share insights on these topics.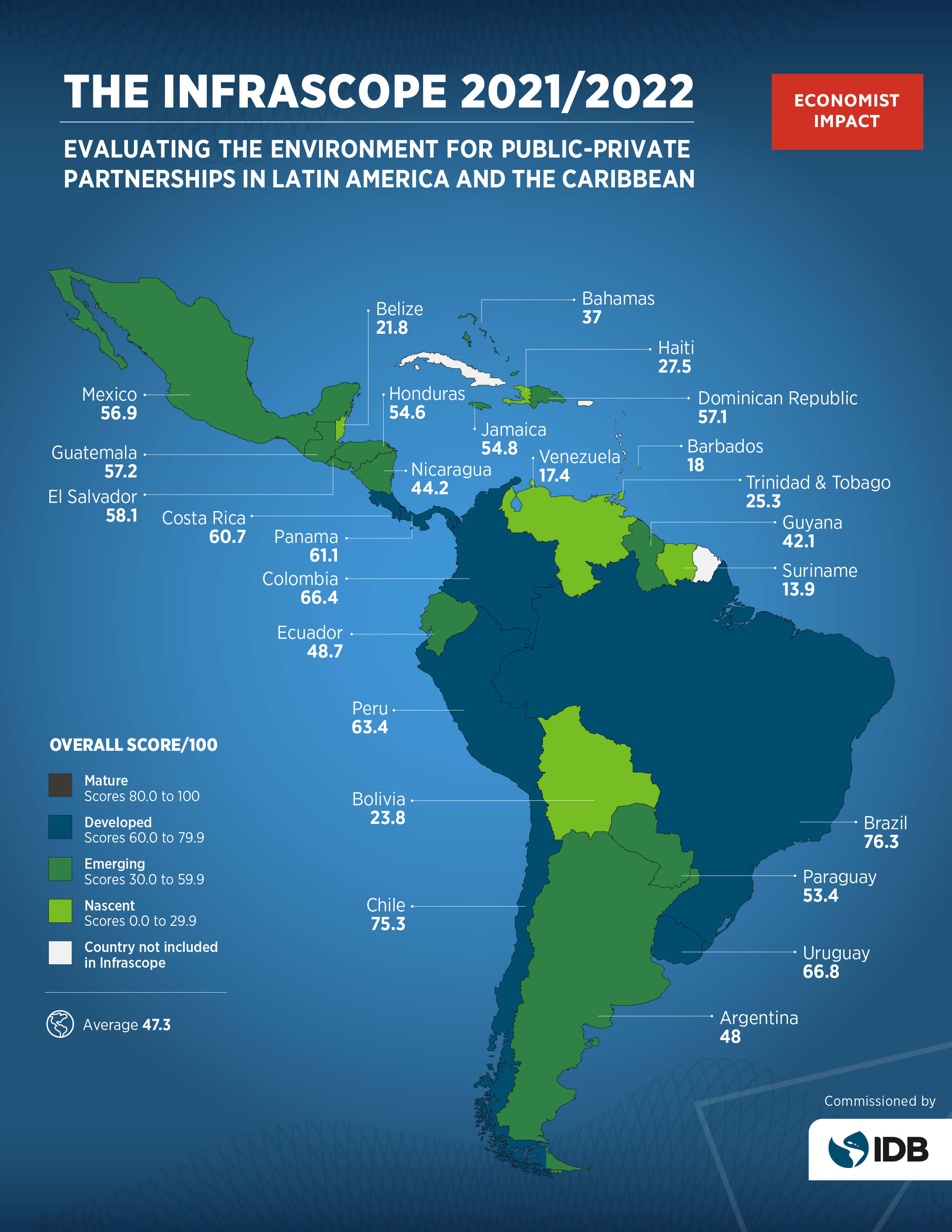 Inter-American Development Bank
Infrascope, Launched by IDB and Economist Impact, Shows Improved Regional Environment for PPPs
Brazil, Chile, Uruguay, Colombia, Peru, Panama and Costa Rica top the indicators in Infrascope 2021/2022, which evaluates the capacity of countries to mobilize private investment via public-private partnerships.

The Infrascope 2021-2022 study finds that Latin American and Caribbean countries have made major strides toward creating environments that favor the emergence of efficient and sustainable public-private partnerships (PPPs) for infrastructure.

Brazil and Chile especially stand out in this area, while Colombia, Peru, Panama and Costa Rica also show good performance.

In general, the region has already laid the regulatory and institutional foundations for developing PPPs, and countries should now focus on improving project preparation, funding, and risk management, the report says.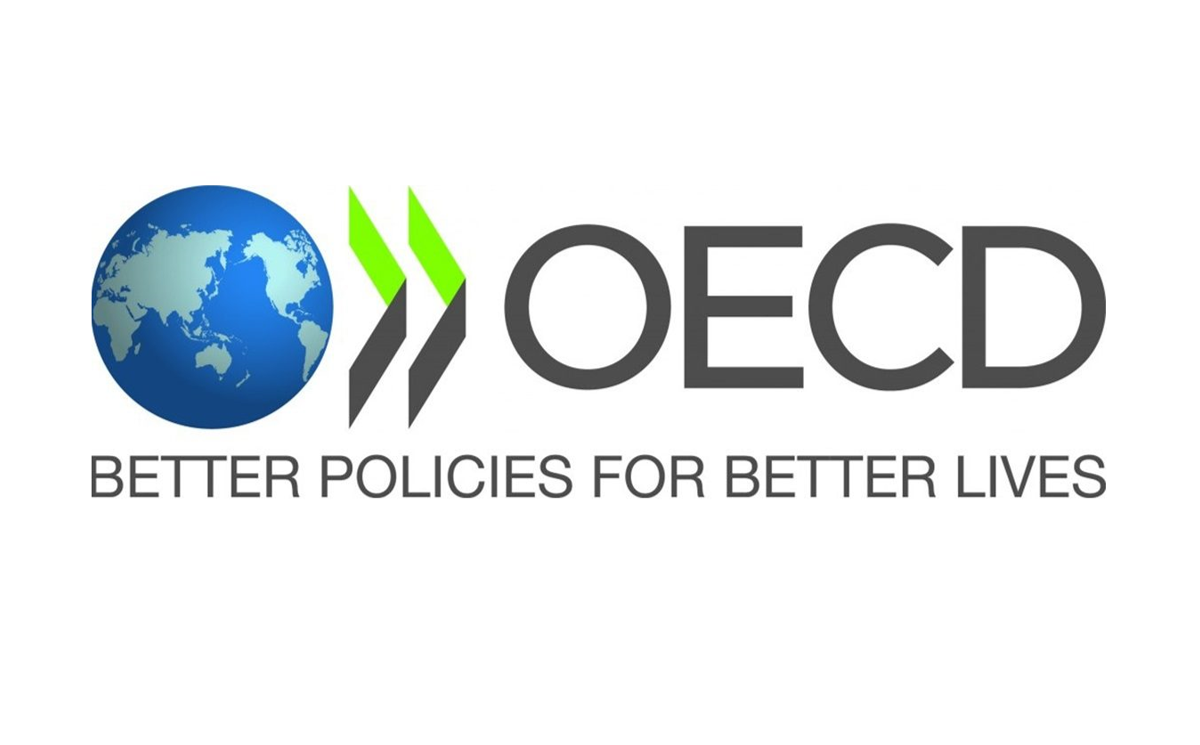 Devex Invested Newsletter
OECD report reveals little progress on climate funding
Climate finance increased only slightly in real terms in 2020, according to a report released on July 22nd, 2022, by the Organisation for Economic Co-operation and Development.
A new OECD analysis has found that climate finance was up only slightly in 2020 and, as expected, did not meet the $100 billion annual commitment that high-income nations promised to low- and middle-income countries.
The figures confirm, as expected, that a commitment among high-income nations to provide $100 billion in annual climate funding to low- and middle-income countries by 2020 had not been met.
EIC General Assembly
In Rome
30.09.2022

CICA mission to the World Bank and Inter-American Development Bank
In Washington D.C
10.10.2022 - 14.10.2022


2022 OECD Global Forum on Infrastructure
In Paris
11.10.2022 - 12.10.2022


FIIC General Assembly
In Manabí, Ecuador
13.10.2022 - 15.10.2022

CICA Autumn General Assembly
In Paris
28.11.2022 - 29.11.2022


FIEC General Assembly
In Brussels
02.12.2022
3 rue de Berri, Paris
France
You received this email because you signed up on our website or made purchase from us.
Unsubscribe