Highly Regarded Signal #13
WHAT IT DO BABY. Welcome back for the 200ish words a week I'm forcing myself to write so I don't feel like an unproductive shithead.  Our podcast is so low effort that this newsletter feels like a nice compromise.
Enjoy the noise.
Last Week's Episode
SEND NODES w/ @re_tweet aka Pedro
Pedro dropped straight gas on a rare educational episode last week.  However our "Best Producer in the Game" couldn't get the audio straight.....CLASSIC.  Just pretend that annoying watermark every 2 mins doesn't exist...
We introduced you to digital stones last week...well check this out!  @GetTheStones is a REGARDED genius.
What I Listened To This Week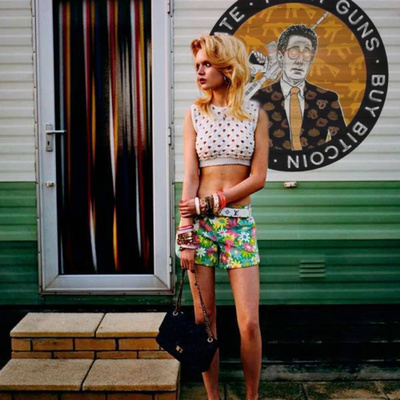 LC + Piratebeachbum on Bluecollarplebcast.  
This pod was a great listen while stuck in traffic for 3 hours.  
All these scammers arguing about toxic bitcoiners don't stand a chance.  Truth prevails.

Highly recommend to sub to BlueCollarPlebcast by LC.   
Pleb of the Week
BTCJune @Joon_gemini
We had to give king pleb MrHodl a break this week.  
June is a dope ass MC that hosts THAT PURO SIGNAL.  He always gives us love on his tracks so we think this pleb should get some love back.  June's on Fountain App really pushing Value for Value.

This week's episode was inspired by June.  HOW MANY WAYS DO WE HAVE TO TELL THESE DUMBFUKS ABOUT BITCOIN.
This Week's Episode - HOW MANY WAYS. Toxic Teacher's Lounge.
Last week was TOO EDUCATIONAL. TOO MUCH SIGNAL.  
Let's turn this bish down.  Come hang out this week and act HIGHLY REGARDED with us.

Monday is here. Let's crush the week ahead.  
Pick a fight with a shitcoiner.  
Tweet Fuck You Greg. 

Orange pill one of those moron normies in your life.
Read a book.
Learn something new.
Go outside and smell the roses.
Come to Kindergarten on Wednesday.
- Weinicus
PS.  Check out this donut I designed when I was bored.  Someone get me a job.
KEEP US HIGHLY REGARDED
What...You thought we did this out of the goodness of our hearts? Most of the funds go towards creating content. The rest goes directly to Weinicus' pockets.
SNED LIGHTNING TIPS PLZ SIR MI COLD STORAGE

Shitposting as a Service...brought to you be LABRAHODL
Another week of gems in the LN TIPS.  Probably our favorite part of the show.