Voice for the Coast: Spring 2023
A major focus for RDACC this quarter has been addressing the lack of affordable housing on the Central Coast.

Affordable housing is a growing crisis across our country, and we are well aware of how a lack of affordable housing here on the Coast is impacting economic growth across our region and contributing to labour shortages across multiple industries.

Building on the success of the inaugural Central Coast Housing Forum held together with Business NSW and Pacific Link Housing last year, we have continued to highlight the impact of housing affordability gaps for our region and work collaboratively to bring innovative solutions to the table.
RDA Charter and
Regional Investment Framework
The Australian Government's Regional Investment Framework (RIF) sets out a new approach to supporting strong and sustainable regions.

This framework supports a cohesive approach to delivering regional investment, coordinating across governments to make investment work better for regions and placing regions and their people at the centre of decision making.

The RIF also underpins the revised deliverables and role of RDA Committees, as outlined in the new RDA Charter, announced by the Minister for Regional Development, Local Government and Territories, The Hon. Kristy McBain MP, at the 2023 RDA National Forum.
Building More Homes
Where People Want to Live
Following the release of the recent report from the NSW Productivity Commissioner, Building More Homes Where People Want to Live, Regional Development Australia Central Coast (RDACC) is calling on all levels of government to get serious about creating more affordable housing for the Central Coast.
Key findings of the report demonstrate that we are not currently making the best use of existing infrastructure or adequately supporting the creation of high-density housing around transport hubs.
Call for Local Leaders
to Drive Development
Would you like to give something back to your community? Are you interested in leading / contributing to a committee of motivated locals who will focus on driving economic development in your region?
RDACC is seeking regional leaders with vision, drive and business experience who are able to make an investment in people, places, services, industries and local economies, and work with stakeholders to support delivery of the Australian Government's strategic priorities.
Women, First Nations Australians, people from diverse cultural backgrounds, and people with disability are encouraged to apply.
Please note these positions are voluntary.
Further information including an Applicant Information Pack and Nomination Form can be found on the RDACC website.
Applications close on 15 November 2023 at 5pm.
Quality Development on the Coast:
Gosford RSL Club
Designed by WMK Architecture and with construction being carried out by award-winning local contractor North Construction & Building, the major redevelopment at Gosford RSL Club continues to surge ahead.
With the community eager to experience all of their new offerings when the new Club opens in early 2024, we spoke to the teams behind this landmark project about all of the exciting changes in store.
Regional Roundtable Brings
Decision Makers Together
RDACC was pleased to once again host a roundtable event with the Central Coast's key decision makers across local, state and federal government and business agencies.
Commencing in early 2021, the roundtable events enhance collaboration between our regional leaders from all levels of government, both sides of politics and major local industries.
Their purpose is to improve long-term economic development outcomes for the Central Coast.
Granny Flats to Help
Solve Housing Crisis
In the wake of the recent national housing crisis summit, granny flats are being touted as a potential solution in addressing our national housing shortage – an option RDACC says should be investigated as a viable solution to help address the affordable housing shortage here on the Central Coast.
Recent analysis shows more than 650,000 residential properties across Sydney, Melbourne and Brisbane have the potential to house a granny flat, with many properties already subject to the right zoning and town planning codes, as well as being located close to public transport.
Of the three major cities, Sydney had the largest potential for granny flats at 242,000 possible sites, with the Central Coast identified as having the most granny flat development opportunities, with 17.2% of all potential sites.
Our Local Food Innovator series highlights some of the producers, manufacturers and entrepreneurs who are making the Coast a coveted food destination.
Full Circle Farm was founded on the simple philosophy that "nature has no waste basket, it has cycles".

Dedicated to "regenerating our eco-system, food and community", this pasture based, regenerative farm aims to mimic a natural, healthy ecosystem.

We caught up with co-owner, Shannon Kelly, to find out more about how they're producing grass-fed and finished beef, pasture-raised chicken, and pastured eggs, all while creating a bio-diverse and healthy landscape.
Offering a boutique-style catering and meal delivery service, Pachamama is a trusted local business that has been operating on the Coast for more than ten years.

Respected for their beautiful cuisine, professional service and commitment to the environment, Pachamama is the brainchild of owner and manager Alison Bishop, who has a reputation for creating wholesome dishes that taste as amazing as they look!
Spotlight On... RDACC Staff
John Mouland: CEO / Director of Regional Development


John has formal qualifications in business administration and management and has over 20 years senior management experience.

Most recently, 10 years at Gosford City Council in the positions of Manager Customer Services & Communications, Manager Arts, Heritage & Culture and Council's Executive Officer.
Elizabeth Saltwell:
RDACC Office Manager


Elizabeth joined RDACC at the inception in July 2009. Previously, she was with the State regional organisation, Business Central Coast.

Elizabeth has over 20 years experience in administration and co-ordination roles with qualifications in management, administration and accounting, and has been a resident on the Central Coast for over 40 years.
RDACC 2023-24 Business Plan
| | | |
| --- | --- | --- |
| | | In our 2023-24 Business Plan, you can read all about RDACC's regional vision, key learnings and achievements, and strategic priorities. The Plan has been designed to reflect changing government priorities, and aligns closely to the new RDA Charter, which reinforces that RDA Committees are critical to implementing the Government's Regional Investment Framework and facilitating connections across regional communities and all levels of government. |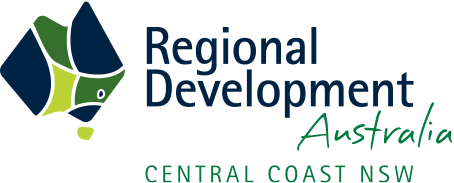 RDACC
North Loop Road, Central Coast Campus,
10 Chittaway Road, Ourimbah NSW 2258, Australia
You received this email because you signed up on our website or our social media profiles.
You are welcome to unsubscribe at any time.