Welcome to SELINA Newsletter #1!
We are excited to share with you the news and insights from the first months of the SELINA project! Let's get started!


We would very much appreciate your help in spreading the word about SELINA and growing our community. Please forward this newsletter to your networks.

A word from the Coordinator
Dear SELINA friends and collaborators,

Several months have passed since the beginning of the SELINA project and I can already say that as a Coordinator, I am really pleased to have the opportunity to work with such a dedicated group of partners and stakeholders.
We started the SELINA project continuing the mission to tackle important issues facing our society, and I am confident that with our collective expertise and enthusiasm, we will make a real impact. 
Through the collaboration of experts from 50 partner organisations from all 27 EU member states, Norway, Switzerland, Israel, and the United Kingdom, we will set new standards for international cooperation to promote Ecosystem Services and Biodiversity conservation and sustainable use, and to enhance Ecosystem Conditions.
We already had the chance to introduce SELINA at several events and the feedback we received from experts is quite promising. Moreover, with the first SELINA thematic workshop in March 2023 in Sofia, we made the crucial first step in achieving the mission of SELINA to reshape decision-making processes within the public and private sectors by improving the uptake of Biodiversity, Ecosystem condition and services information. 
After successfully sowing the seeds of change, now we want to make them grow through continued collaboration and collective action towards ensuring evidence-based decision-making that supports the protection, restoration, and sustainable use of our environment.
I am truly excited to be embarking on this journey with all of you, and I look forward to the great things that we will achieve together. Let's make SELINA a resounding success!

Yours sincerely,
Prof. Dr. Benjamin Burkhard,
To maximise our outreach efforts and to keep the project transparent and accessible to all audiences, we launched SELINA's official website. It serves as a hub of project-related information and resources. We invite you to explore SELINA website to learn more about the project's objectives and partners, planned activities and expected results, as well as access the latest news, publications, and other useful resources.

We are excited to also introduce SELINA's eye-catching promotional materials (incl. a brochure, a poster, a sticker, a banner and a 4-page project summary) produced to showcase the project's work and goals.

To check them out, visit the Media center on our website.

Below, we present the recent events that have been organised by SELINA project consortium in order to engage with relevant stakeholders and spread awareness about the project. Also, we brief on the external events that our project partners have attended. Enjoy!
SELINA officially kicked off in Hannover
Leading experts, stakeholders and demonstration project representatives met in Hannover from 14-17 September to begin working towards SELINA's ambitious goals of implementing ecosystem services-related scientific outcomes in evidence-based decision-making that support transformative societal change.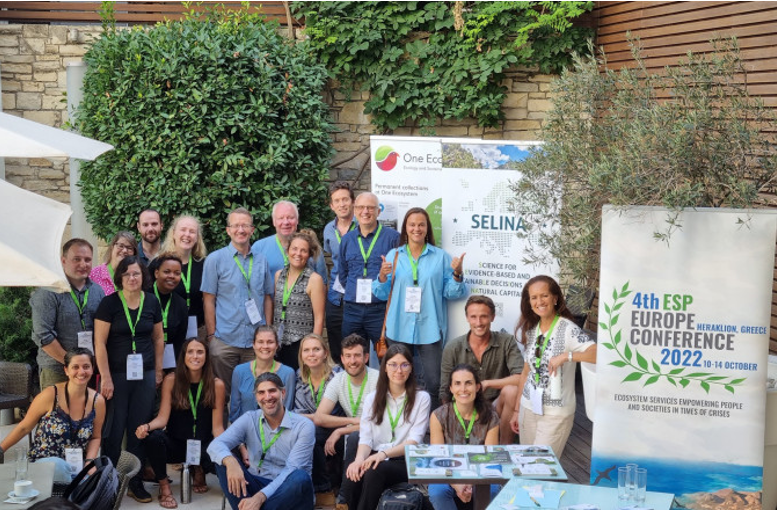 SELINA at the 4th ESP Europe Conference
Just a month after its official launching, the SELINA project took part in the 4th ESP Europe Conference that was held between 10–14 October 2022 in Heraklion, Crete. The conference, which ran under the theme "Ecosystem services empowering people and societies in times of crises", brought together more than 400 participants from 50 countries from Europe and beyond, including several members of the SELINA project.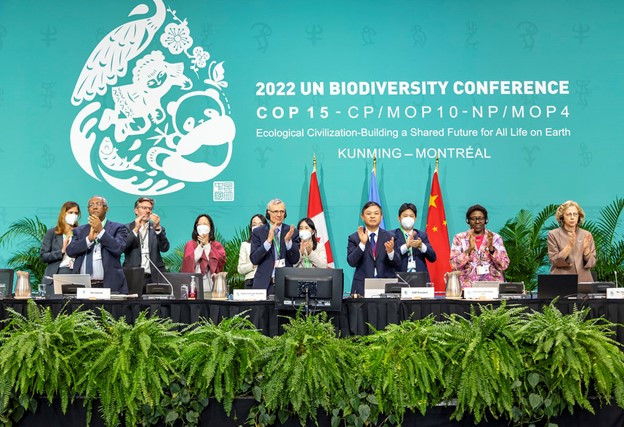 COP15: Setting a new path for biodiversity
The year 2022 marked a turning point in the global biodiversity policy. On 7-19 December 2022, governments from around the world gathered in Montreal, Canada to take part in the United Nations Biodiversity Conference (COP15), which turned out to be the biggest biodiversity event in a decade. SELINA welcomes the need to bridge the gap between humans and nature and recognises the new framework as a crucial tool to reverse nature loss by 2030.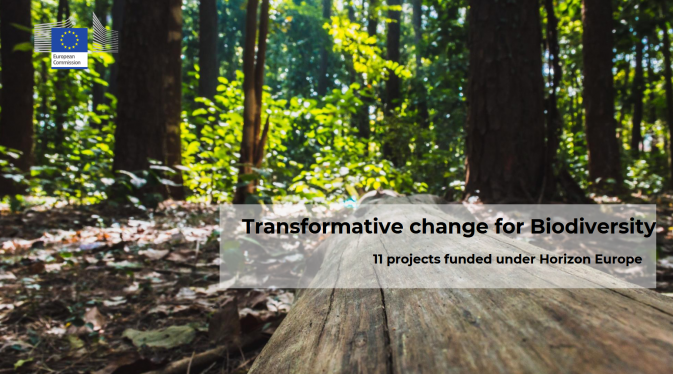 Speed-dating with SELINA at the Cluster event Framework Transformative Change for Biodiversity
SELINA was among the projects invited to take part in the "Transformative change for biodiversity" cluster event that was held in Brussels on 17 March 2023. SELINA took part in a speed-dating activity which encompassed six 5-minute pitch sessions to present and discuss linkages and relevant collaboration opportunities with the rest of the participating projects.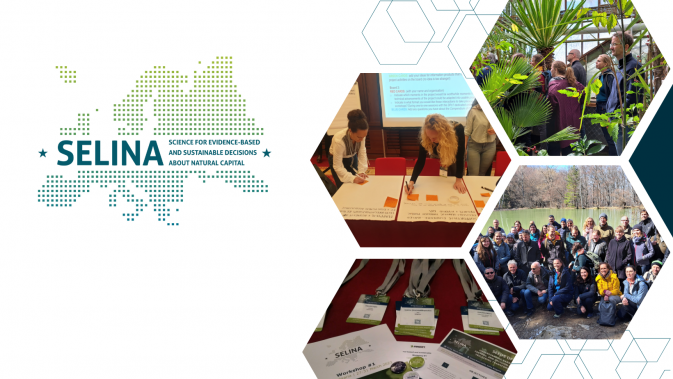 Sowing seeds of change: SELINA's first thematic workshop
SELINA welcomed the spring of 2023 with a three-day workshop in Sofia, Bulgaria that brought together nearly 120 experts and key stakeholders to discuss seeds of transformative change in the context of biodiversity and ecosystem services. It was the first one in a series of interactive workshops planned within the project to support the constant flow of information, joint creation and mutual exchange of knowledge.
JUNE 2023

EU Green Week
(6 - 7 June 2023, Brussels, Belgium)
In 2023, the EU Green Week conference will be held on 6 – 7 June. Policymakers, leading environmentalists, and stakeholders from Europe and beyond will come together in Brussels to debate the latest from the world of the EU environmental policies, and in particular the fields of biodiversity, circular economy, and zero pollution.
SELINA Demonstration Projects kick-off meeting
(7 June 2023 at 10:00 - 13:00 CEST, online)
This meeting kicks off the official start date of the SELINA Demonstration Projects with DP leaders of both private and public sectors. During the meeting, the DPs will present their work plan and goals and will identify mechanisms for co-creation between SELINA work packages.

AUGUST 2023
IPBES 10 Plenary
(28 August - 2 September 2023, Bonn, Germany)
The tenth session of the Plenary of the Intergovernmental Science-Policy Platform on Biodiversity and Ecosystem Services (IPBES 10) will take place in Bonn, Germany, from 28 August to 2 September 2023. Provision will be made for duly registered members of delegations to actively participate online in the plenary meetings and meetings of the two working groups which are expected to be established.
SEPTEMBER 2023

52nd GfO Annual Meeting: The Future of Biodiversity - overcoming barriers of taxa, realms and scales
(12 - 16 September 2023, Neues Augusteum of Leipzig University, Leipzig, Germany)
Join ecologists from across the world for a vibrant conference hosted by the German Centre for Integrative Biodiversity Research (iDiv) Halle-Jena-Leipzig. The meeting will be organized in collaboration with the Czech Society for Ecology (ČSPE).
ECOSERV 2023
(14 - 16 September 2023, Poznań, Poland)

The Adam Mickiewicz University, Poznań, Poland together with the ESP National Network and the SURE – Central Europe Chapter organise the 7th Scientific Symposium "Ecosystem services in transdisciplinary approach" – ECOSERV 2023. The Symposium, under the patronage of ESP, prepared in cooperation with the Society for Urban Ecology (SURE), is open to diverse audiences, including academics, experts, policymakers, and businesses.
OCTOBER 2023
SELINA second thematic workshop
(2 - 5 October 2023, Madrid, Spain)
The second SELINA thematic workshop will discuss advancing solutions, setting the scene with existing data and methods together with new approaches, presented to project partners, stakeholders and members of the SELINA Advisory Board. Feedback from the meeting will be employed to improve and to further develop solutions to identified challenges.
European Business and Nature Summit 2023 
(11 - 12 October 2023, Milan, Italy)
The European Business & Nature Summit 2023 is the largest conference dedicated to crafting sustainable business models working with biodiversity at their core. The event will be a unique opportunity to learn about concrete actions and collaborate in shifting the current economic paradigm in line with global goals for nature. One year before COP16, the Summit will focus on transformative actions that businesses can take to implement the targets and lead the transition to a nature-positive society.
Meet SELINA Demonstration Projects
SELINA Demonstration Projects (DPs) are real-world innovative examples of how knowledge on biodiversity, ecosystems and ecosystem services can be used to support evidence-based public and private decision-making processes (from projects to plans and policies) in a range of sectors, including urban and regional development, agriculture, energy, marine spatial planning, forest and nature conservation, green infrastructures and ecosystem restoration.

In the following newsletters, we will present you with the 15 public and private DPs that we will study within SELINA.
Did someone forward you this newsletter? Please subscribe to SELINA's newsletter via the button below and don't miss out on the project's quarterly updates.
You received this email because you signed up through our subscription form.
Unsubscribe
SELINA receives funding from the European Union's Horizon Europe research and innovation programme under grant agreement No 101060415.