Let's Talk Needle and Thread!

Greetings friends, fellow needleworkers, and new subscribers,
I am so excited to be returning to your inbox with a brand new newsletter! It has been far too long since I last visited with you via e-mail. If you keep up with me on social media, then you know I have been busy behind the scenes with cross stitch, sewing and quilting projects. As summer comes to a close, if you are anything like me, you haven't been able to get enough of fall, autumn and Halloween stitches and sewing - I am SO ready for cooler temperatures, autumn trees, pumpkins and comfy sweaters. I have also set my sights on the upcoming holidays and gift making. It will be Halloween, Thanksgiving and then Christmas before we know it...time to get creative!

Here are some of the notable things I have been working on...
"Songbird Wisdom"
This pattern includes two designs that fit together. I opted to stitch each on a different color of linen, but it would look great with both on the same color of fabric. I chose two different finishing options - bowl fillers and a quilted wall hanging - instructions for both are included in the pattern.
This design contains charting for both the Green Tree and the Singing Bird designs – each with TWO lettering options (one lettering option is Back Stitch with Cross Stitch Over-Two and the other lettering option is Cross Stitch Over-One), stitching instructions, stitch diagrams, and comprehensive finishing instructions.
Paper Pattern: https://blueribbondesigns.etsy.com/listing/1447587816
Digital Pattern: https://blueribbondesigns.etsy.com/listing/1447591256
"Bluebird in My Heart"
A Sewing Machine Dust Cover & Sewing Machine Mat has two paper foundation blocks (birds), traditional piecing and assembly, with a hint of machine appliqué (heart). Pattern contains basic paper foundation instructions and foundation blocks, the heart template, and comprehensive/detailed instructions with diagrams. Designed to use your favorite fabric collection and fits machines up to 18" in width. 
Paper pattern: https://blueribbondesigns.etsy.com/listing/1407404069
Digital Pattern: https://blueribbondesigns.etsy.com/listing/1393176766
What's new on the Blog....
Here are the latest stories...
Wool Felted Acorns

Greetings friends - I'm stopping by today to share a little bit about my latest creative project for my Etsy shop - wool felted acorns!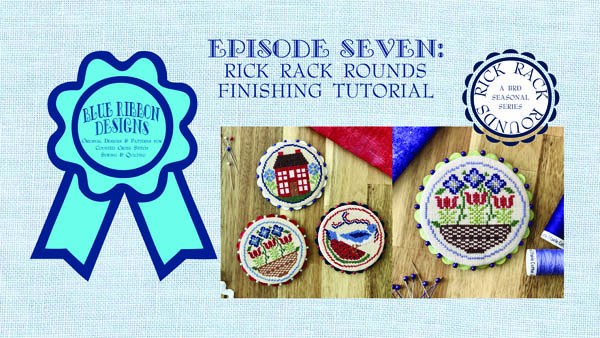 Rick Rack Rounds
Video Finishing Tutorial
Learn this easy finishing technique before the latest design in this series is released! A finishing tutorial for my cross stitch pattern series titled "Rick Rack Rounds." This video showcases the first design in this series
titled "Sweet Slice of Liberty."
New sets of Wool Felted Acorns have been added for your autumn decor....
New Signature Project Bags (including many made from vintage Blackbird Designs fabric) added weekly.

Stop by my shop to see what is new!

There you have it, the latest Blue Ribbon Designs news - keep your eye on my website and social media for all the latest information and inspiration. Thank you for your continued support of Blue Ribbon Designs! Until the next newsletter: may your heart be full of joy, may your friendships blossom, and may you feel healthy and happy. Take a little time to count your blessings…and a little time to stitch…

Blue Ribbon Wishes,
Belinda

As you know, I truly value your comments, ideas, and creativity; please feel free to send them to me by replying to this message.
18515 W 194th TER
SPRING HILL, KS 66083
United States of America