Kitty Kronicles - June 2023
Meet Crystal
Crystal is so much more than meets the eye.  She has such personality, she is so hard not to love!  Crystal doesn't really care if you don't like cats.  When you walk into the lounge, she is often one of the first cats to greet you.  She will barely let you sit down before she wants to jump into your lap and have you pet her. She will make you like her.  
Crystal's story is not new. She showed up pregnant on the porch of one of our volunteers last Spring.  We think she was dumped because she was just too friendly, as we do...we took her in, she had her babies and raised them and then we brought her to the rescue to try and find her forever home.  She lives with the other cats in the lounge, but we feel a home with no other cats or with an independent kitty would be the best home for her.   She deals with living with other kitties by spending her time up high and watching from perches.  She doesn't like to share attention, when it's her turn it is her turn - and will let the other kitties know it!  
Crystal has a thick, soft, and lusciously smooth coat, perfect for pets.  Her need are pretty basic.  She would he happiest in a chill home, with mature adopters.  Crystal just needs a lap to call her own and to spend her days on, and a perch to see out the window at the goings-on.  In turn she will purr herself into your heart and be your best companion....after all, "A cat purring on your lap is more healing than any drug in the world, as the vibrations you are receiving are of pure love and contentment". 
Crystal is estimated to be around 1 1/2 - 2 years old; she is spayed and up to date on shots. 
If you are interested in Crystal, please fill out an application!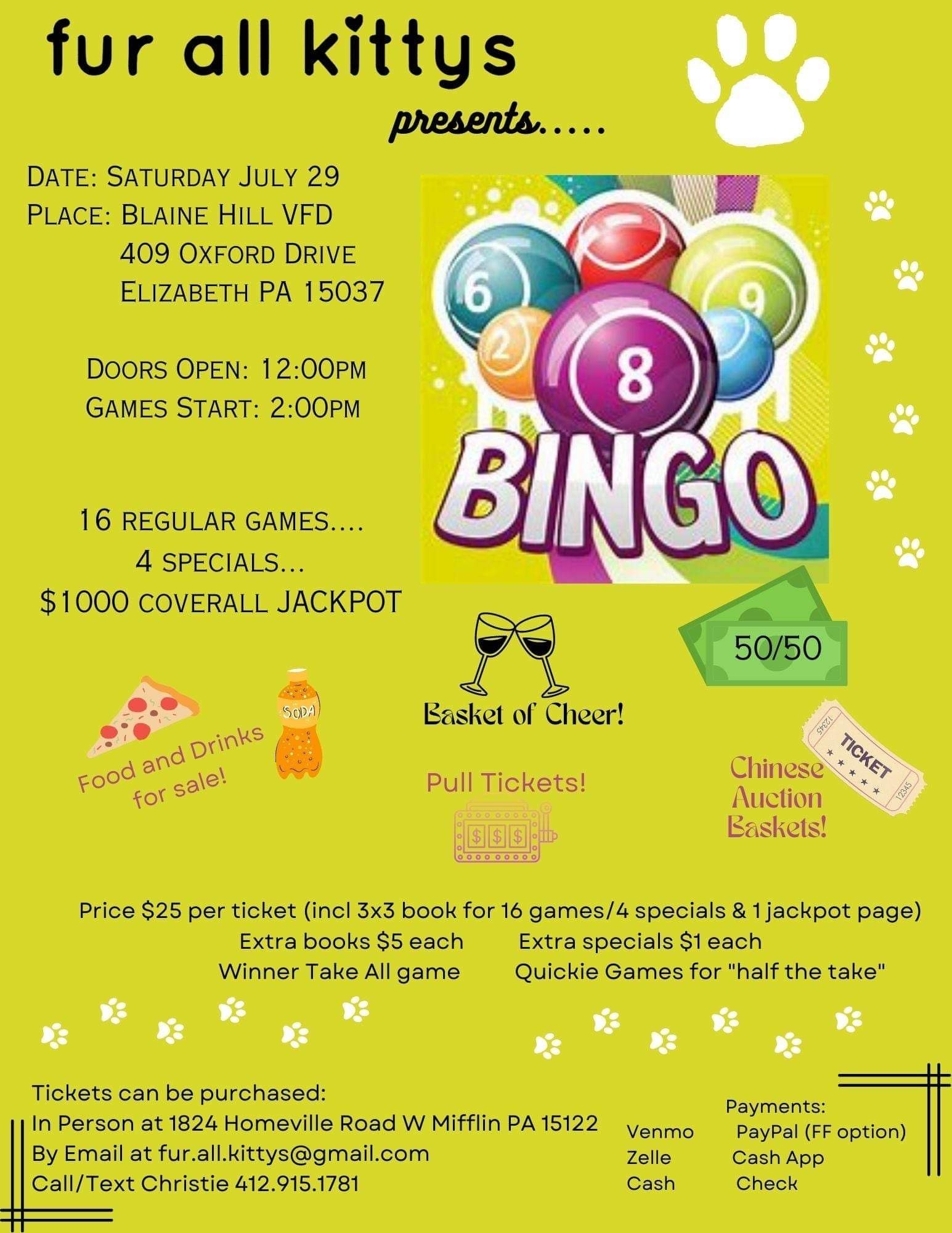 Join us for Bingo to support the kitties on July 29th!
Tickets can be purchased:
In person at 1824 Homeville Road West Mifflin PA 15122
By email at [email protected]
Call/Text Christie @ 412-915-1781
Li'l Dog Moonshine
All month we are partnering with Li'l Dog Moonshine to raise money for our rescue! 
You can visit them at
214 S 3rd Avenue
Elizabeth, PA 15037
Tues-Thurs: 4 - 7 pm
Fri-Sat: 11 am - 7 pm
TRAP, NEUTER, RELEASE.
We do actively participate in TNR efforts. 

The number of "Community Cats" United States is estimated to be in the tens of millions.  A community cat is one that is unowned and is free-roaming - often called "stray."  

These are generally the cats we see for adoption at our local shelters.  Every year, millions of these cats are euthanized because of overcrowding, health or behavior issues.  
Fixing just one female cat, can prevent about 175 kittens being born

One of the first lines of defense in overpopulation is to spay and neuter your pets to prevent overcrowding, which can lead to unsanitary conditions and health problems.  In addition, cats on the streets do not know how to be social with humans, leading them to be harder to adopt and more likely to be euthanized.
Fur All Kittys supports TNRM (Trap-Neuter-Return-Monitor) as a humane and effective method to manage community cat populations.  We currently are trapping cats in several colonies in Elizabeth, East Pittsburgh, and Homestead.
When we are asked to trap cats, we rely on neighbors and volunteers in this effort.  Traps need constant monitoring to ensure safety for the cats or other animals.  We also need to coordinate clinic appointments so teamwork is key.
We may require monetary deposits for traps or compensation for bait food depending on the situation.   

Ever wonder why so many cat rescues have lots of adult cats? So do we!
When you adopt an adult cat the volunteers can give you a good description of the cats personality since it is already developed! This helps to make a better fit for both the cat and the adopter!
We are in the midst of a transformation of our space, we are now featuring boutique and everyday cat items for the kitty cat lover.
Our shop is currently open M-F 10am-2pm.
(Cat visits by appointment only)

If you make boutique crafty cat items and want us to feature them, please contact us!
Come check out us and the cats during our Meet and Greet on June 17th.

Our Mission
It is our goal to educate communities and individuals on proper pet care, reverse and prevent abandonment,
help heal the sick and wounded, and prevent overpopulation for every feline life,
even if only one paw at a time.

1824 Homeville Road
The Village Shops
West Mifflin, PA 15122