Biosphere Highlights is our quarterly newsletter. Previous editions are found in the News and Events page of our website.
Best viewed in your browser
Msit No'kmaq — People & Nature; Better Together

The UNESCO designated Bras d'Or Lake Biosphere Region is located on Cape Breton Island - Unama'ki, in Mi'kma'ki, the ancestral and unceded territory of the Mi'kmaq People.

We envision all things thriving in this special place. Our mission is to improve balance in the Bras d'Or Lake Biosphere Region by encouraging community capacity building, conservation efforts, and sustainable development.
The Autumn Moons in Mi'kma'ki

David Chapman and Cathy LeBlanc

The Mi'kmaw Moons of autumn are Wikumkewiku's (Mate Calling Time, 15 September – 14 October), Wikewiku's (Animal Fattening Time, 15 October – 13 November), and Keptekewiku's (Rivers Freezing Over Time, November 14 –December 12).
The Full "Mate Calling Moon" was on September 29. In other traditions, this is known as the Harvest Moon, but traditional Mi'kmaw were hunter-gatherers and did not farm. For them, the moose was one of the most important food sources, and all all parts of the animal were used sustainably. The Full "Animal Fattening" Moon is on October 28, and the Full "Rivers Freezing Over" Moon is on November 27. With the effects of changing climate, we no longer see rivers freezing over at this time of year, but there are frequent frosts with ponds and puddles of water turning to ice.
To order the book Mi'kmaw Moons - The Seasons in Mi'kma'ki
by Cathy LeBlanc and David Chapman, illustrated by Loretta Gould, and much more, follow the link below.

Jonathan Buffett, Cape Breton Mesonet

It may be fair to say that many of us want a refund on our summer, if such a thing were possible. While there were intermittent periods of warm, sunny weather from late June into July, the season was dominated by record breaking rainfall events, uncomfortably high dew point temperatures, and a most unfortunate amount of cloud cover. For many areas of the Maritimes this was the cloudiest summer since at least 1940, and possibly longer, as cloud cover reanalysis models currently only go back to 1940.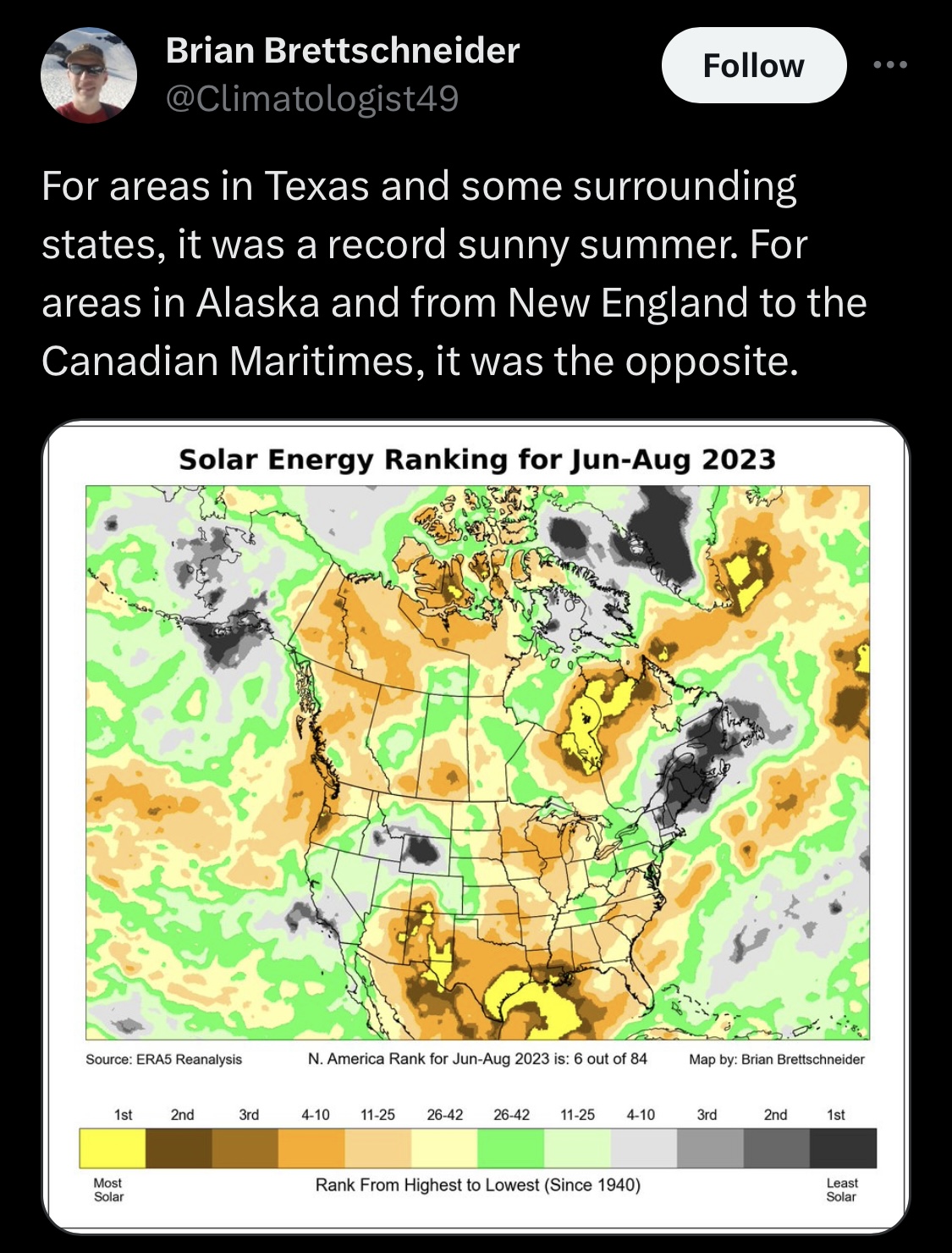 Solar Energy Ranking for Jun-Aug 2023 - Brian Brettschneider
Typically July and August are the sunniest months of the year in Cape Breton. However, the meteorological summer months of 2023 (June, July, August) all had less than 50% possible sunshine at the Sydney Mines mesonet station—the first time this has occurred since solar records began at the station in 2010. Oddly enough, April was the sunniest month of the year to date, both for total sunshine hours and precent possible hours, with 247.7 hours (60.6%). Contrast that to August, which had a mere 203.1 hours (46.2%). In a more typical year, these values would be reversed.
While July was very warm and muggy, August was quite cool and rainy, with temperatures not exceeding 26.5C on any day during the month at Sydney Airport. It's quite rare for August to have such a low monthly maximum. Even back near the end of The Little Ice Age in the late 19th century when the climate was cooler, this would be considered an unusually low maximum for August.
What led to such an extended period of high humidity and clouds this summer, particularly in July? A persistent ridge of high pressure east of Newfoundland, which drew warm, tropical air from the south and southeast, straight off the ocean. Although it is not uncommon to see such a pattern in summer, it is typically broken up by periods of relatively drier and sunnier southwest flow. The southwesterlies were not as common nor as strong this summer. The lack of southwest flow also had a dramatic effect on sea surface temperatures along the Atlantic Coast of Nova Scotia and areas of Newfoundland, as there was no cold water upwelling from below. It's hard to believe that such a slight deviation in wind direction patterns can prevent upwelling, but this is indeed the case. South and southeast winds promote downwelling along the Atlantic Coast, allowing warm water to move in from the south and slosh against the shoreline. This led to record high sea surface temperatures around much of Atlantic Canada in July. In the case of Newfoundland, the high sea surface temperatures there were driven by lighter wind speeds and persistent south flow. Upwelling is not as much a factor around Newfoundland, but the lack of mixing certainly was.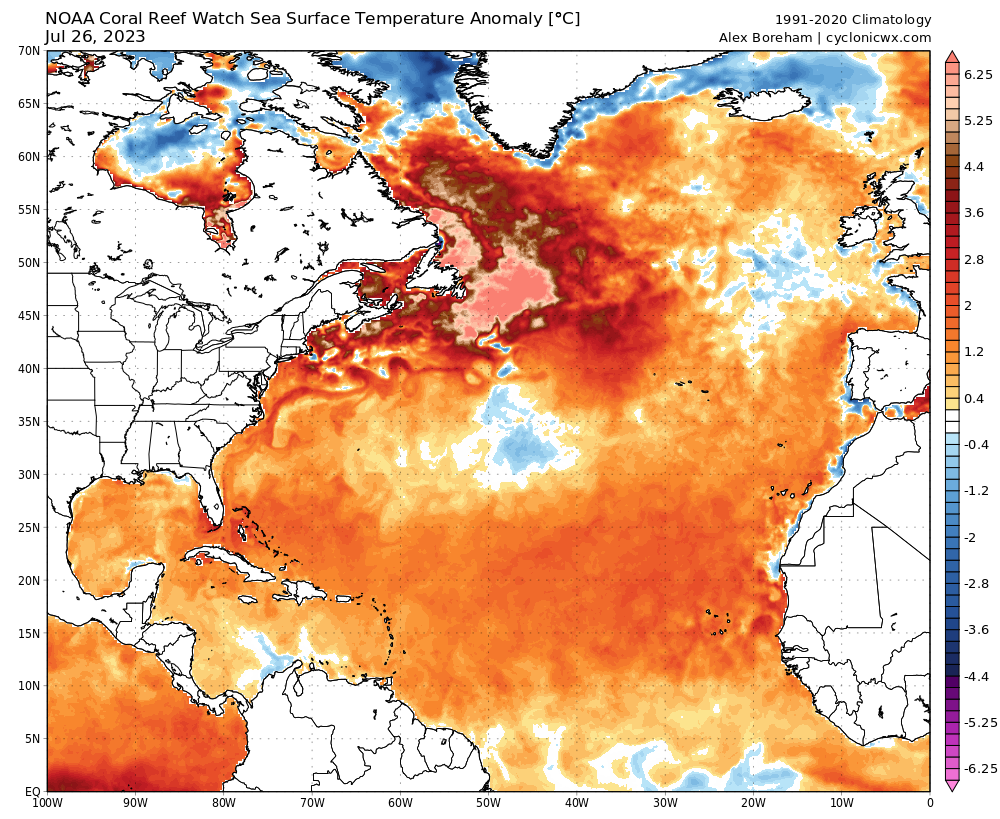 SST anomaly map 26 July 2023 - cyclonicwx.com

Luckily, there is some good news for those who enjoy sunshine. September has been quite pleasant for the most part, and a lengthy spell of sunny, warm weather and high pressure is expected across Atlantic Canada over the next several weeks. This should be ideal for outdoor activities like hiking, golfing and gardening. Also, long range forecast models are hinting at a warmer than normal autumn.. a trend that has become the new normal over the last 20 years.
Our Provincial Lichen in the Biosphere

Maureen Cameron-MacMillan
DNRR Regional Biologist, Baddeck Office

Did you know that Nova Scotia was the first jurisdiction in Canada to designate an official provincial lichen? Blue Felt Lichen (Degelia plumbea) was selected from a number of candidates in a vote organized by local lichen enthusiasts in 2019, and just last year, the designation was formalized by legislature.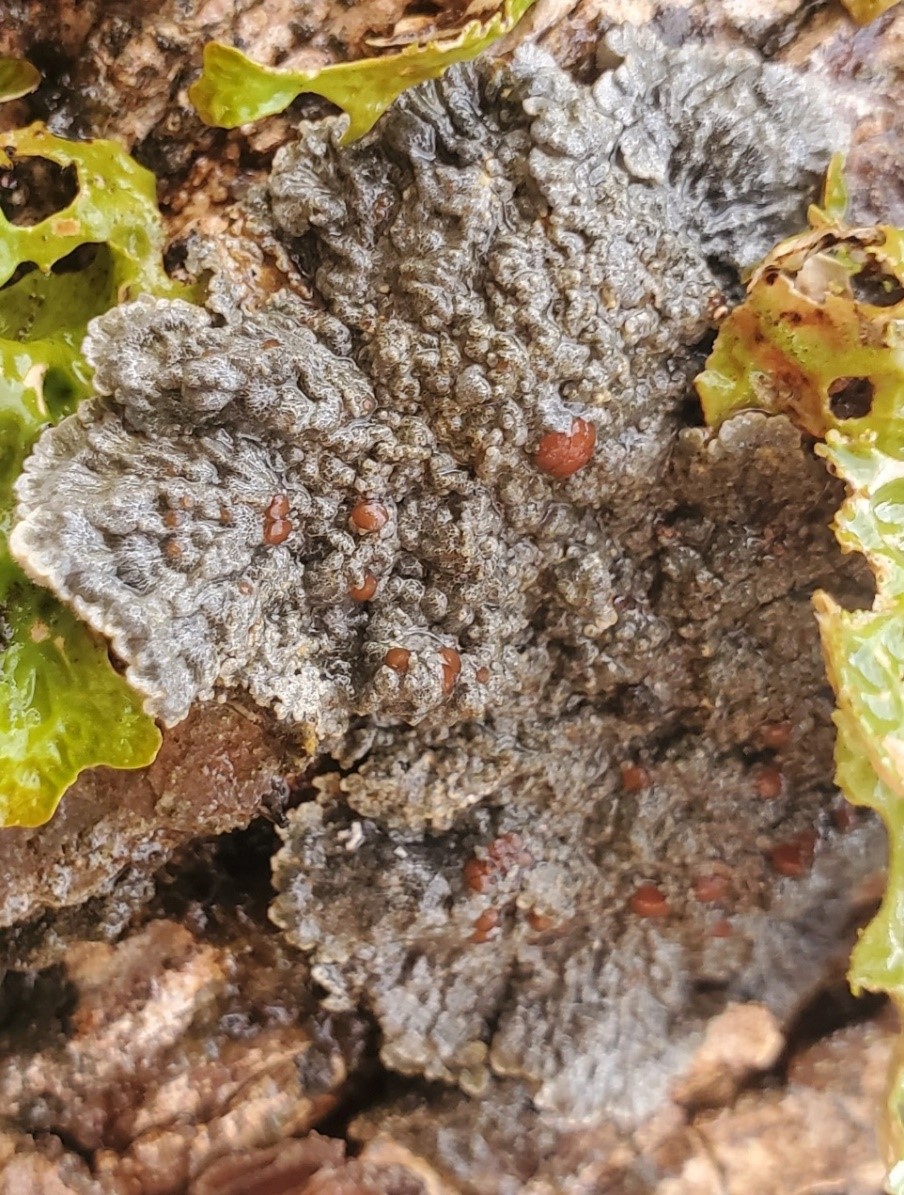 Photo: Allan MacMillan

Lichens are a diverse and fascinating group, with a marvelous variety of colours and forms. A symbiotic composite of fungus and photosynthesizing organism, lichens are able to obtain nutrients from sunlight and atmospheric particulates. This low-maintenance lifestyle means that some hardy lichens are able to grow in hostile, barren environments inhabited by few other species, requiring only enough precipitation to occasionally moisten their upper layer so photosynthesis can take place. However, many lichens are very sensitive to air pollution and changes in their microclimates. The photosynthesizing partner in a lichen may be algae or cyanobacteria (or even a combination of the two) and lichens containing cyanobacteria, including Blue Felt Lichen, are particularly sensitive to pollution and changes in their environment.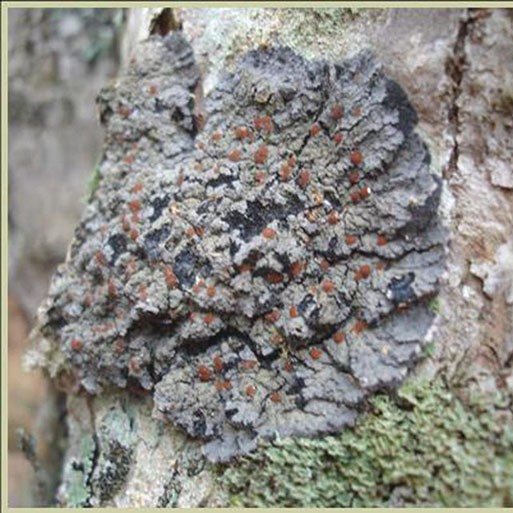 Photo: Government of Canada

Blue Felt Lichen is quite rare in Canada, but relatively widespread in Nova Scotia. Within Cape Breton, almost all known Blue Felt Lichen sites are found within the Bras d'Or Lake Biosphere. Because of its rarity and sensitivity to changes in its environment, it is considered Vulnerable under the Endangered Species Act. Look for Blue Felt Lichen on the trunks of mature hardwood trees, particularly red maples in humid areas. It forms a thick mat with a slaty-grey, almost bluish surface topped with round, copper-coloured fruiting structures. If you've found Blue Felt Lichen, consider documenting its location on iNaturalist or reporting it to your local Department of Natural Resources and Renewables office.
Bethsheila Kent, BLBRA Director - Member at Large

Late summer and into late autumn is the time of the fungi. The air is cooler, rain is more frequent and when the sun does shine and day temperatures rise, fruiting bodies, the terrestrial "flowers" of mushrooms that are found in every sort of soil and habitat, emerge, quite unexpectedly, overnight.
| | | |
| --- | --- | --- |
| Photo: Bethsheila Kent | | Photo: Bethsheila Kent |
Perhaps one of the most common mushrooms to occur in the watershed is Amanita muscaria – Fly agaric – a gilled mushroom found in our lawns, along roadsides, in our woods, sometimes singly, sometimes in large patches. Amanita muscaria can be tiny or huge. The cap can be yellow, orange, red, and shades in between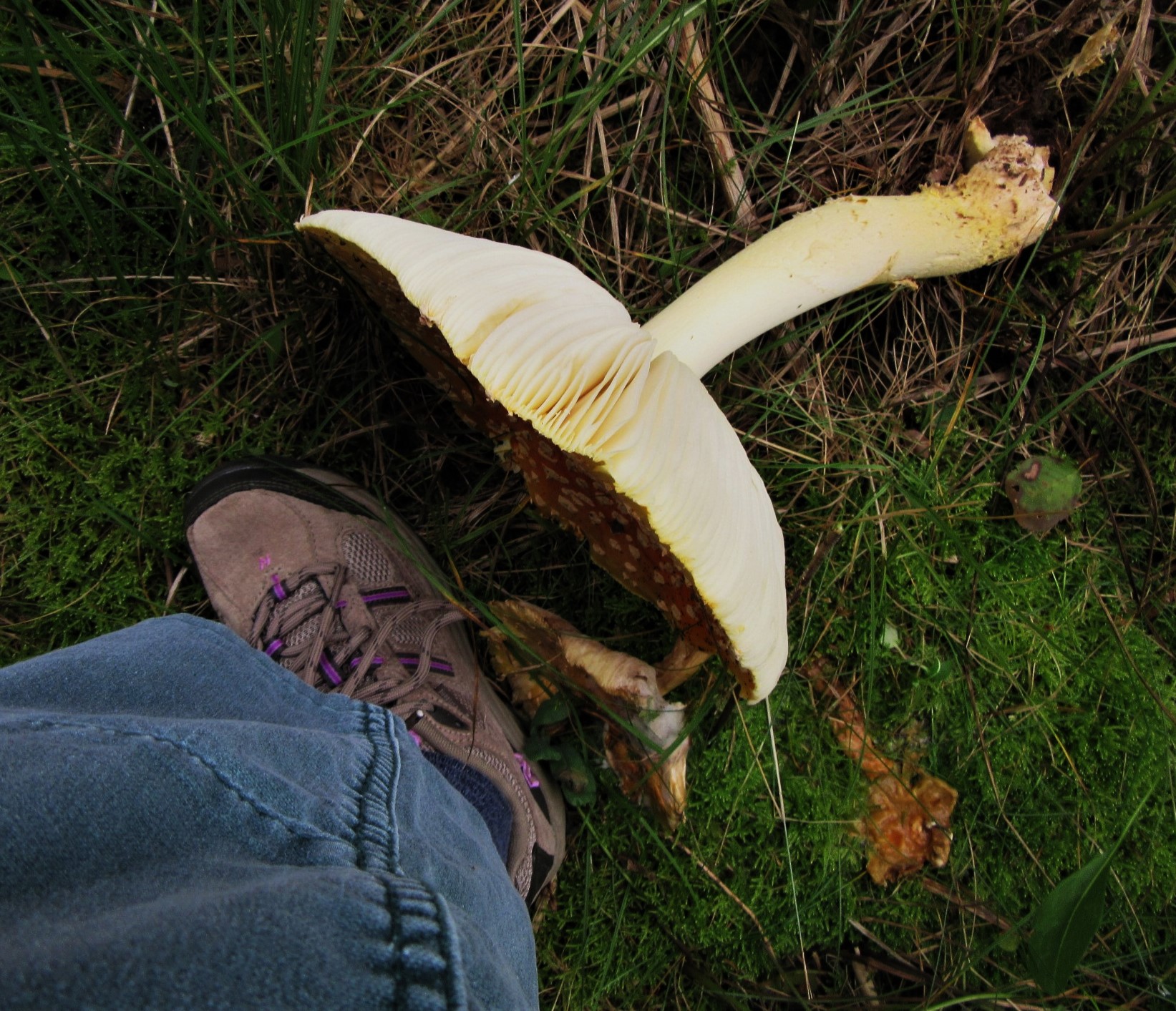 Photo: Bethsheila Kent

But no matter where you find it, no matter what colour the cap exhibits, each one will have several characteristics common to all Amanita fungi. All are, to some degree, toxic and cannot, must not, be eaten. All have stout, light-coloured stalks (usually white), all have bright caps. And all emerge from the ground like a magician suddenly appearing as if from thin air, covered in a membrane called the universal veil that, as the mushroom matures and expands, dries out and cracks, resulting in scales on the cap and a ring beneath, encircling the thick, tough stalk.
| | | |
| --- | --- | --- |
| Photo: Bethsheila Kent | | Photo: Bethsheila Kent |
Amanita muscaria, like many other species of mushroom, are preyed upon by slugs which seem immune to the toxicity that affects other creatures (including ourselves), and evidence of their activity leaves gouges and sometimes holes in the caps. Amanita muscaria will continue to fruit well into late autumn.
Bras d'Or Watch a Great Success

Kirsty Locke - Community Engagement and Learning Committee Chair

Bras d'Or Watch is an event held annually at various locations around the Bras d'Or Lake that provide an opportunity for participants to engage in activities that use scientific equipment to measure and explore various aspects of the Bras d'Or Lake Biosphere.
This year it was held at Castle Bay Beach in Eskasoni on July 26 and Lion's Club Marina in St Peter's on August 5, as part of the "Explore the Bras d'Or" activities. The Eskasoni event offered participants opportunities to learn with the aqua scopes, viewing tanks, refractometers, and turbidity meters, as well as learn about collecting data for the "Bee Hab" project.
| | | |
| --- | --- | --- |
| | | The St Peter's event offered two different guided tours - one was exploring medicinal plants and the other was a birding hike. These tours were offered at scheduled times on shore, as well as on the island by the Marina for which boat transport was provided. There was a large tank for fish and sea creature viewing, and there were microscopes and water quality testing materials for participants to explore aspects of the lake. |
A big thank you to the community volunteers, organizations and businesses who contributed to making these events a great success!
The BLBRA's website was updated this spring to bring it in line with our new marketing plan and branding elements and the soft launched occurred in July. Please take it for a spin. Hopefully the new menuing system will help you find some of the information you are looking for more easily.
Muiwatmnej Etuaptmumk Conference
November 13-15, 2023
Membertou Trade & Convention Centre
50 Maillard Street Cape Breton
The Collaborative Environmental Planning Initiative (CEPI), a BLBRA ex-officio member, is hosting this conference. "In the spirit of reconciliation and guided by the principles of Two-Eyed Seeing, this conference is a unique opportunity to explore how Indigenous wisdom and modern knowledge intertwine to shape a sustainable future. Be part of this transformative journey as we move beyond vision to ignite real-world change." (CEPI Website)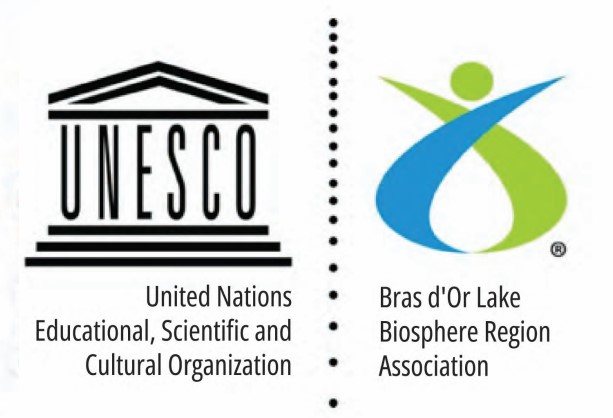 Bras d'Or Lake Biosphere Region Association (BLBRA)
4115 Shore Road, Eskasoni
Nova Scotia, Canada
You are receiving this email because you are a member of the Bras d'Or Lake Biosphere Region Association (BLBRA), are a member of associated groups or have been recommended and kept subscribed. We hope you will continue to subscribe and accept timely email notifications from us. Feel free to share this with your friends.
If you would like to be part of the Bras d'Or Lake Biosphere Region Association please consider attending one of our meetings, volunteering, joining or sponsoring us.
Preference and Unsubscribe options are provided below.