Msit No'kmaq — People & Nature; Better Together
The UNESCO designated Bras d'Or Lake Biosphere is located on Cape Breton Island - Unama'ki, in Mi'kma'ki, the ancestral and unceded territory of the Mi'kmaq People. The Bras d'Or Lake Biosphere Region Association encourages sustainable development, community capacity building and conservation within the Biosphere and surrounding area.

Siwkw [See-uke]—it is Spring in Mi'kma'ki
David Chapman and Cathy LeBlanc
The Mi'kmaw Moons this spring are Siwkewiku's (Spring Time or Maple Sugar Time, 21 February – 21 March) , Penatmuiku's (Birds Laying Eggs Time, 22 March – 20 April, and Sqoljuiku's (Frogs Croaking Time, 21 April – 19 May). For instruction on how to pronounce these words, see https://www.youtube.com/c/Mi'kmawMoons
The Full "Spring" Moon was on 6 March, fourteen days before the Vernal Equinox. The Full "Birds Laying Eggs" Moon is on 5 April, and the Full "Frogs Croaking" Moon is on 5 May. These Full Moons are taking place "early" in the season, hinting that there will need to be a 13th Moon sometime during this cycle. Stay tuned!
Follow the link below to review the best-selling book "Mi'kmaw Moons: The Seasons in Mi'kma'ki."
Reflections on the Winter of 2023
Jonathan Buffett, Cape Breton Mesonet
Winter 2023 may not be remembered for large storms or significant snowfall, but it was full of temperature contrasts! From a January that nearly tied the all time record warmest in Sydney, to one of the harshest cold outbreaks in 30-40 years during February. This winter left us with plenty to talk about.
It began very wet and mild, with rainy, cloudy conditions persisting through December and January. Typically at that time of year we would experience a pattern of low pressure systems and snow, interspersed with lengthy periods of predominately cold westerly flow, blowing continental air from the arctic and kicking up snow squalls across the Gulf of St. Lawrence. However, winds were most often coming from northeast or southeast; off the relatively warm North Atlantic Ocean. This mild, maritime air kept temperatures well above normal. Grass remained green and the ground unfrozen until early February—quite unusual.
Green Grass Photo - taken by Jonathan Buffett 28 Jan 2023
It was the second warmest January on record in Sydney with an average temperature of -0.1°C at the airport. However, it was very close, as January 1956 had a mean temperature of +0.1°C. Quite impressive none the less! Records began in 1870.
January 2023 Temp Anomaly - climatlas.com
However, all of that came to a crashing end on February 4th when a severe outbreak of arctic air flooded across the island. The uniqueness of this event cannot be understated. Cold air advected eastward from New Brunswick, across northern mainland Nova Scotia and into south central Cape Breton. The coldest temperatures near sea level were actually in the southern part of the island near Port Hawkesbury, reaching -26.5°C in the town (elevation 47m) and -27.4°C at the airport (elevation 115m). Moderation from the Northumberland Strait was kept to a minimum in this area, as the Gulf of St. Lawrence and Northumberland Strait were largely ice free. Elsewhere, some of the most elevated parts of the island, such as the Cape Breton Highlands, were also coldest. Moose Lake (elevation 450m) dropped to -27.5°C. It caused significant damage to some crops, such as grapes. This was more pronounced on the mainland where much of the agriculture is focused. It also damaged buildings, as pipes became frozen and burst, such as at Sydney Academy. The school is now closed for the remainder of the school year.
Temperature Snapshot 8:00am on 4 Feb 2023 - Cape Breton Mesonet
What made this event so unique was the potency of the cold air, and that it came so quickly with no time to moderate (warm). In contrast, our coldest winter temperatures are usually caused by radiation cooling, not advection. In cold air advection, air blows from the North American continent, is well mixed, and coldest temperatures correlate with increased elevation. For radiation cooling, the opposite occurs; cold air settles into low lying areas and higher elevations tend to be warmer, above the temperature inversion.
These kind of cold snaps were much more common during the earlier part of the climate record in Sydney, particularly before 1930. The kind of damage experienced in the agriculture sector of Nova Scotia is quite unfortunate. However, looking at it from another perspective, these kind of cold snaps used to happen every other year back in the 19th century, at the tail end of the little ice age. The climate was very harsh and unforgiving at that time. The last time Sydney dropped below -30°C was in 1934 when the temperature reached -30.6°C.
Now that winter is behind us, we look forward to spring. La Niña has also come to an end, and El Niño seems increasingly likely to develop into the summer and fall. This means we may experience colder, more unpleasant weather patterns than what we have seen in the last 3 years with La Niña. This is not good news for those of us hoping for a warm spring. All indications are that spring will be very slow to start, but beyond that it is quite a bit less certain. Sea surface temperatures around Atlantic Canada remain warmer than normal, so that will likely keep temperatures mild.
Fleeting Beauties of the Biosphere: Spring Ephemerals
Maureen Cameron-MacMillan
DNRR Regional Biologist, Baddeck Office
Early spring, after the snow melts and before the leaves emerge on the trees, is a magical time to be in the woods. There's no better opportunity to spot warblers in the treetops, just back from their wintering grounds and marking their territories through song. Vernal pools swell and become incubators for salamanders and wood frogs.
Meanwhile, on the forest floor, you can find some of the most beautiful and short-lived blossoms that nature has to offer. The spring ephemerals are a special group of flowering perennial plant species found in hardwood forests that emerge, flower, and senesce (die back) all before the forest canopy closes over for the summer.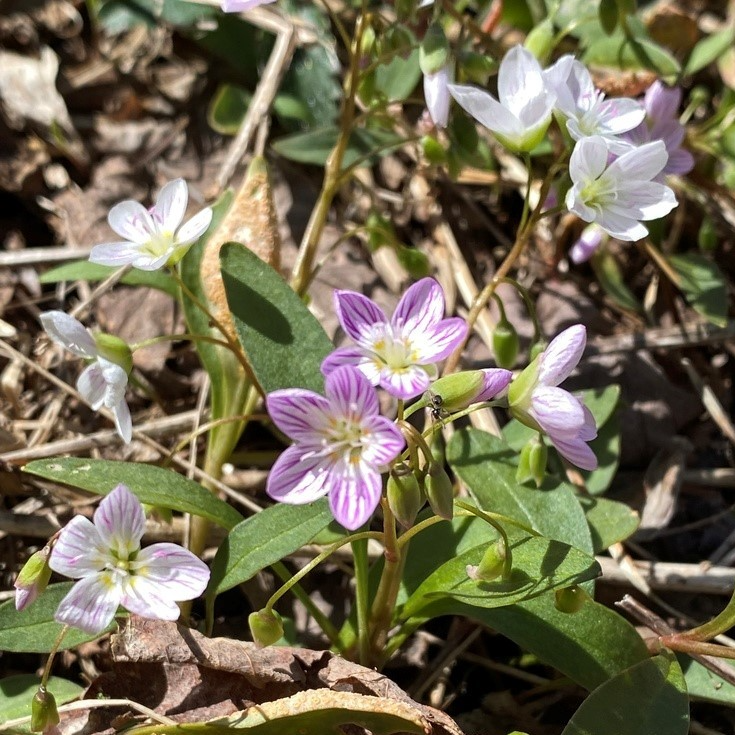 Carolina Spring-beauty 

Photo: Maureen Cameron-MacMillan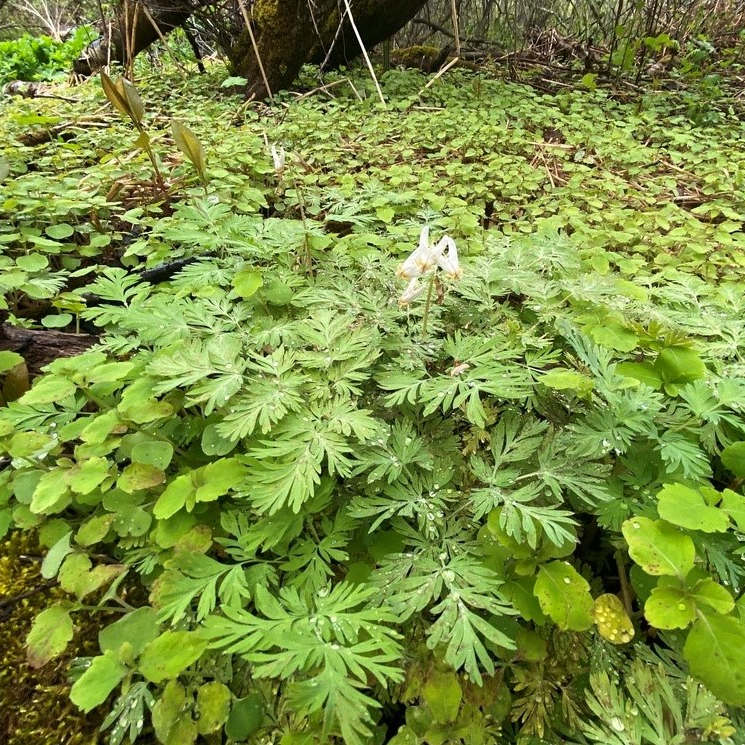 Dutchman's Breeches
Photo: Maureen Cameron-MacMillan
Spring ephemeral species in the Bras d'Or Lake Biosphere Region include the aptly named Carolina spring-beauty (Claytonia caroliniana) and charismatic Dutchman's breeches (Dicentra cucullaria). The Carolina spring-beauty has a single pair of undivided leaves on a short stem, and small but showy pale flowers with deep pink veins. 
Dutchman's breeches, related to the familiar bleeding-heart plant found in many gardens, has finely divided, almost feathery leaves and unusual flowers that look like a pair of white trousers, specifically adapted for pollination by bumblebees.

Unlike some of our other early bloomers like rhodora and mayflower, whose leaves and stems can be found throughout the year, you really need to be in the right place at the right time to find these fleeting beauties. So on a lovely day in May, if you find yourself surrounded by sugar maple, ash, or yellow birch trees that indicate rich forest soils, keep your eyes peeled for a little pop of springtime cheer on the ground!

Spring Peepers – A Sure Sign of Spring
Kirsty Lock
What better sign that Spring has arrived in Nova Scotia than the sound of the Spring Peeper (Pseudacris crucifer). Amongst its repetitive high pitch chirp, there are all kinds of other calls from frogs and toads that are also likely familiar to many enjoying the longer days in Spring.
Frogwatch is a Citizen Science opportunity under the NatureWatch program introduced in the last newsletter.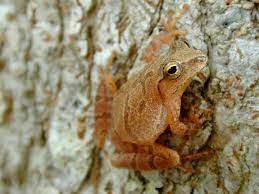 Spring Peeper
(Pseudacris crucifer)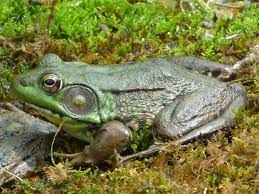 Green Frog 
(Lithobates clamitans)
Frogs and toads are important indicator species of the general health of wetlands. By monitoring the date that the frogs and toads start their calls, at what time of day the calling starts, where these occurrences are and for what species, scientists are able to understand better what is happening in their environment. In addition, this data gives important information about the current diversity and prevalence which both help identify changes that may be taking place. By registering at this site, you will learn how to identify the different species by their call and physical characteristics, as well as gain knowledge about what type of habitat they live in.
To participate in this monitoring program, you can register by following the link below.
Climate Change and Local River Impacts

Pierre LaRochelle, Editor
Information Morning - Cape Breton with Steve Sutherland recently had three segments regarding the effects of climate change on three of Cape Breton's rivers.
Canadian Biosphere Regions Network

Doug Foster, BLBRA Manager
The BLBRA was well represented at the 2023 CBRA National Meeting in Ottawa held February 15 to 17th. 49 attendees representing 19 UNESCO Biosphere Reserves attended including our own Allison MacIsaac, Stan Johnson and myself.
Photos provided by Doug Foster
I found the small group discussions and meeting people from the other 18 Biosphere's across Canada quite informative. It helped me understand better that BLBRA is at the rural end of the Canadian Biosphere spectrum. Indigenous communities are particularly important in this Biosphere, and to our Atlantic Coast. The Bras D'Or estuary and the importance of groundwater in our Biosphere make us both a unique Biosphere and a unique Island. Geography and culture also combine to make us unique and special. That gives me some inspiration to explore our cultural mix more.
Although our Biosphere is basically rural, it is not as remote from urban areas as other rural Biospheres. We are within an "urban shadow" to some degree, unlike the Southwest Nova Biosphere which is not really close to a large urban centre. We have suffered deindustrialization and decline as an Island, but we also "enjoy" some of the amenities typical of larger urban areas. The CBRA meeting and discussions makes me think of the opportunity that we have to work with First Nations Communities as well as French and Gaelic cultures.
Re-establishing the Bras d'Or Stewardship Society 

Don Crosby, Past Chair
The purpose of this article is to determine whether there is keen interest in re-establishing the Bras d'Or Stewardship Society. The Society's goal is "to protect, conserve, and restore through responsible Stewardship the Bras d'Or Lake and its Watershed." Detailed information on the role of the Stewardship Society can be found on the website. Due to the COVID pandemic there has not been any activity since February 2020.
The Society as an independent, voluntary organization registering with the N.S. Registry of Joint Stock Companies. It works in concert with the Bras d'Or Lake Biosphere Region (BLBRA) and the Collaborative Environmental Planning Initiative (CEPI). Revitalization of the Society will restore its unique role as an influencer for change with various Governing and Program leaders.
Two ways to re-establish the Bras d'Or Lake Stewardship Society are: 
1.  Through a volunteer Board formed to direct activities in pursuit of  its purpose. To do this the board should have leadership from individuals who:
    a.) have scientific knowledge of the impacts that affect the Lake and its watershed,
    b.) understand the process of lobbying government and other similar organizations that would responsibly aid in Stewardship measures,
    c.) take responsibility for communicating the Society's work through newsletters, press releases, letters, email etc.,
    d.) can Chair meetings and provide the Board with Agendas,
    e.) can record minutes that keep a clear record of the Board's decisions,
    f.) are able to provide for the record of income statements and have experience in applying for grants.
  The specificity of this list is not limiting in any way.

2.  To become a dues paying member who keeps in touch with the  Board by regularly attending Board meetings, Annual General Meetings and reporting to Board members any concerns that they believe have impacts on the health of the Bras d'Or Lake and its watershed.
Photos provided by Doug Foster
Overall, our objective is to make this Society a more effective representative of the major communities* around the Lake. Whether year round or seasonal residents young, middle aged, or retired folk, together they will increase the impact, value and longevity of the Society.

Among the sources of harm to the Lake that residents may be aware of are, improper waste disposal of boats, bilge disposal by boats, abandoned boats or fishing gear, sewage pipes entering the Lake, unsustainable septic field runoff, oil spills, chemical waste dumping, silt runoff from construction practices, forestry clearcutting impacting the lake, etc.
Please indicate your interest in participating in the Bras d'Or Lake Stewardship Society by contacting Don Crosby.
*Including but not limited to: St. Peter's, Potlotek, Eskasoni, East and West Bay, We'koqma'q, Wagmatcook, Whycocomagh, and Baddeck. Essentially any interested individual on Cape Breton or in Nova Scotia would increase the impact of the Society.
Amazing Places Project
Terri Shobbrook, Vice-chair BLBRA
The project goal is to identify and promote significant natural sites in the Bras d'Or Lake Biosphere Region for residents and visitors to explore in order to encourage better knowledge of ecological features and inspire a commitment to conservation.
In 2012 several Canadian biosphere reserves worked together to discuss the role of biosphere reserves in tourism. They adopted a common definition of sustainable tourism to help guide their work:

"Sustainable Tourism actively fosters appreciation and stewardship of the natural, cultural, and historic resources and special places by residents, the tourism industry, governments, and visitors. It is tourism which is viable over the long term because it results in a net benefit for the social, economic, natural and cultural environments of the area in which it takes place" (Tourism Industry Association of Canada & Parks Canada, 2005).

The Bras d'Or Biosphere is so much more than the lake, although, the lake itself is pretty amazing! Our Amazing Places project's goal is to showcase and encourage exploration of our area's natural beauty, culture, history, and so much more. Residents, businesses, and tourists work, live, and play in the Bras d'Or Biosphere Region.

The Amazing Place must be accessible to the public and have year-round access
1. Minimum 300 dpi image resolution required to support print or reduction by BLBRA to a lower resolution as required for website or social media distribution.
2. Do not include a watermark on the photograph
3. The photographer will get full credit for the image
Along with a brochure, the Amazing Places project team will be creating a webpage within the Bras d'Or Biosphere's website to showcase our amazing places.
Board Meeting - Thursday, May 11, 2023
Whycocomagh Firehall
AGM - Thursday, June 15, 2023
Highland Village, Iona or Bell Theatre, Baddeck
SDG Decade of Action Planning
This and other workshop opportunities available April through June
A program for tourism businesses and organizations to develop their own sustainability plan based on the UN SDGs. Offered by Tourism Industry Association of Canada (TIAC). 
Bras d'Or Lake Biosphere Region Association
4115 Shore Road
Eskasoni, NS B1W 1M4
Canada
You are receiving this email because you are a member of the Bras d'Or Lake Biosphere Region Association (BLBRA), are a member of associated groups or have been recommended and kept subscribed. We hope you will continue to subscribe and accept timely email notifications from us. Feel free to share this with your friends.
I want to unsubscribe