This report showcases the education community's remarkable flexibility and commitment to innovation in navigating a fast-paced world. Join us in exploring the higher-quality, inclusive pedagogies and assessment practices that have prepared future generations for success beyond the challenges of emergency education.

The STEAM Learning Ecologies Projects
STE(A)M Learning Ecologies aims to develop engaging open schooling-enabled science learning paths for all in learning continuums of formal and informal learning environments that are also focusing on inclusiveness.
Webinar: A Coding Journey – from Classroom to Career
Join the OneStream webinar on May 25 at 17:00 CEST to learn about the benefits and outcomes of teaching coding to children from an early age. The experts will discuss the implementation of the coding project in schools using Code Monkey and how it sparks students' interest in STEM and coding careers. 
NEW TEACHING AND LEARNING MODELS
The Teach Europe Project: Teaching for and about Europe
In early May, 12 teachers from lower and upper secondary schools across Europe gathered in the Future Classroom Lab to explore different approaches to introducing the topic of the European Union in their respective subjects. Find out more here.
Investing in Our Planet Through Ecological Education
The European Schoolnet Academy is launching the "Time to Seed a Future" MOOC which aims to support educators in promoting environmental awareness and inspiring a more sustainable future. Find all the details here and share with your networks.
Webinar: Transforming Learning for Students Through Intel SFI
The Future Classroom Lab and Intel are hosting a webinar on Intel Skills for Innovation Starter Pack. During the event, the participants will have the chance to learn more about integrating technological solutions in the classroom for all subjects and age groups. Watch the event here.
We are excited to announce the launch of Agile EDU, a new EU-funded project which will explore the safe, ethical, and pedagogically effective use of data in education. The project outcomes include expert articles, case studies, learning stories, guidelines for practitioners, policy recommendations and a MOOC which will examine the topic from various aspects. Subscribe for the next newsletter here.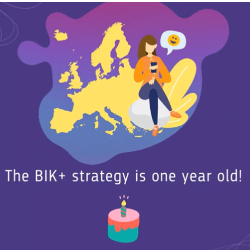 The BIK+ Strategy Turns One!
It has been one year since the adoption of the new European strategy for a Better Internet for Kids (BIK+). Let's take a look at everything that's happened to ensure a safer online experience for children and youths.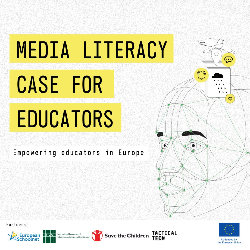 Media Literacy Case for Educators
This new project aims to develop effective methods of media literacy training centred on the needs of educators, to create engaging forms of media literacy engagement, and to embed effective media literacy tools in societal structures. Learn more about it here.
MenABLE: Tackling Gender-Based Violence
The project will develop three main action pillars - creation of tools to call out and stand-up to violence through empowerment and bystander intervention materials; education and training; awareness raising activities. Find out more here.
European Schoolnet (EUN Partnership aisbl)
Rue De Treves 61, Bruxelles
Belgium
You received this email because you signed up for our newsletter on our website.
Unsubscribe
The projects highlighted in this newsletter are funded as follows:
Horizon 2020
+

STE(A)M Learning Ecologies (SLEs) | Scientix
Citizens, Equality, Rights and Values Programme (CERV) of the European Union
+
Creative Europe Programme
+

Media Literacy Case for Educators
The above projects are funded with support from the Erasmus+ and the Horizon 2020 programmes. The STEM Alliance project is funded by industry partners. Its foundations of it are based on the European Commission's Erasmus+ Programme.The ALL DIGITAL Weeks 2023 campaign is co-funded by the European Commission. This course is the 5th Edition of the Games in Schools course produced by European Schoolnet and funded by the Interactive Software Federation of Europe (ISFE). It is provided in good faith with regard to the validity, accuracy or comprehensiveness of the information contained within it. Please note that the authors have no control over third-party references and linked sites, and any referenced links may be subject to change over time. The European Digital Education Hub is funded by Erasmus programme.