Current news on geology
Nº 203 - 5 July 2023 (contents from 21 June to 4 July)

Sent to 281 subscribers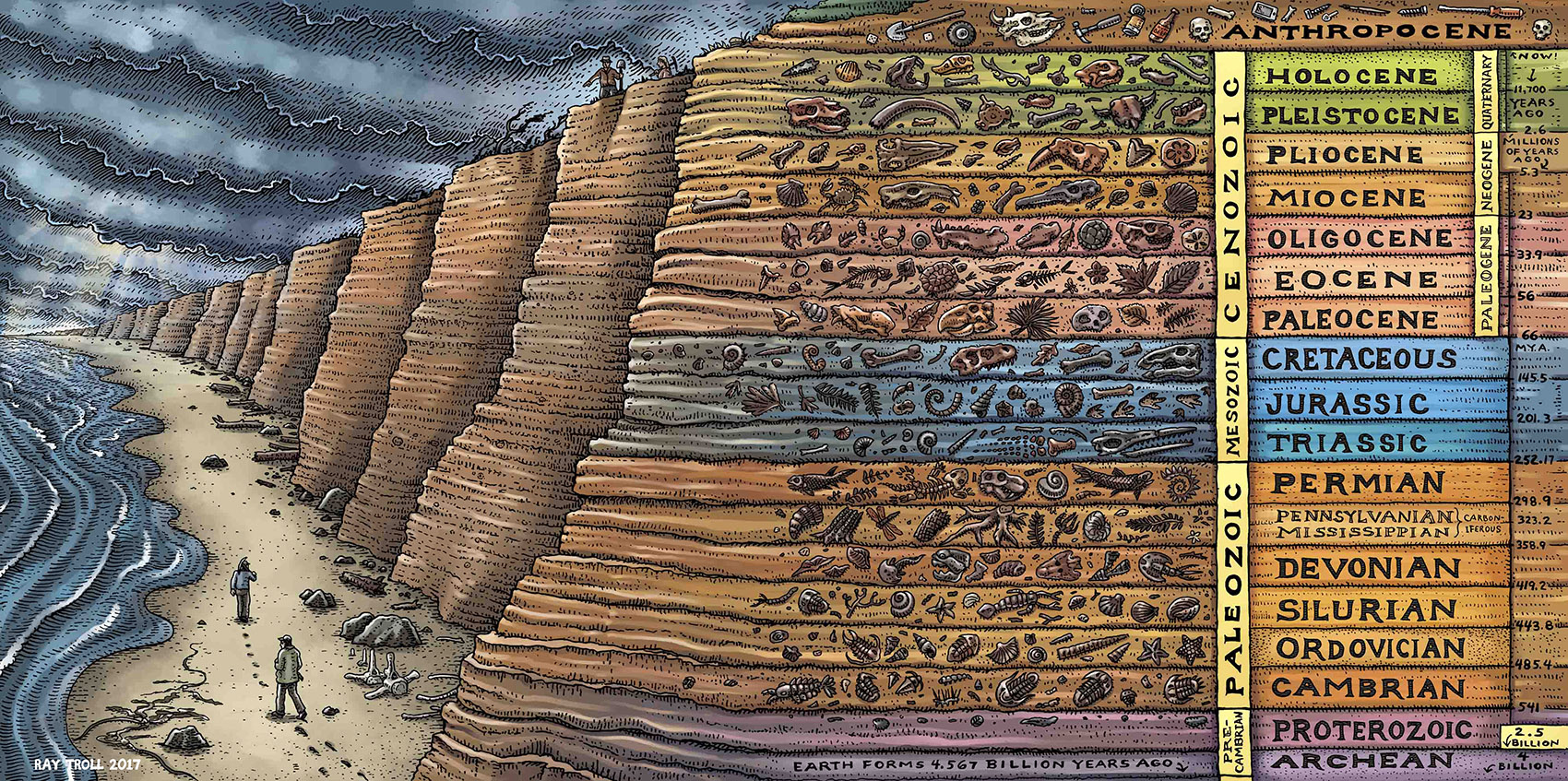 ✅ 1 of 25. Shared by culturacientifica.com/categoria/fronteras/
¿Existe el Antropoceno con mayúsculas?
Seguro que todo el mundo, en un contexto u otro, ha oído hablar del término Antropoceno y, rápidamente, lo ha asociado con Geología. También lo habréis visto reflejado en llamativas ilustraciones del tiempo geológico como la parte más moderna y actual del mismo. Incluso, podéis encontrar una entrada en el diccionario de la Real Academia Española (la RAE) [...]

✅ 2 of 25. Shared by @ICGCat
Acabem de publicar-ne la 4a versió en català amb les darreres actualitzacions. 
La Taula cronostratigràfica internacional descriu els temps geològics en què s'inscriu la història de la Terra. Acabem de publicar-ne la 4a versió en català amb les darreres actualitzacions.
✅ 3 of 25. Shared by elpais.com/noticias/geologia/
Hugo Delgado Granados, investigador y especialista en vulcanología de la UNAM, despeja las principales inquietudes sobre la supuesta formación de un volcán al sur de la capital
✅ 4 of 25. Shared by eos.org
To get from the ground to the jewelry store, diamonds undergo a journey that spans millions of years and hundreds of kilometers. That journey depends on kimberlite, a type of magma originating in the mantle that transports diamonds to the surface in a rare type of volcanic vent. Most kimberlite eruptions occurred millions of years ago.
✅ 5 of 25. Shared by icp.cat
Paleontòlegs del Museu Estatal d'Història Natural de Stuttgart (SMNS) i l'Institut Català de Paleontologia Miquel Crusafont (ICP) han descrit la primera evidència fòssil d'atacs de depredadors dirigits als llargs colls del rèptil marí del Triàsic Tanystropheus.
✅ 6 of 25. Shared by eos.org
The Emerald Isle has far fewer earthquakes than neighboring Britain. Now scientists think they know why.
✅ 7 of 25. Shared by geologyin.com
Zircons are the oldest known materials on our planet. They offer a window in time back as far as 4.4 billion years ago, when the planet was a mere 160 million years old.
✅ 8 of 25. Shared by europapress.es/ciencia/habitat/
La erupción del volcán Hunga Tonga el 15 de enero de 2022 continúa batiendo récords. Según un nuevo estudio, creó una tormenta eléctrica que produjo el rayo más intenso jamás registrado.
✅ 9 of 25. Shared by geologicalmanblog.wordpress.com
En ocasiones, cuando viajamos a un lugar para disfrutar de su paisaje, no solemos darnos cuenta de los procesos que lo han modelado. Y eso es así porque una de las cosas que tienen los paisajes es que podemos disfrutarlos por su belleza y por lo que nos transmiten sin entrar a comprender por qué son como son.
✅ 10 of 25. Shared by theconversation.com/es/topics/geologia-56554
Las escaleras de un edificio, la fachada de otro o la encimera en una cocina… Si son de granito, pueden estar moteadas con pequeños cuerpos oscuros. Estos cuerpos oscuros aportan pistas sobre cómo se formaron algunas cordilleras y también los continentes.
✅ 11 of 25. Shared by icog.es/TyT/
En el año 2006, en la localidad leonesa de Bembibre se fundó la asociación mineralógica y cultural llamada "Aragonito Azul". Aunque en muchos pueblos existen asociaciones culturales, no son muchas las que tienen una dedicación específica y principal a la difusión del conocimiento científico.
✅ 12 of 25. Shared by @GEO3BCN_CSIC
Una investigación con participación de Geociencias Barcelona del Consejo Superior de Investigaciones Científicas (GEO3BCN-CSIC) muestra de forma inédita oscilaciones libres en Marte generadas por fenómenos atmosféricos y por el mayor sismo registrado en el planeta por el dispositivo InSight de la NASA.
✅ 13 of 25. Shared by elpais.com/noticias/geologia/
Impresionantes cañones, acantilados junto al mar, fabulosas peñas zoomorfas, pozas… Una propuesta por comunidad autónoma donde no hay que ser un aficionado a la geología para enamorarse del paisaje
✅ 14 of 25. Shared by phys.org/earth-news/earth-sciences/
An international team led by the University of Minnesota Twin Cities has, for the first time, accurately determined the age and formation process of the East Anatolian fault, which runs from eastern to south-central Turkey and was involved in the creation of the Anatolian
tectonic plate.
✅ 15 of 25. Shared by zmescience.com/science/geology/
Studying historic eruptions through a storytelling lens often improves our understanding of and ability to prepare for such events.
✅ 16 of 25. Shared by europapress.es/ciencia/ruinas-y-fosiles
Un análisis en profundidad del registro fósil ha revelado el origen cretácico de los mamíferos placentarios, el grupo que incluye a los humanos, los perros y los murciélagos, y ha demostrado que coexistieron con los dinosaurios durante un breve periodo de tiempo antes de que éstos se extinguieran, según publican los investigadores en la revista 'Current Biology'.
✅ 17 of 25. Shared by phys.org/earth-news/earth-sciences/
Ten years ago, Samer Naif made an unexpected discovery in Earth's mantle: a narrow pocket, proposed to be filled with magma, hidden some 60 kilometers beneath the seafloor of the Cocos Plate.
✅ 18 of 25. Shared by all-geo.org
Most people imagine lava made from molten rock when volcanic eruptions are mentioned, but for some volcanoes, a precursor to molten rock may be molten sulfur.
✅ 19 of 25. Shared by agenciasinc.es/Tierra
Un esqueleto fosilizado muy bien conservado ha permitido describir a Tramuntanasaurus tiai, un reptil herbívoro que vivió en un ambiente tropical durante el Pérmico, hace unos 270 millones de años. En aquella época la actual isla mallorquina estaba unida al supercontinente Pangea.
✅ 20 of 25. Shared by @GrupMinCat
És la zona més antiga i més extensa de Catalunya on s'ha treballat el carbó, però avui, i des del 1994, no en queda res. --> Enfilall

✅ 21 of 25. Shared by blogs.agu.org/landslideblog/
The village of Brienz/Binzauls in the Swiss Alps [46. 6688, 9.5953] was evacuated between 9 and 12 May 2023, which triggered world-wide attention in most news channels, and broad interest in the landslide causing this evacuation.
✅ 22 of 25. Shared by scitechdaily.com/news/earth/
Scientists have discovered that standard climate predictions may undervalue the surface temperature cooling effect of volcanic eruptions by a multiple of two, possibly even four.
✅ 23 of 25. Shared by earthlearningidea.blogspot.com
This ELI involves an investigation into the need to increase mining for copper as demand rises abruptly and ores of lean (low) grade have to be used.
✅ 24 of 25. Shared by youtube.com/@igme1849
Actividades del IGME relacionadas con el estudio de la energía geotérmica del país y su divulgación.
✅ 25 of 25. Shared by youtube.com/@ICGCat
Vols saber com treballem a l'ICGCat per detectar, prevenir i mitigar els riscos dels moviments del terreny?
How'd you feel about today's newsletter?

| | | | | | | | | |
| --- | --- | --- | --- | --- | --- | --- | --- | --- |
| | | | | | | | | |
| Very Unsatisfied | | Unsatisfied | | Neutral | | Satisfied | | Very Satisfied |

Thank you for your valuable feedback.
CRAI Biblioteca de Ciències de la Terra (UB-CSIC)
C/ Martí Franquès, s/n
08028 Barcelona - Catalonia
SPAIN