Current news on ocean sciences
Nº 208 (19 May 2023 - 25 May 2023)
Sent to 257 subscribers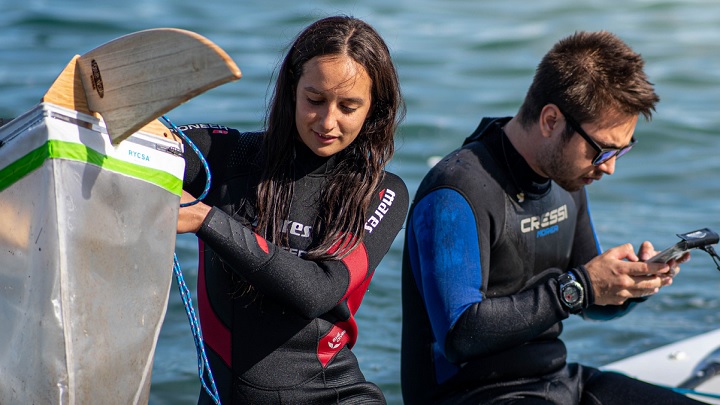 ✅ 1 of 25. Shared by @UniBarcelona 22 MAY 2023
Surfing for Science, distingit com a projecte europeu de ciència ciutadana
Universitat de Barcelona 📰
Surfing for Science, un projecte de ciència ciutadana impulsat per la professora Anna Sanchez-Vidal, del Grup de Recerca Consolidat (GRC) en Geociències Marines de la Universitat de Barcelona, ha estat distingit amb una de les mencions honorífiques del Premi de la Unió Europea a la ...
✅ 2 of 25. Shared by marinetechnologynews.com 23 MAY 2023
Marine Technology News 📰
The ocean absorbs a quarter of the CO₂ given out by human activities, playing a major role in slowing climate change. To have a better grasp of these processes is crucial to understand the ocean's role in the global climate system ...
✅ 3 of 25. Shared by @pewenvironment 22 MAY 2023
Pew Charitable Trusts 📰
With the April 16 release of their G-7 Climate, Energy, and Environment Ministers' Communiqué, leaders of the International Group of Seven (G-7) publicly committed to approve proposed marine protected areas (MPAs) around Antarctica and to urge other  ...
✅ 4 of 25. Shared by @CMEMS_EU 16 MAY 2023
Copernicus Marine Service 📰 🎞️
In winter, sea ice accumulates across the northern polar region until it reaches its maximum annual extent, in late February and March. The Copernicus Marine Service monitors this accumulation through satellite and in situ ...
| | | |
| --- | --- | --- |
| | | MARINE ECOLOGY & ENVIRONMENT |
✅ 5 of 25. Shared by zmescience.com 19 MAY 2023
ZME Science 📰
El Niño, a warm ocean water band stretching from South America to Asia that happens every three years on average, causes widespread severe weather changes – from floods to droughts. In a new study, researchers found the financial toll of El Niño ...
✅ 6 of 25. Shared by industriaspesqueras.com 23 MAY 2023
Industrias Pesqueras 📰
El Consejo Superior de Investigaciones Científicas (CSIC) ha creado una empresa de base tecnológica (EBT) que usa modelos matemáticos para predecir y modelar la trayectoria de vertidos de petróleo y otros contaminantes en el mar. El software de los investigadores ...
✅ 7 of 25. Shared by sciencedaily.com 23 MAY 2023
Science Daily 📰
A new greenhouse gas budget shows coastal ecosystems globally are a net greenhouse gas sink for carbon dioxide (CO2) but emissions of methane (CH4) and nitrous oxide (N2O) counteract some of the CO2 uptake, according to researchers. ...
✅ 8 of 25. Shared by @IEOoceanografia 19 MAY 2023
Instituto Español de Oceanografía 📰
El equipo científico del consorcio BELICH, que lidera el IEO-CSIC, dependiente del Ministerio de Ciencia e Innovación, está monitorizando su evolución y estudiando su composición y origen. Los valores de concentración de la clorofila registrados en su interior son hasta cuatro ...
✅ 9 of 25. Shared by @pewenvironment 18 MAY 2023
Pew Charitable Trusts 👆
An interactive tool to support marine protected areas (MPAs), building on Pew's high seas MPA report. Located more than 200 miles from shore and beyond the jurisdiction of any country, the high seas are among the largest reservoirs of ocean biodiversity. They make up ...
✅ 10 of 25. Shared by europapress.es/ciencia/habitat 22 MAY 2023
Europa Press - Ciencia - Hábitat 📰
La interacción entre algas sargazos, desechos plásticos marinos y la bacteria Vibrio crea una tormenta "patógena" perfecta, que tiene implicaciones tanto para la vida marina como para la salud pública. Es la conclusión de un nuevo estudio genómico en el Caribe ...
✅ 11 of 25. Shared by @IEO_Malaga 22 MAY 2023
Instituto Español de Oceanografía 📰
El océano es responsable de hasta el 20% de las emisiones globales de este potente gas de efecto invernadero, sin embargo, aún existen muchas incógnitas en su ciclo biogeoquímico. Este nuevo proyecto, llamado NITRODEOX, está financiado por el prestigioso programa Marie ...
✅ 12 of 25. Shared by @bibgeo 19 MAY 2023
IB3 🎞️
Miquel Salamanca ens presenta en aquest primer capítol de la sèrie Arxipèlag Blau dos dels ambients més característics de les nostres aigües: els arenals i els alguers, el que es coneix tradicionalment... ...
✅ 13 of 25. Shared by mbari.org 17 MAY 2023
Monterey Bay Aquarium Research Institute 📰
A study published by MBARI researchers and their collaborators today in Nature provides new insights about one of the earliest points in animal evolution that happened more than 700 million years ago. For more than a century, scientists have been working to understand the pivotal moment ...
✅ 14 of 25. Shared by ieo.es 18 MAY 2023
Instituto Español de Oceanografía 📰
Desde 2016, existen dos áreas en las que se prohíbe la pesca de arrastre y ahora un equipo científico está estudiando la efectividad de la medida. Palma, jueves 18 de mayo de 2023. Un equipo científico del Instituto Español de Oceanografía (IEO-CSIC), la Universitat ...
✅ 15 of 25. Shared by @bibgeo 22 MAY 2023
Diari de Girona 📰
L'Associació Otras Manera i Empordà Mar posaran en marxa aquest dijous la primera fase del projecte PosidoniaGrows, que té com a objectiu replantar unes 700 plàntules de posidònia a Cadaqués per frenar-ne l'erosió i reduir la presència d'una alga invasora ...
✅ 16 of 25. Shared by @escantlham 18 MAY 2023
MeteoMauri 🎙️
Els productors de mol·luscos del delta de l'Ebre han iniciat la producció de macroalgues destinades a l'alimentació. Una resposta per fer front als problemes que la producció de mol·luscos troba pels efectes del canvi climàtic. Ens ho detalla Mario Vizcarro. ...
✅ 17 of 25. Shared by @IMASUTAS 22 MAY 2023
Institute for Marine & Antarctic Studies 📰
Researchers from Tasmania and South Australia have demonstrated to the European Union that a proposed maximum limit of inorganic arsenic in seafood was not naturally achievable – and it has helped prevent potential impacts on Australian seafood exports into ...
✅ 18 of 25. Shared by @OceanActionHub 18 MAY 2023
Global Fishing Watch 👆
Global Fishing Watch has released updates to the map and marine manager portal. Anyone can now: Rapidly analyze and understand fishing or vessel activity in any area or time range of interest. The addition of dynamic reports offers a quick and powerful way to access more information about ...
✅ 19 of 25. Shared by awi.de 17 MAY 2023
Alfred Wegener Institut 📰
Manganese nodules in the deep sea contain a wealth of valuable metals that are vital to e.g. the electronics and steelmaking industries. Accordingly, these sectors and many countries have pinned their hopes on deep-sea mining to meet the growing demand for raw materials like cobalt and rare-earth ...
✅ 20 of 25. Shared by theguardian.com/environment 21 MAY 2023
The Guardian - Environment 📰
If mining companies are given the go-ahead to exploit the ocean depths, the environmental cost will be devastating. As the clock ticks down to a crucial deadline in July, Michael Segalov reports. For almost 30 years, much of what went on at the secretive-sounding ...
✅ 21 of 25. Shared by icman.csic.es 19 MAY 2023
Instituto de Ciencias Marinas de Andalucía 📰
La batimetría derivada de satélite sigue avanzando y perfeccionándose. Un nuevo estudio científico ha comprobado la eficacia de una metodología desarrollada para obtener datos batimétricos a partir de imágenes satelitales en el Mediterráneo ...
✅ 22 of 25. Shared by sciencedaily.com 18 MAY 2023
Science Daily 📰
Scientists found weak, biologically-rich layers of sediments hundreds of meters beneath the seafloor which crumbled as oceans warmed and ice sheets declined. The landslides were discovered in the eastern Ross Sea in 2017 ...
✅ 23 of 25. Shared by @batidivulga 19 MAY 2023
National Oceanography Centre 📰
The amount of seafloor mapped has risen to 24.9%. The global effort behind mapping the world's entire ocean floor before the end of the decade is being spearheaded by Seabed 2030. The British Oceanographic Data Centre ...
✅ 24 of 25. Shared by @seabed2030 18 MAY 2023
Seabed 2030 🎓 📆
Seabed 2030 is a collaborative project between GEBCO and the Nippon Foundation with the aim of facilitating the complete mapping of the ocean floor by the year 2030. Regional Data Centres have been established with the task of identifying ...
✅ 25 of 25. Shared by @campusdelmar 23 MAY 2023
Universidad de Almería 🎓📆
Con la experiencia de los Congresos previos de Cádiz, Málaga y Granada, celebrados en 2018, 2019 y 2021, respectivamente, queremos dar continuidad con el I Congreso Iberoamericano Jóvenes Investigadores del Mar, una importante iniciativa ...
DOCUMENT TYPE LEGEND
     
📰

Text & pictures

        
🖼️

Pictures

🎞️

Video

        
🎙️

Audio

🎓

Meeting / Event

        
📆

Upcoming

🧵

Twitter thread

        
👆

Interactive
How'd you feel about today's newsletter?

| | | | | | | | | |
| --- | --- | --- | --- | --- | --- | --- | --- | --- |
| | | | | | | | | |
| Very Unsatisfied | | Unsatisfied | | Neutral | | Satisfied | | Very Satisfied |

Thank you for your valuable feedback.
CRAI Biblioteca de Ciències de la Terra (UB-CSIC)
C/ Martí Franquès, s/n
08028 Barcelona - Catalonia
SPAIN