Current news on ocean sciences
Nº 206 (5 May 2023 - 11 May 2023)
Sent to 256 subscribers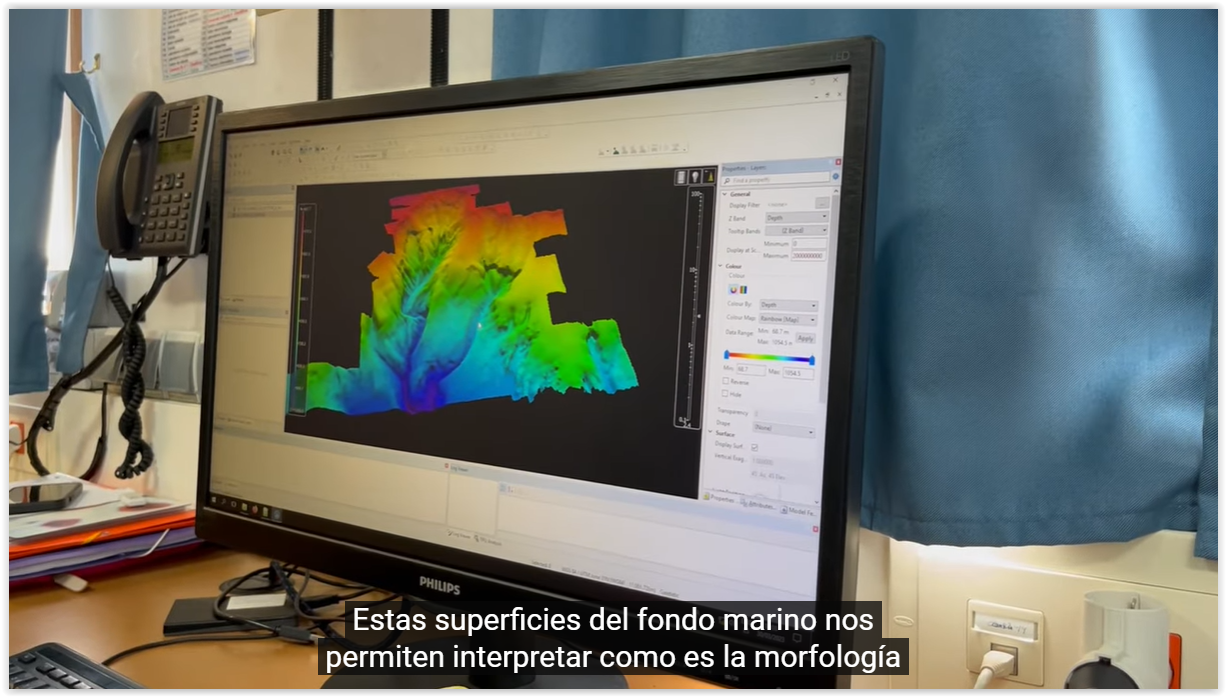 Shared by @gemar_ieo 6 MAY 2023
Geolodía 2023 Marino
Sociedad Geológica de España 🎞️
¿Quieres saber cómo se investigan los fondos submarinos a bordo de un buque oceanográfico? Te lo enseña el Geolodía. Este año 2023 también habrá recorridos virtuales para que los veas desde casa. Descubre la belleza y la importancia que tiene la geología para tu vida. Te vas a llevar más de una sorpresa. Vas a disfrutar, te vas a reír, vas a soñar, vas a descubrir y vas a aprender. ...
Shared by youtube.com/@MBARIvideo 4 MAY 2023
Monterey Bay Aquarium Research Institute 🎞️
David Packard believed that addressing the challenges of ocean exploration required a new type of research institute—one independent in spirit and collaborative by design. He founded MBARI on the core principle of scientists, engineers, and marine operations ...
Shared by europapress.es/ciencia/habitat 5 MAY 2023
Europa Press - Ciencia - Hábitat 📰
El polvo atmosférico ejerce un papel global en nutrir los océanos Una nueva investigación comienza a desentrañar el papel que desempeña el polvo en la nutrición de los ecosistemas oceánicos mundiales, al tiempo que contribuye a regular los niveles ...
Shared by @GCC_IEO 5 MAY 2023
Cristina Arumí 🧵
Los océanos y la atmósfera regulan el clima terrestre transportando calor desde el Ecuador hasta las regiones subpolares. El Océano Atlántico transporta calor hacia el norte desde todas sus latitudes a través de la Circulación Meridional, regulando así el clima europeo.☀️☁️⛈️❄️🌈
Shared by @WWFLeadOceans 3 MAY 2023
Nautilus 📰
Gazing out from the eighth floor of a hotel in Georgetown, Guyana, the broad expanse of the Atlantic Ocean was a muddy brown. Only a thin rim of blue on the horizon showed the ocean's true color; the rest swirled with sediment emerging from the mouth of the Essequibo River.
Shared by @bibgeo 9 MAY 2023
Plymouth Marine Laboratory 📰
Mesoscale eddies enhance the air-sea CO2 sink in the South Atlantic Ocean, a new study has found.  The study - led by scientists at Plymouth Marine Laboratory and joined by scientists from the University of Exeter and the Federal University ...
| | | |
| --- | --- | --- |
| | | MARINE ECOLOGY & ENVIRONMENT |
Shared by @la_mar_neta 7 MAY 2023
El Diario 📰
El 'tesoro del Mediterráneo', la Posidonia oceanica, planta marina que perteneciente a la familia de las Posidoniaceae, es el ser vivo más longevo de la tierra. Y es precisamente en Balears, en la zona entre Eivissa y Formentera declarada Patrimonio Natural por la UNESCO en 1999 ...
Shared by @LifeIntemares 5 MAY 2023
Agencia SINC 📰
Investigadores del CSIC muestran cómo el deshielo causado por el aumento de temperatura deriva en mayores emisiones oceánicas de mercurio a la atmósfera en la región. El trabajo revela que la deposición de mercurio sobre la superficie del hielo ártico se triplicó ...
Shared by sciencedaily.com 8 MAY 2023
Science Daily 📰
While conducting a study of Petermann Glacier in northwest Greenland, researchers uncovered a previously unseen way in which the ice and ocean interact. The glaciologists said their findings could mean ...
Shared by @ieo_baleares 8 MAY 2023
RTVE 🎞️
CSIC Olas de calor. El proyecto Planet Tuna del Instituto Español de Oceanografía explica qué son las olas de calor marinas y las consecuencias para las especies que habitan en estos ecosistemas acuáticos. ...
Shared by @bibgeo 9 MAY 2023
La Voz de Asturias 📰
Las históricas temperaturas registradas en lo que va de 2023, y a la espera de lo que pueda pasar si realmente se da un episodio intenso del fenómeno conocido como El Niño, podrían volver a convertir este año en uno de los más calurosos desde que existen registros. ...
Shared by youtube.com/@InstitutdeCienciesdelMarCSIC 5 MAY 2023
Institut de Ciències del Mar 🎞️
Si bé el coneixement científic és il·limitat, a dia d'avui, la quantitat de dades i d'informació existents, així com la comprensió de la importància de l'oceà per a la vida al planeta, son ja impressionants i ens permeten entendre i explicar bona part dels processos que hi tenen lloc ...
Shared by eos.org 8 MAY 2023
EOS 📰
It is generally assumed that phytoplankton grows to high concentrations within ocean fronts. However, a long-standing question is whether phytoplankton could also be carried to the front from somewhere else. ...
Shared by @bibgeo 3 MAY 2023
Institut de Ciències del Mar 📰
Un nou estudi liderat per l'Institut de Ciències del Mar (ICM-CSIC) ha comprovat l'eficàcia d'una petita reserva marina que engloba els caladors Roses i Palamós (Girona) en incrementar-se notablement i en un temps molt menor del que s'esperava la població d'escamarlà ...
Shared by hakaimagazine.com 4 MAY 2023
Hakai Magazine 📰
Onboard the Song of the Whale, spotting a cetacean comes with perks. "There is always a competition," says Niall MacAllister, the boat's skipper. Whoever sees the first whale, or the most whales, might be treated to a pint the next time the sailboat docks. ...
Shared by @RebeccaRHelm 3 MAY 2023
Rebecca Helm 🧵
In our new paper, we discovered a HUGE issue at the heart of these industries. And ignoring it is a risk to all of us ...
Shared by hakaimagazine.com 10 MAY 2023
Hakai Magazine 📰
Bleaching occurs when a stressed marine creature, most commonly a coral, expels its symbiotic algae and turns a ghostly white, often in response to a warming sea. But bleaching affects more than just corals. ...
Shared by industriaspesqueras.com 8 MAY 2023
Industrias Pesqueras 📰
Cataluña cuenta con más de 46 400 pescadores recreativos, de los cuales un 65% practican la pesca desde costa, un 24 % la pesca desde embarcación y un 11 % la pesca submarina. De éstos, casi un 20 % practican más de una modalidad. ...
Shared by @WWFLeadOceans 5 MAY 2023
World Wildlife Fund 📰
The Indian Ocean yellowfin tuna fishery – calculated in 2018 to be worth more than US$4 billion – is approaching collapse after more than a decade of inaction to curb overfishing. A 30% reduction in annual allowable catch is necessary ...
Shared by industriaspesqueras.com 5 MAY 2023
Industrias Pesqueras 📰
La eólica marina es un desafío para los intereses del sector pesquero gallego, pero una oportunidad de desarrollo para el naval de la comunidad. Y en este juego de equilibrios, la Xunta de Galicia ha dado luz verde a un convenio de colaboración con Asime, ...
Shared by anellides.com 4 MAY 2023
Anèl·lides 📰
Penseu en una platja, que us ve al cap? Pot ser penseu en una platja amb edificis a primera línia de mar, amb un passeig marítim; però pot ser que us imagineu una platja sense edificis pròxims, amb dunes i vegetació associada. Aquestes últimes són les platges naturals ...

Shared by @bibgeo 9 MAY 2023
Global News 📰 🎞️
If a magnitude 9.0 earthquake struck in the Cascadia subduction zone, along the B.C. and U.S. coast, tsunami waves would reach the outer coast of northwest Vancouver Island in about 20 minutes. The waves would be an estimated 5.9 metres high, followed by runup on the land ...
Shared by @bibgeo 5 MAY 2023
Oceans and Fisheries 🎓 📆
We are creating Europe's Blue community as part of the European Blue Forum - a community of different users of the sea, passionate and committed to working together to deliver bold and ambitious solutions ...

Shared by @CMEMS_EU 5 MAY 2023
European Organisation for the Exploitation of Meteorological Satellites 🎓 📆
Imagery is a powerful way to convey an impactful message. With the increased availability of satellite data and petabytes of Copernicus Sentinel open data, data visualisation and data journalism have significantly developed in recent years ...
Shared by @utm_csic 5 MAY 2023
Geociències Barcelona 🎓 📆
El distrito de Les Corts (Barcelona) acoge la exposición fotográfica 'Una mirada Polar: un viaje visual a los confines de la Tierra' de la PTI POLARCSIC. El recorrido fotográfico puede visitarse hasta el 14 de julio en el espacio expositivo de Les Corts, en la sede del distrito (plaça Comas, 18). ...

DOCUMENT TYPE LEGEND
     
📰

Text & pictures

        
🖼️

Pictures

🎞️

Video

        
🎙️

Audio

🎓

Meeting / Event

        
📆

Upcoming

🧵

Twitter thread

        
👆

Interactive
How'd you feel about today's newsletter?

| | | | | | | | | |
| --- | --- | --- | --- | --- | --- | --- | --- | --- |
| | | | | | | | | |
| Very Unsatisfied | | Unsatisfied | | Neutral | | Satisfied | | Very Satisfied |

Thank you for your valuable feedback.
CRAI Biblioteca de Ciències de la Terra (UB-CSIC)
C/ Martí Franquès, s/n
08028 Barcelona - Catalonia
SPAIN