The Severnside Institute for Psychotherapy is a BPC Member Institute offering BPC-accredited clinical training in psychoanalytic and psychodynamic psychotherapy, as well as our Fundamentals of Psychoanalytic Thinking & Practice courses, and CPD events.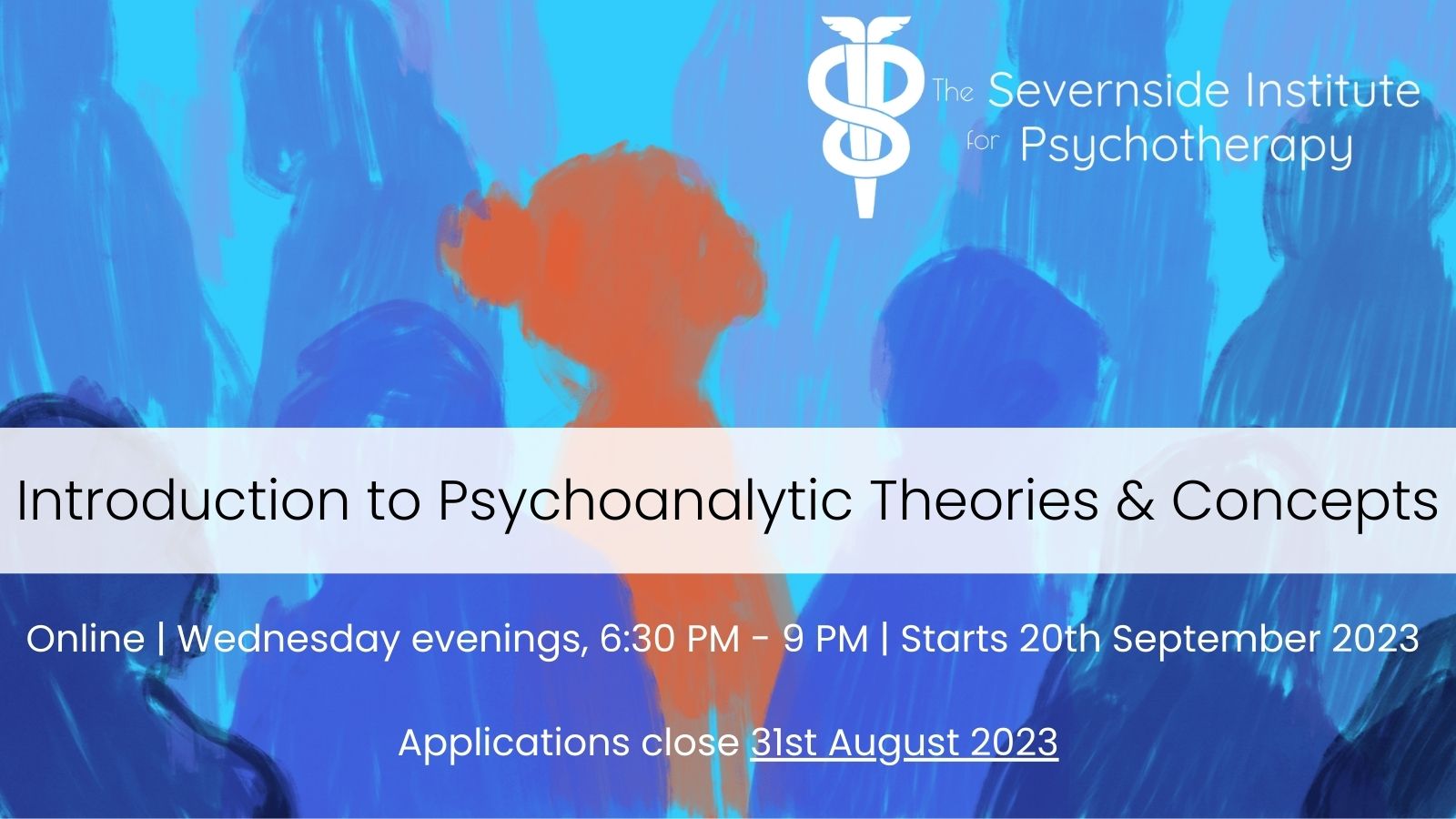 Join SIP's Introduction to Psychoanalytic Theories & Concepts course this September
SIP's Introduction to Psychoanalytic Theories & Concepts course will explore Psychoanalysis as an approach to the unconscious and its expression in human development and relationships. The course is delivered online (Zoom) on Wednesday evenings (6:30 PM - 9 PM) across two 10-week terms. Limited bursary funds are available to assist with course fees - early application advised (more info here)
Announcing SIP's 32nd Annual Public Lecture
Respark: Ways of understanding & working with shut-down states with Graham Music
When: Saturday 28th October 2023, 10 AM - 12 PM
Where: Watershed (1 Canon's Road, Bristol BS1 5TX)
Tickets: £20 - £40 (includes refreshments)
Accessibility: This venue is fully accessible (more info available here)
Who's it for? This is a public event - everyone welcome!
CPD certificates will be available to attendees on the day
In this talk Graham Music will elaborate on themes from his book, Respark. He will discuss ways of understanding and working with more shut-down states, such as those seen after trauma, neglect and learned helplessness, as well as more manic 'mis-sparking' states.
Graham will discuss the impact not only of trauma, but also of emotional flatness and lack of energy, on patients and in our countertransference, the variety of forms this can take, and how aliveness may return after it. New science will be linked with clinical insights needed to shift people from 'desparked', lifeless, unenergised states, linking ideas such as Symington's 'lifegiver' with newer thinking about 'danger responses, and a specific focus on the body. The talk will use video clips and slides as well as clinical examples.

Organised by CFAR in association with Bristol University
CFAR event: 'Interpretation' with Darian Leader
When: Saturday 7th October 2023, 10 AM - 12 PM
Where: Merchant Venturers Building (Room 1, 11
Woodland Road, Bristol BS8 1UB)
Tickets: £20
This is one of a series of CFAR Bristol talks on the topic of 'Interpretation'.

What does interpretation aim at? Psychoanalysts interpret – and have always interpreted - in very different ways at different times in a treatment. Yet what logics are at play in their interventions? And is intervention the privilege of the psychoanalyst or something shared by both analyst and analysand? These three seminars will explore these questions and include clinical examples involving the kind of problems common to diverse currents in contemporary psychoanalysis and psychotherapy. No prior knowledge of Lacan is assumed.
We're calling for:

A thorough independent review and audit of the NHS Talking Therapies
A diversity of talking therapies, including relational therapies, to be made available
A genuine response to community need
Improvement in staff pay and conditions
We're calling on Maria Caulfield, Minister of State for Mental Health, to urgently and independently review the provision of Community Mental Health Care via NHS Talking Therapies (NHS TT - formerly known as Improving Access to Psychological Therapies, or IAPT).

We believe that while more and more people are suffering from common mental health distress, the availability and accessibility of therapeutic help via the NHS Talking Therapies has become severely limited, indeed a denial of care. NHS TT claim to provide a successful adult mental health service but this is based on their own statistical data which is presented in a misleading way. Neither IAPT nor NHS TT has been subjected to independent audit. An independent review is now crucial to enable a change towards the provision of a service which can genuinely and flexibly respond to the psychological and emotional needs of our communities and support staff in their pay and conditions.

Orchard Street Therapy Rooms
Consulting & meeting room space to rent in central Bristol
Conveniently situated just off the bottom of Park Street in central Bristol, Orchard Street Therapy Rooms offers attractive consulting rooms for use by psychotherapists and counsellors, and space for events or meetings during the weekend.
The Severnside Institute for Psychotherapy
11 Orchard Street
Bristol, BS1 5EH
United Kingdom
Copyright © 2023 Severnside Institute for Psychotherapy, All rights reserved.

You are receiving this email because you are either a professional/organisation in a field relating to psychotherapy, a current or former Severnside member or associate, an OSTR room user, you have attended an SIP event in the past, or you have subscribed to this mailing list. We assume that receiving this information is a 'reasonable expectation' and therefore we have used 'legitimate interests' as the lawful basis for including you on this circulation list. If you would prefer not to receive our emails, please use the unsubscribe link below.

Unsubscribe