New courses, blogs, videos, and a conference summary

August - a month, for some, to slow down and assess, perhaps catch up on some reading. Or maybe for others a time to dig deeper into topics of interest. Perhaps some of our resources will fit the bill for you.

First and foremost, please accept my apologies for such a gap in Newsletters. It's not that nothing was happening; on the contrary, it's that so much was happening that the Newsletter simply slipped through the gaps. You can be sure of packed Newsletter this month, so read on!

We are very pleased to announce the development of a CSBV community learning program. This will be a five course non-credit certificate program that will equip lay leaders and interested believers to think well about the violent texts of scripture, and the use of scripture in a violent world.
While we are still in the early stages of developing this program, we are please to announce that the first two sessions will be offered as a single one-week intensive, 23-28 October 2023.
Called "Suffering and Sorrow," it will exam a variety of matters of violence within the text of scripture, and how we can best understand what those texts are teaching, and how to appreciate them rightly as Christian scripture.
It will be held live in Middletown, Ohio, USA, and also available on Zoom. Please contact Ashley Hibbard at [email protected] for more information and to register.
The Claim to Christianity
In May we were pleased to use a British Academy grant to convene a group of a dozen scholars and practitioners from a range of specialisms, contexts, and faiths to consider the question of the UK church's response to the rising threat posed by the Radical Right. We were dialoguing with Hannah Strømmen and Ulrich Schmiedel about their provocative book The Claim to Christianity. The conversation was generous and generative, and will be reflected in a forthcoming book with SCM Press. We also hope that this project will bear fruit in a range of resources for local churches.
The highlight of the academic year was our research conference, held in partnership with Christ at the Checkpoint (from Bethlehem Bible College). We were delighted to have more than 60 scholars, students, and pastors in the building, with another 30 joining online. It was a joint project designed as a response to the theological underpinnings of Christian Zionism and the Israeli settler-colonial project. If you missed the conference, you can access the videos for £40/£5 for Global South. We plan to present a third session on Zoom later this year for all ticket holders , responding to Zionist readings of Old Testament texts.
Thanks to Paul Lutton for his summary of the conference. If you have a summary, reflections, or feedback we would love to access them.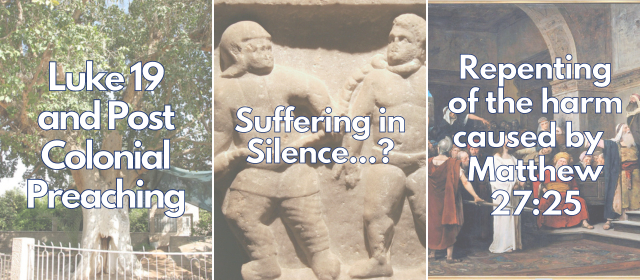 Blog Series: Sunday Sermon, Monday Mourning
Calling all preachers, teachers, and anyone interesting in engaging with texts of violence in the Bible …
The Sunday Morning Monday Mourning blog seeks to explore some of these difficult texts, with regular posts from a wide range of contributors.
Our posts variously focus on texts upcoming in the Revised Common Lectionary and more generally, and your comments on, and responses to, the posts are always welcome, as are any suggestions for texts we might cover.
Peter King
Co-ordinator
No Love in War

No Love in War is an auto-ethnographic account by Research Associate Valerie Hobbs of the everyday realities of life without love, among those who pursue war. It follows the disordered and erratic trajectory of a woman's life - the author's life - moving through three concentric circles of influence in the Dominionist movement, focusing in particular on the New Apostolic Reformation, Christian Reconstructionism and Neo-Calvinism in the United States.
Anabaptist Lecture 2023

'Why Women Doing Theology Matters for Everyone: Sexual Violence, Tainted Legacies, and the Integrity of Anabaptist Theology' by Dr Fran Porter.

Join online for this FREE lecture on Weds 11th November at 11am.
| | | |
| --- | --- | --- |
| Give to support the work of the CSBV: | | |
Centre for the Study of Bible and Violence

Bristol Baptist College, The Promenade, Bristol

United Kingdom

You received this email because you signed up on our website or attended one of our events.