Thriving Together Northumberland
Newsletter
Edition 23 - September 2023
Thriving Together aims to bring the voluntary, community and social enterprise sector together to make a positive impact on the lives of Northumberland residents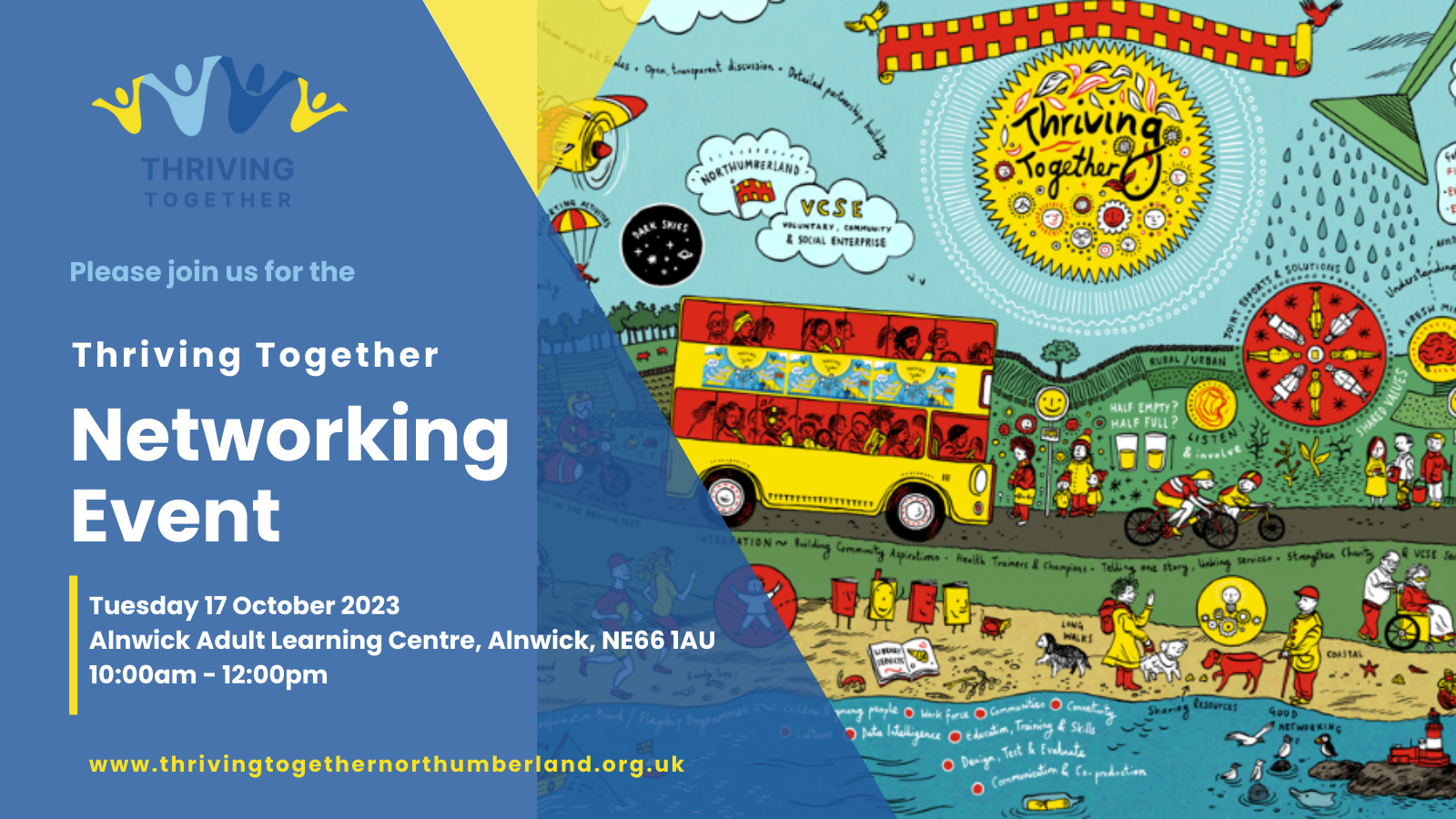 Come and join us!
Our networking events are a fantastic opportunity for voluntary, community, and social enterprise organisations in Northumberland to mix and mingle with other groups who share the same passion. You'll have the chance to celebrate your best and most innovative practices whilst also building new partnerships. We promise you'll leave with a head full of fresh ideas, ready to meet the needs of our Northumberland communities. Don't miss out on a morning of connection, celebration, and inspiration!
This event is free to attend, but it would be helpful if you could let us know by registering your attendance through Eventbrite.
We look forward to seeing you there!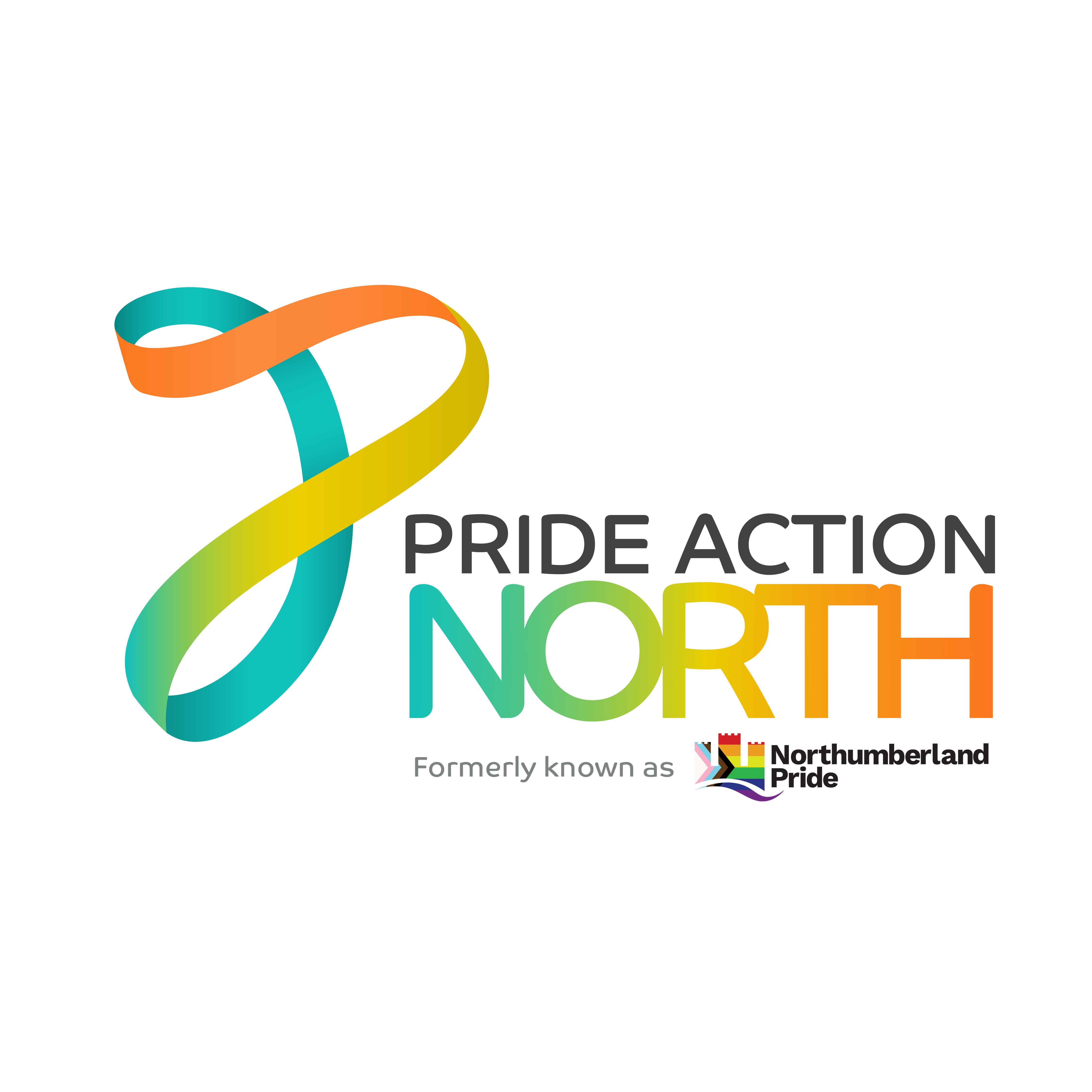 Pride Action North
Pride Action North have been awarded funding by The National Lottery Community Fund to deliver a new three year project called 'Supporting LGBTQIA+ Young People to Thrive In and Out of Education'. We will provide vital support to young people aged between 11 and 25 who are LGBTQIA+ and are struggling with their mental health and wellbeing.
As part of the funding, additional capacity will be created through a new Link Worker and a new role of Education Coordinator who will work closely with schools, colleges and universities across Northumberland and Tyne and Wear to create inclusive environments that encourage acceptance, support and understanding for LGBTQIA+ communities. It will also allow our people to collaborate with education professionals, provide training and resources, and facilitate referrals to community-based services so young people can receive the right level of support and opportunities.

Refugee Employability Programme
Reed in Partnership are delighted to announce that Reed's Refugee Employment Programme is up and running. Our programme is a collaborative initiative that aims to support refugees in finding meaningful and sustainable employment opportunities in the area, to provide some employment related ESOL support and to aid with integration into society. We believe that refugees have valuable skills and talents that can contribute to the local economy and society, and we want to help them overcome the barriers and challenges they face in accessing the labour market.

We are working in partnership to create a network of support and resources for refugees and employers alike. We are excited to work across the area with various stakeholders, such as local authorities, businesses, community groups, and of course, refugees themselves. We hope that this project will make a positive difference in the lives of many people and foster a more inclusive and diverse community.
Read the latest minutes from the Health and Wellbeing Board, held on 10th August 2023
North of Tyne Combined Authority launches Small Grants Programme!
VCSE sector organisations across Newcastle, Northumberland and North Tyneside are invited to apply for grants of between £30k-£50k to empower individuals of a working age who are not currently engaging with mainstream employment provision.
This project is funded by the UK Government through the UK Shared Prosperity Fund with the North of Tyne Combined Authority as the lead authority.
Deadline for applications 9th October.
Decisions expected early November 2023.
Ashington Town Council


2023-09-11
Small Grant Fund Now Open for Applications
Ashington Town council's agreed budget for 2023/24 includes a Small Grant Fund, which Community Groups and Organisations can apply for grants of up to £500.
The Fund is available quarterly and is now open for the third quarter of 2023. The closing date for applications is Friday 29th September 2023.
Grant Aid is for voluntary, non-profit making organisations who provide facilities, activities, and services principally for residents served by Ashington Town Council.
You can only apply for a small grant once in the current financial year, so if you haven't applied this year click on the link below to get your application form.
Application forms and how to apply can be found at https://www.ashingtontowncouncil.gov.uk/grants.php
If you need any help with your application or have any queries, contact Sharon on 01670 624520 or email; [email protected]
The RWE Renewables Kiln Pit Hill Windfarm Community Fund at the Community Foundation has a maximum allocation of £15,000 for grants to voluntary and community projects based in the parish of Shotley Low Quarter. Applicants can apply for a minimum of £250 up to the maximum funds available in the fund year.
Grants for individuals may be considered under special circumstances. Applicants should demonstrate that their project has community benefit and charitable aims.
We have a list of events on our website - 
Youth Involvement Bank
Youth Involvement Bank within Cumbria, Northumberland, Tyne and Wear (CNTW) NHS Foundation Trust is an opportunity for young people who have lived experience of CNTW services (either as a service user, young carer or both) and are aged between 14-17 years who want to use their lived experience to shape services.

To find out more, contact 
01670 501 816
or email [email protected]
Northumberland Skills


2023-09-04
If you're interested in making a difference and are patient, caring and a good communicator; a career in education, health and social care could be perfect for you.
Our courses will prepare you for a rewarding career helping people of all ages. Whether you're caring for or teaching others there are plenty of opportunities for growth and career progression.
Explore our part-time courses and enrol now.
Data Masterclass – Co-creating data tools with your stakeholders
21st September – 9.30am – 12.30pm – Prudhoe, Northumberland

We understand that data isn't everyone's cup of tea, it can be daunting and when you have it, what do you do with it? But your data has the potential to be useful and empowering for everyone your charity engages with.
Join VONNE and social sector strategist, Hannah Underwood for this in-person masterclass where we'll look at low code and no code solutions to co-create data tools with your stakeholders. We'll share some of the pitfalls created by not engaging with stakeholder data and explore real examples of how data tools have been co-created and the impact this has had on the charities involved.
Intergrated Wellbeing Service Training Programme - 1st June 2023 to 31st March 2024
We have added a list of training opportunities to our website, which are available through Learning Together.
Job and Volunteer Opportunities
Our current Chief Officer is retiring so we are recruiting someone to manage and lead our organisation. Vision Northumberland is a well-established and highly respected local charity, meeting the needs of people with sight loss.

We are looking for a Chief Executive to develop the core services of the organisation as our funding landscape changes; someone who has a proven track record of income generation from small grants to statutory contracts.
They will act as an ambassador for the organisation both locally and nationally and should be fully committed and supportive of what we do, our staff, volunteers and members of the Charity.
For an informal chat about the role, please call 01670 514316 and speak to Julie our Chief Officer.
You can download an application pack from our website, www.vision-northumberland.org, or by emailing: [email protected]
Berwick Film & Media Arts Festival is seeking an experienced programmer or producer to devise and deliver a year round public programme in Berwick-upon-Tweed.
The Public Programer will explore new collaborative ways of working with individuals, communities and younger people within Berwick.
Working hours: 3 days (21 hours per week)
Salary: £27,000 per annum (FTE), 0.6 pro rata, approximately £1350 per month
Contract: Part-time, 3-month probation period, fixed term till 31 March 2026. Continuation subject to funding.
Start date: October/ November 2023
How to Apply: Please complete the application via the online Public Programmer Application Form
Application Deadline: 10am Monday 25 September
Interviews: Week commencing Monday 2 October (tbc)
Please read the information and Job Description below in full before making your application
Follow us on our social media channels for all the latest news on events, jobs/training, volunteering and funding opportunities
Team Mortal Fools have pulled together a downloadable resource to signpost to a wide variety of wellbeing and mental health support organisations, friends of Mortal Fools, inspirational influencers, courageous activists, and colourful content creators.
You can use this resource if you need inspiration, want to connect with others, explore your identity and/or if you are seeking mental health and wellbeing support. It can also be used to support others in your life too.
Click to view a short video message from Rural Services Network Chief Executive about how to get involved with the RSN National Rural Conference
The main purpose of the Thriving Together newsletter is to showcase what's going on within the Voluntary, Community and Social Enterprise sector in Northumberland. 
If you have or know of any job/volunteer, funding, training opportunities or news that you would like to be shared in the next issue, please email: [email protected]
Thriving Together Northumberland
Unit 6, Sovereign House, Sovereign Business Park, Epsom Drive, Ashington, Northumberland, NE63 8UG

Thank you for subscribing to our mailing list. The team at Thriving Together will work hard to deliver good quality and relevant information. However, if you decide that you no longer want to receive such emails from us, feel free to unsubscribe by replying to this email with 'Unsubscribe' in the subject line.

Unsubscribe