Thriving Together Northumberland
Newsletter
Thriving Together aims to bring the voluntary, community and social enterprise sector together to make a positive impact on the lives of Northumberland residents

Since our last newsletter, some of the events we have attended include:
Autism in Mind
Ponteland over 50's information/jobs fair
Holding Hearts Open Day
Going Green Together Event
VCS Alliance West Northumberland Network Meeting
If you would like us to come along for a visit or a chat, then please get in touch with our Community Connectors.

Come and join us!
TT Network Meeting
Our networking event is a chance for voluntary, community and social enterprise organisations in Northumberland to meet and connect with other like-minded groups
July 18, 2023
10:00 - 12:00
Wentworth Leisure Centre, Hexham, NE46 3PD
Looking forward to seeing you all again in July!
Please let us know if you're coming

Frontline is a community project. It helps frontline workers and the public to quickly find details on local health and wellbeing services and to contact services through call back and referral options.
News from the VCSE sector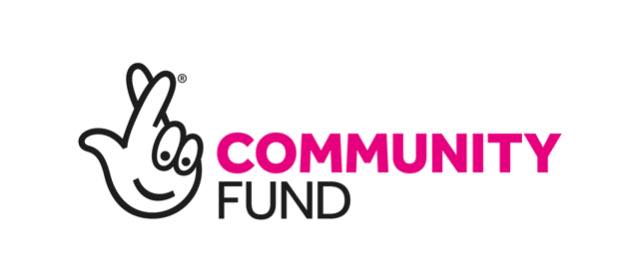 National Lottery Community Fund - Strategy Renewal
Social connections and community activities are at the heart of creating healthier, happier lives and a flourishing society. That's why The National Lottery Community Fund supports amazing community-led projects. And why they're looking to make a bigger difference in the years ahead, by listening and responding to communities and by focusing on supporting bolder change.

Thanks to National Lottery players, they plan to distribute at least £4 billion of funding by 2030. Supporting projects that will create resilient communities that are more inclusive and environmentally sustainable. 

In their new video - https://www.youtube.com/watch?v=bybpJk8p3Uo - they share the story of their strategy and feature some inspiring community voices who tell them what it means to them.

Explore the strategy here https://bit.ly/45Rvkad

Community Chest
September deadline for community grant applications
Voluntary and community groups across the county that need financial assistance are being invited to apply for funding from Northumberland County Council's community chest scheme. 
The money can be used for a wide range of community causes including those that enhance the environment and promote health and wellbeing. The grant has also been particularly helpful to youth groups and sports groups. Grants of up to 75% up to a maximum of £5,000 are available and there is no minimum amount for applications, however, recipients must be able to fund the other 25% from other sources. 
The deadline for the next round of funding is 29 September, and the application process is very straightforward. 
For more information or to apply to the fund people can go to nland.cc/Chest or email

Sustainable Funding Blog
VONNE have written a blog series on the role of sustainable funding in the VCSE sector
It highlights some of the ideas shared by people and organisations who VONNE has been able to engage with via our VCSE Partnership Programme and it's Sub-Groups, learning from organisations working at the coalface and those responsible for health and wellbeing strategy.
With the VCSE becoming more integrated and involved in health and care structures, it is more vital than ever that the VCSE has the ability to plan long term. To do this, it is important to approach the subject of funding, and more accurately, the state of funding in the VCSE sector.

Rural Cost of Living Crisis
Earlier this year the Rural Services Network conducted a Rural Cost of Living Household survey to better gauge the impact of the cost of living crisis on households in rural areas across England. 
A staggering 6,780 responses were submitted from rural residents in a clear demonstration of the severity of the situation.
More than 75% of respondents say that their financial situation has worsened over the last year.
You can read the findings and full report at - https://bit.ly/3qxjSAC
VONNE is the regional support body for the voluntary community and social enterprise sector in the North East. Read their latest newsletter here
Tuesday 27 June 2023
Healthy Communities & Social Prescribing Network Stakeholder Group meeting
Our programme Stakeholder Group meeting will be a great opportunity to learn about national and regional developments, and to share your views and ideas for building on the great work already happening across the region. The theme for our first meeting is 'connection'.
The National Academy of Social Prescribing will be joining us to share their latest thinking on the 'Whole Community Approach' to social prescribing - read more about this in our 'You might have missed...' section below.
We'll hear from the region's libraries about the vital role they can play as community hubs. We'll also learn about new resources being developed to support local health champions.
Hello Hirst! Lunchtime Exhibit - a chance to see what the programme has achieved over the past year. Tues 4 July, Hirst Welfare, Ashington, 11.30am - 1pm
November Club


2023-06-18
For our second walk of 2023 we will be heading to the southern part of the county in Prudhoe, almost touching the Gateshead and Durham borders. Here we'll walk on timeless Northumbrian farmland, find evidence of old coal mining and coal transportation, as well as experience beautiful views of the Tyne Valley.
Join us on Sunday 16th July 2023 from 11.00am to approx. 2.00pm when we will be undertaking a circular walk south of Prudhoe.
This is a 5 mile walk on country footpaths with some walking on quiet country roads. There are some gentle slopes, but nothing too challenging. We can cater for most walking speeds.
Blyth Library is hosting a range of fabulous events as part of Blythfest: a celebration of Blyth's Art and Culture
All our Blythfest library events can be booked on Eventbrite: https://bit.ly/3XlfTn6 - there is something for all the family! 

We have a list of events on our website - 
Intergrated Wellbeing Service Training Programme - 1st June 2023 to 31st March 2024
We have added a list of training opportunities to our website, which are available through Learning Together.
Job and Volunteer Opportunities
Headway Berwick

We are looking for new volunteers to join our committee and support the branch by attending our monthly meetings, helping to organise events, communicating with our members and attending committee meetings.
What are we looking for?

We would be particularly interested in hearing from you if you have any of the following skills or experience:
· IT skills including social media
· Legal expertise
· Fundraising
· Experience of working with people with a brain injury or other disability

Email Lynda for more details
Have your say …
Northumberland County Council want to hear from you to develop a new employment and skills hub
The hub could offer:

Employment support, such as: careers advice and guidance, creating or updating a CV, job search and applications, digital skills and volunteering
Employment and training opportunities
Advice about self-employment
Interview skills
Help with costs associated with finding a job (such as for clothing or travel)
Support around your health and wellbeing
Complete our online survey, it'll take 1 minute to complete: bit.ly/SkillsHubNland
Alternatively, call 07816 110 332 to give your feedback.
Peer Support Worker – Perinatal Men's Groups
Northumberland Recovery College are currently recruiting for a part-time or full-time Peer Support Worker to co-facilitate groups for Dads. 
As a Peer Support Worker, you will co-facilitate and support in delivery of peer-led courses and activities across Northumberland as well as support the running of online and face-to-face groups as needed. You will also promote the college and introduce/support new students to take part in activities.

Due to the nature of the client group, we would particularly like to hear from male applicants who have a passion about inspiring others in their recovery.

Find out more

Follow us on our social media channels for all the latest news on events, jobs/training, volunteering and funding opportunities
Research Participation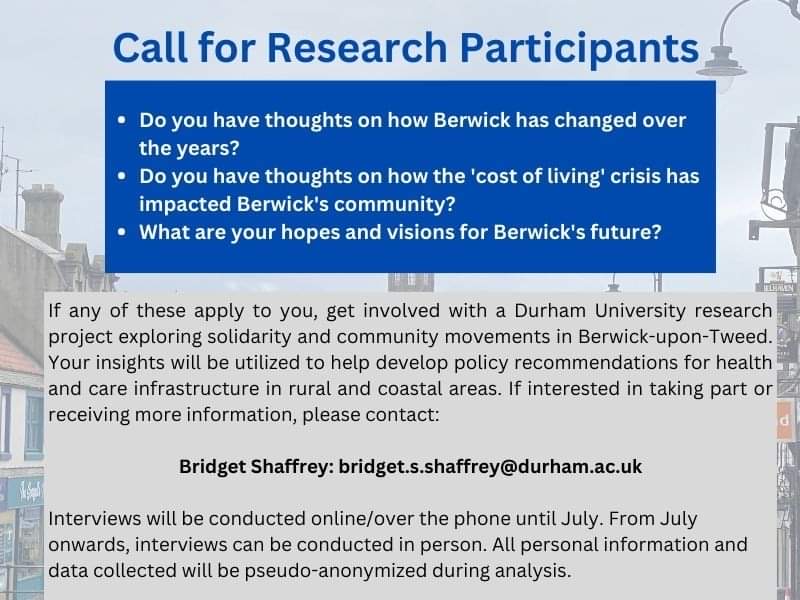 Bridget Shaffrey is a researcher from Durham University who has been exploring solidarity and community movements in Berwick-upon-Tweed over the past year. For the second phase of her research, she is hoping to recruit more participants who would be willing to answer questions about changes in the Berwick community, the effects of the 'cost of living' crisis, and examples of community care.
If you are a Berwick resident, a former Berwick resident, or someone actively involved in a Berwick community group, she would love to speak with you! Notably, your insights will be used to develop policy recommendations for health and care infrastructure in rural areas and coastal towns.
If interested or if you have further questions, please contact Bridget at [email protected].
*This project is GDPR compliant and has received ethical approval from Durham University. All data and personal information will be pseudo-anonymized during analysis.
**Until July, interviews will be conducted online/ over the phone. However, from July onwards, interviews can be conducted in-person in Berwick-upon-Tweed
The main purpose of the Thriving Together newsletter is to showcase what's going on within the Voluntary, Community and Social Enterprise sector in Northumberland. 
If you have or know of any job/volunteer, funding, training opportunities or news that you would like to be shared in the next issue, please email: [email protected]
Thriving Together Northumberland
Unit 6, Sovereign House, Sovereign Business Park, Epsom Drive, Ashington, Northumberland, NE63 8UG

Thank you for subscribing to our mailing list. The team at Thriving Together will work hard to deliver good quality and relevant information. However, if you decide that you no longer want to receive such emails from us, feel free to unsubscribe by replying to this email with 'Unsubscribe' in the subject line.

Unsubscribe