Thriving Together Northumberland
Newsletter
Edition 25 - October 2023
Thriving Together aims to bring the voluntary, community and social enterprise sector together to make a positive impact on the lives of Northumberland residents

Bid Writing Workshop Success
We held our successful Bid Writing Workshop at the end of September. It was an informative and well-attended session.
Many thanks to Peter Spoors of Citizens Advice Northumberland for giving us his expertise and time to help others. 
If you'd like us to host further sessions, then please get in touch: [email protected]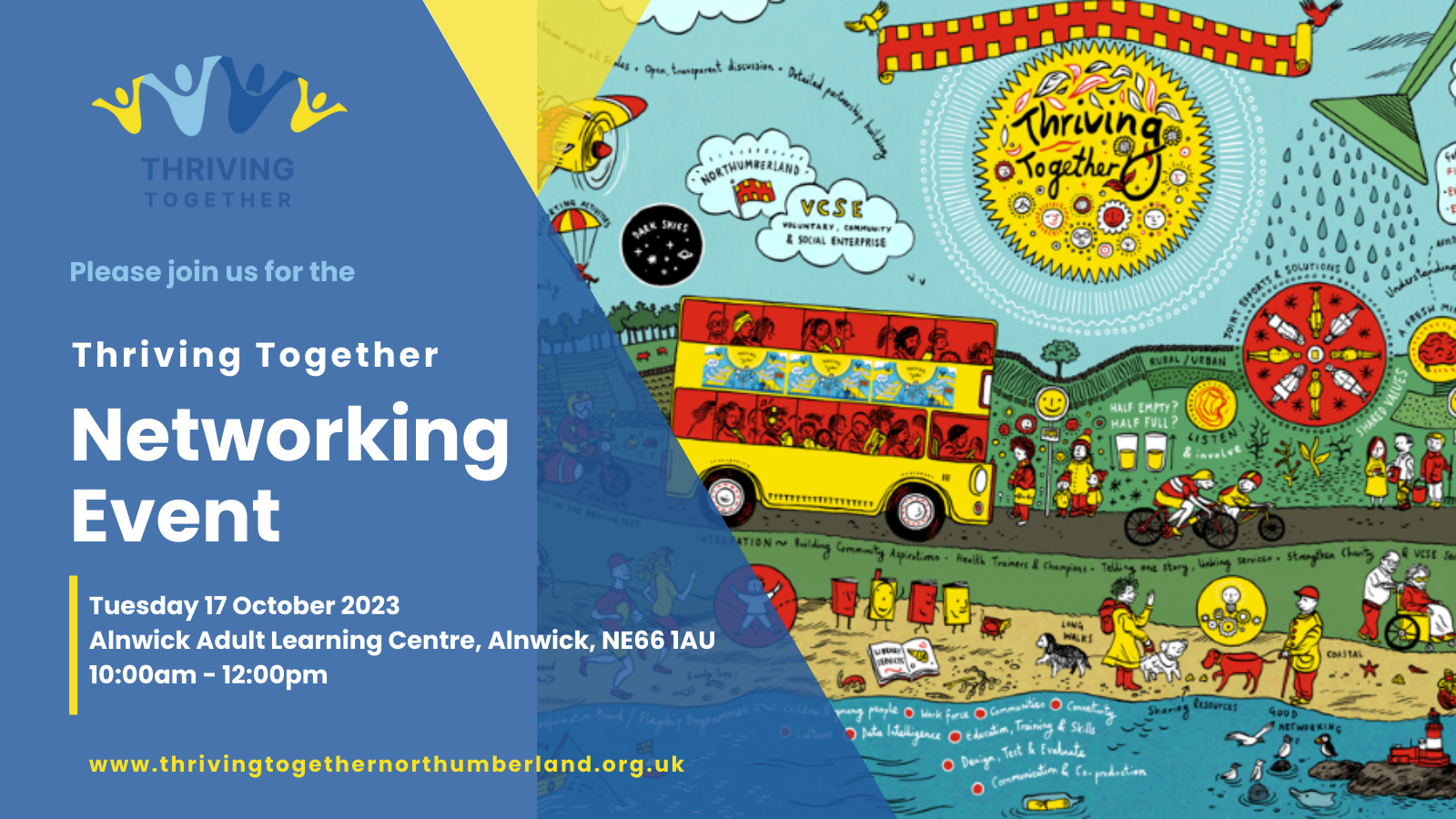 Come and join us!
Our networking events are a fantastic opportunity for voluntary, community, and social enterprise organisations in Northumberland to mix and mingle with other groups who share the same passion. You'll have the chance to celebrate your best and most innovative practices whilst also building new partnerships. We promise you'll leave with a head full of fresh ideas, ready to meet the needs of our Northumberland communities. Don't miss out on a morning of connection, celebration, and inspiration!
This event is free to attend, but it would be helpful if you could let us know by registering your attendance through Eventbrite.

We look forward to seeing you there!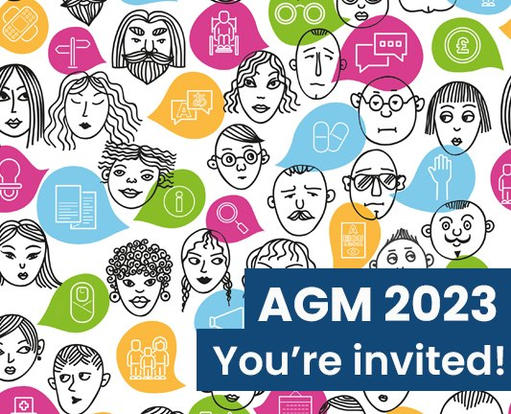 Healthwatch Northumberland AGM
A reminder that our AGM is at East Bedlington Community Centre on Wednesday 18 October, 10am – 12pm, followed by lunch.

This is a free event for anyone who lives or works in Northumberland and has an interest in NHS and social care services.
Our guest speaker will be Gill O'Neill, Executive Director of Public Health, Inequalities and Stronger Communities at Northumberland County Council, who will talk to us about a strengths-based approach to tackling inequalities and how the voice of residents is being listened to as part of the Northumberland inequalities plan.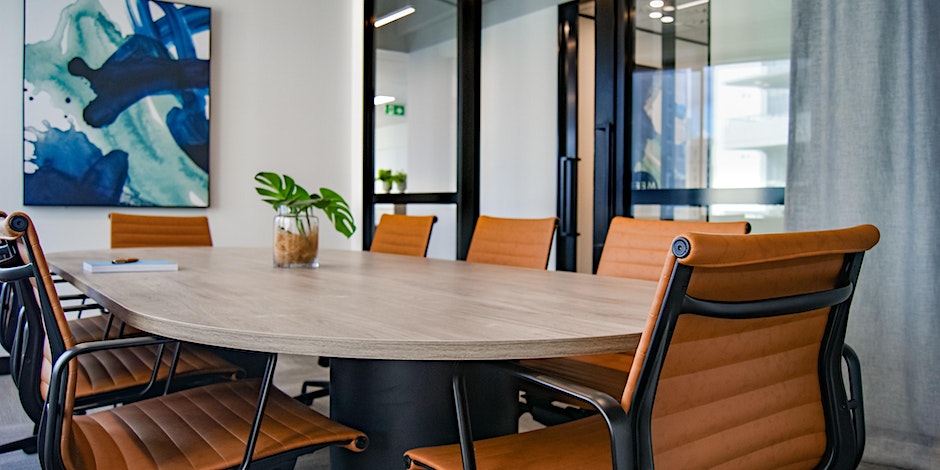 Chairing a charity without a staff team
Tue, 7 Nov 2023 18:00 - 19:30 GMT
Join us during Trustees' Week 2023 to explore the unique challenges facing Chairs and Trustees leading organisations without a staff team. Community Foundation Tyne & Wear and Northumberland is delighted to deliver this event in partnership with Association of Chairs. We'll dig into the unique set of issues which trustees without a staff team face, and explore the challenges of mixing operational and governance roles.
Your hosts will be Colette Harrison, Sector Support Coordinator at Community Foundation and Dan Bishop, Head of Operations and Services at Association of Chairs.
This event is for you if you are:
• an 'accidental trustee' because of your involvement in a small charity (e.g. a sports club or association)
• seeking inspiration to reenergise/develop your team and share the workload
• needing guidance on separating your operational and governance duties
• facing a specific challenge as an organisation and are seeking fresh expertise
Register for the online event here
Get the latest newsletter - CAN Enews - from Community Action Northumberland
The Northern Network is investing £5,000 to support learning, training and skills development for Green Community Hubs across the North of England.
Groups or projects can bid for up to £500 each to spend on training for their staff, volunteers or participants to improve the outcomes of their work.
Funding can be spent on:
Practical skills training (such as attendance on a first aid training day, a master composter session, or a hedgelaying course, etc)
Business Skills (such as fundraising, a business management course etc)
Bespoke training courses or a 'train the trainer' day
Staff time or volunteer expenses to attend a training course
Equipment related to training (such as a composter to use after a compost training day)
The funding must be spent, and training completed, by 29th March 2024.
Who can apply?
To apply, your group must be a member of the Northern Network and at least one of the following:
A registered charity
A community interest charity
A constituted community group (such as a 'friends of…' group) with at least 3 members on board
A non-profit organisation
We are unable to accept applications from:
Individuals
Groups that are not members of the Northern Network (FREE to join here)
Groups that are already in receipt of Northern Network funding
A profit-making company
How to apply
Applications are now open. To apply, complete our short application form by Tuesday 31st October. Successful applicants will be notified on Friday 3rd November.

McCarthy Stone Foundation - Christmas Connections Grants
Applications for our Christmas Connections Small Grants Programme are now OPEN! 
Grants up to £1,000 available for small, local charities, community groups and CICs connecting older people at Christmas. Applicants must have an annual income under £250,000 p.a. and activities must take place between 1st Dec 2023 and 2nd Jan 2024. 
Applications close on the 31st October at 5.30 p.m. 
Check out the link below for all the information about the programme and a link to the online application form.
We have a list of events on our website - 
Northumberland County Council - Northumberland ESOL (English for Speakers of Other Languages) Provision
Further to the survey below being shared previously, we have received limited responses and would greatly appreciate if you could provide any information you are aware of in relation to ESOL provision. If you are not aware of provision, or haven't had a need to refer customers for this, it would also be helpful if you could advise of this on the survey link
Intergrated Wellbeing Service Training Programme - 1st June 2023 to 31st March 2024
We have added a list of training opportunities to our website, which are available through Learning Together.
Job and Volunteer Opportunities
Macmillan Buddies is a befriending service for people living with cancer, we aim to match those currently living with a cancer diagnosis with volunteers for emotional and practical support either face to face or over the telephone, usually once a week for a period of 12 weeks. More information about the service and how to sign up to receive support can be found on our website: Macmillan Buddies | Macmillan Cancer Support
We are currently recruiting volunteers for both community (face to face) buddy and telephone buddy roles across the north east, information about these roles and how to apply can be found here: Volunteering Opportunities | Macmillan Cancer Support Volunteering

Berwick Cancer and District Support Group (Berwick Cancer Cars)
Volunteer support required – have you got some free time – want to make a difference and support this amazing local charity and local people?
Drivers – Automatic 4 x 4 Subaru cars – driving clients to various hospitals across the county in order for them to get the treatment they need to fight their cancer.
You must be a competent and confident driver, understand the needs of your client, personable but not to the extent of overbearing – patient and kind personality and of course reliable.
Are you available a day a week or a day a fortnight (it would be a full day due to distance of some of the hospitals).Full training and mentoring will be given and we will require you to pass a DBS check and training which we will organise.
Interested in making a difference – please contact Lynda at Volunteering In North Northumberland for further information email: [email protected]
Follow us on our social media channels for all the latest news on events, jobs/training, volunteering and funding opportunities
Award winning creative company Mortal Fools are delighted to be working in partnership with Prince's Trust on this FREE personal development programme for young people aged 16-30years old: Get Started with Performance & Creativity.

For more info visit: https://bit.ly/48wtuwV

It's free and applications are open now! 

This weeklong programme is perfect for folks that would like to 

Unleash their creativity,
Explore creative leadership,
Achieve an Arts Award qualification,
Increase professional confidence and personal impact,
Devise creative content with a professional theatre company,
Learn about working in the creative industries by working with artists, theatre makers, production, practitioners & an animator!
Key info:

Sign up and find out more by emailing: [email protected]
Taster session: 10th October – come along and meet Mortal Fools & have a taster of the programme!
Get Started with Performance & Creativity dates: 16th – 20th October.
Application deadline: 9th October.
Location: Princes Trust, Newcastle city centre.
Get ready to unleash your creativity with Mortal Fools and Princes Trust and sign up now!

The latest edition of VONNE news. VONNE is the regional support body for the voluntary community and social enterprise sector in the North East
The main purpose of the Thriving Together newsletter is to showcase what's going on within the Voluntary, Community and Social Enterprise sector in Northumberland. 
If you have or know of any job/volunteer, funding, training opportunities or news that you would like to be shared in the next issue, please email: [email protected]
Thriving Together Northumberland
Unit 6, Sovereign House, Sovereign Business Park, Epsom Drive, Ashington, Northumberland, NE63 8UG

Thank you for subscribing to our mailing list. The team at Thriving Together will work hard to deliver good quality and relevant information. However, if you decide that you no longer want to receive such emails from us, feel free to unsubscribe by replying to this email with 'Unsubscribe' in the subject line.

Unsubscribe