Thriving Together Northumberland
Newsletter
Edition 24 - September 2023
Thriving Together aims to bring the voluntary, community and social enterprise sector together to make a positive impact on the lives of Northumberland residents

Lyndsy, our Community Connector, was at a Harvest Festival in Blyth last weekend - a chance to celebrate all the food growers in Blyth. There was a 'pay as you feel' allotment stall, tombola and coffee morning, with all the proceeds going towards local food banks.
The Community Connector's role is to work with VCSE organisations and networks to understand the work they are doing and how we can help promote and support them. If you feel that you could benefit from this connectivity, then please get in touch by emailing [email protected] to arrange a visit or a chat. We'd love to hear from you!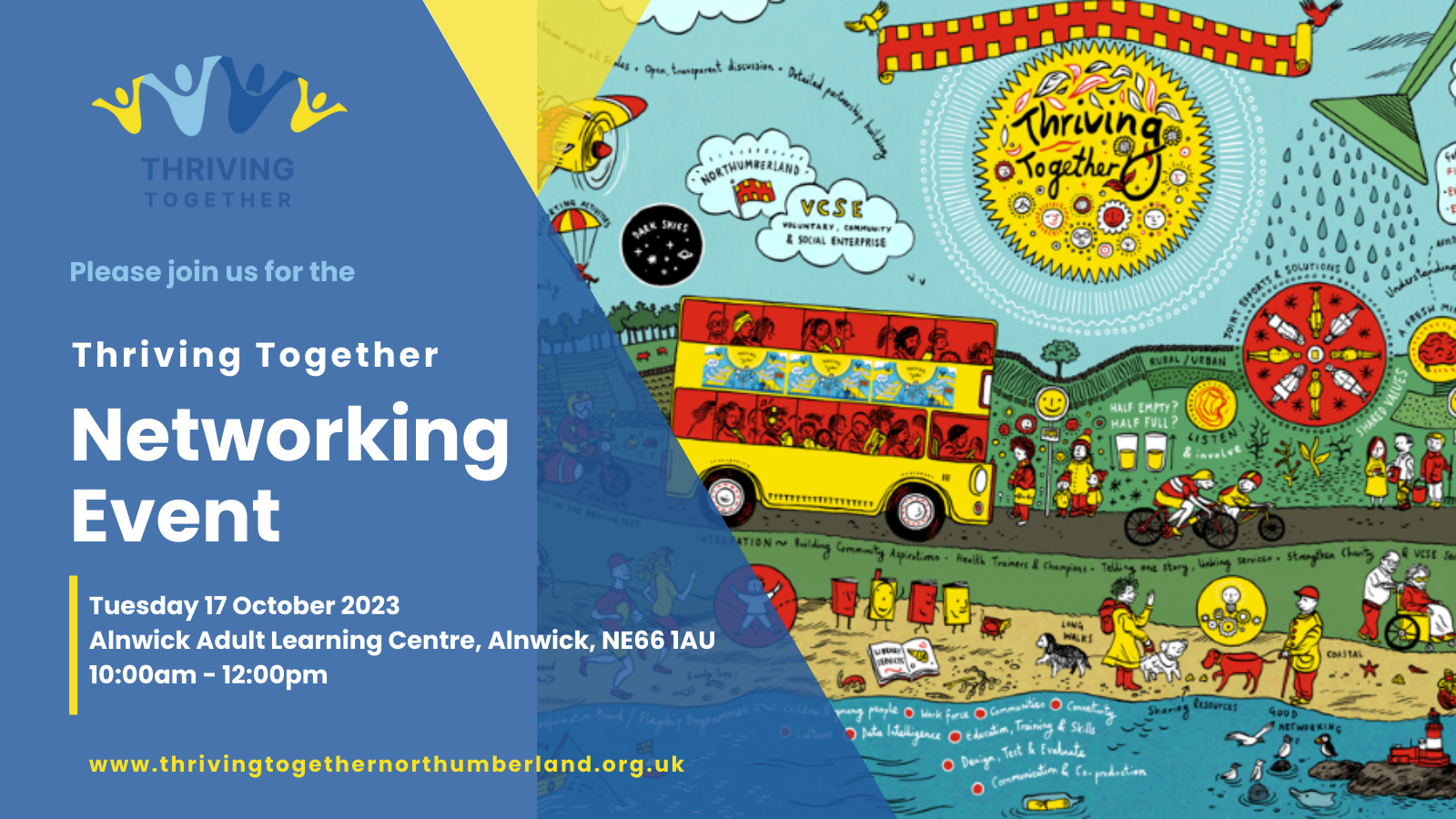 Come and join us!
Our networking events are a fantastic opportunity for voluntary, community, and social enterprise organisations in Northumberland to mix and mingle with other groups who share the same passion. You'll have the chance to celebrate your best and most innovative practices whilst also building new partnerships. We promise you'll leave with a head full of fresh ideas, ready to meet the needs of our Northumberland communities. Don't miss out on a morning of connection, celebration, and inspiration!
This event is free to attend, but it would be helpful if you could let us know by registering your attendance through Eventbrite.
We look forward to seeing you there!

We hosted our first Bid Writing Workshop (online) this month. It was very well attended and gave participants the knowledge and skills needed to complete funding applications, proposals and tenders. We looked at opportunity searching, bid management, writing the bid and what happens after submission. Feedback has been extremely positive. 
If you'd like us to host another workshop, then please get in touch. 

VCSE Temperature Check Survey
A key action that came from the VCSE Partnership Programme Executive Group meeting was the need to gather information relating to the following three areas:

A VCSE Temperature Check Survey about Integrated Care Board (ICB) engagement with the VCSE sector.
Cuts to the VCSE, including cuts to direct service provision and cuts to planned expansion.
Funding, investment and commissioning at local level.
This survey is to collect information which we will share with the North East and North Cumbria Integrated Care Board (ICB) to strengthen our collective VCSE voice, so we can work together as an Integrated Care System (ICS) to address concerns and issues and raise awareness of areas of good practice that have the potential to be rolled out to other areas.
If you have any questions, please contact VCSE Engagement Manager [email protected]. We'd be grateful if you could share your views before Tuesday 17th October.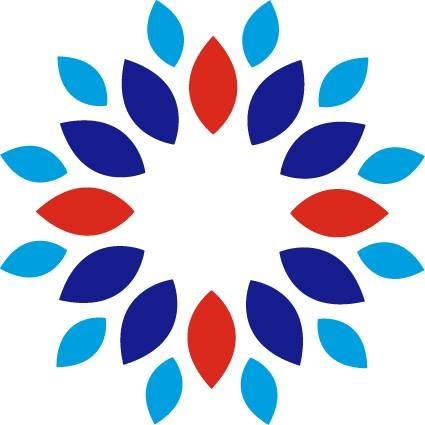 How to represent your charity online
Wed, 18 Oct 2023, 13:00 - 14:00. Online
Community Foundation is delighted to be working with The Unite Group to deliver this webinar. The Unite Group will provide valuable insights to help your charity thrive in the digital landscape.

Whether you're in the early stages of creating a website and social media strategy or seeking fresh ideas to enhance your existing online presence, this Q&A session is your opportunity to gain fresh inspiration to tell your story and celebrate successes online.
Colette Harrison, Development Officer, Sector Support will be your host. Please get in touch directly if you have a support request to enable you to fully participate in this event [email protected]
Register now and unlock the potential of digital marketing for your cause.


Discover all the latest news from November Club, a professional theatre company based in Northumberland
Community Foundation Tyne & Wear and Northumberland


2023-09-25
🚨 CLOSING SOON! 🚨 Grants for small volunteer-led community organisations in the primary location of Haydon Bridge, and the surrounding areas of Tynedale, Northumberland
📢 Grants up to £2k
📍 Northumberland
⏰ Deadline: 2 Oct
✏️ Apply: https://ow.ly/UtBI50PwCVX
North of Tyne Combined Authority launches Small Grants Programme!
VCSE sector organisations across Newcastle, Northumberland and North Tyneside are invited to apply for grants of between £30k-£50k to empower individuals of a working age who are not currently engaging with mainstream employment provision.
This project is funded by the UK Government through the UK Shared Prosperity Fund with the North of Tyne Combined Authority as the lead authority.
Deadline for applications 9th October.
Decisions expected early November 2023.
Community groups and charities in the North East of England are being invited to apply for grants up to £10,000, to help people tackle the cost of living crisis and make local communities warmer and safer.
Northern Gas Networks' Community Partnering Fund will support those living in or at risk of fuel poverty, promote energy efficiency and increase community resilience. The aim is to support those dealing with the aftermath of the pandemic and who are likely to be further affected by the energy and cost of living crises.
This may include, but is not limited to, promoting the Priority Services Register (PSR) – a free service provided by suppliers and network operators to support customers living in vulnerable situations and raising awareness of the dangers of carbon monoxide (CO) poisoning.
Grants of between £1,000 and £10,000 are available for organisations to raise awareness of and support their communities to:
Support those living in or at risk of fuel poverty
Promote energy efficiency – advice and information
Promote the Priority Services Register
Raise awareness of the dangers, signs and symptoms of carbon monoxide (CO) poisoning
Closing Date: 23rd October 2023
Interactive theatre workshop about domestic abuse, male violence against women and girls ( MVAWG) and post separation abuse.
By Workie Ticket Theatre Company
Date and time
Thu, 12 Oct 2023 11:00 - 13:00 BST
Location
Shilbottle Community Hall, Grange Road Shilbottle NE66 2XH
This unique workshop includes a performance of 'I Walk the Line', a play written by JoJo Kirtley, which follows 'Steph' - a single mother who sings to block out her abusive ex and remains determined to 'walk the line' for her two sons. Based on real-life events, 'I Walk the Line' will be performed by Ashlea Sanderson and directed by Charlotte Ryder.
Our workshops are part of an unique project which focuses on creating safe spaces and encourages participants to take part in open debates around the impact of domestic abuse in the North East.
We have a list of events on our website - 
Northumberland residents are being invited to take part in free training to become a Walk Leader.

The training is a mix of online and face-to-face. The first part of the training involves an e-learning course that takes approximately 90 minutes to complete. This is followed by a face-to-face session that builds on the learning, followed by a short walk with the Trainer to provide an opportunity to practice being a Walk Leader.

Find out more

Intergrated Wellbeing Service Training Programme - 1st June 2023 to 31st March 2024
We have added a list of training opportunities to our website, which are available through Learning Together.
Job and Volunteer Opportunities
We are seeking a Health and Wellbeing Projects Support Officer to support the development and delivery of VONNE's Health and Wellbeing projects, with a focus on communications, events, project work and some administrative duties. This is a great opportunity for a well organised, enthusiastic and proactive individual to work in a busy, interesting and varied role within a small, friendly and supportive team.
Applications close 9th October at midday.
Citizens Advice Northumberland


2023-09-21
We're recruiting for a Generalist Adviser to join our dedicated team!
If you're looking for an exciting new challenge, apply now! Closing date - 9.00am Thursday 05 October 2023.
For more information just head to our website - https://bit.ly/3RvI0Pj
If you know someone who would be perfect for this exciting role, please share!
Thanks to funding from The National Lottery Community Fund, this role will directly develop, deliver, manage and support the delivery of our training and development across sectors. You will work closely with stakeholders in and out of educational settings to create inclusive environments for all LGBTQIA+ young people. 
This an important and exciting time to join our growing charity. LGBTQIA+ people need us, now, more than ever. The work we deliver is vital to supporting the needs of so many LGBTQIA+ people who otherwise would have nowhere to turn to and our mission responds to the ever-changing needs of our communities and act as a voice for their needs.
Important Information
How to Apply: Our website is undergoing a revamp at the moment thanks to support from Accelerate Ashington, funding provided as part of the UK Shared Prosperity Fund. Our website will be live very soon however in the meantime you will find all the relevant documents at the VONNE advert. If you have any difficulties accessing these documents please get in touch with us.
Closing Date: 10/10/2023, 12pm | Hours: 28 Hours Per Week | Salary: £18,352 (FTE £24,250) | Period: 3 Year Fixed Term Contract 
If shortlisted you will be asked to deliver a presentation, the question is within the job pack attached to this vacancy. 
If you'd like an informal chat about this role, please email [email protected]. Got another question? Email us at [email protected]

Follow us on our social media channels for all the latest news on events, jobs/training, volunteering and funding opportunities
SOBER FOR OCTOBER   
Northumberland County Council are raising awareness of the benefits of quitting alcohol for October.  Macmillan Cancer Support is asking people to raise money to support people living with cancer in the UK, by going alcohol-free for the month of October. 

Reducing or stopping drinking alcohol has health benefits; Heavy drinking and binge drinking can affect your body's immune function making you vulnerable to infections and other illnesses.   

After changing your habits for one month to support the Sober for October campaign you might be tempted to keep going to enjoy better health.  Tips to help you keep your alcohol consumption low include: 

Quench your thirst before you have an alcoholic drink with a glass of water 
Have a non-alcoholic drink every other drink 
Have two alcohol free days a week   
Some of the benefits of stopping or reducing drinking alcohol include better sleep; improved mood; better memory; increased productivity; brighter skin; more energy; fewer hangovers and easier to manage weight. 
Further information about VONNE's Health and Wellbeing programmes and regional VCSE/health sector news
The main purpose of the Thriving Together newsletter is to showcase what's going on within the Voluntary, Community and Social Enterprise sector in Northumberland. 
If you have or know of any job/volunteer, funding, training opportunities or news that you would like to be shared in the next issue, please email: [email protected]
Thriving Together Northumberland
Unit 6, Sovereign House, Sovereign Business Park, Epsom Drive, Ashington, Northumberland, NE63 8UG

Thank you for subscribing to our mailing list. The team at Thriving Together will work hard to deliver good quality and relevant information. However, if you decide that you no longer want to receive such emails from us, feel free to unsubscribe by replying to this email with 'Unsubscribe' in the subject line.

Unsubscribe