Cromer Artspace July Newsletter
| | | |
| --- | --- | --- |
| See below for details of how Antony Gormley is supporting our work. | | |
| | | |
| --- | --- | --- |
| | | Stuart Shearer's 'Stillness in Motion' will be open 11am to 4pm until Monday 25th July. Stuart will be at the exhibition and very happy to chat to visitors about the work, except on 24th July, when some of our fabulous team of volunteers will welcome visitors. |
There will be a PV on Saturday 15 July from 4-6pm, to which you are most warmly invited.

On Saturday 22nd July 4-5pm Stuart will talk about his work and answer any questions.



You may wish to book up for a 'walk and draw' session with Stuart later in the year and experience for yourself what it feels like to draw outside, while walking, with both hands. Ask about this at the talk.
These Berlin artists say that they, "work together on the road, in public spaces and in temporary exhibition situations. On their routes through Great Britain, they develop site- and context-specific interventions in existing structures and found situations. The works they create on the road are often poetic and silent compositions, usually of ephemeral duration.

In Cromer, they will develop a site-specific work on the beach and directly in front of the Artspace on the Prom.

Come and join them on 28th and 29th July and see what emerges.

We are very keen to continue to network with artists from across Britain and Europe and beyond, so do let us know of any contacts and connections that you may have.

'On the Edge' Print Exhibition and workshops
'On the Edge', our first print exhibition, opens on Tuesday, 1st July.

You will be able to see and to buy original handprinted works by 74 printmakers from East Anglia and from further afield.

Printworks will also be shown at the museum, the library and at the Co-op on the Holt Road. Pick up a map with more details from Artspace on the Prom or check out the website.
Tuesday 1st August 6pm-8pm PV and Curator's Talk (and full moon swim!): You are very welcome to come to the PV for an early view of the work and to meet some of the printmakers, as well as hearing from the curator about the show. This will give you a chance to buy, before there are too many red dots, or you may just want to look and chat.
| | | |
| --- | --- | --- |
| Raffle of framed print by Antony Gormley | | |
We are delighted that Antony Gormley is showing his support of our Cromer Artspace ventures by donating a framed print for us to raffle.




Antony invited us to look round his studio, and spoke most warmly about our lovely Art Deco building and all that we are achieving.

Barry and Ruth went to collect the print from Antony's studio in London. Here is Alice O'Reilly, Antony's Executive Assistant, handing it over.
| | | |
| --- | --- | --- |
| EDGE, 2008, 76 x 57.5 cm | | The raffle will be officially launched at the On the Edge Private View on 1st August. However, you can buy tickets now online. The draw will be on October 14th at an event during the Open Call exhibition. Up until 14th October tickets will be on sale at Artspace on the Prom and online via our website. All the money raised will go towards enabling Cromer Artspace to fulfil its aims of making art and creativity accessible in Cromer for the benefit of residents and visitors. |
From the British coastline to the rooftops of Manhattan, Antony Gormley's works are recognised across the world. Antony Gormley is widely acclaimed for his sculptures, installations and public artworks that investigate the relationship of the human body to space. Perhaps best-known for his 200-tonne Angel of the North installation near Gateshead, Another Place on Crosby Beach near Liverpool, and his project involving 2,400 members of the public for Trafalgar Square's Fourth Plinth, Antony Gormley is one of the UK's most celebrated artists.

We are so pleased to have his support.

You have the opportunity to win this amazing Antony Gormley framed print by buying a ticket for £5.

There are workshops and other events to enjoy during the 'On the Edge' Print Exhibition. Book up online at cromer-artspace.uk

The Central England Co-op have most generously sponsored two family workshops at the Co-op store on Middlebrook Way off the Holt Road (NR27 9JR).
This means that these workshops will cost only £3 per family (one adult and one or two children). We are most grateful to the Central England Co-op for sponsoring two family workshops, enabling us to make them affordable.
| | | |
| --- | --- | --- |
| | | The closing date for submissions for our Autumn Exhibition is 25th August. If you are an artist or have artist friends, have a look on the website, for full details and the brief from curator Sue Bell. |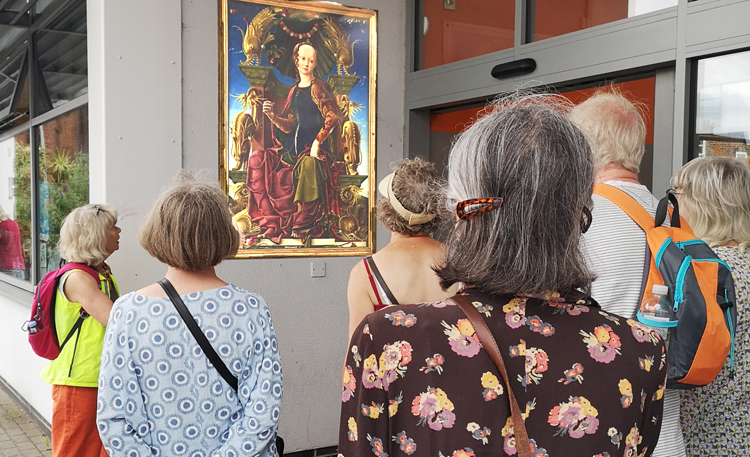 Art Walks: Pictures Around Cromer
Join us on guided art walks around Cromer and discover some of the 30 life-size replica artworks from the National Gallery, London.

We have been successful in our application for a 'Community Ownership Fund' grant, in partnership with NNDC, who will supply match funding. This is wonderful and will enable us have work done on the roof to make it watertight, and to resolve some other damp issues.
This is amazing because, once the roof no longer leaks, we can move on to work on insulation, heating and lighting. We will continue to lease the building from the council. Tenders will go out before too long and we will keep you in touch with progress.

Thank you to all our volunteers, supporters and friends, including Antony Gormley and the Central England Co-op, staff at Cromer Museum and Cromer Library, officers and members at NNDC, many artists of all kinds from near and far, businesses in Cromer, and all our newsletter readers!! It is great to feel connected to so many overlapping communities.
Cromer Artspace

Artspace on the Prom West Promenade, Cromer
United Kingdom

You received this email because you signed up on our website or made a purchase from us.