Notes from the Director July 23, 2023


Dear students and families,

What an AMAZING band camp week 1 we just had! We have SO much to be thankful for -- especially tremendous students who worked hard, learned a lot, pushed themselves, and had smiles on their faces the entire time (well most of the time!)... THANK YOU to all our parent volunteers who chaperoned, served meals, bought ice cream for students, cared for sick and hurt students, blocked angry baseball parents from parking on the lot, built concrete barriers and strung caution tape and rope to help maintain our field, painted and put together props, inventoried for uniforms, and so much more! We are so appreciative of your time and energies to help these students be successful!

The hardest days are over-- Week 2 begins Monday and we only go 4-9 PM each day. Lots of announcements and information below-- please read them all and continue to pay attention to the fridge-friendly calendar and the band website kellbands.org for answers to all your questions.

Need a reminder of the MB schedule? Click HERE or go to kellbands.org and click "calendar" at the top. You can also sync it to your phone!

One more week until school starts!

Sincerely,
David Roth
Notes
SNACKS NEEDED!

Please remember the snacks needed for camp and the season. Students can bring them in anytime to the band office.

Week 2 of Marching Band Camp (July 24):

Snacks as listed below: Individually wrapped / Quantities to feed at least 30

Flutes - Granola Bars
Clarinets - Peanut Butter Crackers
Saxophones - Cookies
Trumpets - Fruit Snack Gummies
Trombone / Sousaphones - Cheese Crackers
Mellophones / Baritones - Cheezits / Goldfish
Percussion - Potato Chips
Color Guard - Pretzels
Drum Majors - Candy / Sour Gummies

REMIND LISTSERVE
If you still need to join the MB text listserve, text "@23kellmb2" to the number 81010.
WHAT TO EXPECT BAND CAMP WEEK 2
This week we rehearse every day 4-9 PM. Dinner break is 6-6:45 (students bring their own dinner). Students should prepare to be outside most (if not all) the time. Drink lots of water BEFORE rehearsal, and get lots of rest at night! Parents, you are always welcome to come watch all or part of rehearsal!

CAROLINA CROWN COMING TO KELL SATURDAY!
One of the best drum corps in the world, Carolina Crown, is coming to Kell Saturday 7/29 and rehearsing on campus. Please sign up on Charms to volunteer to bring/serve the corps breakfast in the morning (it's a Kell tradition to serve the corps as they travel through Atlanta on their way to Charlotte). Parents and students are invited to come watch the corps rehearse during the day. They are the MODELS of what the marching activity is; you will love watching them! Exact schedule is TBD, but typically they are in the stadium from 12:00-3:00 or so. Once we have a full schedule we will publish it.
HOW TO LOGIN TO CHARMS
Confused about how to login to your student account in Charms? Go to charmsoffice.com (or click "Charms" from the top of the band website). Login as a "parent/student/member." School code is kellband. Student area password is your Cobb County ID (lunch number). Once inside Charms you can see your student account balance, update your contact information, and much more!
This Week / Upcoming
This Week
Mon 7/24 4-9 Band Camp (bring a sack dinner!)
Tues 7/25 4-9 Band Camp (bring a sack dinner!)
Wed 4/26 4-9 Band Camp (bring a sack dinner!)
Thurs 4/27 4-9 Band Camp (bring a sack dinner!)
Fri 4/28 4-9 Band Camp (bring a sack dinner!)
Fri 4/28 8:00 PM Band Camp parent performance!
Sat 7/29 Carolina Crown at Kell! (volunteer on Charms!)
Upcoming:
Tues 8/1 First day of school / MB Rehearsal 4-7 PM
Thurs 8/3 MB Rehearsal 4-7
Fri 8/4 MB Rehearsal 4-7
Show Shirts
Pre-Order NOW: DEADLINE JULY 29th!!! This is your ONE CHANCE to order SHOW SHIRT for 23-24 Marching Band Season. This is the shirt the students, volunteers, and PARENTS/FANS and MOST AWESOME PEOPLE wear!! Show your support at events by wearing this show shirt. (One shirt is provided to each student and is paid for by KBBA) Please note a 3.5% credit card processing fee at checkout. REMEMBER TO LIST YOUR STUDENT NAME for Distribution of shirts!!
Sponsorship
Thank you for your interest in becoming a Kell High School Band Community Sponsor! Your support makes a wide range of programming possible. It takes a lot of revenue to travel with over 150+ band students, staff and volunteers. Our Kell Band Boosters Association, Inc. (KBBA)
budget provides our students with equipment, instruments, and uniforms to say nothing of the registration and entrance fees to events around the south throughout the year. KBBA also helps offset the cost for those students who cannot meet the dues requirement for our band program.
Studies have shown the social, emotional, and intellectual benefits of fine arts programs in secondary education and you could not find a finer program than the one at Kell High School. Your sponsorship of the Kell Band will make a tremendous impact in helping us maintain the high
caliber programming we continue to offer. Proceeds, products, and services provided to the 501(c)(3) non-profit, Kell Band Boosters Association, Inc. (KBBA) are a tax-deductible donation. We are incredibly grateful for our supportive community. If you or your company or corporation would like to become a band sponsor, please contact [email protected] . Below is a snapshot of our levels of sponsorship. We look forward to working with you to continue the tradition of excellence here at Kell Bands!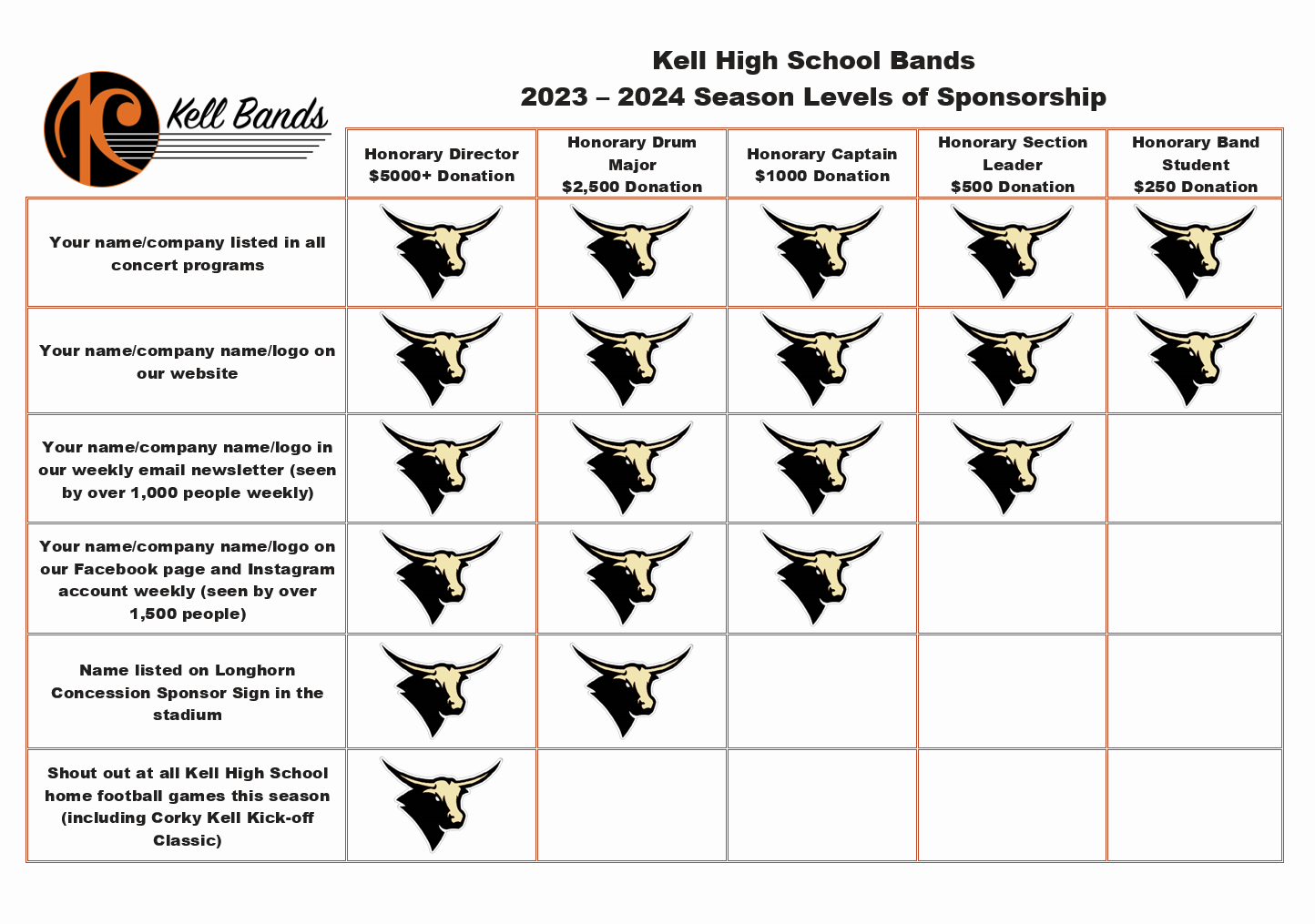 Committee Fundraising Chair
KBBA is in search of a fundraising chair and committee members. If you enjoy coming up with creative ways to raise money and like talking to businesses about supporting our program, we need you! Please email co-president, Amanda Leonard at [email protected] if you are interested.
Scrip, Remind and Charms Calendar
Remind Servers for Marching Band
Marching Band: text "@23kellmb" to 81010
Charms Calendar Feed

Kell Band Booster Association
3595 Canton Rd Ste 116-262, Marietta, GA
United States of America