Pool Dog Splash September 9th
Two down, one to go... don't miss it!
The next Pool Dog Splash will be held on Saturday, September 9th. These events have been a blast for the 4-legged attendees as well as their "parents." Some dogs are timid, some skirt the water and circle the pool, and some take a dive with wild abandon.  One thing is for sure, they all have fun, and so will you!

Give For Good Louisville
Give For Good Louisville is coming up on September 14th. Louisville's day of giving is a chance for our community to unite around causes in which we truly believe. You can help non-profit organizations like GRRAND make a difference in Louisville and Kentucky.
At GRRAND, we are hoping to raise $10,000 to support our medical expenses.
In March of 2023, Maisie came to GRRAND after her family took her to their vet to find out why she was not feeling like a 3-month-old puppy. They found out she has a heart issue and needed a liver shunt. They could not take on the financial needs of Maisie and surrendered her to GRRAND.
Save if you order before September 1st
Order Your 2024 GRRAND Rescue Calendars Now
You all are amazing! Thanks to everyone who participated in the GRRAND Rescue Calendar Photo Contest this year. We had 22 entries and raised $8224 to support our rescue program! Voting was fast and furious right up to the deadline. If you submitted pictures or voted for entries in the contest you contributed to the rescue of future dogs! These funds will help GRRAND pay for training, behavioral assessments, spays, neuters, etc. 
Calendars may be preordered at a discounted price of $15 through midnight on August 31st. After that date, you can purchase calendars on GRRAND's website for $20 per calendar. Both costs include shipping. Calendars will be mailed to purchasers this fall. 
These will make wonderful holiday gifts and stocking stuffers.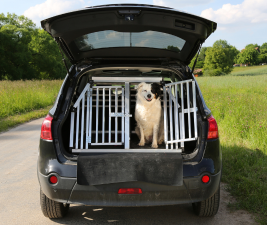 Transportation Team
We're updating the GRRAND Transportation Volunteer list, and we need your help! Let us know if you would like to remain, join, or be removed from the list. Click here for more info.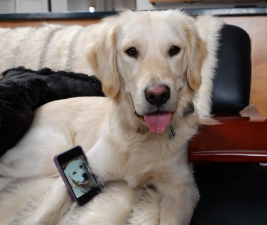 Phone Duty Team
GRRAND's Phone Duty Team is looking for a volunteer to check GRRAND's hotline voice mailbox at regular intervals 8 AM - 9 PM on Sundays (the quietest day of the week!) or on Fridays, if that would be a better day for you. Click to learn more.
May We Come for a Visit?
If you are associated with a school, small business, corporation, non-profit group, foundation, or other organization, we'd love to discuss an opportunity to visit and talk with your group about GRRAND. We will educate your group about what we do, some of our experiences, and animal welfare issues in our community.
Here's some additional information:
TIMING – We can visit during lunch break or other times at your request.
GRRAND SPEAKERS – We will provide a knowledgeable GRRAND volunteer and if requested, a rescued dog or two.
BENEFITS – Our well-trained, sociable dogs serve as petting relaxation therapy for everyday work stress.
CONTACT INFORMATION - Contact Pam for a visitation appointment.
For more information about our organization visit "Who We Are" on GRRAND's website.
Use the share options in the footer of this publication to forward to family and friends.
Show Your Support by Speaking Up!
Louisville residents: Join GRRAND and Kentucky Animal Action on Tuesday, August 29, at the Louisville Metro Council's Public Safety Committee Meeting. GRRAND President Nina Scott will testify in support of the Retail Puppy Mill Store Ordinance, which is aimed at stopping retail pet stores from sourcing pets from commercial breeders.
Where: 601 West Jefferson Street - Metro Council Building - Louisville
When: Tues, August 29 - 5 PM EST
How to Get There: 3rd floor - Enter front door into security. Security guard will tell you where to go.
What to Wear: A GRRAND shirt or purple in support of animal abuse awareness
Can't make it in-person or want to show further support? You can leave a message for the entire Louisville Metro Council at 502-574-1100 or leave a message for your council member using contact info at this link: https://louisvilleky.gov/. Tell them you want the Retail Puppy Mill Store Ordinance to pass and, if you'd like, explain how puppy mills affect you and our community.
I Found Love - Adoption and Fostering Stories
Owen is a very sweet six-year-old Golden who came from an Amish breeder and is currently being fostered by Mark and Robin Miller. Unlike many of the other dogs that GRRAND has rescued from Amish breeders, Owen is not skittish and is very gentle. He would make for a great family dog as he walks well on a leash and would be good with other dogs and kids. If you are interested in reading more about Owen, please click on this link! If you would like to apply to adopt Owen, please utilize the button below to fill out an application.

Keep Up With GRRAND Activities & Events
Visit GRRAND's homepage and click on the event calendar to sniff out fun events!
Golden Retriever Rescue and Adoption of Needy Dogs (GRRAND)
P.O. Box 6132
Louisville, Kentucky 40206
866-981-2251
[email protected]
You received this email because you signed up on our website or made a purchase from us.
Unsubscribe