Español abajo | Français ci-dessous
Welcome to the
CSIPM Update | May 2023
In the CFS December plenary session, there was an agreement to move forward with the policy process of the Voluntary Guidelines on Gender Equality and Women's and Girls' Empowerment in the context of food security and nutrition (VGs on GEWGE), which has since been followed by one "Friends of the Chair" meeting, with no interpretation available and civil society participation not always being evident. We had initially requested these meetings to discuss a more inclusive methodology for moving forward. However, the chair proposed criteria for revising the draft of the voluntary guidelines (after several bilateral discussions), and suggested some terms (attempting to make some concessions). One thing is clear: the guidelines were initially progressive, but we are now heading towards a watered-down version.
The Women and Gender Diversities Working Group (WG) hopes that some strong parts will remain, such as the recognition of care work performed by women in agriculture and the issue of land rights. However, there is a concern that we may experience a setback in the language - agreed language - at the upcoming round of negotiations.
Next steps: May is a crucial month. There was an Open-Ended Working Group (OEWG) on 5 May, followed by negotiations from 15 to 19 May . Therefore, our call to action now is to closely follow the negotiations, help us put pressure on governments by joining the Twitter Storm being organised on 15 May, and participate in the negotiations (Zoom link will soon be provided).

Over the last few months, the Data WG has been focusing on internal consultations, capacity building, and knowledge-sharing activities. Among these were two well-attended workshops in March on "The Impacts of Digitalization on Food Systems and Family Farming."
Furthermore, a number of representatives of different CSIPM constituencies and regions have taken part in internal interviews that will shape the direction of a forthcoming Vision Document. This document is currently in the production stage, with plans for dissemination in the latter half of the year.
In other news, the CFS draft for negotiations of the policy recommendations are expected to be published on 15 May. A zero draft of the CFS Policy Recommendations has been published, and the CSIPM Data Working Group shared their written contributions which can be read here.  Comments received by Member States and participants can be viewed on the CFS website.
Looking ahead, the Data WG is actively preparing for the first round of negotiations, scheduled from 29 May to 2 June 2023. The negotiations can be followed via Zoom - will look forward to seeing you there. We also encourage you to stay tuned and look for updates on social media with hashtag #CFSData. For more information about the communications plan, do reach out to the CSIPM Secretariat.

The CSIPM Advisory Group has been monitoring the progress of the Multi-Year Programme of Work (MYPoW) process of the CFS. Following a series of internal consultations, our proposals focus on three key areas: enhancing the platform function of the CFS, promoting workers' rights, and preserving biodiversity. We have encountered some resistance within the CFS regarding its role as a platform. However, we are making progress through our advocacy efforts with African governments, increasing the likelihood that our proposals will be adopted.
We encourage organizations at the national level to engage in advocacy efforts as well. Our primary objective is to ensure that the CFS, an existing intergovernmental and inclusive body, addresses the multilayered crisis rather than relying on other multistakeholder initiatives.
During the upcoming CFS plenary session from 23 to 27 October 2023, the MYPoW will be adopted. The plan will include a minimum of one policy work stream per year, along with priorities for strategic objectives and policy outcomes subject to monitoring. By October, we expect to reach a consensus on the entire work plan, encompassing four or five thematic areas.
For more information, please visit the CSIPM web page dedicated to the MYPoW: https://www.csm4cfs.org/policy-working-groups/mypow/
Read the latest report from #FoodSystems4People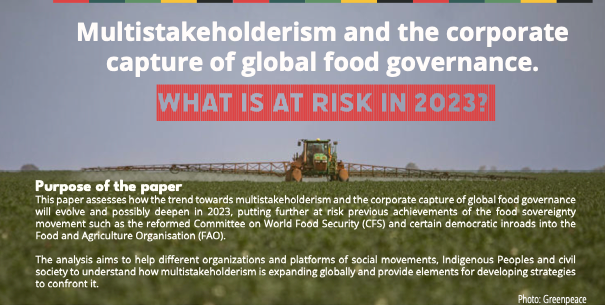 The Liaison Group of the Autonomous Peoples' Response has just published a new analysis on the corporate capture of global food governance in 2023.
CSIPM in the news...
Here are some links to articles published in several languages as part of CSIPM's policy advocacy and communications work. Happy reading!
La fragilidad del sistema alimentario en el mundo

El aumento desproporcionado de los precios de los alimentos y la energía, dificultan el cubrimiento de las necesidades básicas de una gran parte de la población mundial. Por María Victoria Rojas Porras.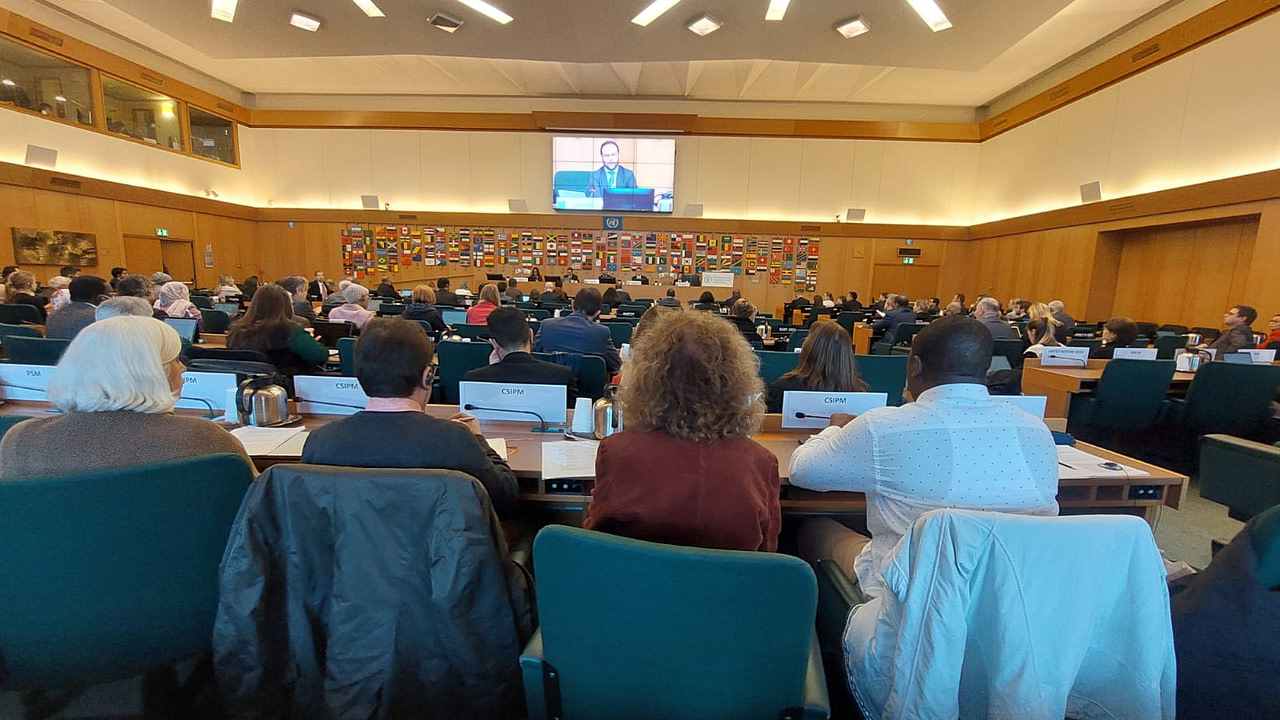 A CSIPM update on the reconvened CFS 50th plenary session
The CFS 50 Plenary was reconvened on 19 December and was finally concluded at 10pm that day, after another round of difficult discussions. The Plenary had to be reconvened because it had not been possible to find consensus during its regular session in October, mostly due to geopolitical controversies. 
We value your feedback | Valoramos su retroalimentación | Votre avis nous intéresse
Help us improve our CSIPM Newsletter! | Aidez-nous à améliorer le bulletin d'information du MSCPA | Ayúdenos a mejorar el Boletín del MSCPI

What is your preferred language? | Quelle est la langue de votre choix ? | ¿Cuál es el idioma que prefiere?

Do you find the information useful? | Trouvez-vous ces informations utiles ? | ¿La información es de utilidad?

How often would you like to receive it? | Avec quelle fréquence souhaitez-vous le recevoir ? | ¿Con qué frecuencia le gustaría recibirlo?

If you have ideas for improvement, we'd love to read them! | Si vous avez des idées d'amélioration, nous serions ravis de les lire ! | Si tiene ideas sobre cómo mejorar ¡nos encantaría leerlas!

Thank you for your valuable feedback | Merci de nous faire part de vos commentaires | Gracias por tu retroalimentación
Bienvenide al
Boletín del MSCPI | Mayo 2023
En la sesión plenaria de diciembre del CSA, se acordó seguir adelante con el proceso político para las Directrices Voluntarias sobre Igualdad de Género y el Empoderamiento de las mujeres y las niñas en el contexto de la seguridad alimentaria y la nutrición (GV GEWGE)- Desde entonces se han llevado a cabo una reunión informal de "Amigos de la Presidencia" el 8 de febrero, y dos reuniones en el formato de Grupo de Trabajo de Composición Abierta del CSA. el 7 de marzo y el 5 de mayo, sin que se dispusiera de interpretación y sin que la participación de la sociedad civil fuera siempre evidente.
Tras el bloqueo de las negociaciones en julio de 2022, algunos temas clave de las DV que se consideraban "contenciosos" se fueron debatiendo bilateralmente, y el Grupo de Trabajo sobre Mujeres y Diversidades de Género (GTDG) solicitó mantener debates inclusivos e informados sobre estos temas clave. Sin embargo, con el fin de llegar a un consenso, algunos de estos, así como el lenguaje sobre derechos humanos se perdieron en aras del compromiso.
El GT espera encarecidamente que se mantengan algunas partes clave como el reconocimiento del trabajo de cuidados realizado por las mujeres en la agricultura y la cuestión de los derechos sobre la tierra, el concepto de interseccionalidad y la diversidad entre las mujeres, por nombrar algunos. Sin embargo, existe la preocupación de que podamos ver un retroceso en el lenguaje -el lenguaje acordado- en la próxima y última ronda de negociaciones.
Próximos pasos: Mayo es un mes crucial. Se llevó a cabo una reunión del Grupo de Trabajo de Composición Ambierta el pasado 5 de mayo, disponible únicamene en inglés. y posteriormente, del 15 al 29 de mayo, se llevará a cabo la última ronda de negocaicones. Por lo anterior, le invitamos a seguir de cerca las negociaciones, y a apoyar al Grupo de Trabajo de Mujeres y Diversidades de Género en presionar a los gobiernos participando en la Tormenta en Twitter el próximo 15 de mayo. Si tiene interés en seguir las negociaciones de forma virtual, escriba por favor un correo a [email protected].

Los últimos meses el Grupo de Trabajo de Datos (GTD) ha realizado consultas internas, así como actividades para el fortalecimiento de capacidades y el intercambio de conocimientos. Entre estas, dos talleres en el mes de marzo titulados "Los impactos de la digitalización en los sistemas alimentarios y la agricultura familiar", los cuales tuvieron una amplia participación por parte de sociedad civil y movimientos sociales.
Además, representantes de diferentes sectores y regiones del MSCPI han iniciado el trabajo para desarrollar un Documento de Visión que será la base para la participación en el flujo de trabajo de datos del CSA.
En otras noticias, se espera la publicación del texto del borrador de las recomendaciones políticas para las negociaciones el próximo 15 de mayo. Un borrador inicial se ha circulado previamente, y el GTD aportó contribuciones escritas que pueden leerse aquí. Además, los comentarios recibidos por los Estados Miembros y otros participantes están disponibles para consulta en la página web del CSA.
Próximamente el GT de Datos estará participando en la primera ronda de negociaciones prevista del 29 de mayo al 2 de junio de 2023. Las negociaciones podrán seguirse desde Zoom. Si desea seguir las negociaciones por favor contacte al Grupo de Trabajo de Datos, o a la secretaría del MSCPI. Además, les invitamos a mantenerse actualizades a través de nuestras redes sociales con el hashtag #CFSData . Para mayor información sobre el plan de comunicación contacte a la secretaría del MSCPI.

El Grupo Asesor del MSCPI ha dado seguimiento al proceso del Plan de Trabajo Plurianual del CSA (PTPA). Siguiendo una seire de consultas internas, y reuniones bilaterales con Estados miembros, nuestras propuestas se centran en tres áreas clave: reforzar la función de plataforma del CSA, promover los derechos de los trabajadores, y preservar la biodiversidad para la realización de la soberanía alimentaria. A pesar del apoyo de algunos Estados miembro, hemos encontrado cierta resistencia dentro del CSA en lo que respecta a su función como plataforma. Sin embargo, estamos avanzando gracias a nuestros esfuerzos de incidencia con los gobiernos Africanos, incrementando las posibilidades para que se adopten nuestras propuestas. 
Motivamos a las organizaciones que trabajan a nivel national para que también participen en los esfuerzos de incidencia.  Nuestro principal objetivo es asegurar que el CSA, un organismo intergubernamental e inclusivo, aborde la crisis de múltiples capas, en lugar de depender de otras iniciatives de múltiples partes interesadas. 
En la próxima Plenaria del CSA, que se llevará a cabo del 23 al 27 de octubre de 2023, deberá adoptarse el PTPA.  El plan incluirá un mínimo de una línea de trabajo político por año, junto con prioridades para objetivos estratégicos y resultados políticos sujetos a monitoreo. Para octubre se espera alcanzar un consenso sobre la totalidad del plan de trabajo, que abarcará cuatro o cinco áreas temáticas.
Para más información, visite la página web del MSCPI dedicada al MYPoW: https://www.csm4cfs.org/es/policy-working-groups/mypow/.

#FoodSystems4People publica un nuevo reporte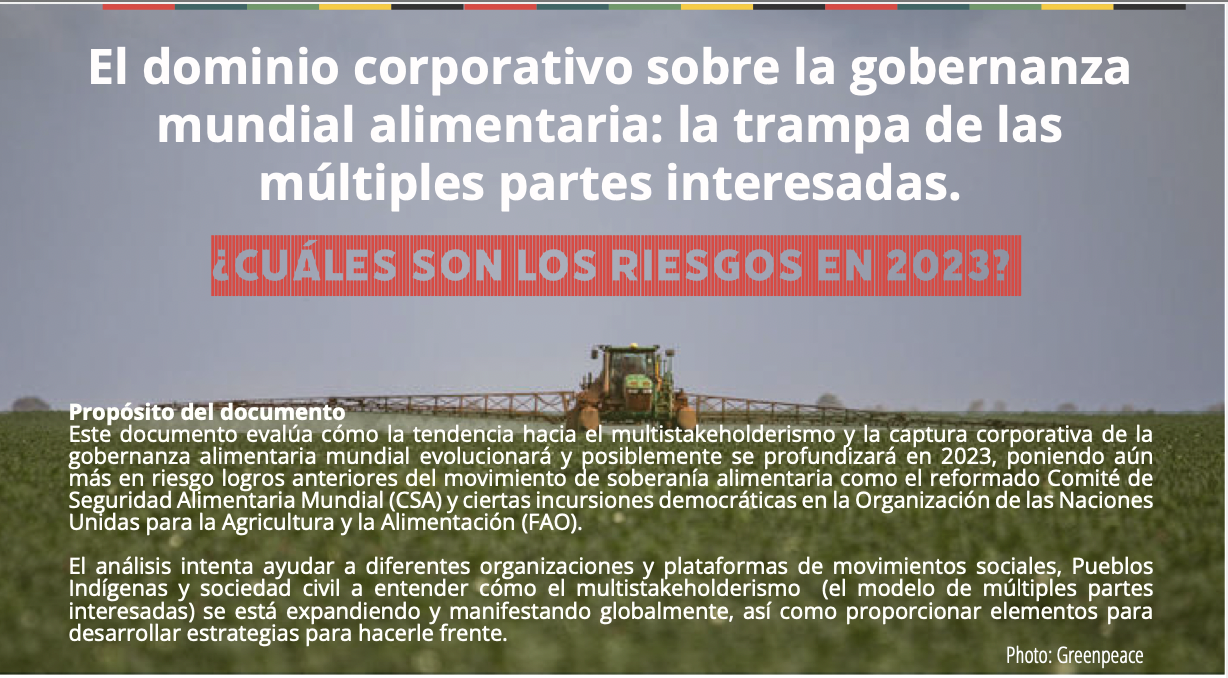 El Grupo de Enlace de la Respuesta autónoma de los Pueblos recientemente pubilcó un nuevo análisis sobre la captura corporativa de la gobernanza alimentaria mundial en 2023.

El MSCPI en los medios
Encuentre aquí los enlaces a algunos artículos publicados en diversos idiomas como parte del trabajo de incidencia en políticas y comunicación. ¡Disfrute la lectura!

La fragilidad del sistema alimentario en el mundo

El aumento desproporcionado de los precios de los alimentos y la energía, dificultan el cubrimiento de las necesidades básicas de una gran parte de la población mundial. Por María Victoria Rojas Porras.
Bienvenu.e.s à la
Mise à jour du MSCPA | mai 2023
Lors de la session plénière du CSA de décembre, il a été convenu de poursuivre le processus d'élaboration des Directives volontaires sur l'égalité de genre et l'autonomisation des femmes et des filles dans le contexte de la sécurité alimentaire et de la nutrition (GEWE, d'après l'acronyme anglais). Quelques réunions informelles des "Amis de la présidence" ont suivi, sans interprétation disponible et avec une participation de la société civile pas toujours évidente.
Après le blocage des négociations en juillet 2022, certaines parties essentielles des DV considérées comme "litigieuses", ont fait l'objet de discussions bilatérales, et le groupe de travail sur les femmes et la diversité des genres a demandé à ce que des discussions inclusives et informées soient menées sur les questions clés. Cependant, afin de trouver un consensus, certains concepts clés et la formulation des droits ont été perdus au profit d'un éventuel compromis.
Le groupe de travail espère vivement que certaines parties essentielles seront conservées, telles que la reconnaissance du travail de soins effectué par les femmes dans l'agriculture et la question des droits fonciers, le concept d'intersectionnalité et de diversité parmi les femmes, pour n'en citer que quelques-unes. Cependant, il est à craindre que nous subissions un recul dans le langage - le langage convenu - lors du prochain et dernier cycle de négociations.
Prochaines étapes : Le mois de mai est crucial. Un groupe de travail à composition non limitée (GTCNL) s'est réuni le 5 mai, suivi de négociations qui auront lieu du 15 au 19 mai. Notre appel à l'action est donc de suivre de près les négociations, de nous aider à faire pression sur les gouvernements en rejoignant la tempête Twitter organisée le 15 mai, et de participer aux négociations. Si vous souhaitez suivre virtuellement les négociations, écrivez un courriel à [email protected].

Au cours des derniers mois, le groupe de travail sur les données s'est concentré sur les consultations internes, le renforcement des capacités et les activités de partage des connaissances. Parmi celles-ci, deux ateliers très suivis ont eu lieu en mars sur "Les impacts de la numérisation sur les systèmes alimentaires et l'agriculture familiale".
En outre, un certain nombre de représentants de différents groupes d'intérêt et régions du MSCPA ont pris part à des entretiens internes qui définiront l'orientation d'un prochain document de vision. Ce document est actuellement en phase de production et devrait être diffusé au cours du second semestre de l'année.
Par ailleurs, le projet de négociation des recommandations politiques du CSA devrait être publié le 15 mai. Le groupe de travail sur les données du MSCPA a fait part de ses contributions écrites, qui peuvent être lues ici. Actuellement, le CSA est en train d'examiner les commentaires reçus d'autres membres et participant.e.s. Ces commentaires reçus par les États membres et les participant.e.s peuvent être consultés sur le site web du CSA (principalement en anglais).
En ce qui concerne l'avenir, le groupe de travail sur les données prépare activement le premier cycle de négociations, prévu du 29 mai au 2 juin 2023. Les négociations peuvent être suivies via Zoom - nous vous attendons nombreux.ses. Si vous souhaitez suivre virtuellement les négociations, écrivez un courriel à [email protected]. Nous vous encourageons également à rester à l'écoute des mises à jour et à partager vos messages clés sur les réseaux sociaux avec le hashtag #CFSData. Pour plus d'informations sur le plan de communication, veuillez contacter le Secrétariat du MSCPA.

Le Groupe consultatif du MSCPA a suivi les progrès du processus du Programme de travail pluriannuel (PTPA) du CSA. Suite à une série de consultations internes, nos propositions se concentrent sur trois domaines clés : l'amélioration de la fonction de plateforme du CSA, la promotion des droits des travailleurs et travailleuses, et la préservation de la biodiversité pour la réalisation de la souveraineté alimentaire. Nous avons rencontré une certaine résistance au sein du CSA en ce qui concerne son rôle de plateforme. Cependant, nous progressons grâce à nos efforts de plaidoyer auprès des gouvernements africains, ce qui augmente la probabilité que nos propositions soient adoptées.
Nous encourageons les organisations au niveau national à s'engager également dans les efforts de plaidoyer. Notre principal objectif est de faire en sorte que le CSA, un organe intergouvernemental et inclusif, s'attaque à la crise à plusieurs niveaux plutôt que de s'en remettre à des initiatives multipartites louches.
Le plan de travail pluriannuel sera adopté lors de la prochaine session plénière du CSA, qui se tiendra du 23 au 27 octobre 2023. Le plan comprendra un minimum d'un axe de travail politique par an, ainsi que des priorités pour les objectifs stratégiques et les résultats politiques faisant l'objet d'un suivi. D'ici octobre, nous espérons parvenir à un consensus sur l'ensemble du plan de travail, qui englobe quatre ou cinq domaines thématiques.
Pour plus d'informations, veuillez consulter la page web du MSCPA consacrée au plan de travail pluriannuel : https://www.csm4cfs.org/fr/policy-working-groups/mypow/

Lisez le dernier rapport de #FoodSystems4People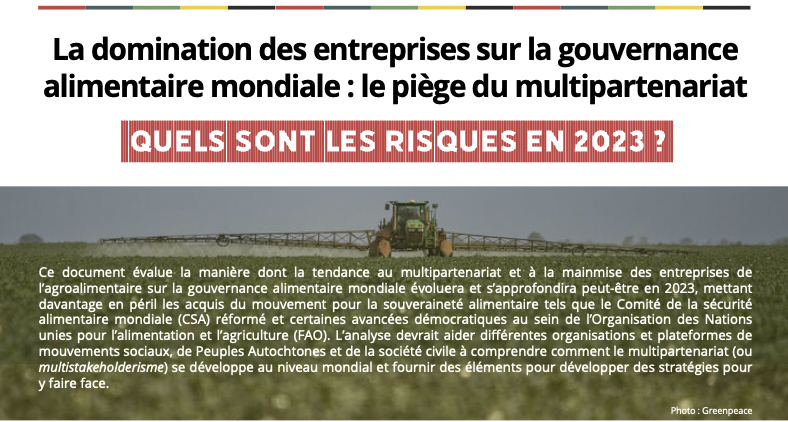 Le Groupe de Liaison de la Réponse Autonome des Peuples vient de publier une nouvelle analyse sur la domination par les entreprises de la gouvernance alimentaire mondiale en 2023.

Le MSCPA dans l'actualité…
Voici quelques liens vers des articles publiés en plusieurs langues dans le cadre du travail de plaidoyer et de communication du MSCPA. Bonne lecture !

La fragilidad del sistema alimentario en el mundo

El aumento desproporcionado de los precios de los alimentos y la energía, dificultan el cubrimiento de las necesidades básicas de una gran parte de la población mundial. Por María Victoria Rojas Porras.
Au cas où vous l'auriez manqué !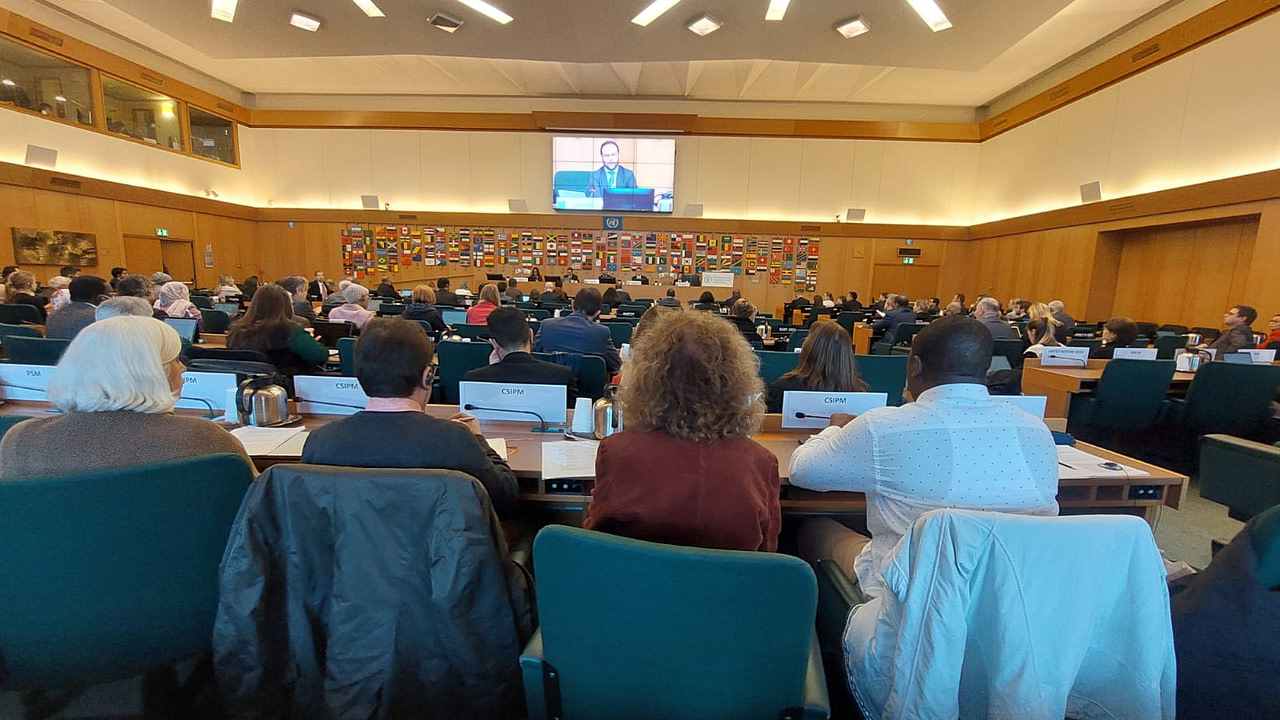 Une mise à jour du MSCPA sur la reprise de la 50ème session plénière du CSA
La 50e Plénière du CSA a été reconvoquée le 19 décembre et s'est finalement terminée à 22 heures ce jour-là, après un nouveau cycle de discussions difficiles. La Plénière a dû être reconvoquée car il n'avait pas été possible de trouver un consensus lors de sa session ordinaire en octobre, principalement en raison de controverses géopolitiques.
Civil Society and Indigenous Peoples' Mechanism (CSIPM) for relations with the UN Committee on World Food Security
FAO Headquarters, Room E – 128
Via delle Terme di Caracalla, Rome, Italy
You received this email because you signed up on our website or made a purchase from us.
Unsubscribe