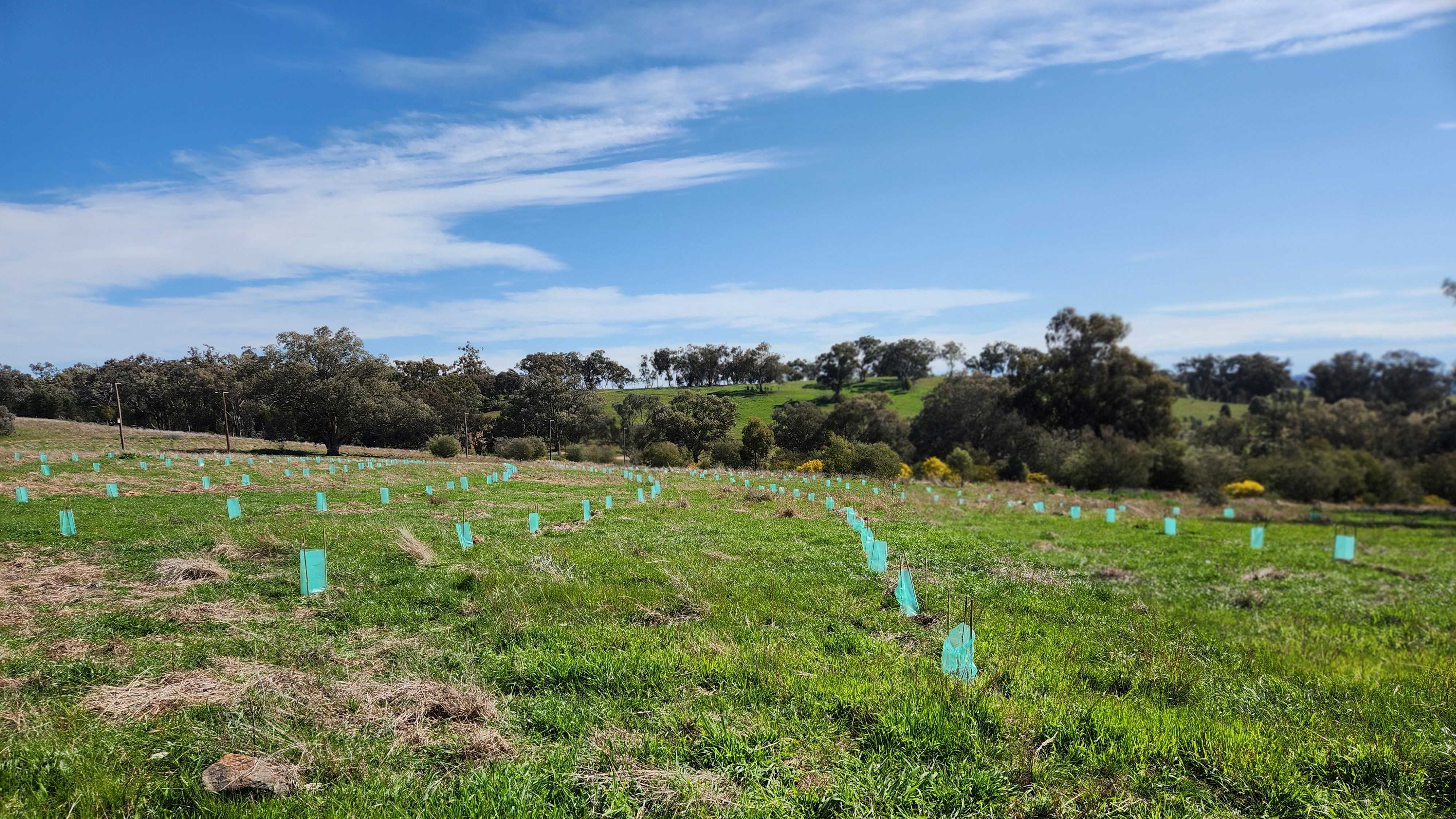 We've done lots of Landcare plantings through winter!
September Newsletter
September is here, and with it comes Spring and Biodiversity Month. Biodiversity is the variety of plant and animal life; having higher biodiversity means that there are more species within an ecosystem, which can help maintain balance and keep ecosystems healthy. 
While the most recent State of the Environment Report shows our biodiversity to be declining, there are lots of simple (and fun!) ways to celebrate and promote biodiversity in your life!
As always, if you would like to suggest an idea for a future project or activity - or get some inspiration from what others around the Riverina and beyond are doing - please don't hesitate to contact your Local Landcare Coordinator for support and assistance. We're here to help all Landcarer's in our region.

Nicole and the team at MLi

Soils for Life
Join the Soil Health Challenge
Join farmers around Australia in this free 18-month program! You will be provided with a simple guide on how to do five easy, low cost, on-farm tests. Use these tests to assess your soil health during a specific fortnight three times over the 18 months, then join in a webinar with David Hardwick (from Soil Land Food) to discuss the results.
Get involved in the Platy-Project this September (Australian Conservation Foundation)
This September, visit your local creek or river, find a quiet place on the bank, and try to spot platypus - then record what you see (or don't see). The Platy-Project will help researchers better understand and protect platypus.
Survey about renewables on farms (Farmers for Climate Action)
This survey aims to better understand how farmers see renewable energy working for your business and your community, and how on-farm electrification can best benefit farmers and the energy system. The results will be used by Farmers for Climate Action to ensure farmers voices are heard in conversations with governments, planning authorities and energy companies.
Survey on use of alternative inputs (Soils for Life)
Are you using alternative fertilisers in your cropping operation? A new project is looking at the use of organic amendments on farms, with the goal of helping inform researchers and government policy.  This short survey is an opportunity to have your views and experience heard; some participants will be eligible for soil tests.
National Farmer Priorities survey (National Farmers Federation)
Closes 17 September
This survey aims to better understand the views of farmers, so the National Farmers Federation and their member organisations can advocate more effectively on your behalf. The survey should take approximately 7 minutes, and you can enter to win one of four $500 Visa cards.
Wagga Wagga community roadmap for NetZero emissions (Wagga Wagga City Council)
Submissions close 22 September
Community members are invited to have their say on this draft Roadmap, which is on public exhibition. Net zero refers to an equal balance between the amount of greenhouse gases emitted into the atmosphere, and the amount absorbed. The Roadmap outlines key pathways that individuals, businesses and groups can follow to achieve the community net zero targets.
Jade Auldist, Riverina Regional Agricultural Landcare Facilitator
Word from the RALF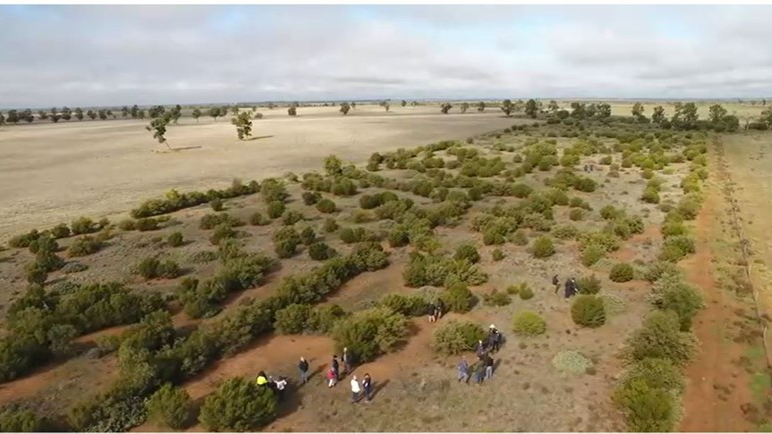 On July 18 2023, Hay Landcare and Riverina Local Land Services collaborated on a tree planting workshop at 'Oakville', the property of Marg and Colin Bull. 
The workshop focused on the remarkable habitat corridors established by Marg and Colin across their property, showcasing the benefits these corridors bring to soil health, flora and fauna, while also contributing to the accrual of natural capital.
Through collaborative efforts, and with the help of Hay Landcare's three-point linkage tree planter, a staggering 1,100 plants were successfully planted in three hours. Species planted included Miljee (Acacia oswaldii), Boree (Acacia pendula) and Nitre Goosefoot (Chenopodium nitrariaceum).
Murrumbidgee Landcare events
19 to 21 September, Henty
Henty Machinery Field Days
Are you going to the Henty Field Days? Make sure you come and visit us to check out our displays and have a chat! We will be in our usual spot, in the Landcare Shed just near the western entrance.
27 September, 4.00 to 6.30 pm, Morundah
Platypus Citizen Science afternoon
Have you ever spotted a platypus in the wild? Join us for an afternoon of Citizen Science - community members and landholders  are invited to head down to our local waterway at Morundah, find a quiet spot to look for a platypus and record what we see.
EV and electrification Q&A (Eastern Riverina Landcare Group)
9 September, 10.00 am to 2.00 pm, Yerong Creek
Want to know more about electric vehicles and the potential for on-farm and in-home electrification? Join us for up-to-date information and practical advice on owning and driving an electric vehicle and the potential for electrification both on the farm and in the home. Following a light lunch there will be electric vehicles available for inspection and test driving (as a passenger). This is a FREE event although a gold coin donation towards costs would be appreciated.
The Great Glossy Count (BirdLife Australia)
9 to 10 September, across eastern NSW, VIC & ACT
The South-Eastern Glossy Black-Cockatoo is listed as Vulnerable, and is at risk of further population decline following habitat loss in the 2019-20 bushfires. This count asks volunteers to spend one hour or more over the weekend at a site, collecting data on Glossies and their feeding habitat. You can select your own site if you know a spot where Glossies have been seen, or go to a site identified by experts.
Making stock management areas manageable: Sheep (Holbrook Landcare Network)

11 September, 8.30 am to 1.30 pm, Tarcutta
Joined by former DPI Livestock Officer Greg Meaker and Agrista Consultant Tanisha Shields, this workshop will cover the essentials for establishing and managing a sheep containment area. There will also be a focus on demonstrating how 'Return on Investment' tools can aid in economic decision making when justifying the use of SMAs in your enterprise.

Low Stress Stock Handling 2-day workshop (Young District Landcare)
11 and 12 September, Monteagle. $880 per person (25% discount for additional people from the same business).
This workshop can help you achieve calm, confident management
of livestock in all situations. It caters for those with little or no
experience in handling stock, right through to highly competent
stockpeople.
Yam Daisy paddock walk (Riverina Local Land Services)
13 September, 12.00 to 3.30 pm, Hay
This walk, led by ecologist Martin Driver, will provide information on several of the Hay plains plant communities, including a visit to the Yam Daisy sites. Participants will get a firsthand look at the Yam Daisies, possibly before they return to dormancy as a rhizome (yam) until the right season returns.


Farm walk and talk (Earth Canvas & Wagga Wagga Art Gallery)
17 September, 2.00 to 4.30 pm, Book Book. $25 per person
Join Landcarers Pete and Bundle Lawson on a walk on their property, and a discussion of their experience of regenerative farming. Artist Lyndall Phelps will also reflect on the two weeks she spent on their property.
NLIS workshops (Riverina Local Land Services)
4 October, 1 November & 6 December, Griffith and Gundagai
LLS are running tutorial sessions to support producers in setting up and using the NLIS Integrity Systems database. Staff will be available to help you navigate the NLIS database to meet your obligations. Sessions will run from 9 to 11 am (Griffith), and from 2 to 4 pm (Gundagai).
Digital Agrifood Summit (Food Agility and Charles Sturt University)
11 to 12 October, Wagga Wagga. Tickets start at $440, or $200 for livestream. High school students can contact the organisers for free attendance.
With the theme 'Paddock to Profit', this event aims to demonstrate how digitally driven insights, systems and tools are helping Australian producers increase value across the supply chain.
Cultivating connection: Aboriginal plant use and native propagation workshop (Yass Landcare Group)
15 October, 9.00 am to 12.00 pm, Yass
In the first part of this workshop, join Aaron Chatfield (Dreamtime Connections) to learn about the native plants and tools Aboriginal people have been using for thousands of years. In the following segment, discover the intricacies of propagating native plants and mastering diverse germination techniques.
Food Sovereignty Convergence (Australian Food Sovereignty Alliance)
21 to 23 October, Moruya. Tickets $60 per day
Convergence is a space where Australia's food sovereignty movement comes together in-person to debate, collaborate, share and strategise ways to advance food sovereignty in Australia, as well as set a supportive foundation for local movement building.
Preventing off-target spray drift (NSW Farmers)
11 September, 6.00 to 7.00 pm
This session will allow you to engage directly with experts from the NSW EPA and GRDC to learn more about how to minimise off-target crop damage from spray drift. There will be a facilitated Q&A session at the end.
Tax implications of carbon credit generation (Landcare Australia)
13 September, 11.00 am to 12.30 pm
This webinar will provide valuable insights into recent changes to tax laws for primary producers that undertake projects to create carbon credits. The session will cover these changes, along with other important tax and accounting considerations for primary producers in relation to carbon farming.
El Niño summer is coming: Get bushfire resilient (Bushfire Resilience Inc)
13 September and 4 October, 7.30 to 9.00 pm
Recent rainfall has supercharged fuel loads, and dry conditions will increase fire risks next summer, especially grass fires. This webinar series will cover: Grass fire and bushfire behaviour (13 Sep), and Safety actions for the fire season (4 Oct).

Indigenous perspectives on drought resilience (Southern NSW Drought Resilience Adoption and Innovation Hub)
14 September, 3.00 to 4.00 pm
First Nations peoples connection to Country provides a rich source of knowledge in building drought resilience and promoting regeneration from dry seasons. How can we best learn from and incorporate this knowledge in ways that are respectful, meaningful and ethical? This webinar will discuss some of the nuances in cross-cultural communication with Indigenous Australians, and fostering respectful and collaborative relationships with Indigenous communities.
Grant writing workshop (Strong Spirit Aboriginal Services)
20 September, 10.00 am to 12.00 pm
Aboriginal and Torres Strait Islander people, Aboriginal businesses and Aboriginal community controlled organisations are invited to attend this free online workshop.
Soil phosphorous levels for pasture (NSW Department of Primary Industries)
20 September, 1.30 to 2.30 pm
This webinar will look at results from the 'uPtake' project in WA. This project has gathered a useful set of critical values (as opposed to typical values) for plant tissue analysis of clover and ryegrass, with key themes that are relevant in NSW.
Indigenous knowledges informing our modern world (Australian Academy of Science)

10 October and 12 December
This series is investigating how the intersection of Indigenous knowledges is informing our understanding of topics including climate change, agriculture and astronomy. The August event is titled 'Caring for Land and Country', and will explore the intimate understanding Aboriginal and Torres Strait Islander peoples have of their local environments, built on centuries of observation and interaction with the land.
SWIFFT seminar series (State Wide Integrated Flora and Fauna Teams)

26 October
These interactive sessions help connect researchers, land managers, government agencies and community groups. Upcoming topics include: Surveys and monitoring (26 Oct).
Funding and Opportunities
Murrumbidgee Landcare grants
Landcare-Led Resilience Project
We are seeking Expressions of Interest from landholders wishing to receive support to establish a revegetation site over the next two years. These sites will contribute to the demonstration of techniques that make revegetation more resilient to climate, and contribute to farm business resilience. 

Box Gum Grassy Woodland funding (Riverina Local Land Services)
This program will assist landholders looking to protect and improve Box Gum Grassy Woodland on their property, through knowledge sharing, and financial assistance to undertake fencing, revegetation, cool burning, weed control, and additions to habitat features such as nest boxes.

Community Grants Program (Alinta Energy)

Close 17 September
Grants of up to $20,000 are available for projects that will have a positive impact on either social disadvantage or environmental sustainability. Projects should be completed within 12 months, and must be located within Alinta Energy's area of operations.
Habitat Action Grants (NSW Department of Primary Industries)
Close 29 September
Grants of up to $40,000 are available for 12-month projects that rehabilitate fish habitats. Activities may include: removal or modification of barriers to fish passage; rehabilitation of riparian lands; re-snagging waterways with timber structures; removal of exotic vegetation and replacement ith native species; and bank stabilisation works.
Community Partnerships Program (Transgrid)

Close 30 September
Not-for-profit and community groups are invited to apply for grants of between $500 and $5,000 to undertake projects in areas local to Transgrid assets or construction. Projects should provide a lasting and tangible benefit to the community, and should be completed within six months.


Small Environmental Grant Scheme (Wettenhall Trust)

Applications OPEN 1 October
Grants of up to approximately $10,000 are available to support projects that will make a positive difference to the natural living environment, in land, sea or air, rural or urban. Projects should be focused on flora and fauna conservation or threatened mammal conservation, and should involve: monitoring, recording and sharing data; delivering community education; providing community capacity building; or research and science.

Cultural Grants program (Aboriginal Affairs NSW)
Close 9 October (but grants are assessed in the order they're received)
Grants of between $500 and $20,000 are available for 12-month projects that celebrate Aboriginal culture. The program aims to support Aboriginal communities to strengthen, protect, and maintain Aboriginal culture; support Aboriginal cultural events and activities; contribute to Aboriginal community wellbeing through Aboriginal culture and community connection; and facilitate sharing of Aboriginal cultural knowledge and skills between generations.
NSW Women's Week Grants (NSW Government)

This program provides grants of between $5,000 and $10,000 for organisations to deliver events and activities during NSW Women's Week (4 to 10 March 2024). Activities must align with at least one of the pillar priorities: Economic opportunity and advancement; Health and wellbeing; and Participation and empowerment. 
Support Plantation Establishment program (Australian Government)

Rounds close 25 October & 24 January 2024
This program requires grantees to establish a new long-rotation plantation forest in Australia of at least 20 hectares; provide a Plantation Management Plan (PMP) endorsed by a suitably qualified forestry professional; and manage the plantation forest according to the PMP. Applicants must provide a co-contribution at least equal to the grant amount awarded; this can be through the value of the land the new plantation will be established on. Grants will be $2,000 per hectare of new plantation established, with grant amounts starting at $40,000; there is no maximum grant amount. Projects can run for between 1 and 4 years.

Inland Rail Sponsorships (Australian Rail Track Corporation)

Close 31 October
Community groups are invited to submit applications to fund an activity, event or project that will benefit your local community. Funding of between $1,000 and $4,000 is available for individuals and organisations in regional areas along the Inland Rail route that contribute to local and regional prosperity, well-being and sustainability.

Community Grants Program (Responsible Wood)
Applications close 3 November
Grants of between $2,000 and $15,000 are available for forest-based projects that suit both communities and the forests' needs.  Projects may include: construction or upgrade of recreational facilities, interpretive signage, habitat improvement, forest based art installations and other events.
RAS Foundation Community Futures Grant (Royal Agricultural Society of NSW)
Applications close 30 November
Grants of up to $25,000 are available for community projects that deliver strong community benefits and result in enhanced economic and social outcomes for your community. Projects that involve collaboration between people in your town and deliver sustained and broad community benefits will be highly regarded.
Strengthening Rural Communities grants (Foundation for Rural & Regional Renewal)

Close 4 December
Grants are available for a broad range of grassroots initiatives that benefit local communities. Under the 'Small & Vital' stream, grants of up to $10,000 are available for communities with fewer than 15,000 people. Under the 'Prepare & Recover' stream, grants of up to $25,000 are available for communities affected by the 2019/20 Black Summer bushfires. Under the 'Rebuilding Regional Communities' stream, grants of up to $10,000 are available for projects that enhance the recovery from Covid-19 and foster more resilient regional communities.
Securing the Black Falcon in the Riverina (Riverina Local Land Services)

This project aims to encourage breeding and expand the Black Falcon population in the Riverina priority area, by protecting and enhancing native active nest sites, and establishing new artificial nesting sites. Landholders who have seen Black Falcons in the local area, and have areas of potential habitat for nesting are encouraged to apply for funding support.

Youth Mental Health First Aid training (Wagga Wagga City Council)

12 & 13 September, or 17 & 18 October, 9.00 am to 4.30 pm, Wagga. Tickets cost $21.97.
About 1 in 4 young Australians experience a common mental illness each year. This training will teach you practical skills to support an adolescent with a mental health problem and make a real difference to the young people in your community. Please note: must be 18 years plus to participate in training.
Milparanga Emerging Leadership Program (Australian Rural Leadership Foundation)
Applications close 25 September
This program will support Aboriginal and Torres Strait Islander Peoples aged 21 and over to grow their leadership skills in a culturally safe space. It involves a 6-day residential session in WA (18-23 Nov), where participants will undertake an immersive experience that helps shape them into better communicators and leaders.
Yearlong free permaculture course (Heather Jo Flores)
This online permaculture course has 52 lessons, covering ecological design, earth skills and people skills. It can be completed at your own pace and is offered free, but with the option to make a donation if you choose.
The Equiculture Sustainable Horsekeeping Course (University of New England)
This short course will teach you how to be a responsible, sustainable and ethical horse owner/manager, offering practical solutions so that you can make informed choices for the benefit of your horses, yourself and the land. The course can be started anytime, and takes approximately 37 hours to complete. Cost is $199.
Scholarships, awards and other opportunities
Join the Thriving Women 2024 Conference team (WoTL - Women Together Learning)
EOIs close 13 September
WoTL is on the lookout for five dynamic individuals to become a part of the 2024 conference Team. The conference will be held from 12 - 13 August 2024 in Hahndorf SA. Positions to be filled include: Conference Program Manager, Conference Operations Manager, Conference Delegate Manager, and two General Team Members.
Love Letters to the Land (Junior Landcare)
Entries close 20 October
This competition, led by Costa Georgiadis, is calling on kids to share what they love most about the environment, and the steps they're taking to protect it. Letters can be written from a class, group or individual, and there are templates available to get you started. By submitting your letter, you can win a visit from Costa to your school or group, and the top 25 letters will be published on The Land website.
Leadership Workshop and Sustainability Expo for High Schools (Observatory Hill Environmental Education Centre)

19 October and 23 November, Sydney
Are your students interested in environmental leadership? Could they benefit from being a student mentor? This two-day leadership event  will help high school students to learn how to become better  environmental leaders and mentors. Students will attend inspirational presentations on key aspects of environmental sustainability, and develop a sustainability-themed workshop presentation to deliver to primary school students.
CSIRO and the Bureau of Meteorology
My Climate View
This website enables you to explore climate information relevant to your location and commodity, wherever you are across Australia. Climate information includes: past data from 1963 to now, with seasonal forecasts for the coming 1 to 3 months, and climate projections for 2030, 2050 and 2070.
Murrumbidgee Landcare and YACTAC
New platypus colouring sheet!
Download and colour in our special platypus picture, produced to support the Platy-project activities in September. Then show your friends and help raise awareness about these special creatures!
RCS
Free Starter Guide
RCS have just released a new Starter Guide for their popular courses, Grazing for Profit® and Farming & Grazing for Profit®. The guide encapsulates the essence of their holistic and hands-on approach to grazing and farm management. You will need to provide your details to access the free guide.
NSW Department of Planning and Environment
Digital soil mapping of key soil properties over NSW
This report presents digital soil maps for a range of key soil properties, including: soil organic carbon, pH, cation exchange capacity, available phosphorous, bulk density, clay, sand and silt. The maps cover multiple depth intervals down to 2 metres.
Murrumbidgee Landcare acknowledges the Wiradjuri people who are the Traditional Custodians of the Land on which we work. 
We pay our respects to Elders of the Wiradjuri Nation, past, present and emerging, and extend that respect to all First Nations Elders.
We celebrate the diversity and strength of Aboriginal cultures and value their contribution to caring for our Land.
Murrumbidgee Landcare
PO Box 710 Wagga Wagga NSW 2650

You received this email because you are on our newsletter mailing list. Please click the link below if you would like to unsubscribe.
Unsubscribe