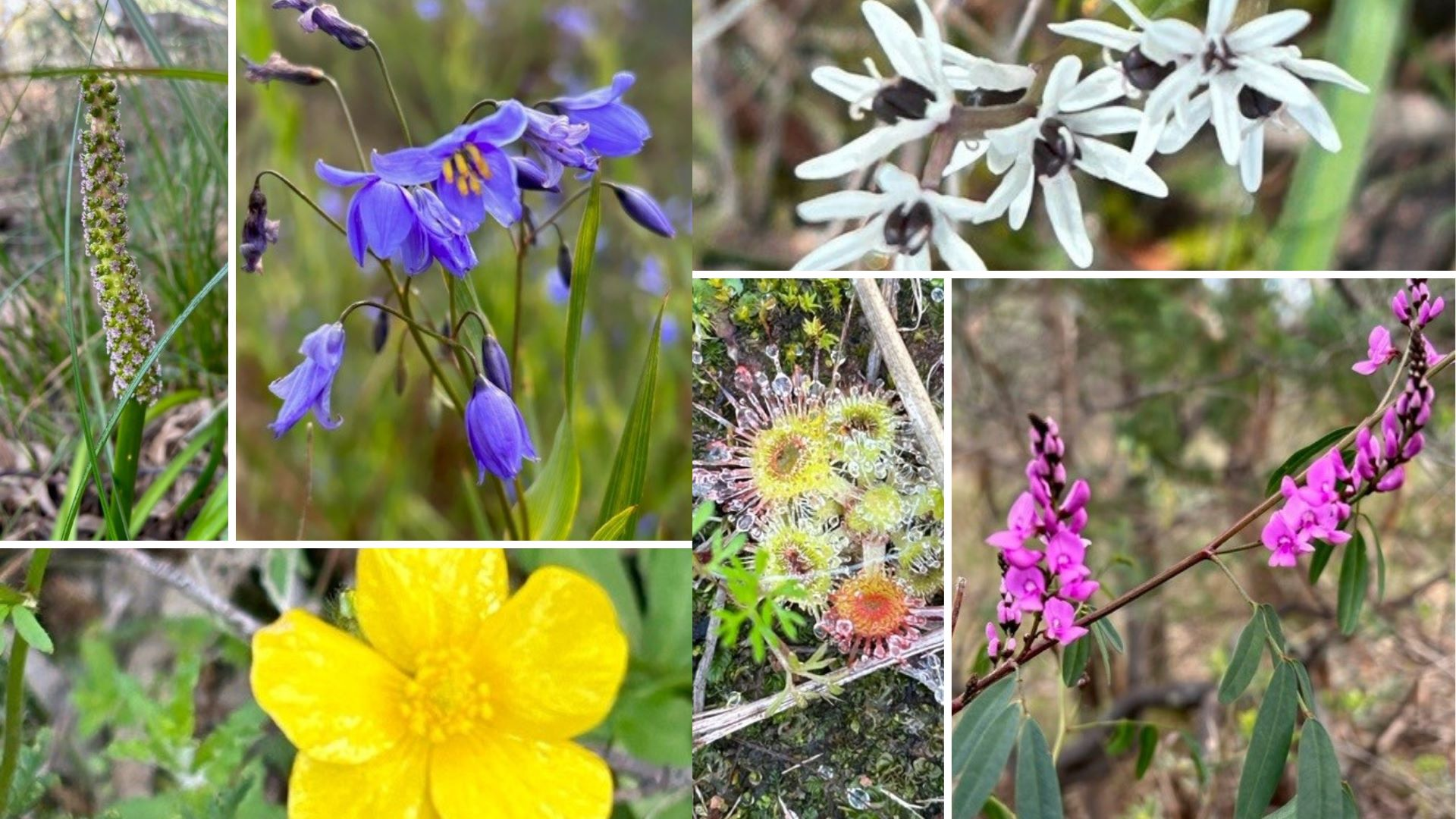 Some of the beautiful wildflowers our Project Officer Leigh Mathieson spotted on a recent walk on Bundidgerry Hill in Narrandera
August Newsletter
Hello everyone, and Happy Landcare Week!
Landcare Week is an annual celebration of Landcare, where we take the time to acknowledge everyone in our community who is helping to restore, enhance and protect our natural environment.
This year's Landcare Week aims to showcase how "Landcare Is For Everyone", from schools to farmers, individuals to Indigenous land managers, and of course our Landcare groups. Click here for some inspiration on what some of our local Riverina Landcare Champions have achieved in recent years.
As always, if you would like to suggest an idea for a future project or activity - or get some inspiration from what others around the Riverina and beyond are doing - please don't hesitate to contact your Local Landcare Coordinator for support and assistance. We're here to help all Landcarer's in our region.
Nicole and the team at MLi

Arborgreen & Landcare Australia
Special Landcare rates on Arborgreen supplies
Arborgreen have recently established a partnership with Landcare Australia, with benefits for all Landcare groups! The partnership aims to educate the wider Landcare community on best practice tree planting and revegetation. It will also support the Landcare community with special Landcare pricing on tree guards and other products!
Crowd-funding campaign to publish Eating Democracy (Australian Food Sovereignty Alliance)
Eating Democracy tells the story of eleven eaters doing things differently, to grow, provision and cook in ways that are fair to soil, water, plants, animals and people. These eaters are helping to build a new food system based on culture, community, and the health of our society and ecosystems, without blowing the household or the planetary budget. You can help AFSA publish this book by pledging your financial support - starting at just $1.
Drought Hub survey (Southern NSW Drought & Innovation Hub)
Closes 25 August
The Hub is calling on stakeholders to provide feedback, ideas and commentary on the operations and priorities of the SNSW Hub. This information will help shape the future of the Hub for the next funding period, 2024 - 2028.
Annual costs of feral deer (Centre for Invasive Species Solutions)
This new report has found that the combined cost of deer control and production loss due to feral deer for the agricultural industries was approximately $69.1 million. This information is supported by new guidelines on feral deer exclusion fencing, and a revised Feral Deer Management Toolkit.
Jade Auldist, Riverina Regional Agricultural Landcare Facilitator
Word from the RALF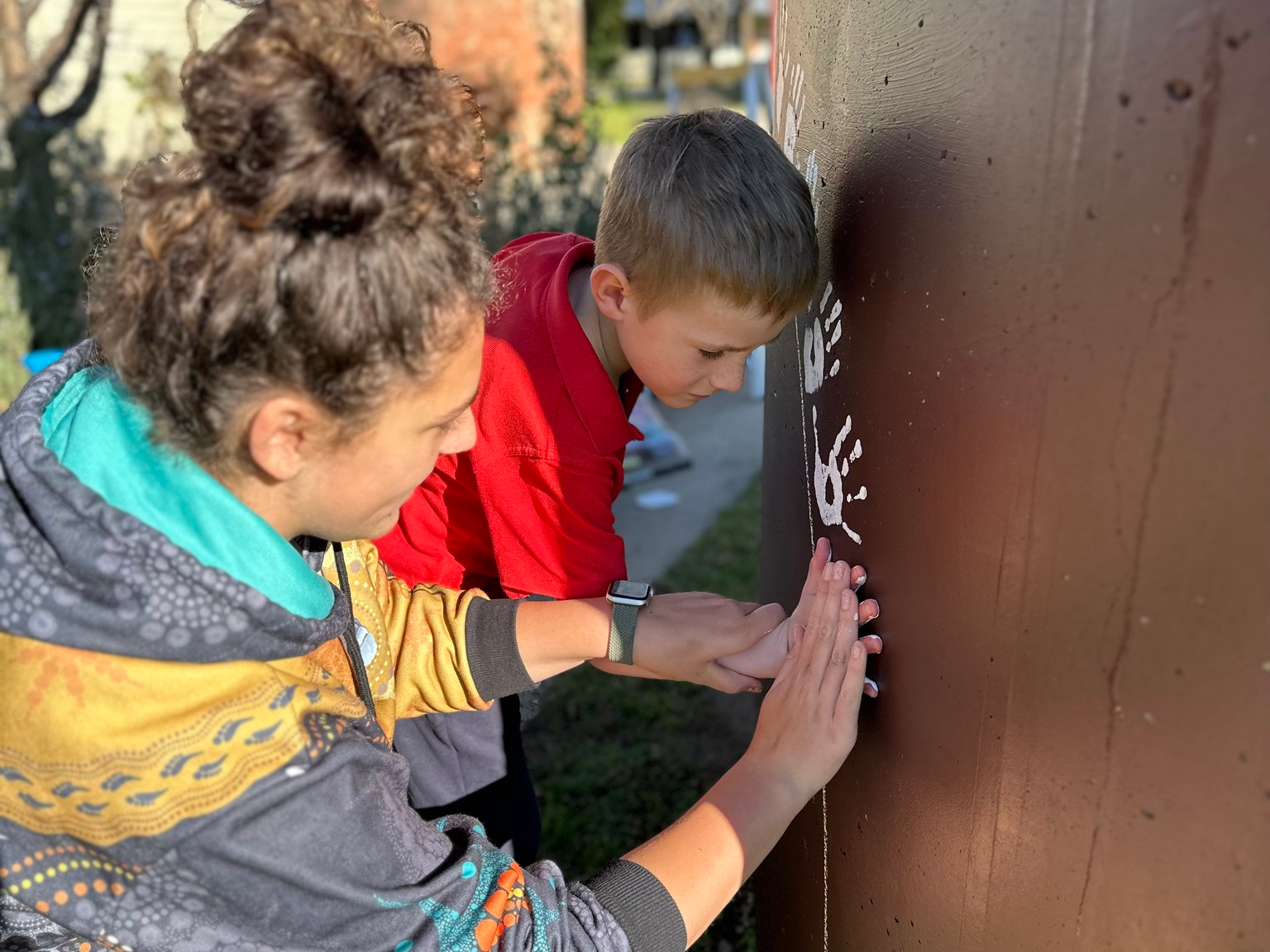 On the morning of Thursday 27th July, Hay Public School came alive with vibrant colours, laughter, and an air of excitement as students gathered to celebrate NAIDOC Day. The school was fortunate to have the presence of four Wiradjuri Elders from Narrandera Sandhill's artefacts, including Uncle Michael, Uncle Phillip, Uncle Graham and Aunty Nita. The day's events were further enriched with the participation of Wiradjuri artist and former Hay Public School student, Emma Johnston, who joined in the festivities.
The NAIDOC celebrations at Hay Public School featured a series of five engaging rotations, each offering a unique opportunity for students to learn and immerse themselves in traditional Aboriginal culture.
Murrumbidgee Landcare events
11 August, 7.00 to 9.00 pm, Cootamundra
Special screening: Rachel's Farm
Join us for a special screening of the movie Rachel's Farm, followed by a Q&A panel featuring Rachel Ward herself, along with locals including David Marsh (Regenerative Farmer), David Alexander (Regenerative Farmer and producer of Coota Kelso lamb) and Amanda Levett (Traditional Custodian and Wiradjuri Woman).
13 August, 1.00 to 2.30 pm, Wagga
Curious Catchment Keepers
Join us for a Sunday afternoon conversation, featuring an inspiring panel of Riverina women - Sandra Ireson, Louise Freckleton and Kellie Penfold. We'll dive into their lives, their passion for agriculture and community roles. Afterwards, there will be time for questions and conversations.

'Burning Generation' art exhibition (Charles Sturt University)
1 to 31 August, Tumut
This exhibition presents art, comments, opinions and experiences creatively communicated by a group of seven young people aged 12 to 18 years old who live in the Snowy Valleys and experienced the Black Summer Bushfires. CSU researchers partnered with local artist Claire Harris through a series of free workshops with young people, where the young people were supported to express themselves creatively in relation to difficult issues.
CSU Global Digital Farm tour (Tarcutta Valley Landcare Group)

11 August, 10.30 am to 12.00 pm
CSU's Global Digital Farm is a physical and virtual hub for validation and demonstration of agritech innovations under both controlled and real operating conditions. Join Tarcutta Valley Landcare on this fascinating tour, and see what is new in this innovative space.

Let's talk trees in 2023 (Yass Area Network of Landcare Groups)
11 August, 1.00 to 3.30 pm, Yass
Can I get paid to plant trees? Graham Fifield from Greening Australia will share how the carbon market provides an opportunity to fund large scale revegetation and conservation projects on private land. This will be followed by a presentation from Andrew Woolridge from the Department of Planning and Environment on using landscape hydrology to determine tree lane placement.

National Tree Day planting (Narrandera Landcare)
12 August, 9.00 to 11.00 am, Griffith
Grab your shovels, buckets and family members and join Narrandera Landcare for a morning of tree planting! Help plant up to 200 native trees and shrubs and create an environmental haven for our native wildlife.
Tree planting days (Wagga Wagga Urban Landcare)
13 and 27 August, Wagga
Join Wagga Landcare to plant several hundred seedlings at two sites, as part of a 'Climate Ready Revegetation' project. The group have propagated these seedlings using seed from different provenances, to compare their survival and help us plan future revegetation projects for a changing climate. There will be a limited number of free seedlings available for volunteers! Please email us for time and location details.
Thriving Women conference (Women Together Learning)

13 to 15 August, Wagga. Tickets start at $434.50
This is the premier conference event to secure a sustainable future for women living and working in agriculture and associated industries. ​The 2023 theme, Growing and Inspiring Women Connected through Agriculture, will focus on the critical role women play in the day-today operation of primary production, natural resource management and rural communities. 

Volunteer to plant at Moorlands Biodynamic Farm (Greening Australia)
Various dates Aug to Oct, nr Yass
Vince Heffernan, a legend of the Australian regenerative agriculture movement, is calling for volunteers to help plant 6,000 native trees and shrubs on his property. These will add to the more than 65,000 he has already planted, offering habitat to a range of species including the Superb Parrot. Volunteers are welcome to camp at the farm.
Squirrel Glider spotlighting night (Riverina Local Land Services)
18 August, 5.00 to 8.00 pm, Tarcutta
Come along for a spotlight and stag watching event at Mates Gully TSR, where you will have the opportunity to see some of the nocturnal animals that live in the reserve including the endangered Squirrel Glider. You will learn about the Squirrel Glider and their habitat, hear from CSU Ecologist Damian Michael about recent glider surveys in the area, and learn how you can get involved and help this species to recover.
10th Australian Wildflower Conference (Wildflowers Australia)
18 to 19 August, Moama. Tickets start at $387.
Day 1 is an industry conference with plenary speakers, workshops and an industry dinner with guest speaker Angus Stewart. Day 2 features a bus tour to two farms in the region. To encourage more growers a 'getting started' workshop is included in the program.

Innovation Expo (Riverine Plains)
24 to 25 August, Mulwala. Tickets start at $500.
This expo will focus on helping farmers future-proof and proactively manage their businesses in a rapidly changing global market. Day 1 features a range of presentations and panel sessions, followed by a Gala dinner, while Day 2 will be a farm tour showcasing livestock and grain farming innovations across the region.
NSW Rural Women's Gathering (NSW Government)
25 to 27 August, Orange. Tickets cost $250 for full program
The Gathering seeks to provide rural women with support, information and skills to enable them to address the challenges they face living in a rural location. Aside from meeting like-minded women and socialising, you'll also hear from inspirational women and enjoy hands-on experiences at the workshops.

Making stock management areas manageable: Sheep (Holbrook Landcare Network)
11 September, 8.30 am to 1.30 pm, Tarcutta
Joined by former DPI Livestock Officer Greg Meaker and Agrista Consultant Tanisha Shields, this workshop will cover the essentials for establishing and managing a sheep containment area. There will also be a focus on demonstrating how 'Return on Investment' tools can aid in economic decision making when justifying the use of SMAs in your enterprise.

Low Stress Stock Handling 2-day workshop (Young District Landcare)
11 and 12 September, Monteagle. $880 per person (25% discount for additional people from the same business).
This workshop can help you achieve calm, confident management
of livestock in all situations. It caters for those with little or no
experience in handling stock, right through to highly competent
stockpeople.
Indigenous knowledges informing our modern world (Australian Academy of Science)

8 August, 10 October and 12 December
This series is investigating how the intersection of Indigenous knowledges is informing our understanding of topics including climate change, agriculture and astronomy. The August event is titled 'Caring for Land and Country', and will explore the intimate understanding Aboriginal and Torres Strait Islander peoples have of their local environments, built on centuries of observation and interaction with the land.

Adapting our food systems (Sydney Environment Institute)
9 August, 5.30 to 6.30 pm
Industrial agriculture is a key contributor to the climate crisis, which threatens the resilience of our food systems. But this panel of farmers and agricultural researchers will explore innovative farming practices that are transforming and helping to restore our ecosystems.

The ecological importance of mistletoe (Birdlife Australia)
9 August, 7.00 to 8.00 pm
Mention mistletoe and most people think of a parasitic pest that kills its host tree. But nothing can be further from the truth! As experts Prof. Dave Watson and Kristy Peters will explain, mistletoe is an amazing little plant that punches high above its weight when it comes to supporting biodiversity, even playing an important role in protecting the critically endangered Regent Honeyeater.
El Niño summer is coming: Get bushfire resilient (Bushfire Resilience Inc)
9, 16 and 31 August, 7.30 to 9.00 pm
Recent rainfall has supercharged fuel loads, and dry conditions will increase fire risks next summer, especially grass fires. This webinar series will cover: Pets and bushfires (9 Aug), getting ready for an El Niño summer (16 Aug), and reducing risks for people and houses (31 Aug).
Innovative Approaches for Drought Resilience (Southern NSW Drought Resilience Hub)
10 August, 3.00 to 4.00 pm
Effective decision-making regarding which breeders to keep and which to sell in drought is crucial for livestock producers to minimise financial, environmental, and emotional impacts. These decisions are not solely based on rational evaluations but are influenced by social and behavioural factors, highlighting the importance of understanding the psychological aspects that shape decision-making.
Carbon farming and soil carbon webinar (NSW Department of Primary Industries)
11 August, 12.30 to 1.30 pm
What is carbon farming? What is it not? What do you need to know to decide if you want to do carbon farming? What is the latest on soil carbon? Join this webinar for a short presentation by Susan Orgill, followed by your opportunity to ask questions of her in a facilitated discussion.
National Science Week webinars (Atlas of Living Australia)
15, 16 & 17 August, 1.00 to 2.00 pm
This special webinar series will cover the following topics: Beginner's guide to the ALA Galah tool (15 Aug); The importance of open science (16 Aug); and Maximising your metadata for citizen science (17 Aug).
Flora after fire: Winners, losers and lessons (Australian Network for Plant Conservation & University of NSW)
16 August, 12.30 to 4.30 pm
This online symposium, featuring speakers from across Australia, will focus on the post-fire recovery of native vegetation. Topics include: plant and fire relationships; impacts and observations (case studies); and lessons and actions moving forward.
Dam restoration webinar (NSW Biodiversity Conservation Trust)
16 August, 1.00 to 2.00 pm
Learn from expert ecologists on the importance of bringing biodiversity back to farm dams. You'll learn about dam access control, revegetation and creation of aquatic habitat as a means to restore and enhance your farm dam for native wildlife.
Platypus webconnect (Yass Area Network of Landcare Groups)
17 August, 12.30 to 2.00 pm
Do you want to learn more about platypus? Where they are, what they are doing, if they are healthy, and how we can work towards their conservation? Senior Wildlife Ecologist Josh Griffiths will help you discover the fascinating world of platypus.

Grant Writing Workshop (Startup Shakeup)
17 August, 4.00 to 5.30 pm. Tickets cost $25 + bf
In this workshop, you will learn the essential aspects to consider before, during, and after writing a successful grant application. Although the topic may appear limitless, there are simple processes and guidelines to help you navigate through.


National Custodians of Country Gathering (Firesticks Alliance & Landcare Australia)

22 or 23 August
Tickets for this event have sold out, however the Agriculture Workshop will be live streamed for free via the Landcarer platform. The session will be hosted twice: on Tuesday 22 August, 10.45 am to 12.15 pm; or Wednesday 23 August, 1.45 to 3.15 pm.
Seeding Success: Business finances (Rural Financial Counselling Service)
25 August and 1 September, 1.00 to 2.30 pm
This workshop is designed for people aged 18-24 who are considering a career in agriculture, or have just started employment. It will be split into two sessions - Session One (25 Aug) will work through an agricultural production schedule and resulting cashflow and budget. Session Two (1 Sep) will cover financing choices and possible options to becoming a first generation farmer.
Farm dam management and enhancement: Research update (Sustainable Farms)
30 August, 12.30 to 1.30 pm
ANU researchers Dr Ben Scheele and Dr Helena Clayton will introducing the new farm dam management resources, share some of the multiple benefits that arise from enhancing farm dams, and discuss how to undertake a dam enhancement project.
All you need to know about farm-scale natural capital accounting (Landcare Australia)
7 September, 11.00 am to 12.30 pm
Expert speakers including Dr Jim Radford (La Trobe University) and Angela Hawdon (Bush Heritage Australia) will introduce natural accounts, their development and the data  they contain. They will demonstrate the potential of these accounts to inform farm  management, demonstrate environmental performance, and document transparency in the supply chain.
SWIFFT seminar series (State Wide Integrated Flora and Fauna Teams)

26 October
These interactive sessions help connect researchers, land managers, government agencies and community groups. Upcoming topics include: Surveys and monitoring (26 Oct).
Funding and Opportunities
Murrumbidgee Landcare grants
Landcare-Led Resilience Project
We are seeking Expressions of Interest from landholders wishing to receive support to establish a revegetation site over the next two years. These sites will contribute to the demonstration of techniques that make revegetation more resilient to climate, and contribute to farm business resilience. 

Securing the Black Falcon in the Riverina (Riverina Local Land Services)

This project aims to encourage breeding and expand the Black Falcon population in the Riverina priority area, by protecting and enhancing native active nest sites, and establishing new artificial nesting sites. Landholders who have seen Black Falcons in the local area, and have areas of potential habitat for nesting are encouraged to apply for funding support.
Small Environmental Grant Scheme (Wettenhall Trust)

Applications OPEN 1 July
Grants of up to approximately $10,000 are available to support projects that will make a positive difference to the natural living environment, in land, sea or air, rural or urban. Projects should be focused on flora and fauna conservation or threatened mammal conservation, and should involve: monitoring, recording and sharing data; delivering community education; providing community capacity building; or research and science.

People with Purpose grants (Inika Organic)

Close 9 August
This grant aims to recognise, support and celebrate our unsung community heroes who are doing incredible things in sustainability, environmental protection or animal welfare. The 2023 Person with Purpose will receive a $10,000 grant to further invest in their cause. The program aims to support grassroots efforts, so is open to individuals and small groups of volunteers (up to 10 people) to help support their purpose.

ANZ Seeds of Renewal grants (Foundation for Rural Regional Renewal)
Close 10 August
This program aims to fund projects that help to build vibrant communities (those that are diverse and inclusive with strong social capital) and sustainable communities (those that innovate, expand and create opportunities contributing to economic sustainability). Grants of up to $15,000 are available.
Nutrien Ag Solutions Community Grants program (Foundation for Rural Regional Renewal)
Close 10 August
This program supports local grassroots organisations with funding for projects that are meaningful for their communities. Before applying, applicants must contact a Nutrien Ag Solutions branded store Branch Manager to be endorsed. Grants of up to $5,000 are available.
Carbon Farming Outreach program (Australian Government)
Close 14 August
This program will provide grants of between $1 million and $17.5 million, over 3 years, for organisations to deliver training and advice to farmers and land managers across Australia. Successful applicants will deliver training and advice to empower Australian farmers and land managers to participate in carbon markets and integrate low emission technologies and practices into their farming operations and land management practices.
Support Plantation Establishment program (Australian Government)
Rounds close 15 August, 25 October & 24 January 2024
This program requires grantees to establish a new long-rotation plantation forest in Australia of at least 20 hectares; provide a Plantation Management Plan (PMP) endorsed by a suitably qualified forestry professional; and manage the plantation forest according to the PMP. Applicants must provide a co-contribution at least equal to the grant amount awarded; this can be through the value of the land the new plantation will be established on. Grants will be $2,000 per hectare of new plantation established, with grant amounts starting at $40,000; there is no maximum grant amount. Projects can run for between 1 and 4 years.
Infrastructure Grants: community infrastructure (NSW Government)
Close 21 August
Grants of $50,000 to $250,000 are available to fund the costs of construction, alteration, renovation, completion and fit-out of buildings and community infrastructure to deliver outcomes for disadvantaged NSW communities including regional, disaster-affected, disability and Aboriginal and Torres Strait Islander communities. 
Backing the Future grants (Vincent Fairfax Family Foundation)
Close 28 August
This program will give 20 individuals or groups of individuals across NSW and QLD $50,000 to advance an idea to support rural and regional young people aged 15-24 to care for the environment, or
contribute to society. Applications are not accepted from registered charities or organisations.
Strengthening Rural Communities grants (Foundation for Rural & Regional Renewal)

Close 31 August
Grants are available for a broad range of grassroots initiatives that benefit local communities. Under the 'Small & Vital' stream, grants of up to $10,000 are available for communities with fewer than 15,000 people. Under the 'Prepare & Recover' stream, grants of up to $25,000 are available for communities affected by the 2019/20 Black Summer bushfires. Under the 'Rebuilding Regional Communities' stream, grants of up to $10,000 are available for projects that enhance the recovery from Covid-19 and foster more resilient regional communities.

Farms of the Future grants (NSW Department of Primary Industries)
Close 31 August
Grants of between $5,000 and $35,000 are available for primary producers in the Carrathool, Griffith and Leeton LGAs to purchase the latest agtech equipment and connectivity solutions to address their farm needs. Applicants must first complete the 'Monitoring your farm with Agtech' training program (available as a one-day in person or online course). Proposed agtech, connectivity and dashboard solutions must be selected from the Program Partners in the Farms of the Future Agtech Catalogue.
NAB Foundation Community Grants (National Australia Bank Foundation)
Close 31 August

Grants of up to $10,000 are available for projects that help communities prepare for natural disasters, support long-term recovery and build resilience to future disasters and climate change (with a focus on areas including food co-operatives and urban greening). Projects must be completed within 12 months.
Community Partnerships Program (Transgrid)
Close 31 August
Not-for-profit and community groups are invited to apply for grants of between $500 and $5,000 to undertake projects in areas local to Transgrid assets or construction. Projects should provide a lasting and tangible benefit to the community, and should be completed within six months.
Annual Community Grants (Scanlon Foundation)
Close 7 September

Grants are available in the areas of employment and literacy. Up to $30,000 in funding is available for projects that run for 1 year. Applicants must have Deductible Gift Recipient status.

Saving Native Species: Priority Species program (Australian Government)
Close 7 September
This program provides organisations with grants of between $20,000 and $500,000 to improve the trajectories for the 110 identified priority threatened species from the Threatened Species Action Plan (2022-2032). Projects can run for up to two years.
Community Grants Program (Alinta Energy)
Close 17 September
Grants of up to $20,000 are available for projects that will have a positive impact on either social disadvantage or environmental sustainability. Projects should be completed within 12 months, and must be located within Alinta Energy's area of operations.
Inland Rail Sponsorships (Australian Rail Track Corporation)

Close 31 October
Community groups are invited to submit applications to fund an activity, event or project that will benefit your local community. Funding of between $1,000 and $4,000 is available for individuals and organisations in regional areas along the Inland Rail route that contribute to local and regional prosperity, well-being and sustainability.

RAS Foundation Community Futures Grant (Royal Agricultural Society of NSW)
Applications close 30 November
Grants of up to $25,000 are available for community projects that deliver strong community benefits and result in enhanced economic and social outcomes for your community. Projects that involve collaboration between people in your town and deliver sustained and broad community benefits will be highly regarded.
Gang-gang Cockatoo Edu-Action course (Birdlife Australia)
11 August to 31 October, online
This free course will take about 3 hours, and will teach participants about Gang-gang Cockatoos, their ecology and behaviour, and how you can help. You will then be supported to develop your own action plan to help these Endangered birds.
Your Regenerative Journey (Charlie Arnott)

16 August to 4 October, online. Tickets start at $495.
This 8-week webinar series features global experts presenting on a different principal each week, helping participants to unlock the full potential of sustainable living practices. Presenters include Nicole Masters (soil health), Stuart Andrews (landscape function) and Brian Wehlburg (grazing management). An optional farm tour at Boorowa will be held at the conclusion of the series.
ATOMA Leadership program for 12-17 year old youth (PCYC Wagga & RJ Promotions)
Applications close 20 August (program runs 5 Sep to 24 Nov)
ATOMA is the Greek word for unbreakable, and this program is designed to help young people develop their leadership and teamwork skills while improving their self-esteem and self-confidence. The program will run for 12 weeks, with participants required to attend all sessions.
Youth Mental Health First Aid training (Wagga Wagga City Council)
12 & 13 September, or 17 & 18 October, 9.00 am to 4.30 pm, Wagga. Tickets cost $21.97.
About 1 in 4 young Australians experience a common mental illness each year. This training will teach you practical skills to support an adolescent with a mental health problem and make a real difference to the young people in your community. Please note: must be 18 years plus to participate in training.
Scholarships, awards and other opportunities
First Nations Impact Lab (GARUWA and Doc Society)
Applications close 13 August
Are you a First Nations filmmaker, campaigner, advocate, activist, storyteller, educator or social/environmental changemaker? You are invited to apply to attend the First Nations Impact Lab, a collaborative environment led by First Nations knowledge holders and informed by best practice to inspire you, connect you with a network of like-minded practitioners and sharpen the strategies for your current project that lead social and/or environmental transformation. You must be available to travel to Kangaroo Valley for the lab from 3 to 6 October, and you must apply with an active project for social and environmental change.
Farm Business Resilience Program (NSW Department of Primary Industries)
This program provides support to farmers to help improve their farm business acumen and achieve their business goals. It offers fortnightly one-on-one business coaching sessions (via zoom), farm tours, workshops and networking events. The program is ideal for farmers who are looking to learn about risk management, how to adapt to a changing climate, and improve the economic, environmental and social resilience of their business.

Wild at Art: Threatened species art competition for kids (Australian Conservation Foundation)
Entries close 7 September
Children aged 5 to 12 are invited to submit an artwork that depicts threatened Australian plants or animals. Artworks can be a drawing, painting or mixed media work (photographs, videos, digitally created artwork and three-dimensional sculptures will not be accepted). The judges are looking for surprising or interesting interpretations and compositions, and work that demonstrates an emotional connection with the species. There are multiple prize categories.
Brungle-Tumut Aboriginal Land Council
New video on the 'Buugang Wambal' project
This heartwarming video showcases the incredible achievements of the 'Buugang Wambal' project, which is connecting Aboriginal communities with Country and also helping to conserve 3 critically endangered species - the Tumut Grevillea, and the Southern and Northern Corroboree Frogs.
Australian Government
National Statement on Climate Change and Agriculture
The National Statement is an Australian first, and presents a unified vision on climate change and agriculture. It presents a commitment to establish strong leadership and direction, and maintain global leadership on climate change and agriculture, and advocate for agriculture's interests in the whole-of-economy transition to net zero.

Murrumbidgee Landcare
PO Box 710 Wagga Wagga NSW 2650

You received this email because you are on our newsletter mailing list. Please click the link below if you would like to unsubscribe.
Unsubscribe