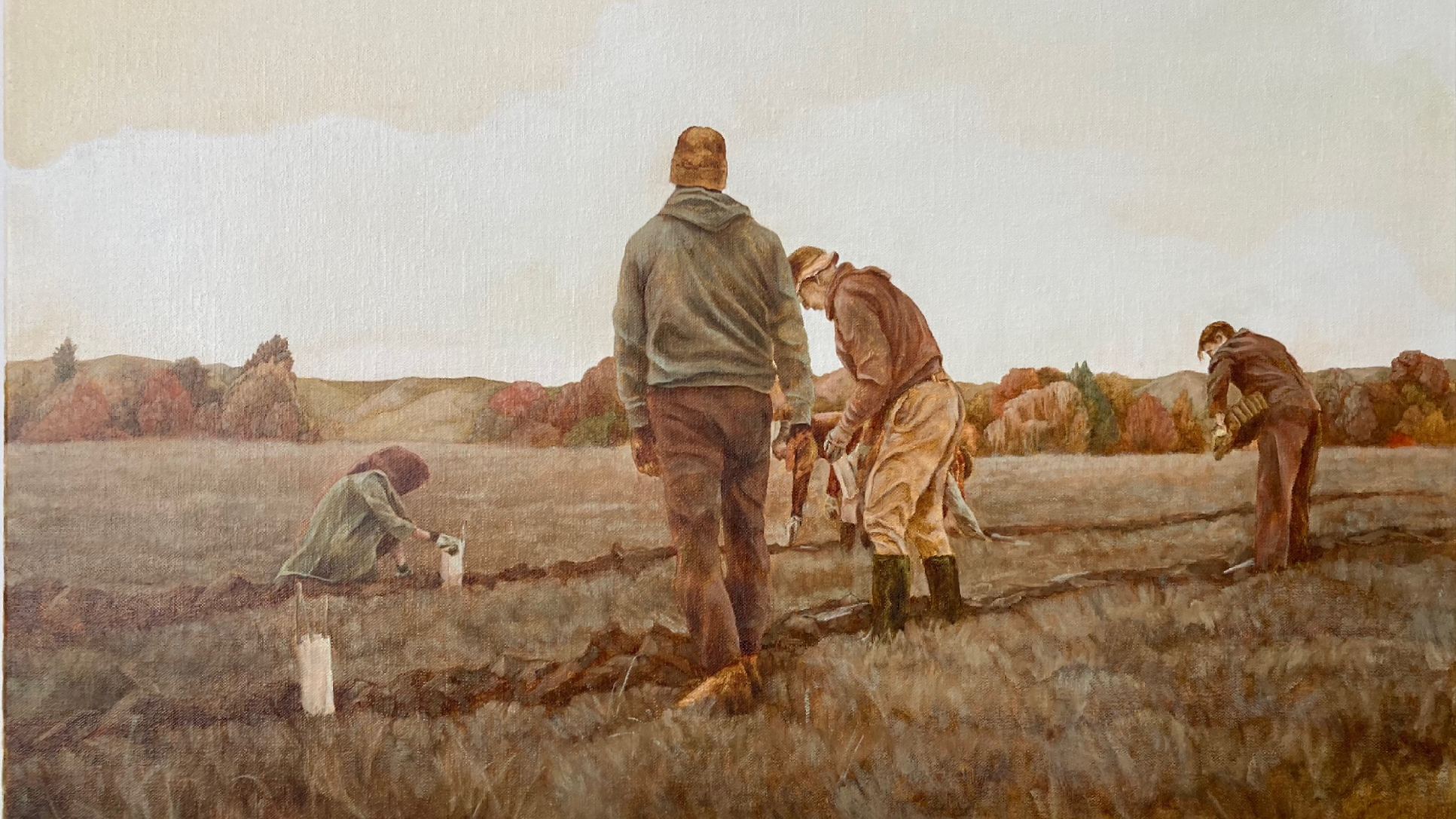 Artwork by Nicola Dickson, from her 'Only a Remnant' exhibition
July Newsletter
Hello everyone, and welcome to our July newsletter!
The beautiful artwork above is by Nicola Dickson, who painted this piece based on a Wagga Wagga Urban Landcare group planting at the CSU Farm last year. You can view this and more of Nicky's incredible paintings at the Only a Remnant exhibition currently showing at Wagga Wagga Art Gallery. The exhibition explores biodiversity loss in the Riverina, centering upon the Box Gum Grassy Woodlands that once covered much of our region.
A great way to help restore some of our local biodiversity is to get involved in a planting day - there are lots of events coming up for National Tree Day this year, with events planned for the last weekend in July in Tumut, Wagga, Narrandera, Hay and many more places. These are always fun events for the whole family, so get involved!
As always, if you would like to suggest an idea for a future project or activity - or get some inspiration from what others around the Riverina and beyond are doing - please don't hesitate to contact your Local Landcare Coordinator for support and assistance. We're here to help all Landcarer's in our region.
Nicole and the team at MLi

You may have noticed that there was no newsletter in June; I had to take several weeks' unplanned leave so unfortunately wasn't able to do the newsletter last month. My apologies for this, but I hope you enjoy this bumper July issue!

Murrumbidgee Landcare & Holbrook Landcare
Survey on Revegetation Guides
Murrumbidgee Landcare, in partnership with Holbrook Landcare Network, are delivering the Landcare-Led Resilience project. A key component of this is to deliver a climate-ready refresh of the South West Slopes Revegetation Guide and the Native Vegetation Guide for the Riverina. To help do this, we are seeking feedback from those who use these guides. The survey has 3 questions, and should only take 5-10 minutes of your time.
Draft 'People's Food Plan' open for consultation (Australian Food Sovereignty Alliance)
Public consultation open until 1 September
The updated Peoples' Food Plan draft has been a year in the making, drawing on over a decade of policy reform on behalf of AFSA members. Public consultation is an opportunity to give feedback on the draft document, to ensure it captures all issues, false solutions, actions and recommendations for radical food system transformation.
NSW State of Volunteering Survey (The Centre for Volunteering)
Volunteers are invited to complete a survey to provide input to the second NSW State of Volunteering Report. This project holds the power to shape the policies, resourcing and overall future of volunteering. There is also a volunteer manager survey available  here. You can complete one or both, as applicable.
Share your views on private land conservation (University of Queensland)
This survey aims to understand landowners' views (both negative and positive) on protecting native plants and animals through conservation covenants on their land. Participation should take around 25 minutes, and you will have the opportunity to enter a prize draw to win a $500 gift voucher.

Jade Auldist, Riverina Regional Agricultural Landcare Facilitator
Word from the RALF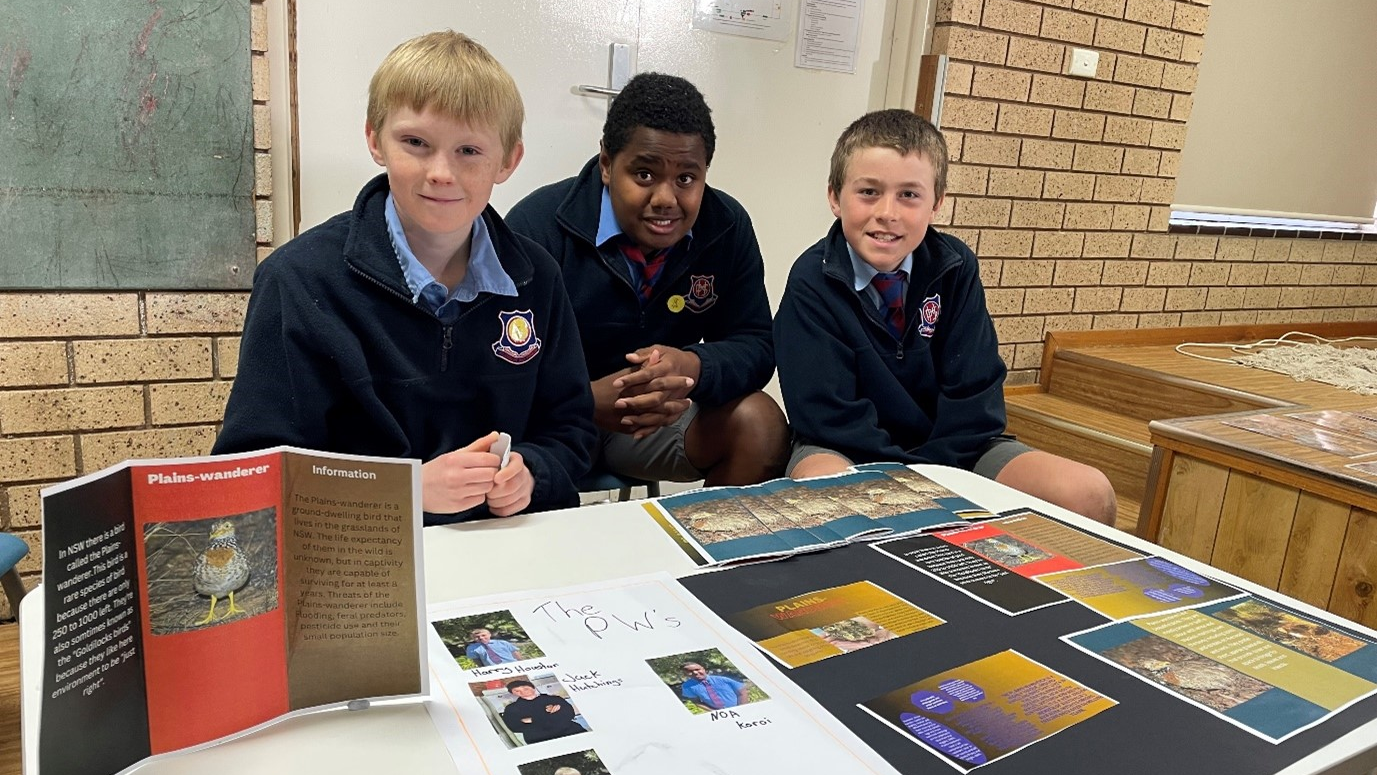 School students from Hay have recently been learning about the critical efforts being made to save the Plains-wanderer, a bird species on the brink of extinction.
Under the guidance of experts, the students engaged in a range of activities designed to deepen their understanding of Plains-wanderer conservation. These activities included visiting a local property which serves as a release site for the Plains-wanderer, a visit to Taronga Western Plains Zoo to learn about the Zoo's Plains-wanderer conservation breeding programs, and an expo day where the students shared their knowledge with the local community of Hay.
Murrumbidgee Landcare events
11 July, 9.30 am to 2.30 pm, Temora
Understanding Soils with David Hardwick
This hands-on workshop will give participants an introduction to soils and soil health, covering the biological, physical and chemical aspects of soils. Morning tea will be provided. Please bring: Lunch, water, warm clothes, and a 20 cm3 cube of topsoil from a paddock you are interested in (you can bring more than one).
13 August, 1.00 to 2.30 pm, Wagga
Curious Catchment Keepers
Join us for a Sunday afternoon conversation, featuring an inspiring panel of Riverina women! We'll dive into their lives, their passion for agriculture and community roles. Afterwards, there will be time for questions and conversations.

Ladies on the Land (Harden Murrumburrah Landcare Group)

6 July, 9.30 am, Murrumburrah
Join the group for morning tea and hear from Bronwyn Ryan (NSW Farmers), Faith Rogers (Rural Adversity Mental Health Program) and Julie Roberts (Harden-Murrumburrah Landcare Group Coordinator).
Carbon conversations (AgriFutures)
10 July, 1.30 to 5.00 pm, Wagga
This session aims to understand your insights on solutions that could help Australian agricultural industries reach a Net Zero Future. By better understanding the opportunities and challenges farmers are facing, AgriFutures Australia can plan and provide more targeted support where it's needed.
Colours of conversation: Painting for wellness (Riverina Local Land Services)
11 July, 10.00 am to 12.00 pm, Hay
Come and be a part of this vibrant and inclusive event that promises to inspire healing, foster connections, and leave you with a renewed sense of hope. Join us as we paint our way to wellness and resilience - no artistic experience necessary!
Kids Frog Hotel making workshop (Narrandera Landcare)
14 July, 10.00 to 11.30 am, Narrandera
Kids (and their parents/carers) are invited to join Narrandera Landcare for a fun Frog Hotel making workshop during the school holidays. Frog hotels encourage frogs to come and live in your backyard and are a great option to provide habitats for local tree frogs.
Strategic Flystrike management workshop (Australian Wool Innovation)
15 July, 8.30 am to 3.30 pm, Young. Tickets $75.
This workshop will help you reduce the incidence and impact of flystrike on your flock and your profits. It will focus on aspects which help reduce cost, production losses and the animal welfare impact, and will help you create a flystrike management plan and annual calendar which combines short and long-term tools and strategies.
Let's plant 2,000 trees! (Old Junee Hall & Reserve)
16 & 23 July, 9.00 to 11.00 am, and 12:30 to 2:30 pm. Old Junee
Come along and help plant 2,000 trees at the Old Junee Recreation Reserve! Please bring a hat, drink bottle, sunscreen and shovel (if you have one). Lunch provided up the road at the Old Junee Hall,
Nature-Based Solutions Conference (Carbon Farmers of Australia)

17 to 19 July, Brisbane. Tickets start at $400, or $330 for virtual attendance.
This conference is the new incarnation of the National Carbon Farming Conference. In addition to carbon markets, it will cover tree carbon, soil carbon and biodiversity.


Tree planting machine demonstration (Hay Landcare)
18 July, 10.00 am to 2.00 pm

Come along to this demonstration day to experience firsthand the effectiveness of our tree planting machine, towed by a tractor. The tree planting machine is available for all members to use. Participants will also be able to observe the benefits of native vegetation and habitat corridors for production and conservation.

Plan your future with confidence (Regenerative Agriculture Alliance)
20 July (online) and 9 to 10 August, Lismore. Tickets cost $100  per person, or $150 per couple.
This two-day workshop will teach you vital holistic decision-making skills and help you develop action plans to prepare for, and respond to, climactic events. Hosted by Helen Lewis, a Savory Institute accredited professional educator, you will gain the confidence to plan a future that aligns with your vision and values.
TRAN$ITION23: Paths to change (Vic No-Till)

18 to 20 July, Moama. Tickets $675 for full conference
This 3-day conference aims to help you get the best out of your farming system. It features a keynote presentation from Tim Parton, UK Arable Farmer & Farm Innovator of the Year, and presentations from Allan Parker OAM, Matt Tonkin (Sober in the Country) and other leading Australian farmers.

Irrigation Insights conference (Irrigated Cropping Council)
21 July, 9.00 am to 5.30 pm, Moama. Tickets cost $90.
This event brings together researchers, experts, visionary minds, and primary producers, providing a platform to discover innovative approaches, explore major challenges, and seize opportunities to address the pressing issues shaping the future of irrigated agriculture.

'The Last Daughter' community screening
26 July, 6.00 pm, Wagga. Tickets $22.
This film is a powerful and inspiring documentary about Brenda, who  grew up in a loving white foster family, before she was suddenly taken away and returned to her Aboriginal family. Decades later, she felt disconnected from both halves of her life, so went searching for the foster family with whom she had lost contact. Along the way she uncovered long-buried secrets, government lies, and the possibility for deeper connection to family and culture.

Getting to the heart of natural intelligence (Natural Intelligence Farming & Long Grass Ag)
7 August, Cootamundra. Cost to attend.
This workshop will introduce you to the process of natural intelligence farming, helping you to be an intuitive caretaker. It will be hosted by Jane Slattery, with Em & Jim Alexander. Please register your interest by 8 July: 0439 390 840 or [email protected].
Australian Rice growers' conference (RGA, SunRice and AgriFutures)
10 to 11 August, Griffith. Tickets start at $150.
The program includes a field tour; research update; Women in Rice breakfast; a full day of engaging exhibitors, presentations & panel discussions; and the Rice Industry Awards and gala dinner.
Thriving Women conference (Women Together Learning)

13 to 15 August, Wagga. Tickets start at $434.50
This is the premier conference event to secure a sustainable future for women living and working in agriculture and associated industries. ​The 2023 theme, Growing and Inspiring Women Connected through Agriculture, will focus on the critical role women play in the day-today operation of primary production, natural resource management and rural communities. 
10th Australian Wildflower Conference (Wildflowers Australia)
18 to 19 August, Moama. Tickets start at $387.
Day 1 is an industry conference with plenary speakers, workshops and an industry dinner with guest speaker Angus Stewart. Day 2 features a bus tour to two farms in the region. To encourage more growers a 'getting started' workshop is included in the program.
Innovation Expo (Riverine Plains)
24 to 25 August, Mulwala. Tickets start at $500.
This expo will focus on helping farmers future-proof and proactively manage their businesses in a rapidly changing global market. Day 1 features a range of presentations and panel sessions, followed by a Gala dinner, while Day 2 will be a farm tour showcasing livestock and grain farming innovations across the region.
Will ChatGPT change how we do agricultural extension? (Southern NSW Drought Resilience Hub)
6 July, 3.00 to 4.00 pm
In this webinar, Dr John James, Director of Enablers of Change, will discuss this new technology, where it might get to, and what we can do to be ready for it. John will share his reflections and experiences on what exactly ChatGPT is, what areas of agricultural extension it will support, and where it might disrupt.
Protecting pollinators: Safeguarding food security for a sustainable future (Yarra Ranges Council)
6 July, 7.00 to 8.00 p

This webinar will cover the vital role of pollinators in ensuring global food security and nutrition. Learn about the importance of pollinator species and their habitats; and the impact of different agricultural management practices on pollinators.
Simplify measuring and recording carbon with FarmLab (Landcare Australia)
11 July, 11.00 am OR 6.00 pm
These webinars will provide producers with valuable insights into utilizing technology to record and measure both soil and the overall environment, with a focus on quantifying soil carbon.
SWIFFT seminar series (State Wide Integrated Flora and Fauna Teams)
27 July & 26 October
These interactive sessions help connect researchers, land managers, government agencies and community groups. Upcoming topics include: Agriculture supporting native flora & fauna (27 Jul), and Surveys and monitoring (26 Oct).
Adaptive management for ecosystem restoration (Arthur Rylah Institute)
7 August, 1.00 to 2.00 pm
This seminar will feature Professor Richard Kingsford, from the University of New South Wales, discussing strategic adaptive management and its relevance to large scale management and restoration of ecosystems.
Indigenous knowledges informing our modern world (Australian Academy of Science)

8 August, 10 October and 12 December
This series is investigating how the intersection of Indigenous knowledges is informing our understanding of topics including climate change, agriculture and astronomy. The August event is titled 'Caring for Land and Country'.

National Science Week webinars (Atlas of Living Australia)
15, 16 & 17 August, 1.00 to 2.00 pm
This special webinar series will cover the following topics: Beginner's guide to the ALA Galah tool (15 Aug); The importance of open science (16 Aug); and Maximising your metadata for citizen science (17 Aug).
Flora after fire: Winners, losers and lessons (Australian Network for Plant Conservation & University of NSW)
16 August, 12.30 to 4.30 pm
This online symposium, featuring speakers from across Australia, will focus on the post-fire recovery of native vegetation. Topics include: plant and fire relationships; impacts and observations (case studies); and lessons and actions moving forward.
Farm dam management and enhancement: Research update (Sustainable Farms)
30 August, 12.30 to 1.30 pm
ANU researchers Dr Ben Scheele and Dr Helena Clayton will introducing the new farm dam management resources, share some of the multiple benefits that arise from enhancing farm dams, and discuss how to undertake a dam enhancement project.

Funding and Opportunities
Murrumbidgee Landcare grants
Landcare-Led Resilience Project
We are seeking Expressions of Interest from landholders wishing to receive support to establish a revegetation site over the next two years. These sites will contribute to the demonstration of techniques that make revegetation more resilient to climate, and contribute to farm business resilience. 

Securing the Black Falcon in the Riverina (Riverina Local Land Services)

This project aims to encourage breeding and expand the Black Falcon population in the Riverina priority area, by protecting and enhancing native active nest sites, and establishing new artificial nesting sites. Landholders who have seen Black Falcons in the local area, and have areas of potential habitat for nesting are encouraged to apply for funding support.
Community Support Program (Essential Energy)
This program offers grants to community groups and not-for-profit organisations who make a difference in their local community. Grants are available in two categories: Sponsorship under $5.000 and Sponsorship over $5,000.
Small Environmental Grant Scheme (Wettenhall Trust)

Applications OPEN 1 July
Grants of up to approximately $10,000 are available to support projects that will make a positive difference to the natural living environment, in land, sea or air, rural or urban. Projects should be focused on flora and fauna conservation or threatened mammal conservation, and should involve: monitoring, recording and sharing data; delivering community education; providing community capacity building; or research and science.
Canon Australia Grants Program (Canon)

Close 23 July
Grants of $5,000 ($2,500 in retail value and $2,500 cash) are available for groups to facilitate an educational, community or environmental project that will benefit the community. Grants are available in the following categories: Education (open to schools and other educational centres); Community; and Environment .
Community Tree Grants (Wheen Bee Foundation)
Close 31 July
20 grants of $500 are available for Landcare groups, schools and other community organisations to complete bee-friendly planting  projects. Applications will be judged on how the planting will benefit bees and other pollinators; the size of the planting and the details of the area; and community reach (how many people are involved in the planting, and how many people will learn more about the importance of planting for pollinators as a result of the grant).
Inland Rail Sponsorships (Australian Rail Track Corporation)

Close 31 July
Community groups are invited to submit applications to fund an activity, event or project that will benefit your local community. Funding of between $1,000 and $4,000 is available for individuals and organisations in regional areas along the Inland Rail route that contribute to local and regional prosperity, well-being and sustainability.
Growing Regions Program (Australian Government)
Close 1 August
This program aims to invest in community-focused infrastructure which revitalises regions and enhances amenity and livability throughout regional Australia. Grants of between $500,000 and $15 million (to cover 50% or more of eligible expenditure) over 3 years are available to construct or upgrade community infrastructure that fills an identified gap or need.
People with Purpose grants (Inika Organic)
Close 9 August
This grant aims to recognise, support and celebrate our unsung community heroes who are doing incredible things in sustainability, environmental protection or animal welfare. The 2023 Person with Purpose will receive a $10,000 grant to further invest in their cause. The program aims to support grassroots efforts, so is open to individuals and small groups of volunteers (up to 10 people) to help support their purpose.


Carbon Farming Outreach program (Australian Government)
Close 14 August
This program will provide grants of between $1 million and $17.5 million, over 3 years, for organisations to deliver training and advice to farmers and land managers across Australia. Successful applicants will deliver training and advice to empower Australian farmers and land managers to participate in carbon markets and integrate low emission technologies and practices into their farming operations and land management practices.

Strengthening Rural Communities grants (Foundation for Rural & Regional Renewal)

Close 31 August
Grants are available for a broad range of grassroots initiatives that benefit local communities. Under the 'Small & Vital' stream, grants of up to $10,000 are available for communities with fewer than 15,000 people. Under the 'Prepare & Recover' stream, grants of up to $25,000 are available for communities affected by the 2019/20 Black Summer bushfires. Under the 'Rebuilding Regional Communities' stream, grants of up to $10,000 are available for projects that enhance the recovery from Covid-19 and foster more resilient regional communities.

Farms of the Future grants (NSW Department of Primary Industries)
Close 31 August
Grants of between $5,000 and $35,000 are available for primary producers in the Carrathool, Griffith and Leeton LGAs to purchase the latest agtech equipment and connectivity solutions to address their farm needs. Applicants must first complete the 'Monitoring your farm with Agtech' training program (available as a one-day in person or online course). Proposed agtech, connectivity and dashboard solutions must be selected from the Program Partners in the Farms of the Future Agtech Catalogue.
NAB Foundation Community Grants (National Australia Bank Foundation)
Close 31 August

Grants of up to $10,000 are available for projects that help communities prepare for natural disasters, support long-term recovery and build resilience to future disasters and climate change (with a focus on areas including food co-operatives and urban greening). Projects must be completed within 12 months.
Community Partnerships Program (Transgrid)
Close 31 August
Not-for-profit and community groups are invited to apply for grants of between $500 and $5,000 to undertake projects in areas local to Transgrid assets or construction. Projects should provide a lasting and tangible benefit to the community, and should be completed within six months.
RAS Foundation Community Futures Grant (Royal Agricultural Society of NSW)
Applications close 30 November
Grants of up to $25,000 are available for community projects that deliver strong community benefits and result in enhanced economic and social outcomes for your community. Projects that involve collaboration between people in your town and deliver sustained and broad community benefits will be highly regarded.
Certificate III in Conservation & Ecosystems Management (TAFE NSW). Cost ranges from free to $11,640, depending on your circumstances.
This nationally recognised online course contains 16 units of study, delivered 2 evenings per week over 18 months. Students will develop knowledge and skills in areas including: Conducting ecological & cultural site inspections; Plant identification; Ecological restoration and assisted regeneration; Environmental weed control; and Recognising landforms and soil types.
People Power workshop series (Environment Victoria)
19 July to 9 August, online.
This workshop series will help you develop new skills to organise your community for environmental and climate action, make new friends, and take the next steps towards big wins in fighting the climate and environmental crisis. Participants are asked to commit to all 4 workshops. The workshops will be practical and challenging and will involve both large and small group activities.
Making Biofertilisers On Farm course (Soil Land Food)
26 July to 30 August, online. Tickets cost $330.
In this brand new online course you will learn how to make a range of cultures, biofertilisers and biostimulants on farm. Explore bioferts, effective microbes and Korean natural farming approaches, with tips from experienced Australian practitioners on making it work at all scales.
Seeding Success: Financial skills for youth in agriculture (Rural Financial Counselling Service)
28 July to 4 August, Wagga
Are you 18-26 and considering a career in agriculture, have just started employment or know someone who is? This free two-part course will help you set yourself up to gain the most from your employment by understanding personal finances as well as future business finance opportunities. The course consists of two sessions: A face-to-face workshop on personal finances; and an online webinar on business finances.
Your Regenerative Journey (Charlie Arnott)
16 August to 4 October, online. Tickets start at $495.
This 8-week webinar series features global experts presenting on a different principal each week, helping participants to unlock the full potential of sustainable living practices. Presenters include Nicole Masters (soil health), Stuart Andrews (landscape function) and Brian Wehlburg (grazing management). An optional farm tour at Boorowa will be held at the conclusion of the series.
Youth Mental Health First Aid training (Wagga Wagga City Council)
12 & 13 September, or 17 & 18 October, 9.00 am to 4.30 pm, Wagga. Tickets cost $21.97.
About 1 in 4 young Australians experience a common mental illness each year. This training will teach you practical skills to support an adolescent with a mental health problem and make a real difference to the young people in your community. Please note: must be 18 years plus to participate in training.
Scholarships, awards and other opportunities
Business of Agriculture (SproutX)
Through a 10-week online course, successful applicants will learn how to develop their novel technology solution, guided by industry experts and experienced founders. The program also unlocks equity-free funding to support future agtech founders at the start of their journey.
Wonderful Worms: Competition for schools (Soil Week Australia)

Entries close 15 September
The Healthy Soils competition is open, with categories for both primary and secondary schools to enter. There are lots of great prizes, and it's a fun way for students to learn more about worms and the world under our feet! Entries can come from individual students, small groups or classes, and homeschool students are encouraged to enter.
Brungle-Tumut Aboriginal Land Council
New video on the 'Buugang Wambal' project
This heartwarming video showcases the incredible achievements of the 'Buugang Wambal' project, which is connecting Aboriginal communities with Country and also helping to conserve 3 critically endangered species - the Tumut Grevillea, and the Southern and Northern Corroboree Frogs.
Landcare Australia
How to start a Junior Landcare group
A Junior Landcare group is a great way to help guide the next generation of environmental leaders on how they can actively do something to make a difference at a local level. Junior Landcare is a pathway for children to be involved in Landcare, and helps children to be aware of environmental issues, empowered to take meaningful action for the environment, and active in their community.
Soils for Life
Soils for Life podcast
This podcast series aims to connect farmers, researchers and policy makers, with each episode delving into a topical issue around soil health in agriculture. The latest episode features croppers who are growing multispecies crops as a way of building soil health and improving diversity.
NSW Department of Primary Industries
Biological control of weeds
This manual will assist those interested in utilising and maximising the benefits of weed biocontrol as part of their weed management plans in south-east Australia. The key steps for undertaking weed biocontrol programs for more than 50 weed species are addressed.
Parks Victoria & Scouts Victoria
Into Nature: Citizen science toolkit
This guide provides a useful tool to encourage people - including kids and teens! - to explore nature, and record their findings to support various citizen science initiatives.
Murrumbidgee Landcare
PO Box 710 Wagga Wagga NSW 2650

You received this email because you are on our newsletter mailing list. Please click the link below if you would like to unsubscribe.
Unsubscribe