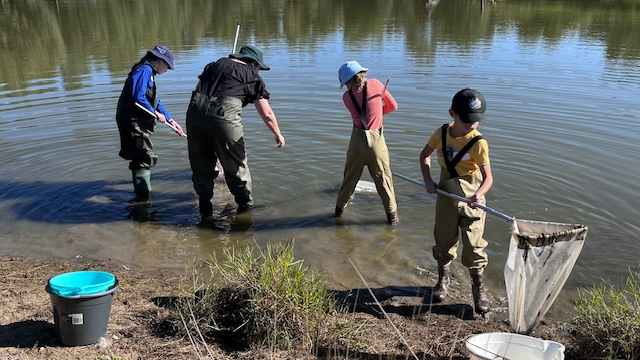 Water bug fun at Wagga Wagga Urban Landcare's recent school holiday workshop
May Newsletter
G'day Landcarer's, and welcome to all our new subscribers!
The coming month is jam-packed with events and opportunities - I'm sure you won't even feel the cold, because you'll be buzzing with energy from all the activity! Some top picks include:
As always, if you would like to suggest an idea for a future project or activity - or get some inspiration from what others around the Riverina and beyond are doing - please don't hesitate to contact your Local Landcare Coordinator for support and assistance. We're here to help all Landcarer's in our region.
Nicole and the team at MLi
Biodiversity Council
Top actions to make a difference to biodiversity
Research led by RMIT University has investigated what actions people can take to help nature. They identified 10 high priority actions people can take, all of which are relatively easy to do and can deliver a large benefit for biodiversity.
Review of the native vegetation provisions of the Local Land Services Act (Riverina Local Land Services)
Survey closes 8 May
The statutory review of the native vegetation provisions of the Local Land Services Act will consider if the policy objectives remain effective, if the rules are working to achieve the objectives, and if any areas need to be improved. The survey takes approximately 15 minutes to complete. Alternatively, you can share your insights through a one-on-one interview (book here).

Regional Wellbeing Survey (University of Canberra)
This annual survey measures wellbeing, resilience and liveability across Australia. This year there is a special focus on rising living costs, and the impacts of extreme weather events. You can opt to complete the full survey, or a shorter version if you'd prefer.

Australia's Environment Report 2022 (Australian National University)

This annual report covers the changing condition of our natural resources and ecosystems. While 2022 saw an improvement in vegetation condition, soil moisture condition and river flows, biodiversity continues to decline.
National Farmer Wellbeing Report (National Farmers Federation)
This report looks into the rise of mental health issues in farmers, and the issues that are troubling our farmers. It then delves into the
barriers to support, and recommendations to combat the crisis.
Jade Auldist, Riverina Regional Agricultural Landcare Facilitator
Word from the RALF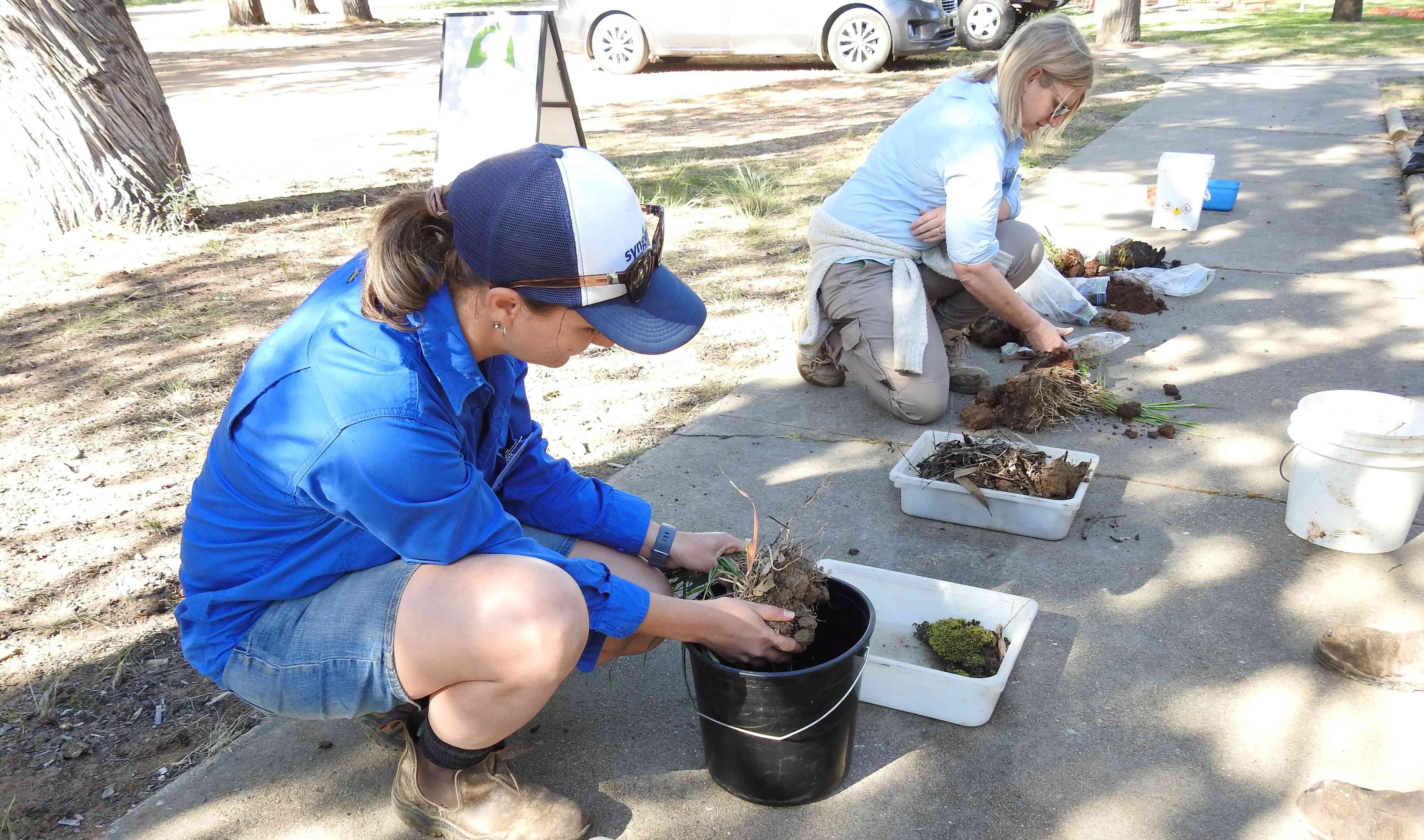 Soil is a vital resource that is essential for plant growth, ecosystem health, and the overall health of our planet. By investing in soil health, landholders can benefit from increased crop yields, improved ecosystem services, and greater resilience to environmental stresses.
It is important that we recognise the value of soil and take steps to protect and enhance this vital resource for future generations.
Murrumbidgee Landcare events
7 May, Wagga
Curious Catchment Keepers
Join us for this Sunday arvo conversation with Leanne Sanders from Visual Dreaming. We'll learn about her life, her passions and her road to establishing Visual Dreaming.

12 May, Bethungra
Paddock Trees and Biodiverse Farm Dams field day
Learn about managing natural assets in a productive farm environment, and enjoy a farm walk led by ecologists, talking about the benefits of enhancing farm dams and research into frogs on farms. Lunch provided by Illabo CWA.

12 & 13 May, Griffith
MLi stall at Riverina Field Days
Come along and visit us at the Riverina Field Days! We'll be in  the Woodside Hall, and will have lots of information, a couple of competitions and some fun activities for the kids!
15 May, Hay
Seed Collection workshop
Learn how to identify, collect and store native seed. This workshop will target Butterbush, Moonah, White Cypress Pine and Hopbush. You may then join us at our future propagation workshop, so you will have the skills to become independent at revegetating your land!
19 May, Lacmalac (near Tumut)
Rehydrating your farm landscape
Learn how to manage water and successfully implement a landscape rehydration project on your property, using a range of strategies which can optimise a farm's water cycle and improve landscape function. Presented by The Mulloon Institute.
20 May, Batlow
MLi stall at Batlow Ciderfest
Murrumbidgee Landcare will be teaming up with our friends from Holbrook Landcare to share and chat all things Landcare at Ciderfest! The Riverina Highlands Landcare Nursery will be there too, so be sure to drop in, say g'day and see what great things the team have on offer!
Mulloon Farm Tour (Mulloon Institute)

5 May, 9.30 am to 4.30 pm, Bungendore. Tickets $75
This tour will visit sites that demonstrate landscape rehydration strategies and tactics, introduce the principles behind these practices and discuss the scientific rigour underpinning this approach to water cycle function and improve productivity and ecological outcomes.  

Birdwatcher Training Workshop (BirdLife Australia)
7 May, 8.30 am to 3.30 pm, Burrumbuttock
This onsite birding skills development workshop is for birdwatchers who would like support to build your skills and local bird knowledge in a friendly relaxed environment. The workshop will help you learn more about our local bird species, and how to assist landholders with quarterly bird surveys. RSVP to Darcy Creece - 0400 949 063 or [email protected].
Bethungra Dam resnagging (OzFish Wagga)
9 May, 12.00 to 2.00 pm, Bethungra
Come along to see the recent resnagging works completed, and learn about the importance of snags as fish habitat. Snags are woody debris (eg trees and branches) that provide instream woody habitat.
KVLG AGM and dinner (Kyeamba Valley Landcare Group)
10 May, 6.00 pm, Wagga. Tickets $20/$40 for members/non-members (includes main meal, and membership for non-members)
Join KVLG at the Kooringal Hotel for a chat and dinner, followed by a presentation by Prof Andrew Peters of CSU on 'Wildlife surveys: A Riverina wildlife health community project. Contact Dave Waters: 0438 406 417 or [email protected].
Soil sampling, pasture establishment and production (Murray Local Land Services)
11 May, 12.30 pm, Rosewood
This session will cover: Best practice soil sampling & plant growth constraints to monitor in your area; pasture species selection, post-establishment management & pasture production; and opportunities with Farming Forecaster & soil moisture probes.
Navigate your natural hazards workshop for farmers and small businesses (Rural Financial Counselling Service)
12 May, 8.30 am to 12.30 pm, Wagga
This interactive workshop will help you understand risks associated with your local natural hazards; learn the risk management process; utilise risk management tools; and understand the importance of incorporating risk management into business planning.
Grassy Woodlands Conservation & Research Forum (North East CMA, Vic)

12 May, Wangaratta Vic. Tickets cost $20

This forum will share the outcomes and findings from the five-year project aimed at restoring habitat for the Regent Honeyeater and Swift Parrot. It will examine the current state of Grassy Woodlands ecosystems and compare them against growing trends in climate change, human activity and biodiversity decline. Keynote speakers include David Lindenmeyer and David Watson.
Accounting for Nature training (Harden-Murrumburrah Landcare)

16 May, 9.00 am to 4.00 pm, Cunningar
Local farmers, graziers and landholders are invited to attend this event to learn about environmental accounting, account stratification and aggregation of field data. There will be practical field exercises including measuring the environmental condition of native vegetation, conducting fauna surveys, and collecting soil data.
Foot-and-Mouth Disease information session (NSW Farmers & NSW Department of Primary Industries)
16 May, 11.00 am to 1.00 pm, Wagga
Foot and Mouth Disease (FMD) is a highly contagious animal disease that affects all cloven-hoofed animals. Australia remains free of FMD, but good biosecurity practices and early detection will be essential to reduce the potential impact of FMD if it arrives in Australia. This info session will help you to recognise the signs and better understand the risk.

Yass River cultural walk (Rivers of Carbon & Dreamtime Connections)
21 May, 10.00 am to 1.00 pm, Yass
Join this walk along the river, to learn about the ecology, indigenous significance and social importance of rivers. Hear about restoration works underway along the Yass River and what landowners can do to support the river's health on their properties.
On-farm composting workshop (Corowa District Landcare)
24 May, 9.00 am to 3.00 pm, Rutherglen Vic
Learn how to make high-quality compost on your farm using simple, low labour methods. Participants will learn about fermentative compost, aerated compost and vermicomposting; customising your compost; and using compost.

Can I get paid to plant trees? (Greening Australia)
26 May, 9.30 am to 12.30 pm, Galore
This field day will explore the role of the carbon market to fund large scale revegetation and conservation projects on private land in NSW. See examples of planting projects, hear from landholders about how it fits within their farm plan, and talk to GA staff about the types of projects that might be suitable for your land.
Biosecurity & NLIS workshops (Riverina Local Land Services)
30 May - Wagga, 31 May - Griffith, or 1 Jun - Young
Riverina landholders are invited to these interactive workshops discussing NLIS database transfers, PIC reconciliations and practical advice on farm biosecurity plans.
Grazing and animal nutrition workshop (Murray Local Land Services)
1 June, 10.00 am, Rosewood
This session will cover assessment of available pasture & quality; animal nutrition and feed budgeting (stocking rate, feed available & requirements); and grazing systems & matching suitability to your operation. Lunch provided.

Farm business management basics (Murray Local Land Services)
14 June, 8.30 am to 4.30 pm, Moulamein, and 29 June, 8.30 am to 4.30 pm, Tumbarumba
This workshop will cover: Best practice farm business management; planning & succession; strategic & operational budgeting; understanding & interpreting the financial performance of a farm; informed decision making; and risk.
National Renewables in Agriculture Conference and Expo 2023

21 June, 9.00 am to 4.30 pm, Dubbo
This event brings together the farming and energy communities to share stories of on-farm renewables and discuss what's driving the transformation of energy use in agriculture. The program includes a keynote presentation by Ross Garnaut, and presentations on large-scale solar & wind developments.
Nature-Based Solutions Conference (Carbon Farmers of Australia)
17 to 19 July, Brisbane. Tickets start at $400, or $330 for virtual attendance.
This conference is the new incarnation of the National Carbon Farming Conference. In addition to carbon markets, it will cover tree carbon, soil carbon and biodiversity.

Thriving Women conference (Women Together Learning)

13 to 15 August, Wagga. Tickets start at $434.50
This is the premier conference event to secure a sustainable future for women living and working in agriculture and associated industries. ​The 2023 theme, Growing and Inspiring Women Connected through Agriculture, will focus on the critical role women play in the day-today operation of primary production, natural resource management and rural communities. 
Rainfall efficiency on farms (ACT Natural Resource Management)

4 May, 12.00 to 1.00 pm
How well are you using the rain that falls? This webinar aims to inform farmers to take advantage of rainfall to enhance farm production and profits.

Co-designing with farmers: What works in agriculture? (Southern NSW Drought Resilience Adoption & Innovation Hub)
4 May, 3.00 to 4.00 pm
Most co-design models have been developed outside of agriculture - do these approaches work for the farming community, or do we need our own model? This webinar will discuss this, and share two co-design case studies from the NZ dairy sector.
Farmer perspectives: Taking action to reduce emissions (Agriculture Vic)
5 May, 12.00 pm
Learn from two farmers who have begun their journey to understand their emissions profile and take action to reduce their emissions.

Plant sampling for nutrient analysis (NSW Department of Primary Industries)
9 May, 1.30 to 2.30 pm
Learn how plant sampling can guide your horticultural and broadacre crop and pasture nutrition programs, best practice sampling methods and how the Fertcare Plant Sampling Guide can help.
QPR Suicide Prevention training (Rural Outreach Counselling)

Multiple dates, including: 10 May or 20 June
QPR stands for Question, Persuade and Refer. It is a short course run by qualified facilitators, which will give people the skills to identify the warning signs of someone at risk of suicide, the confidence to speak to them about their thoughts, and tools to connect them with professional care. The training takes 40-60 minutes.
Exploring beyond (fossil) diesel (NSW Department of Primary Industries)
16 May, 12.30 to 2.00 pm
This event will delve into renewable/synthetic fuel production pathways - How it is made by P2X, opportunities for agriculture, when it is coming and cost.
Livestock grazing as a conservation management tool (Biodiversity Conservation Trust)

17 May, 12.30 to 1.30 pm
This webinar will look at conservation grazing regimes, which aim to promote native species' diversity and cover by encouraging grazing-sensitive plant species to increase in abundance and distribution over time. We will learn when and where such a grazing regime is appropriate and how to implement a successful grazing strategy.

Bee friendly farming: Trends and opportunities (Wheen Bee Foundation)
17 May, 1.00 to 2.15 pm
Hear from domestic and international experts as they discuss the past 10 years of Bee Friendly Farming in the USA and Canada, and how the experience can inform the future of the program in Australia.
Nature journaling in your garden (Gardens for Wildlife, Yarra Ranges Council)
21 May, 10.30 am to 12.00 pm
Nature jouraling is the practice of drawing or writing in response to nature - and what better place to start than your own garden! This session will cover honing your observations skills and inquisitiveness; drawing and writing exercises; and finding inspiration to continue your journal.
Powerful pollinators webinar (Wheen Bee Foundation)
21 May, 12.00 to 1.15 pm
Join this webinar to: Find out how pollinators can play a role in healthy farm enterprises; discover how to encourage pollinator populations on your property; see the new planting guides and how they can be used on farm; and find out how to apply for tree grants that support pollinator habitat restorations.
Science to Practice Forum (Southern NSW Drought Resilience Adoption & Innovation Hub)
6 to 8 June, 10.00 am to 5.00 pm
This forum will explore the innovative tools and practices helping our farmers and regions prepare for future drought. Each day will focus on a particular theme: Research and development (6 Jun); Stories from farmers, producers and agricultural advisors (7 Jun); and Community and policy (8 Jun).
Indigenous knowledges informing our modern world (Australian Academy of Science)

13 June, 8 August, 10 October and 12 December
This series is investigating how the intersection of Indigenous knowledges is informing our understanding of topics including climate change, agriculture and astronomy.
SWIFFT seminar series (State Wide Integrated Flora and Fauna Teams)
27 July & 26 October
These interactive sessions help connect researchers, land managers, government agencies and community groups. Upcoming topics include: Agriculture supporting native flora & fauna (27 Jul), and Surveys and monitoring (26 Oct).
Funding and Opportunities
Murrumbidgee Landcare grants
Landcare-Led Resilience Project
We are seeking Expressions of Interest from landholders wishing to receive support to establish a revegetation site over the next two years. These sites will contribute to the demonstration of techniques that make revegetation more resilient to climate, and contribute to farm business resilience. 

Creating New Paddock Sentinels
This new project, funded by NSW WIRES, is now open for landholders in the Kyeamba and Tarcutta Valleys. The aim is to help ten landholders in each valley to reinstate paddock trees on their farms. Landholders will be reimbursed for planting and protecting 10 advanced tubestock across approximately one hectare of land on their property.
Securing the Black Falcon in the Riverina (Riverina Local Land Services)
This project aims to encourage breeding and expand the Black Falcon population in the Riverina priority area, by protecting and enhancing native active nest sites, and establishing new artificial nesting sites. Landholders who have seen Black Falcons in the local area, and have areas of potential habitat for nesting are encouraged to apply for funding support.
Small Environmental Grant Scheme (Wettenhall Trust)

Applications OPEN 1 April
Grants of up to approximately $10,000 are available to support projects that will make a positive difference to the natural living environment, in land, sea or air, rural or urban. Projects should be focused on flora and fauna conservation or threatened mammal conservation, and should involve: monitoring, recording and sharing data; delivering community education; providing community capacity building; or research and science.

Saving Koalas Fund - Community Grants (Australian Government)

Close 9 May
Grants of $50,000 to $200,000 are available to support community-led conservation and recovery efforts to improve the trajectory of listed koala populations. Projects must be completed within two years, and must include on-ground activities in areas where the listed koala is known or likely to occur.
Stronger Communities Program (Australian Government)
Close 10 May
Grants of up to $20,000 are available for small capital projects. The current round aims to support communities to recover from the widespread impacts of adverse weather events and current economic pressures. In consultation with their community, each Federal MP must identify potential applicants and projects in their electorate and invite them to apply for a grant. Up to $150,000 is available for each federal electorate.
Qantas Regional Grants (Qantas)

Close 10 May
Grants ranging from less than $5,000 up to $20,000 are available for community groups to help enhance the lives of people in regional communities. Projects can run over up to 12 months, with funding available as cash, in-kind flights or marketing support (or a combination of the three). Applications will be judged on the extent to which they demonstrate a measurable socioeconomic impact, maximise local community benefit, boost the profile/strength of the applicant for the future, and demonstrate innovation.

Producer Demonstration Site projects (Meat & Livestock Australia)
Close 16 May
Funding is available for sheep and beef cattle producer groups to validate and demonstrate the integration of new technologies and management practices into production systems. Funding options include: Levy projects (up to $30,000 per year for the length of the project), or Co-contributor projects (up to $60,000 per year for the length of the project). Co-contributor projects require cash investment.


Community kick-start grant (ISPT & Wagga Marketplace)
Close 21 May
One $10,000 grant will be awarded to an eligible organisation that works towards 'breaking the cycle' by promoting social, cultural or environmental benefits to our local community. Judging will be based on: Showing commitment to investing in our community; demonstrating new initiatives and innovative strategies; cultivating an outstanding partnership with stakeholders; and demonstrating that your project will have long term benefits.
Nature-based visitor experience development grants (NSW Government)
Close 22 May
Funding of between $100,000 and $250,000 on a matched dollar-for-dollar basis is available for creating new nature-based tourism attractions or experiences that directly align with the NSW 'Reconnect in nature' strengths.
Strengthening Rural Communities grants (Foundation for Rural & Regional Renewal)
Close 31 May
Grants are available for a broad range of grassroots initiatives that benefit local communities. Under the 'Small & Vital' stream, grants of up to $10,000 are available for communities with fewer than 15,000 people. Under the 'Prepare & Recover' stream, grants of up to $25,000 are available for communities affected by the 2019/20 Black Summer bushfires. Under the 'Rebuilding Regional Communities' stream, grants of up to $10,000 are available for projects that enhance the recovery from Covid-19 and foster more resilient regional communities.
Heywire Youth Innovation grants (Foundation for Rural & Regional Renewal and ABC Heywire)
Close 7 June
Grants of up to $10,000 are available for communities across Australia to adopt, adapt and act on the ideas generated at the Heywire Summit. The Heywire Project Ideas are developed by young Australians on issues that matter to regional, remote and rural youth.
Gallagher Landcare electric fencing grants (Landcare Australia)
Close 15 June
Grants of up to $8,000 are available for permanent electric fencing materials for conservation exclusion/inclusion fencing, riparian protection and farm dam restoration. In order to apply, you must arrange an on-site visit with your local Gallagher Territory Manager between 1 May and 9 June 2023.
Inland Rail Sponsorships (Australian Rail Track Corporation)

Close 31 July
Community groups are invited to submit applications to fund an activity, event or project that will benefit your local community. Funding of between $1,000 and $4,000 is available for individuals and organisations in regional areas along the Inland Rail route that contribute to local and regional prosperity, well-being and sustainability.
Farms of the Future grants (NSW Department of Primary Industries)
Close 31 August
Grants of between $5,000 and $35,000 are available for primary producers in the Carrathool, Griffith and Leeton LGAs to purchase the latest agtech equipment and connectivity solutions to address their farm needs. Applicants must first complete the 'Monitoring your farm with Agtech' training program (available as a one-day in person or online course). Proposed agtech, connectivity and dashboard solutions must be selected from the Program Partners in the Farms of the Future Agtech Catalogue.
NAB Foundation Community Grants (National Australia Bank Foundation)
Close 31 August

Grants of up to $10,000 are available for projects that help communities prepare for natural disasters, support long-term recovery and build resilience to future disasters and climate change (with a focus on areas including food co-operatives and urban greening). Projects must be completed within 12 months.
Community Partnerships Program (Transgrid)
Close 31 August
Not-for-profit and community groups are invited to apply for grants of between $500 and $5,000 to undertake projects in areas local to Transgrid assets or construction. Projects should provide a lasting and tangible benefit to the community, and should be completed within six months.
RAS Foundation Community Futures Grant (Royal Agricultural Society of NSW)
Applications close 30 November
Grants of up to $25,000 are available for community projects that deliver strong community benefits and result in enhanced economic and social outcomes for your community. Projects that involve collaboration between people in your town and deliver sustained and broad community benefits will be highly regarded.
Training to work on Country: Cultural and bushfire training (Riverina Local Land Services)
Registrations close 17 May

First Nations people over the age of 16 are invited to register for this program. Training will take place from 30 May to 2 June at the Wagga RFS Centre, and will give participants accreditation in the Cert 3 in Basic Fire Fighting. Members of the Wagga Wagga LALC will be given first chance to join the training. Contact Tara Charles to register: 6921 4095 or [email protected].
Monitoring your farm with agtech (Tocal College)
This course focuses on the process of developing a monitoring plan for your business including a farm map, identification of pain points and addressing connectivity and agtech device needs. It aims to develop skills in addressing connectivity needs; planning agtech devices for your farm; and identifying how agtech can save you time and labour.
Recovery Exercising Toolkit (Australian Institute for Disaster Resilience)

This toolkit contains a suite of modules that focus on important recovery issues, identified through lessons from recent disasters and evidence-based research. The modules contain foundational concepts and links to helpful resources to provide a base level of understanding that will equip participants to undertake further recovery planning and action.
Scholarships, awards and other opportunities
SunRice Grower of the Year (Rice Extension)
Applications close 26 May
This program aims to showcase the remarkable work of rice growers. Finalists will partake in a farm tour and interview process. The winner will receive a package to further support their business, including $2,500 for personal or business development.
2024 Nuffield Scholarships (Nuffield Australia)

Applications close 9 June
These scholarships provide funding to travel overseas for up to 14 weeks to research a topic to add value to the Australian primary industry sector. This year, in addition to the many long-standing scholarship investors, the Future Drought Fund is investing in at least five scholarships that are specifically available to study drought resilience and support innovation.

2023 Volunteer of the Year Awards (The Centre for Volunteering)
Nominations close 16 June
Thank your volunteers and teams for their community contributions by nominating them for a Volunteer of the Year Award! Categories include: Young, adult and senior volunteer; Volunteer team; Volunteer leader; and Not-for-profit voluntary governance Award.
Wonderful Worms: Competition for schools (Soil Week Australia)
Entries close 15 September
The Healthy Soils competition is open, with categories for both primary and secondary schools to enter. There are lots of great prizes, and it's a fun way for students to learn more about worms and the world under our feet! Entries can come from individual students, small groups or classes, and homeschool students are encouraged to enter.
Sustainable Farms, Australian National University
Farm dams technical guide
This guide provides detailed technical information to support the planning and construction of farm dams, as well as dam enhancement, in order to optimise their performance. The guide covers water planning & dam decision-making; enhancing farm dams; and optimising dam construction for multiple benefits.
Meat & Livestock Australia
New carbon calculator
This new calculator will help producers baseline their emissions, to help develop their emissions reduction strategies. The baseline carbon account includes total greenhouse gas emissions for the enterprise, and the emissions intensity of the product produced (eg emissions produced per kilogram of beef/sheepmeat/wool).

Cassie Shortsleeve
How to instill a love of nature in your kids
The benefits for kids of spending time outdoors are massive, but sometimes it can be hard to know what to do or where to start. This article has some great ideas for simple, fun activities to inspire kids for more time outdoors (and less on screens!)
Department of Primary Industries, Vic
Farm diversification decision-making
This useful guide takes landholders through the steps of determining whether they are in a good position to diversify their farm and which options may be best suited to their situation. It covers compatiility with existing operations, trialing new options and resource advantages.

Rivers of Carbon
Management of 'swampy meadow' riparian systems
Swampy meadows are essentially floodplains that don't have a continuous channel. This new factsheet and associated videos explain the valuable role they play in moderating energy, buffering peak flows and acting as a sponge.
Murrumbidgee Landcare
PO Box 710 Wagga Wagga NSW 2650

You received this email because you are on our newsletter mailing list. Please click the link below if you would like to unsubscribe.
Unsubscribe