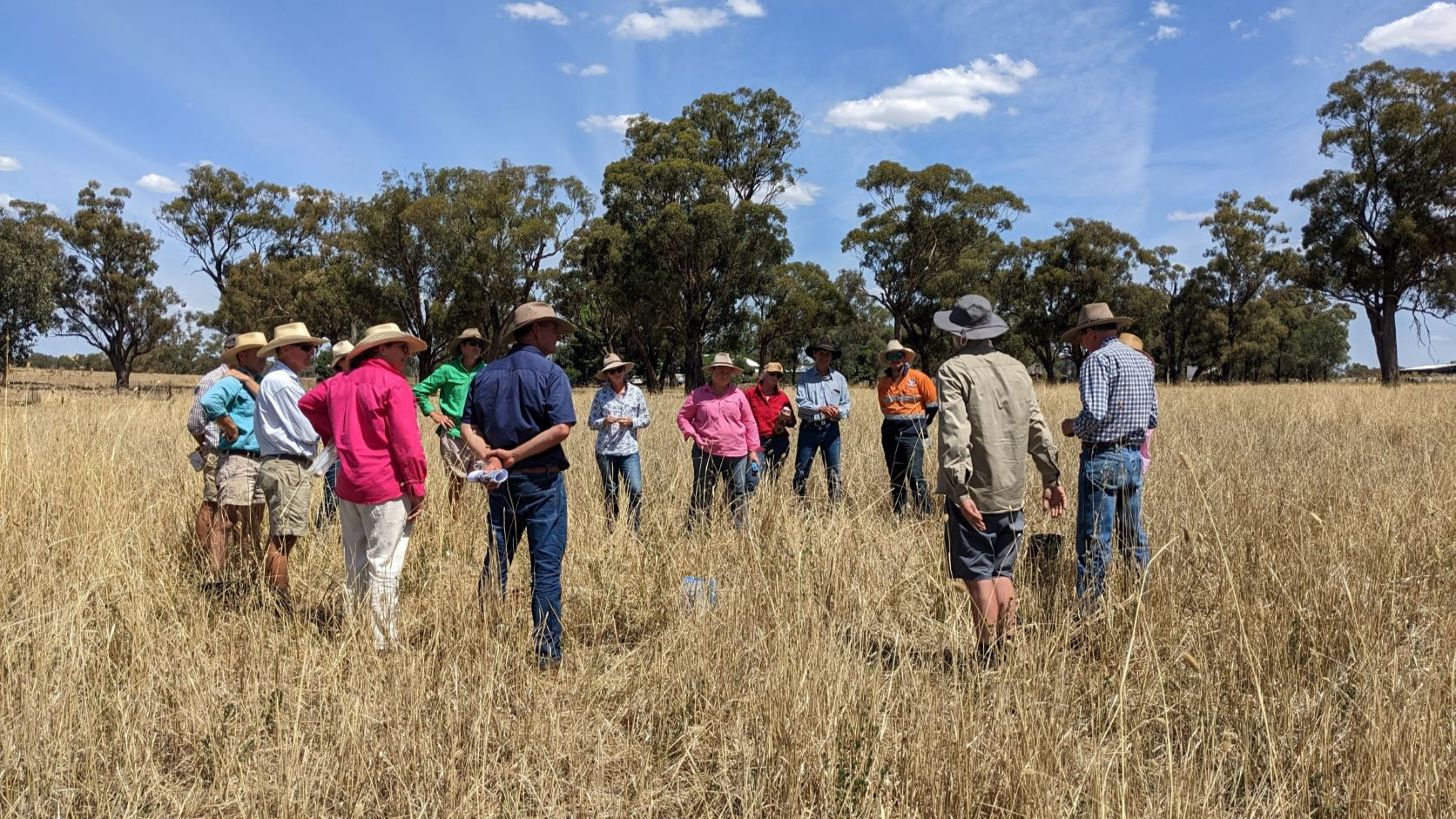 Junee Area Landcare Network Soils workshop
March Newsletter
This month's newsletter contains some interesting stories on the work we have been doing over the past few months. We've published a selection of new case studies, launched a video about a recent BioBlitz, and a local farmer has been highlighted in national media talking about the mental health benefits he has gained from his work revegetating his property.
We have also welcomed Ellen McDonald to our team at MLi. Ellen commenced recently as our Business Manager, based in our Wagga office. She has an extensive background in human resources, staff development and animal health. Ellen also has a menagerie of pets, a lovely family and an infectious smile - we're sure you will all love her as much as we do!
As always, if you would like to suggest an idea for a future project or activity - or get some inspiration from what others around the Riverina and beyond are doing - please don't hesitate to contact your Local Landcare Coordinator for support and assistance. We're here to help all Landcarer's in our region.
Nicole and the team at MLi
New Landcare case studies released!
Our Landcare Coordinators have been busy delivering workshops on farm dams, educating school groups on biodiversity and encouraging women farmers to get involved in Landcare. Their case studies provide a glimpse of these activities - if your groups is looking for inspiration, be sure to take a look!
Call for abstracts: Thriving Women conference (Women Together Learning)
Close 13 March
Abstract submissions are invited for the Thriving Women 2023 conference to be held in Wagga Wagga on 13-15 August. The conference theme is "Growing and Inspiring Women Connected Through Agriculture", which seeks to acknowledge and foster the impact women are having on their own lives, businesses, communities and industries. Presentations could be an interactive workshop, a camp fire session, a traditional presentation, or another format - they are open to ideas!
Mental health benefits of revegetation (ABC Riverina)
The ABC recently shared the story of Lockhart farmer Steve Matthews, who credits the revegetation work he has carried out on his property over many years with boosting his mental health. You can read more about the incredible improvements Steve has made to his property in a case study written by our Local Landcare Coordinator Dave Waters here.
Survey on livestock pest and parasite control practices (University of Western Australia)
Landholders are invited to complete this online survey about your current management strategies for pests and parasites of livestock, and issues you may face in their management. It should take 10 to 20 minutes to complete, and you can win a $300 grocery voucher. You may also opt in to receive a summary of the results.

Jade Auldist, Riverina Regional Agricultural Landcare Facilitator
Word from the RALF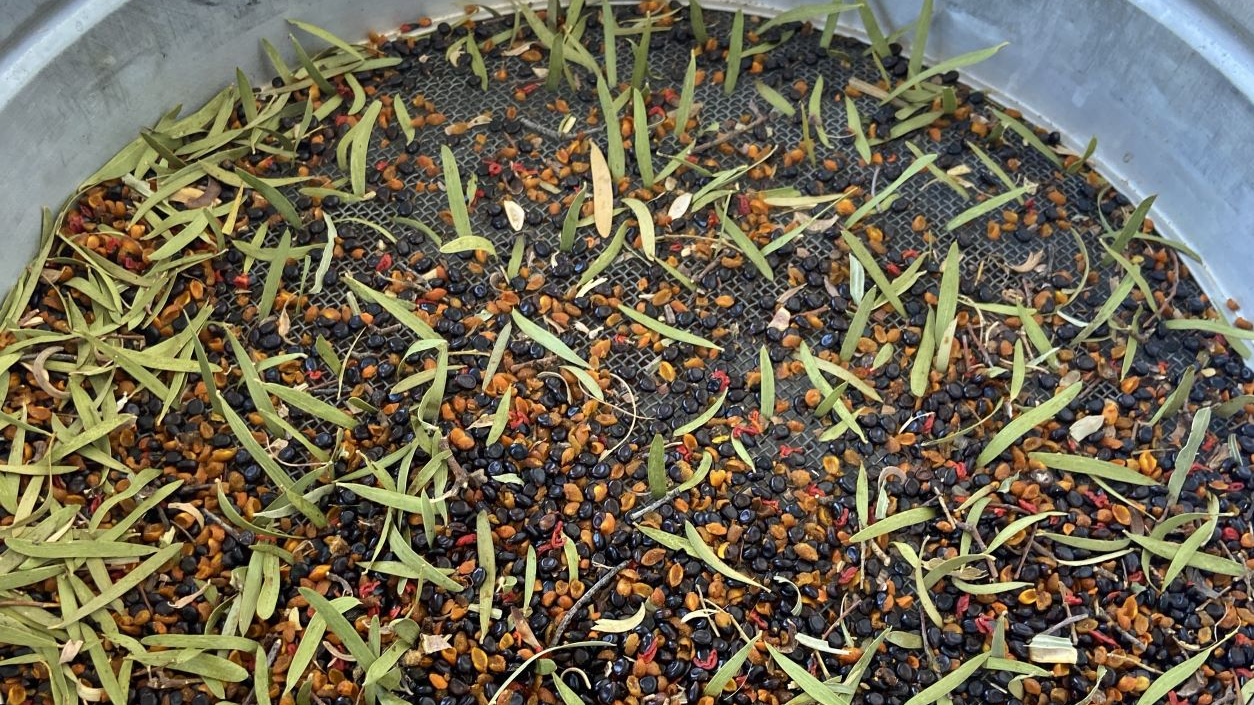 Native seeds play a crucial role in preserving the biodiversity and ecological balance of our planet. They are vital for restoring degraded landscapes, improving soil fertility and providing habitat for wildlife. However, the process of collecting, cleaning, propagating and planting native seeds is often misunderstood or overlooked. 
This is where Landcare workshops come in to play, educating people about the importance of native seeds and providing hands-on training on seed collection, cleaning, propagation, direct seeding and planting seedlings.
Murrumbidgee Landcare events
19 March, Wagga
Curious Catchment Keepers
Join us for this Sunday arvo conversation with Carmel and Melanie from ErinEarth. We'll learn about their lives, their passions and their role in establishing and maintaining this special place.

15 May, Hay
Seed Collection workshop
Learn how to identify, collect and store native seed. This workshop will target Butterbush, Moonah, White Cypress Pine and Hopbush. You may then join us at our future propagation workshop, so you will have the skills to become independent at revegetating your land!
Breakfast wrap (FarmLink)
20 March (Tallimba), 21 March (Caragabal), 22 March (Wallendbeen) or 23 March, The Rock
Each event includes presentations from FarmLink on intercropping, mixed species pastures, digitising sheep flocks, and Climate Services for Agriculture tool. There will also be presentations from LLS vets on animal health and a local agronomist.
Strategies for profitable practice change (Boorowa Community Landcare Group & NSW Farmers)

22 March, 8.30 am to 4.00 pm, Boorowa. Tickets cost $75
This event will explore strategies to profitably change your farming and business practice. Facilitated by Michael Gooden, it will feature presentations on topics including managing change, sensitive conversations, and communicating with banks and other institutions, as well as hearing from local farmers who are undertaking practice change in their farming businesses. 
Victorian Landcare Forum (Landcare Victoria)
24 and 25 March, Beechworth. Tickets cost $110 (including forum dinner)
This forum will provide an opportunity to share landcare knowledge and experience from around Vic, and to see first-hand the achievements of Landcare in North-East Victoria.
Spray Day (GRDC)
28 March, 8.30 am to 4.00 pm, Osborne
This event will cover the latest developments in spray application technology and stewardship for grain growers and their advisers. The morning will consist of presentations and discussions, while the afternoon will be a trade display session for growers to talk with leading industry technology providers.
QPR Suicide Prevention training (Rural Outreach Counselling)

Multiple dates and locations, including: Henty (28 Mar), Tumbarumba (30 Mar), Tumut (30 Mar) or Online (18 Apr, 20 Apr, 2 May or 23 May)
QPR stands for Question, Persuade and Refer. It is a short course run by qualified facilitators, which will give people the skills to identify the warning signs of someone at risk of suicide, the confidence to speak to them about their thoughts, and tools to connect them with professional care. The training takes 40-60 minutes.
Advance Southern NSW 2023 (Southern NSW Innovation Hub)
29 March, 9.00 am to 3.00 pm, Wagga Wagga
This inaugural event is aimed at building capacity in using people-centred design and communication to generate change. The day will include keynote and breakout sessions, floor discussion and networking opportunities.
Sustainable Soils Forum (North Central CMA)
31 March, 9.00 am to 4.30 pm, Bendigo Vic
This event brings together experts, policy makers, farmers and industry to share, network, learn and collaborate to take a deep dive into improving soil health and management.
Creating a plan to protect & enhance your property's natural assets (Bowning & Bookham Districts Landcare Group)
2 April, 9.30 am to 2.00 pm, Yass. Tickets cost $10, or $20/car
Learn how to create, protect and enhance your property's natural assets. You will hear about Different types of management 'interventions' such as shelter belts, woodlots and paddock trees, and understand the benefits for grazing and farming operations.
Stock management areas, shelterbelts and farm dams field day (Sustainable Farms)
4 April, 9.15 am to 1.00 pm, Harefield
This field day will include a training session on practical, in-field observations to monitor soil health, together with talks by farmer Harry Cook on his management practices, and Sustainable Farms researchers on their work on farm dams and shelterbelts. 
Leadership Intensive with Nicole Masters (Integrity Soils)
24 and 25 April, Braidwood. Tickets cost $845
This training is for educators, facilitators, leaders or anyone wishing to lift their educational toolkit. Topics will include the neuroscience of change, navigating polarization, designing regenerative programs, ecology of money, communicating with confidence and toolkits to support the learning of others.  
National Renewables in Agriculture Conference and Expo 2023

21 June, 9.00 am to 4.30 pm, Dubbo. 
This event brings together the farming and energy communities to share stories of on-farm renewables and discuss what's driving the transformation of energy use in agriculture. The program includes a keynote presentation by Ross Garnaut, and presentations on large-scale solar & wind developments.

Soil Regen Summit (Soil FoodWeb)

14 to 16 March
This event features a series of presentations exploring topics  such as soil biology, cover crops, compost, permaculture, nutrient density, deep bed farming, animal & human health and much more.
Launch of "Farming forever: A national plan for climate change and agriculture" (Farmers for Climate Action)
15 March, 11.00 am to 12.00 pm
An effective national policy on climate change and agriculture will allow us to ensure Australian farmers are prepared to deal with the changing climate and able to seize the economic opportunities that come from moving to a low carbon economy. This event, featuring Agriculture Minister Murray Watt, will launch FCA's new report and provide attendees with a copy.
How innovation in agriculture is driving sustainability and profitability (Charles Sturt University)

15 March, 7.00 to 8.00 pm
Hear insights into the future of Australian farming through technology and data innovations, discover best practices for data sharing and management, and find out how precision ag technology can improve farming operations and deliver better productivity and profitability.
Business Connect webinar series (NSW Government)

Various dates throughout Mar
These webinars are targeted at small businesses and not-for-profits. Topics in the series include: Chat GPT (16 Mar), Product photography masterclass (21 Mar), and Women in agribusiness (22 Mar).
Maximising ecosystem opportunities to fit your business (Landcare Australia)
4 April, 1.00 to 3.00 pm
This webinar will help grow your understanding of biodiversity on-farm, improve your capacity to participate in emerging environmental markets, and develop your knowledge of environmental condition and natural capital accounting systems.
Indigenous knowledges informing our modern world (Australian Academy of Science)

11 April, 13 June, 8 August, 10 October and 12 December
This series will investigate how the intersection of Indigenous knowledges is informing our understanding of topics including climate change, agriculture and astronomy. The first event (14 Feb) will be hosted by Professor Tom Calma AO FAA FASSA, an Aboriginal elder from the Kungarakan tribal group and a member of the Iwaidja tribal group, and will look at the global movement recognising Indigenous knowledges, and how they are, or could be, used to inform our modern world.
Livestock grazing as a conservation management tool (Biodiversity Conservation Trust)
17 May, 12.30 to 1.30 pm
This webinar will look at conservation grazing regimes, which aim to promote native species' diversity and cover by encouraging grazing-sensitive plant species to increase in abundance and distribution over time. We will learn when and where such a grazing regime is appropriate and how to implement a successful grazing strategy.
Funding and Opportunities
Murrumbidgee Landcare grants
EOIs close 15 March
Landcare-Led Resilience Project
We are seeking Expressions of Interest from landholders wishing to receive support to establish a revegetation site over the next two years. These sites will contribute to the demonstration of techniques that make revegetation more resilient to climate, and contribute to farm business resilience. 

Creating New Paddock Sentinels
This new project, funded by NSW WIRES, is now open for landholders in the Kyeamba and Tarcutta Valleys. The aim is to help ten landholders in each valley to reinstate paddock trees on their farms. Landholders will be reimbursed for planting and protecting 10 advanced tubestock across approximately one hectare of land on their property.
Long-term Trials of Drought Resilient Farming Practices Program (Australian Government)

Close 15 March
Consortia are invited to apply for grants valued at up to $8 million dollars per grant, for innovative and transformational practices that have the potential to positively influence the efficiency, productivity, and sustainability of Australian farms from the impacts of drought and climate change. Projects will test, refine, and demonstrate the effectiveness (or otherwise) of yet to be proven farming practices in a robust scientific manner. Projects should be completed by 30 June 2028.
Small grants program (Highways and Byways)
Close 15 March
Grants of up to $4,000 are available for projects that support communities through the theme of 'Healing and Growing Together'. Projects should align with one of the two aims: Promote environmental rehabilitation and restoration to rectify the impacts of recent fires, floods or drought; or Build strong and resilient communities, encourage community re-connection and healing post-pandemic and foster indigenous identity and cultural connections. Projects should be completed within 12 months.
Woolworths Junior Landcare Grants (Landcare Australia)
Close 17 March
Grants of up to $1,000 are available to primary schools and early learning centres across Australia, grants of up to $1,000 each are available to support projects that focus on sustainable food production, improving waste management practices and recycling, enhancing native habitats and/or deepening connections to First Nations perspectives.
Emerging industries capacity building travel grants (AgriFutures)
Close 22 March
Grants of $2,500 to $5,000 are available for individuals working in Australia's emerging industries to carry out self-guided peer-to-peer capacity building activities to further their knowledge and skills and further the growth of their emerging industry. All travel and activities must be completed by 30 April 2024.
Protecting our Places grants (NSW Environmental Trust)
Close 24 March
Grants are available to empower Aboriginal organisations to undertake projects that contribute to ongoing sustainable management of significant Aboriginal cultural landscapes in NSW, and contribute to healthier environments and communities. Projects must be run in stages, with up to $12,000 available for Stage 1 (planning) over 6-12 months, and up to $68,000 available for Stage 2 (implementation) over 18-24 months. After Stage 1, projects are assessed against set criteria for approval to progress to Stage 2.
Telstra Connected Communities grants (Foundation for Rural & Regional Renewal)
Close 30 March
This program offers grants of up to $10,000 for community organisations that are providing access to information, technology, education and facilities to support their communities to embrace new technologies and ways of working to build social capital and digital capability.
Small grants program for regional NSW (NSW Government)
Close 31 March, or when all funds are expended
This program offers grants of $500 to $10,000 for projects that support the recovery and wellbeing of children and young people living in regional NSW. The program will help eligible applicants deliver projects to promote social inclusion and build community connections for regional children and youth aged 0-24 years.
Large grants program for regional NSW (NSW Government)
Close 31 March, or when all funds are expended
This program offers grants of $10,000 to $50,000 for projects that support the recovery and wellbeing of children and young people living in regional NSW. Projects must directly respond to community need for support to recover and build resilience, and support improved wellbeing and mental support for children and/or young people aged 0-24 years.
Small Environmental Grant Scheme (Wettenhall Trust)
Applications OPEN 1 April
Grants of up to approximately $10,000 are available to support projects that will make a positive difference to the natural living environment, in land, sea or air, rural or urban. Projects should be focused on flora and fauna conservation or threatened mammal conservation, and should involve: monitoring, recording and sharing data; delivering community education; providing community capacity building; or research and science.
Community University Partnerships Grants (Charles Sturt University)
Close 5 April
Grants of up to $1,000 are available for projects in categories including Arts & Culture, Education Development, Health & Wellbeing, and Environmental Sustainability. All projects must be completed by 30 November 2023.
Strengthening Rural Communities – Large 'Rebuilding Regional Communities' grants (Foundation for Rural & Regional Renewal)
EOIs close 5 April
Grants of between $10,001 and $50,000 are available for projects that enhance the recovery from Covid-19 and foster more resilient regional communities.
National Soil Carbon Innovation Challenge Development and Demonstration grants (Australian Dept of Climate Change, Energy, the Environment & Water)
Close 11 April
Grants of between $100,000 and $5 million are available for proof of concept, validation or early-stage commercialisation activities relating to the development of lower cost, accurate technological solutions for soil carbon measurement. Successful applicants will demonstrate how their proposed technology solution is effective at measuring, estimating and/or predicting soil organic carbon in an operational environment.
Aboriginal Affairs NSW Cultural Grants Program (Aboriginal Affairs NSW)
Close 14 April, or when all funds are expended
Grants of between $500 and $20,000 are available to support Aboriginal community organisations to celebrate Aboriginal culture and hold key cultural events and activities. Funding can be used for projects including: women's or men's gathering on Country, delivery of culture / wellbeing camps for Aboriginal youth, online workshops, community celebration event or cultural activities at a sporting event.
Bushfire Restoration grants (Foundation for National Parks & Wildlife)
Close 30 April, or when all funds are expended
Grants of up to $5,000 are available for field projects that will have a direct restoration outcome for the 2019-2020 bushfire impacted LGAs. Projects should aim to enable communities to rebuild their local environments devastated by the 2019-2020 bushfires, and/or support the restoration of key habitats and ecosystems needed for healthy landscapes within the LGA's impacted by the 2019-2020 bushfires.
Inland Rail Sponsorships (Australian Rail Track Corporation)
Close 30 April
Community groups are invited to submit applications to fund an activity, event or project that will benefit your local community. Funding of between $1,000 and $4,000 is available for individuals and organisations in regional areas along the Inland Rail route that contribute to local and regional prosperity, well-being and sustainability.
Qantas Regional Grants (Qantas)
Close 10 May
Grants ranging from less than $5,000 up to $20,000 are available for community groups to help enhance the lives of people in regional communities. Projects can run over up to 12 months, with funding available as cash, in-kind flights or marketing support (or a combination of the three). Applications will be judged on the extent to which they demonstrate a measurable socioeconomic impact, maximise local community benefit, boost the profile/strength of the applicant for the future, and demonstrate innovation.
Strengthening Rural Communities grants (Foundation for Rural & Regional Renewal)
Close 31 May
Grants are available for a broad range of grassroots initiatives that benefit local communities. Under the 'Small & Vital' stream, grants of up to $10,000 are available for communities with fewer than 15,000 people. Under the 'Prepare & Recover' stream, grants of up to $25,000 are available for communities affected by the 2019/20 Black Summer bushfires. Under the 'Rebuilding Regional Communities' stream, grants of up to $10,000 are available for projects that enhance the recovery from Covid-19 and foster more resilient regional communities.
Gallagher Landcare electric fencing grants (Landcare Australia)
Close 15 June
Grants of up to $8,000 are available for permanent electric fencing materials for conservation exclusion/inclusion fencing, riparian protection and farm dam restoration. In order to apply, you must arrange an on-site visit with your local Gallagher Territory Manager between 1 May and 9 June 2023.
Farms of the Future grants (NSW Department of Primary Industries)
Close 31 August
Grants of between $5,000 and $35,000 are available for primary producers in the Carrathool, Griffith and Leeton LGAs to purchase the latest agtech equipment and connectivity solutions to address their farm needs. Applicants must first complete the 'Monitoring your farm with Agtech' training program (available as a one-day in person or online course). Proposed agtech, connectivity and dashboard solutions must be selected from the Program Partners in the Farms of the Future Agtech Catalogue.
Young Environmental Champions (Action for Agriculture)
This 10-week program supports young Australians to be agents of change, creating a movement to embed sustainability thinking and actions in our way of life. It is available to students in Stages 3 to 5 in  the Riverina in term two 2023.

Cultural Considerations on Country training (Yuluug Cultural Programs)
3 and 4 April, Wagga. $480 per person.
This training will provide the opportunity to increase your knowledge and awareness of Aboriginal people and culture, whilst allowing you to be immersed in cultural activities. The program allows everyone the space and respect to feel open about asking questions and having the 'uncomfortable' conversations, while assisting participants to develop a deeper understanding of Aboriginal culture, history and behaviours.

Scholarships, awards and other opportunities
National Mentoring Program (Australian Rural Leadership Foundation & National Farmers Federation)

Applications close 3 April
Both mentors and mentees are being called for in the latest round of this program which aims to bring rural Australians with different experiences together to build leadership capacity and resilience in rural Australia. The program runs for 12 months, and involves twelve 1-hour mentoring sessions, together with ten online learning sessions.
Bandalang Design Competition (Australian National University)
First Nations students are invited to submit a design, which is related to or representative of engineering (First Nations or western engineering). The successful applicant will receive a $1,000 cash prize, and will then be able to work with the MakerSpace to work out how it will be fabricated. The finished product will be gifted to the Bandalang Studio First Nations residents.
Murrumbidgee Landcare Inc
Yanco biodiversity field day
Together with the Biodiversity Conservation Trust, Murrumbidgee Landcare recently held a BioBlitz with students from Yanco Public School. The children learnt about native birds, vegetation, habitat and other fauna in and around the wetland located near the school.
CottonInfo
Native revegetation guide for Australian cotton growers
This guide has information to help cotton growers integrate revegetation projects into their farms, with industry-specific information covering benefits of natural pest control, nutrient cycling, soil stabilisation and microclimate regulation.
Farming Together
Create your own succession plan
This 3-step Succession Planning Tool provides a step-by-step approach to mapping your future wants and needs, to assist you in planning for you and your farm's future.
Murrumbidgee Landcare
PO Box 710 Wagga Wagga NSW 2650

You received this email because you are on our newsletter mailing list. Please click the link below if you would like to unsubscribe.
Unsubscribe