Warm Greetings ,

A lot is happening behind the scenes at DataQ, and we are excited to present to you some snippets and insights from our most recent work. The Newsletter follows the same structure as last time; the first part presents some insights from our research activities, whilst the second half keeps you up to date with our learning and networking opportunities.

Last week the Sudanese government approved the 2023 budget. The budget shows a projected government revenue of 7.363 trillion SDG, while the total government spending is expected to be 8.196 trillion SDG, which puts the projected budget deficit at  1.4 billion USD.
The inflation rates reported by Central Bureau of statistics have been going down steadily during 2022 reaching a minimum of 87.3% in December. However, with a planned budget deficit that is higher by 140% from the 10 year average, we can expect the inflation rates for 2023 to be as high as the 2021 rates.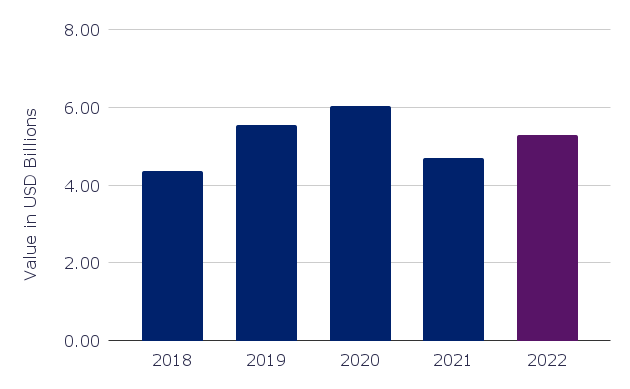 Sudan's trade deficit close to 5 billion USD
During 2022 the foreign trade deficit, remains close to 5 Billion USD. However, estimates form the International Trade Centre estimate the total unrealized export potential for Sudan exports to be at 1.8 billion USD. [1]
Addressing this potential, the UAE's AD Ports Group and Invictus Investment signed a 6 billion USD agreement with the Sudanese government to build and operate the Abu-Amama port and economic zone on the Red Sea.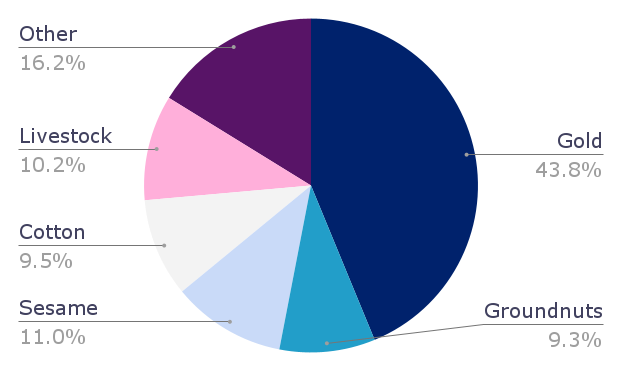 Gold makes up half of Sudan's exports value.
Gold Exports made up 44% of the total exports value in 2022, with an export value of over 2.1 Billion USD.
Sesame was second in terms of exports value, followed by livestock, cotton and groundnuts. Cotton showed the highest growth in exports value, with an exports value that is higher by 185% than the 5 year average.
More than 54% of Sudan's exports went to the United Arab Emirates and Saudi Arabia, with the United Arab Emirates making up 46% of Sudan's exports market,
*Imports/exports Data for Q4 2022 is extrapolated.

At DataQ we believe that research is not just about answering questions, but that it's about developing a shared understanding. Help us develop an understanding of your business objectives, needs and preferences by participating in our small survey below:

Our mission at DataQ is to become the largest knowledge hub in Africa. And we believe that the best way to do this is to enable and empower communities by helping them utilize their data resources.
DataQ Forums:
DataQ Forum is a collaboration with 249Startups, which was established to enable knowledge and expertise sharing between professionals and decision makers. DataQ Forums provide professionals and decision makers alike with top tier networking and learning opportunities.
January Forum - Market Data Capsules
In our January forum, Market Data Capsules, four organizations shared intriguing market insights from respective sectors. Each presentation was followed by a comprehensive discussion and Q&A session. Here are some of the forum highlights: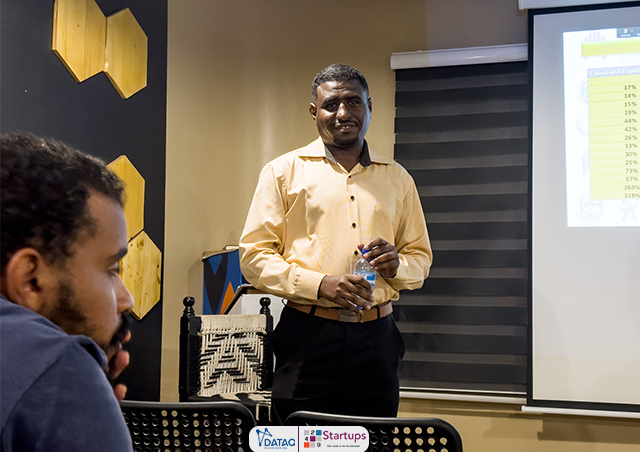 Key insights from the Sudanese banking sector
The opening session was given by Mr. Abobker Omer, a financial analyst at Al Nilein Bank.

Abobakr provided a detailed presentation that included illustrations of some of the most important indicators in the Sudanese banking sector. He shared some interesting insights investigating the patterns and relationships between macroeconomic metrics and the banking sector performance indicators.

Finally, Mr. Abobker concluded with a comparison between the performance of the Sudanese banking sector and that of other neighboring countries. [Link to full presentation]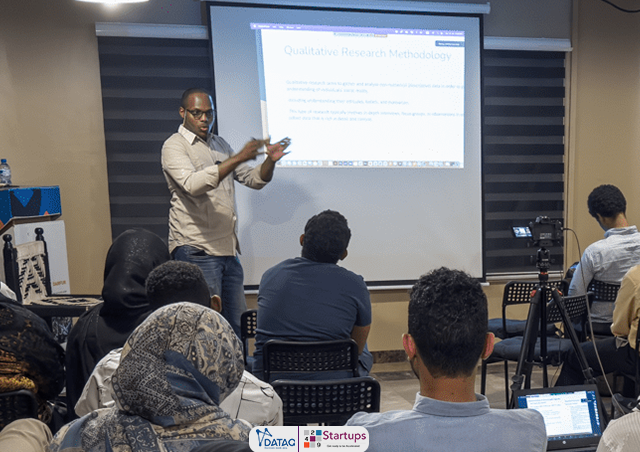 Qualitative Investigations of Digital Readiness
The forum was concluded with a presentation from Mr.Mutwakil Awad, with a thorough presentation investigating the digital readiness of Sudanese farmers.
In his presentation, Mutwakil Started by emphasizing the importance of qualitative research methods, exploring why it's a necessary step to understanding the customer and to deploying a successful digital product.

Finally, Mutwakil presented some results from their Digital Readiness study, identifying the top barriers to adoption of their digital solutions at GNI. [Link to full presentation]
February forum - Artificial intelligence uses cases
This forum is a fantastic opportunity to learn about some of the use cases for AI and to participate in a discussion about how you can apply AI technology in your business to gain a competitive edge.
The Forum will be held on Saturday the 18th at 249Startups, for more details click here.

This forum is invitation only. A limited number of seats is open for applications. The first priority will be given to decision makers interested in how AI can positively affect their businesses. The second priority will be given to researchers with relevant experience in AI tools or uses. Apply to Join us in our February forum by clicking the button below:
Join our mailing list or update your mailing preferences to be the first to hear about our upcoming learning and Networking opportunities. Click here.

Burj Alisraa, Inqaz road, Bahri, Khartoum
Sudan