Support for the weeks of:
Mar 13 and 20, 2023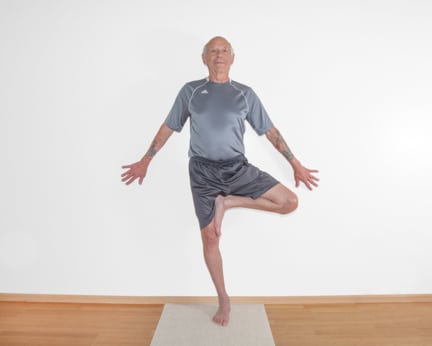 In this version of Vrksasana (Tree Pose), our teacher model has both hands to a (white, nearly invisible) wall behind him. Whether or not balance is an issue (and there are many reasons for it to be one), it can be helpful to change up the way the body is challenged. For example, if one day you place the toes on the floor or a block, another time, you can practice with a wall or chair and endeavor to lift foot off the ground.
To balance, we're in a near-constant state of making tiny adjustments. When we make these "micro-adjustments," we're recruiting deep muscles that are responsible for stabilization.

Stabilizers include the many parts that make up "the core," as well as the glute medius and other muscles that coordinate the arms and trunk.

This week, we explore the invaluable role of balancing poses in yoga practice, and ways to expand your teaching for maximum impact.

When we explore more fully what's happening to provide such profound results from yoga practice, we learn, for example, the full-scale impact of recruiting our deep musculature.
[When making small adjustments to balance, the] "smaller muscles create subtle engagement closer to the bone, supporting our joints and enabling us to coordinate different parts of the body. These muscles work skillfully together to coordinate the upper and lower body, generating support without rigidity. When we are in touch with our deep stabilizers, we feel centered and integrated.
In this 5-minute talk, Timothy McCall MD neutrally and clearly explains the norms, considerations and subtleties around knee-locking in life and in standing poses (including standing balance).

In addition to some more common considerations, he distinguishes biomechanical effects from energetic ones.
Balancing is a critical life skill.
If we can't balance, we fall and break bones or hurt ourselves in different ways. Twenty percent of all Americans have balance issues, and falls are a public health catastrophe. They send people to hospitals and may require costly surgeries and months of pain, suffering, and hard work to try to regain prior levels of functional independence. In addition... people who fall are afraid of exercise and movement because of the anticipation of future falls. But if you don't use your physical body, the decline is unrelenting… The maxim "use it or you lose it" is so true with balance!
What's New
For a more complete list, scroll to the bottom of Member Home.

Asana Category: Balancing Poses

We've recently expanded this comprehensive and well-researched lesson on the nature and effects of balancing poses, and considerations for wisely teaching and sequencing them.

Cells, DNA & Epigenetics

New three-lesson series focused on practical application, particularly the ability to understand and communicate the profound research showing the effectiveness of yoga and other lifestyle factors on health and wellness.

Inversions Teaching Guide

This 85-page, precisely organized reference supports you in teaching inversions in general, plus specifically Halasana, Sarvangasana and Sirsasana. Includes many preparatory poses and alternatives, plus cueing, sequencing and pictures of dozens of variations with instructions. Free samples here. Available in the store. Trainers, a customizable version is in the download library.

Strengthening Practice Liibrary

In addition to the Core Strengthening Library with photos and instructions, now there are specialized libraries for Upper Body and Lower Body strengthening, too. Also available as a 40-page downloadable PDF in the Store (includes a lesson plus strengthening practices organized by core, upper body, and lower body).

What's happening at a physiological level when we're challenging our balance...
The vestibular system, located in the inner ear, governs balance. How important is the vestibular system? Supremely important. The vestibular system orchestrates the entire nervous system. It controls the sense of balance (gyroscope), orientation (compass), and movement against gravity. It regulates muscle tone, motor control, and postural control; sequencing of movement, visual space perception, and visual-motor control; auditory language skills, emotional stability, clear thinking, and alertness.
A note from the founder of Yoga Teacher Central
Expanding Your Teaching Toolkit, Efficiently
Dear Friends and Colleagues,
Since January, we've been making our way through every single asana digest, involving nearly 250 poses, plus the asana category lessons, to update them with ever-more research, pose variations and teaching support.
Teaching poses is the most tedious content work I do because it involves a more exacting process than with other subjects — particularly as it involves identifying bits and pieces among many sources to then reference from separate categories. I have to scour sources in a very detailed way to ensure that any unique angle or contribution is referenced in an organized way, so that you can be aware of all the knowledge out there when you actually need it and will apply it.
The most obvious examples of subjects where I need to draw bits from all over (!), bringing them together into a more comprehensive view are: contraindications and cautions, verbal cueing, pose variations, and sequencing considerations.

For instance, it can take many years of experience for a teacher to be able to recall (in the middle of a teaching situation). every variation of Tree Pose she's ever been exposed to. Equally important is that most teachers will have only been exposed to a fairly small subset of all the possible variations. So I work hard to compile every possible version I can find into a single list, organized by intention.

(Scroll down for an example: 29 versions of tree pose organized into categories and intentions.)
Here's an example of our sourcing. Over the years, I've consulted these resources on a single pose (Handstand):

We have hundreds upon hundreds of these source lists for every conceivable teaching subject. They're useful for many reasons, one of which is that I always know what has already been reviewed and can focus my attention on reviewing new sources.

We break Handstand teaching support into a fairly typical asana digest breakdown — a separate page for each of these:
Overview
Benefits
Cautions
Basic Form
Variations
Sequencing
Hands On
Sources & Resources
And then each page is organized with jump-to menus to help you efficiently get what you need without wasting time on stuff you don't. For instance, the Sequencing page is broken down into these sections:
Evaluating Readiness
Increasing Readiness / Alternatives
Preparation
Jason Crandell Shoulder Prep Video
Neutralizing
Readings
Sample Sequences
Being a Virgo, I love this organization. :) But in addition, what makes this special is that anything unique from any or all of those 34 sources is referenced from each of these sections, with attributions and quick links available for going deeper.
Something I've been consistently surprised by is how virtually every source offers something special. After hours and hours of work, when my eyes have gotten blurry and my mind is tired, but I decide I'll just review one more source, I think, "I'll just scan this one. It can't possibly offer anything unique." But I tell you... it's a miracle! Just about every time, there's something I want to highlight for you.
So whether you're focused on verbal cueing, variations, or prep poses, the asana digests offer focus, broad scope, detail and efficient application for real teaching situations.

Coming Up
Select these links for themes and teaching support. Scroll down for seasonal dosha-balancing and more timely info.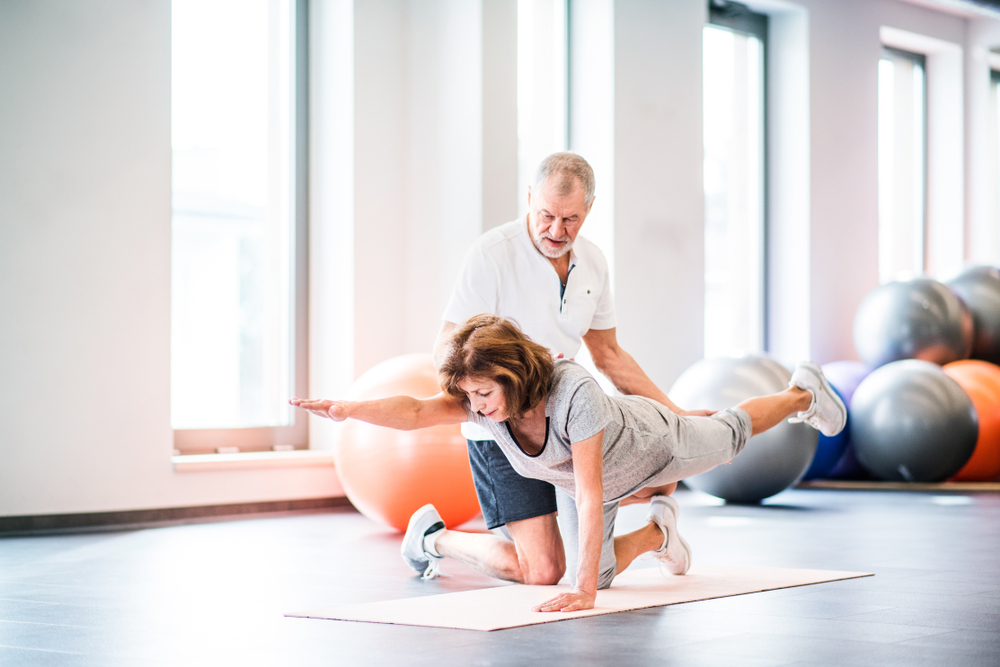 A series of lessons on teaching balancing poses. Each pose refers to an entire asana digest.
Balancing Poses
Asana Category: Balancing – Become proficient in the nature and effects of balancing poses, and considerations for wisely teaching and sequencing them.
Vrksasana (Tree Pose)
Garudasana (Eagle Pose)
Virabhadrasana III (Warrior 3 Pose) & Urdhva Prasarita Eka Padasana (Standing Splits)
Ardha Chandrasana (Half Moon Pose)
Natarajasana (Lord of the Dance Pose)
Utthita Hasta Padangusthasana (Extended Hand to Toe Pose)
Ardha Baddha Padmottanasana (Half Bound Lotus Standing Stretch)
Svarga Dvijasana (Bird of Paradise)
Anantasana (Side Reclining Leg Lift / Vishnu's Pose)

Asana Category: Balancing Poses

Objective: Become proficient in the nature and effects of balancing poses, and considerations for wisely teaching and sequencing them.
Description: Describe five types of balance poses and give examples for each. Describe the physiology of balancing; include a description of the vestibular system. Provide the general physical effects and energetic effects of balance poses. Explain why balance poses are a vital practice. Summarize six powerful teachings, and then go into detail on each. Describe ways to add challenge to a balancing practice. Provide general considerations related to sequencing balancing poses and sample sequence. [See also: Arm Balancing Poses.]
Vocabulary: anantasana, ardha baddha padmottanasana, ardha chandrasana, ardha chandrasana chapasana, balancing poses, garudasana, natarajasana, niralamba, salamba, utthita hasta padangusthasana, virabhadrasana III, vrksasana
Balancing Poses
+

Remove an element of support to strengthen and stabilize the body and mind
Salamba
+

"With support" (such as using a prop, or placing a limb for balance support)
Vestibular System
+

Sensory system located in the inner ear that regulates balance and spatial orientation
Following are excerpts from one page of one asana digest.

Vrksasana can be challenging for many of us, particularly those who experience balance issues, tightness in our IT bands or inner thighs, or any type of injury to the knee, ankle, or foot.... Variations will allow you to explore similar shapes, actions, and benefits while respecting your individual needs.
Variations in the Bent Leg
Foot at top of inner thigh
Foot lower on thigh
Foot on lower leg
Foot on lower leg, and shin resting on chair seat (with blanket); with this version, likely best to also practice with back near wall for balance support as needed; image from Jivana Heyman here
Foot on block
Toes on floor, heel at inner ankle
Foot at inner knee is contraindicated for knee issues; some traditions recommend always avoiding placing foot at inner knee; others recommend mindfulness if this placement is chosen to avoid pressing into the joint.
Pick a foot position that will allow you to turn the bent knee out with more ease.
Variations in Arm Placement
Arms raised, shoulder-width apart, palms facing each other
Arms raised, palms together

Arms raised, hands clasped, index fingers extended

Arms in big "V" above head

Hands in Anjali Mudra at the heart

Eagle arms (Baxter Bell demonstrates here)
Hands to hips

One hand on wall or hip, one hand on thigh of lifted leg

Wall Versions
Stand with side body less than an arm's length from wall, grounded leg closest to wall. Place hand at wall to support balance. Remove hand and return it to wall as needed.
Stand with side body to wall, bent leg closest to wall. Touch knee to wall for balance, as shown in image above.
Stand with back near wall and reach behind to touch wall for support as needed.
Other Challenging Versions
Close eyes.
Gaze up.

Lift heel, coming up on toes.

Stand on block.

Side bend to bent leg side. (Image and teachings by Adithi Mathews here)

Sway.

Balance a block on the top of the head. (source)

Other Accessible Versions
Powerful Resources
You can get better and better at supporting students.

How Yoga Supports Health
Be competent in specifying the ways that yoga supports health from various perspectives.

Research on Yoga's Impact
Explore different types of research, considerations in evaluating it, and potential impacts of using research in your study, teaching and marketing.

Referring Out
Know when it's advisable to refer students out for diagnosis or individual assessment and how to be prepared to do so.

Injuries & Conditions in Yoga
Prevention, Accommodation & Adaptation. Become knowledgeable in injury prevention and ways to accommodate students who have injuries and conditions.
Newsletter Templates
Content you can copy, edit and share. Monthly newsletters include seasonal topics. And there's a library of content by subject.
No Membership Required
We receive no promotional, advertising or partnership revenue.

We subsist entirely on modest member dues.
We honor this healthy exchange with the people we serve and are pleased to waste no one's time or energy with the advertising model.

We give freely as well, via this newsletter and the Free Resources Hub which includes information on Yoga Alliance and certification, insurance providers, free lessons, self-assessments, teaching vocabulary and more.
Are you interested in planning a class that is aligned with the themes or energies of a moon phase, seasonal event, holiday or other observation? Here's a step-by-step approach for consideration:
Clear your mind and prepare to be open and creative by practicing / meditating. During or afterward, choose your class intention. (See also:

Strategic Class Planning:

A Process for

Inviting Inspiration.)
Using your intention as a guide, explore teachings, curations and theme plans on the Seasonal Yoga & Calendars Hub.
Choose a focus of asana and select a sequence. (Teaching toolkits include suggestions.)
Invite students to a class that will be dedicated to a related theme. (Links to templates for newsletters and social media content on Member Home.)
Create a class plan. (Option: create downloadable class notes using the Class Builder.)
Set aside time before teaching for personal practice (no matter how brief) to ensure you are embodying the teachings. (Personal Practice & Study)
Lead your students in an intentional class. (See also: Body Language, Authenticity & Presence.)
Seasonal Dosha-Balancing
The first image is for the Northern Hemisphere and the second for the Southern. Select the image for a general approach to balancing current seasonal energies.  Select the season title to see asana recommendations in particular.

Current Astrology / Energies
It seems that every astrologer on the planet has expressed that March 2023 is an ultra-intense month, astrologically.

4 min, Tanaaz, Week of March 12-19, Last week of the astrological year
42 min, Molly McCord
Pluto and Sedna: The Depths of Evolution (2023 & 2024)
Another longer-term astrological occurrence: Pluto in Capricorn and Aquarius Crossover Years (2023 & 2024) video
2 min, Toddler and dog - joyous musicians
And in this 1-min video, dog harasses person to play music daily, never wanting her to stop :)
2 min, puppy and bunny love
Rick Beato reviews "Kiss from a Rose" by SEAL - What makes this song great?

5 min, Lindsey Buckingham and Stevie Nicks (Live, 2005) - Such vulnerability and beauty
3 min, I shared this one before, but as I've watched it more, I've noticed so many artistic elements that make this, in my opinion, something of a masterpiece. It's like each scene is, in itself, a photograph worthy of an exhibition... the people on their balcony looking down in enjoyment (and later putzing around without seeming to notice the musicians), the clothes line, all the various construction material for the buildings and fences (black composite, brick, chain link, swirled metal), a dirty yellow garbage can making a splash in the corner, the awesome mix of instruments, the fancy vintage car in the alley, each movement of the arrangers and the musicians (so perfect!!!), the angelic children... it's all quite amazing, I think! :)
Well-Researched Sources Countering the Corporate Media Narrative
20 min, Dr. John Campbell discussion with Russell Brand
Over the past few years, YouTube followers of the beloved, intelligent, balanced, clear and calm Dr. John Campbell in the U.K. have written many comments of gratitude.
Some have expressed their respect as they watched him "wake up" publicly to corrupted government policies, data fraudulence and censorship, and unscrupulous promotion of injections. Unlike the vast majority of "professionals," he even apologized at one point when he realized he had given advice in the past which was in accordance with "medical policy" which the data has proved time and again was dead wrong.

Many report finding his approach a breath of fresh air. He always focuses on the data, sharing it on his screen, and with his red teacher's pen, walks through everything clearly and succinctly.

This particular video is more of a conversation of findings over these past few years, but see his channel for specific subjects, typically presented in 10 to 20-minutes.

December 4, 2022

I absolutely love your material. You are so passionate and knowledgeable. Thank you for all your hard work.
I was having trouble figuring out what I should download but I used the spreadsheet and just downloaded everything that was listed under "Foundations." It became life saving.
This is very good information. I look forward to continuing to grow my collection. Thank you for making my job as a studio owner so much less time consuming. I appreciate your continued support.
July 19, 2022

I am renewing as your site is just invaluable. I love it and I'm very grateful.
February 10, 2022
While my original intention was to access resources to prepare for a YTT, I have been using your site daily for self study and to level up my own knowledge/teaching. I've (only) been teaching for 7 years and even though it's something I do everyday, the more I learn, the more I realize just how little I know. Everyday, I learn something new and it makes me feel more confident teaching my classes safely.

I am running a workshop on Yoga & Stress (so timely and also inspired by your site!) and the handouts are perfect for students to take home. It's interesting without being too heavy. As for all the information on the site — my goodness I just keep going further and further down the rabbit hole!

It's disturbing to think that there are instructors out there with less experience/knowledge who are teaching and long-time instructors who haven't upgraded their education, just teaching what they've always taught. Anyway, I really appreciate you and the invaluable resources you've made accessible to me and the yoga community at large. I am already a better teacher for it. Thank you. - Shelley D'Amico, owner of Namaskar Yoga Studio in BC Canada
July 31, 2021

From a trainer member whose lengthy teaching and training experience includes training within the Canadian school system...
You are both amazing. I am so impressed with this all! The content is beautiful and it was an awesome decision on my part ;) I love your style of work! I will be recommending you to all I know.
February 9, 2021
From a trainer member and studio owner with extensive business, education, and training experience...
I have a manual for my 200hr YTT and wanted to add more information and structure it differently, but I was getting overwhelmed with the project. I found your website and was so surprised at the amount of information and knowledge that it made me smile so hard and it is absolutely worth the money I paid. The amount of work and research your team has put into this base is amazing and needed so THANK YOU for making my life easier. What would've taken me so long to put together, now I feel confident I can put together in a week. What also makes it so good is that you have also allowed me to edit, reprint and distribute without the hassle of copyright issues. This to me is priceless! So sincerely thank you and I am glad I invested in your products! - Sanaa Jaman PhD, Tru3Yoga
January 31, 2021
From a trainer member who built her entire 200 hour curriculum, training manual and assessment plan using our material...
I have to say, the info is fantastic– as I've been looking through it, it is so comprehensive and amazing!! Yes, it gives us the support to teach and communicate with students in a way that brings out the best we can be. We can deliver the knowledge in a way so that they can be the best they can be, too… and to know it's only the beginning. Thanks for all this.
August 6, 2020
From an experienced and knowledgeable teacher whose formal training has been in India and his practice and teaching has been primarily in the U.S...
As I'm working with these resources in a more in-depth manner, I remain blown away by their quality and detail. They align so well with all of my own resources, and I am having the *MOST* fun creating with it. As I'm creating more and more, I see how your promise of helping yoga teachers be their best is not just good marketing-- its something you are truly doing. Having help organizing this material has allowed me to present it with a maximum of efficacy for retention and understanding for students with such varied interests and backgrounds.

The resources that you provide fit together so nicely [and inspire me to share my love for mythology, chanting, and so on.] It feels a bit like I'm now prepared to defend a thesis -- able to speak extemporaneously on each of the many topics and then field questions as they come up dynamically... its just SO much fun. - Michael Joel Hall, Yoga Teacher and Coach
March 27, 2020
Hi Shelly - I wanted to share with you that I heard from Yoga Alliance today for the first time about my Yoga School application. He said the outlines and information shared was so well done that just minor technical tweaks were needed. He said I made his job easy and that it was not "if" my application would be approved, it is just a matter of 'when'. I used the syllabus you offered with the purchase I made from Yoga Teacher Central with just some minor changes. I so appreciate the information you are making available to the yoga community and am beyond grateful.
March 7, 2020
A brilliant summation of what we have been trying to achieve...
It's definitely been a valuable investment. I feel like I received the blueprint for the ideal house structure and now I can decorate with my own style. :)
Connect with a fellow yoga lover (geek)
Yoga Teacher Central
135 Bear Wallow Ln, Sedona
United States of America
You received this email because you signed up on our website or made a purchase from us.
Unsubscribe