September 2023 Newsletter
Updates
Innovation Challenge Grant
We have established an Innovation Challenge Grant for up to $5,000 to jump start new pathways for ikebana. The projects should be innovative, practical and concrete.
The Ikebana Iwaya Fund is encouraging the spirit of exploration to benefit a broad constituency.

Want to implement a novel project with your ikebana talent and expertise?

We encourage ikebana practitioners and teachers to rise to this challenge as we broaden the audience and the practice of ikebana.
The Innovation Challenge Grant will provide a single award up to $5,000 to a person or organization.
Deadline for submission: March 31, 2024
Tanimune Memorial Teaching Scholarship
Applying for the Teaching Scholarship
You may apply for the Midori Tanimune Memorial Teaching Scholarship no matter your current training level if you are committed to teaching ikebana.

Applicants can apply for funds to cover associated fees to participate in events/learning opportunities such as:
Workshops/Training
Conferences/Seminars
Demonstrations
Recommendation:
A recommendation by your ikebana teacher is required.
Deadline:
Applications must be received at least 6 months prior to the event.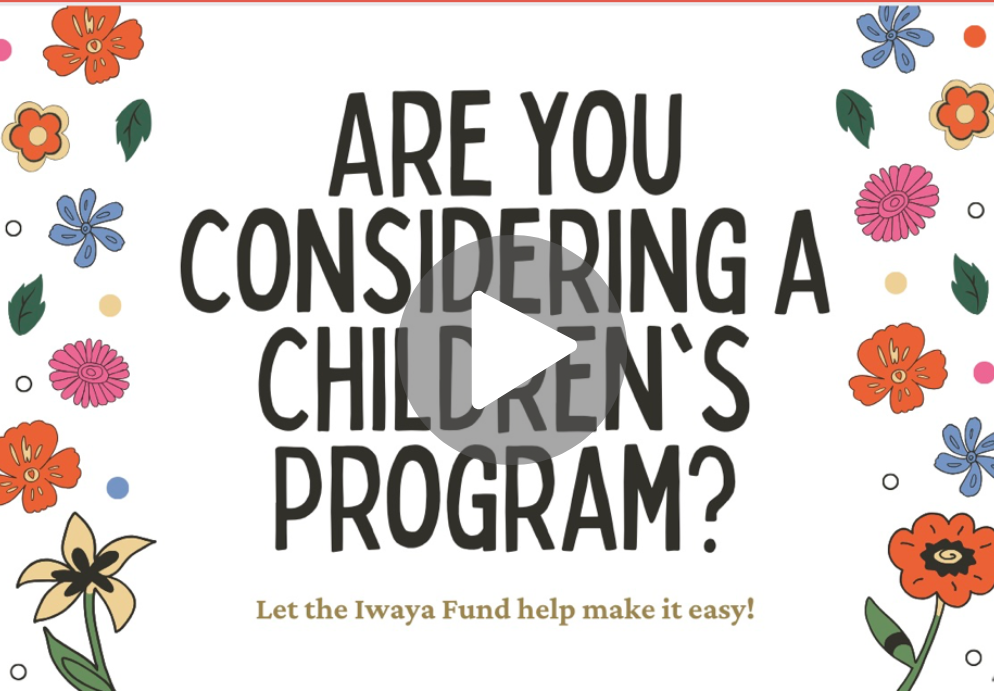 Ikebana for Children
Perfect for a school setting, summer camp, library program,
or with your own children!

Two videos with printable curriculum.

"Mini Ikebana"
"Scribbling with Ikebana"


Louise Worner takes you on a journey of discovery as children engage with nature and learn the essence of ikebana.
NEED FUNDS FOR IKEBANA?
Apply for a Grant
The primary way the Iwaya Fund meets its mission is through grant giving. We support your organization by providing supplementary funds to your ikebana initiatives. 
Our process begins with a simple application that can be found on our website at Ikebana Iwaya Grants where you will also find FAQs.
We ask applicants to apply at least six months to one year before your event or program. We ask for this in order to fully partner with you in regard to publicity and outreach. 
We look forward to supporting you!
Photos Shared by Grant Recipient
I.I. Chicago Chapter #27
Anime Central

May 19-23, 202


Promoting ikebana a Chicago's Anime Central Expo (30,000+ Attendees) where the anime and manga industry, as well as the gaming, cinema, and Asian culture personalities gather.
I.I. Sun Cities #167
50th Anniversary

January 10 & 11, 2023
Demonstrations and Workshops withSogetsu  Master Instructor Misei Ishikawa.
I.I. Denver Chapter #66
Website Revamped

I.I. Mexico City chapter #228
July 20-23, 2023
When you donate to the Ikebana Iwaya Fund, it is used in our operating fund used to award grants, used in one of our initiatives, or it is deposited into the Endowment.

Your donation can also be designated to an ikebana organization of your choice.

As a US-based non-profit [IRS 501©(3)] you will receive a tax-deductible receipt that you can use if you file US taxes.
Support ikebana events and projects.
Donate to the Ikebana Iwaya Fund.
Flower Market Mexico City
The Mercado Jamaica in Mexico City sells produce and meat, but it is best known for its flowers and ornamental plants. There are dedicated to the selling of cut flowers, flower arrangements, ornamental plants and accessories.
1,150 stands

5,000 types of flowers and ornamental plants
25.5% are cut flowers

26% are flower arrangements

4.3% are flowerpots and other accessories
40.9% of the stalls are reserved for trucks of flower sellers

3.2% are ornamental plants, including those from the wild
501(c)(3)
Wilmington, DE
United States of America
You received this email because you are a donor, an ikebana organization or have signed up to our newsletter.
Unsubscribe