Dear Members,

Henley Royal Regatta is on the horizon! We are working hard dotting the i's and crossing the t's to ensure you have a wonderful week at Leander Club. We have put into action much of your feedback and we are bringing you more tables for lunches, more bars for faster drinks service and the return of Afternoon Tea in the garden! For the first time in the Club's history we will also have a new floating bar adjoining the athlete's pontoon, offering private hire dining and drinking right on the water.
You will receive your badge packs in the post in April. These will contain everything you need to know about booking your meals, teas and boat trips. All the booking details will also be published on our website and we'll be emailing you with booking details in advance of this, too. Tickets will be sold in two tranches, to give everyone a better chance of purchasing. Ticket release 1 is at 9am on Monday 24th April, ticket release 2 is at 9am on Monday 8th May.
Coming up - Mother's Day is on Sunday 19th March, the Six Nations continues, our next Fine Dining Evening is on Thursday 16th March and The Boat Race is on 26th March. We'll be serving all-you-can-eat roasts and showing the racing.
Pop a date in your diary for Saturday 6th May - we'll be holding a Royal Deck Opening Party to celebrate the coronation of King Charles III and the official start of summer at Leander Club.
- Al Heathcote, General Manager

Pinsent grills Beechey
Matt Pinsent interviewed Matt Beechey, Leander Club's Men's Chief Coach on Instagram Live recently. He talks about our successful Gap Year programme, why British Rowing is on the up again and what makes rowing for Leander during HRR an unbeatable experience.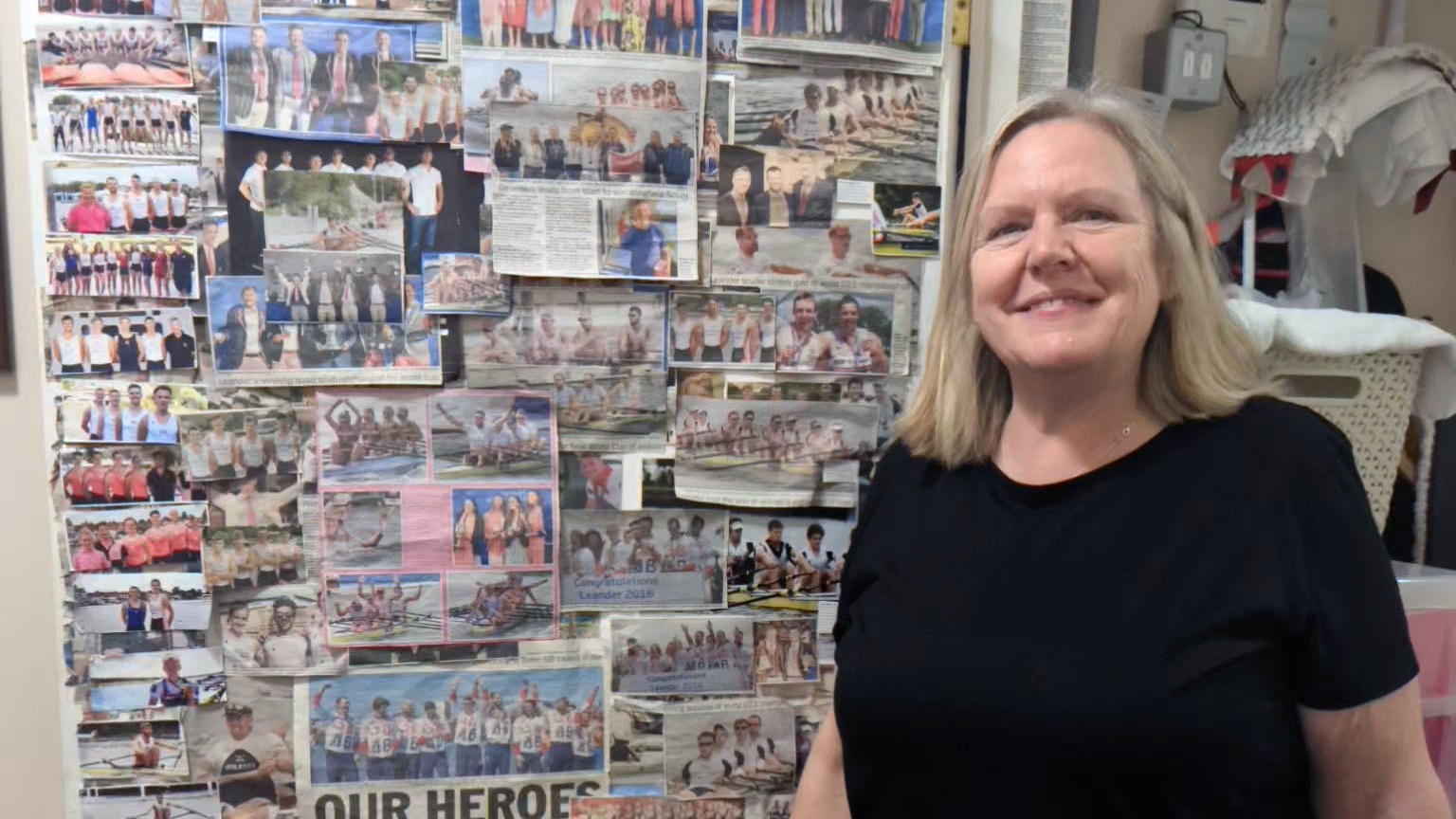 Fond farewell to Maz
Our superstar Housekeeper Mary Jamai (Maz), is retiring after 24 years of loyal and patient service.
Maz started out as a kitchen assistant, progressed to pastry chef and in 2002 became Housekeeper. She is also a rowing superfan and has carefully collected and curated every article written about our athletes since she has been working here. Her wall of fame is on the inside of the cleaning cupboard door! To see the full door, click here.
Maz said: "It's been a real privilege to work in such a lovely place. No matter the weather, the views are always gorgeous. It's lovely chatting to the Members and so exciting to see the athletes join as juniors and work their way up to the Olympics."
We would like to give Maz a good send off and for someone who has dedicated such a significant period of her life to the club, we are taking donations for a little retirement fund we have set up. Please email [email protected] if you would like to contribute.
Fine Dining Evening: 16th March
Our popular Fine Dining Evening series returns with a fresh and flavoursome Taste of Spring! This seven-course tasting menu promises to be a delightful evening.
These evenings are always well-attended and tickets are selling quickly, so we advise booking soon. 
Book by emailing [email protected] or call us on 01491 575782.
Mother's Day: 19th March
Celebrate Mother's Day with Sunday lunch at Leander Club.
Your guest of honour will receive a small gift. It's a lovely way to thank the mothers in your life for their dedication to your family.
Book by Wednesday 15th March by popping in to the office or calling us on 01491 575782.
Space #2: Apollo 13: 23rd March
Pictured is the NASA manual that saved Apollo 13. It will be exhibited at Leander this month as part of a space series. Apollo 13 will be shown, followed by a talk and Q&A. A buffet supper will be provided for £15. Book on 01491 575782.
Boats not Bars: 24th March
Imogen Walsh – international rower turned prison rowing provider – is guest speaker at Henley Female Networking Group's meeting on Friday 24th March. Imogen has gone from international rowing to delivering rowing projects in the most unconventional of settings – from the Maldives to UK prisons. Tickets £20 include breakfast, all proceeds to The Chiltern Centre. Click here.
New Members' Drinks: 2nd April
All our recently elected Members are invited to a Drinks Reception on Sunday 2nd April, from 12-12.30pm.
This is an opportunity to meet our General Manager, Al Heathcote and to network with other Members. Find out about the busy social calendar – including Henley Royal Regatta!
Cocktails and Jazz: 21st April
We're hosting a free Jazz night to launch our new cocktail menu! Come and listen to the finest tunes from the Voodoo Funk Collective while you quaff the finest cocktails from Edmunds.  
Cocktails include Espresso Martini, Old Fashioned, and a Kumquat Margarita. Book by emailing [email protected] / call 01491 575782.
The Six Nations
The rugby action continues on 11th/12th and 18th March! We're serving a special menu to accompany the matches with American deli style burgers, katsu chicken burgers and club sandwiches. Book your tables by calling us on 01491 575782.
Deck Opening Party: 6th May
Save the date! We're celebrating the coronation of King Charles III with a Deck Opening Party. Our annual party is the official start of the summer season here at the club. Join us to watch the coronation and enjoy live music and dancing into the night. 
Leander Golf Day: 6th June
The Leander Golf Day will take place at Huntercombe Golf Club on Tuesday 6th June 2023. The plan will be to convene at the Huntercombe Clubhouse at 9am. A two course lunch will be served in the Club Dining Room – jackets and ties for the gentlemen. Contact Mike Sweeney at [email protected]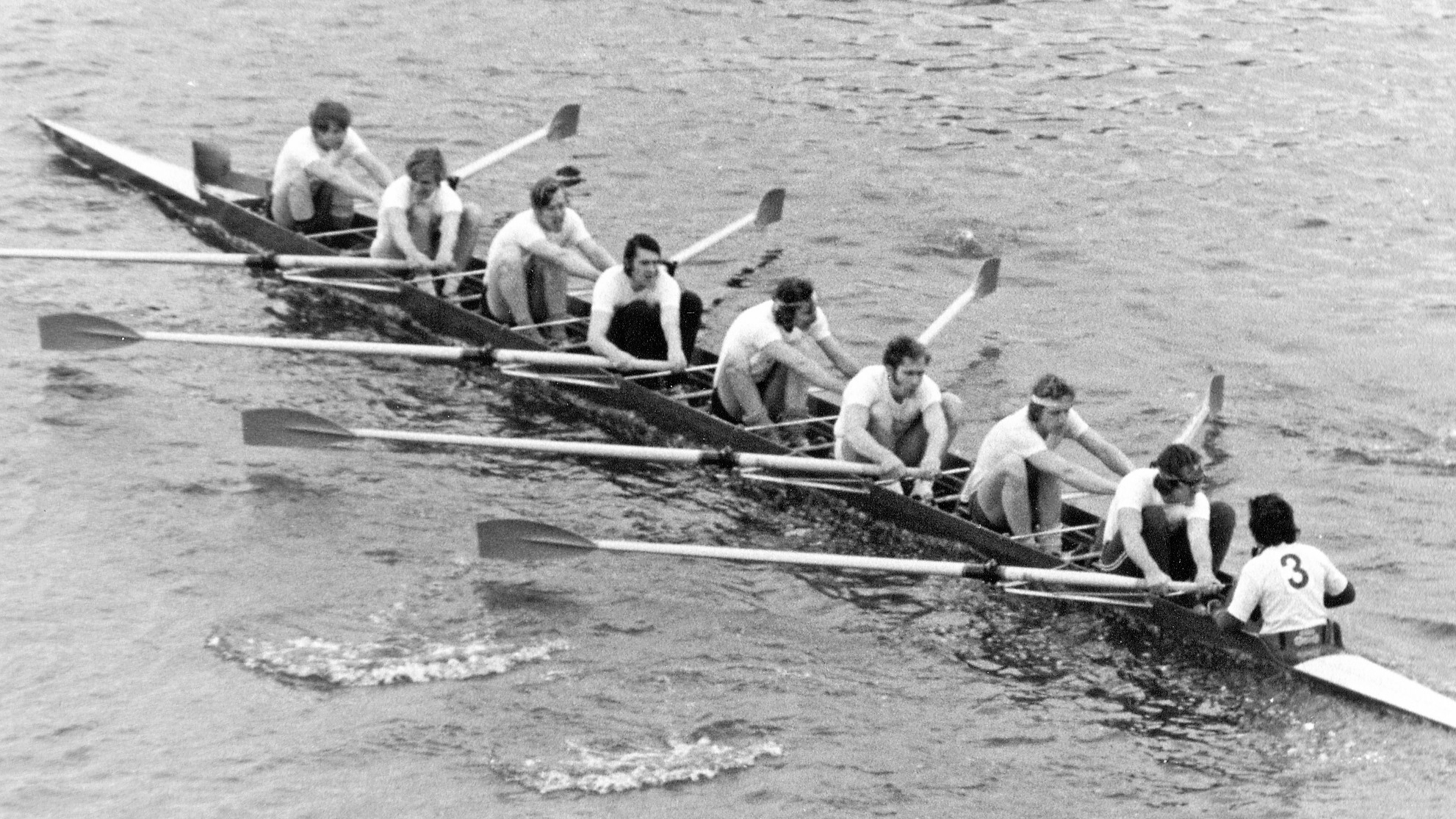 50 year anniversary of HoRR win
Pictured - B: Peter Summers, 2: Johnny Pemberton, 3: Chris Dalley, 4: Chris Etherington, 5: Carl Purchase, 6: Tim Crooks, 7: Hugh Matheson, S: Dick Lester, C: Robert Lee
Robert Treharne-Jones, Leander Club Archivist writes:
Founded in 1926 by the legendary Steve Fairbairn, the 4¼ mile Head of the River Race over the Championship course signals the end of the long distance steady-state training period before the regatta season gets under way, and this year marks 50 years since Leander first won the Head trophy in 1973. London RC were early winners for many years, while composite clubs like Barn Cottage and Tideway Scullers made their mark in the post-war years before Leander's first win, and the newly-formed GB National Squad (albeit with several Leander men on board) won the lion's share of pennants for many years. Fast forward to the new millennium, and Leander became the dominant force but, since dead-heating with Brookes in 2018, it's the Oxford-based powerhouse which goes into this year's race as reigning champions, with Leander looking to overhaul them with their 15th win in the history of the race on 18th March.
On Saturday 4th March, 30 Leander athletes took to the Tideway for the annual Women's Eights Head of the River. In what was an amazing display of women's rowing in the UK a total of 320 crews totalling 2,880 athletes charged down the Tideway course from Chiswick to Putney.
Leading the field as defending champions was the Leander A crew with two time Olympian and Olympic silver medallist Karen Bennett in the bow seat. Conditions were favourable and with a clear run the Leander A crew stormed down the track to take the overall victory.
Leander vs OUWBC
On Sunday 26th February, the Leander women headed to London for the much anticipated fixture against the Oxford Women on the Championship Course. Strong north easterly winds and strong competition were no match for the Leander women.
Keep reading

Pre-Boat Race fixture
Close-fought racing in rough conditions was the theme of the day when Leander took on Cambridge on the Championship course. This is an annual fixture. The race was on the Championship course in London split into two separate pieces.
Keep reading
Junior Trials
The Leander Juniors traveled to Boston Lincolnshire for GB Junior Trials on February 18th /19th. Leander had five scullers racing in single sculls in difficult tailwind conditions. The young Leander boys raced well and achieved some positive results.

We are recruiting for the position of Finance Manager at the club. This is a full time position and the successful applicant will be working from the Leander club office. For more details please email: [email protected]
Finest technical kit in town
The latest technical gear from 776BC has landed! We think the Pink Hippo shop is one of the few places in Henley where you can buy top quality women's sports gear including crop tops. 776BC supplies Leander's crew kit and the Australian national rowing ream. Their specialised performance apparel includes long and short-sleeve baselayers, leggings and all in ones.
Henley Bridge, Henley-on-Thames
RG9 2LP, United Kingdom
You received this email because you are a Member of Leander Club.
Unsubscribe