April 2023
As the weather warms up, there's a lot happening in the parks! Check out this this issue of In the Parks for upcoming events, construction updates, and some fun ways to spend Earth Day! 
Spring has arrived!

The spring wildflowers have started their annual show! And the best place to watch it in the Park District is the wildflower loop trail at Sycamore Park.
Spring Beauty, Rue Anenome, Cut Leaf toothwort, White Trout Lilly, Squirrel Corn, and Sessile Trillium are all blooming. They will be followed by Virginia bluebells, May Apple, Waterleaf, Dutchman Breeches, Wild Geranium, Flexipes Trillium, and more.
To get to the wildflower loop trail, take the trail leading to Wilson Nature Preserve from Sycamore Park and once you go up a small rise, the Wildflower trail will be on your right. It is a natural surface trail with stone steps, and can be muddy and slippery following a rain. It is narrow, but please try to stay on the trail as the flowers come right up the edge of the trail. This area of woods is our best spot for wildflower watching! And if you visit multiple times throughout March, April, and May you can watch the progression of wildflowers through the spring.
Wildflowers put on show all across Ohio. If you visit the Ohio Department of Natural Resources website you can the find the weekly wildflower bloom report with information on where to go see great displays of wildflowers throughout Ohio.
Don't miss the show!
Earth Day
Did you know that Earth Day is on April 22nd? It's a day when we can do our part to make our planet a better place to live for all.
Here are some ideas for ways to can make a difference:
Join hundreds of others to collect litter at the Spring Litter Pickup on 4/22 from 9 a.m. – noon! Go to this link to find your location and to register you, your friends and family!
Plant a tree (or two) on Earth Day, and make sure they are native! Our employees will be joined by Duke Energy at Shor Park to do a little reforestation, hope you can do the same at your own house and share your photos with us! Tag them #plantwithclermont and be shared on our social media pages, and maybe our website or future newsletter! Be sure to focus on native! For a list of Ohio trees that are great to plant, check out this ODNR informational guide.
Pick a small goal or two – like ditching single-use water bottles, straws, and silverware or making a pledge to bring those reuseable bags to the store!
Become a more conservation-oriented homeowner by attending our free Landowner Conservation Series, which kicks off on 4/12 with the topic of Native Planting! Upcoming topics include tree health, stormwater pollution mitigation, removing invasive plants and more! Check the calendar and register online.
And to end on a fun one – shop used! Whether that is at an auction, flea market, thrift store or used gear supplier, shopping re-sale helps to keep things out of the landfills, and often helps you to end up with more unique finds in your closet and homes.
Don't forget to hug your favorite tree!
Management Moment: Shor Park Conservation

CCPD staff recently completed a Callery Pear removal project at Shor Park! Callery Pear, or Bradford Pear, is an invasive tree species that outcompetes native trees. An estimated 1,100 pear trees were cut from a 1.5 acre section of Shor Park! The stumps were then treated with herbicide to ensure effective removal. The following week, staff members were able to collect the pear trees and chip the cut trees. These wood chips will now be used as whole tree mulch for landscaping beds and future tree plantings. Future removal efforts will be planned for Shor Park as time and staffing permits.
After finishing this project, staff were able to begin work on what will be a new trail that showcases our newly constructed wetlands. The trail will be approximately 0.37 miles and will be an ongoing project throughout the season. Keep an eye out for future updates!
Knee-High Naturalist: Frogs and Toads
Shor Park
Tuesday April 4 at 4:30pm
Get outside and explore nature with your 3-5 year old at the park! Read a book, make a craft, and have a mini adventure. This month, we will be learning all about frogs and toads! Free, no registration required.
Homeschool Discovery Day: Wildflowers
Sycamore Park
Friday April 7 at 10am and 1pm
Learn about flower structure, use a dichotomous key to identify wildflowers, and take a hike to see what grows along the trails at Sycamore Park. Best for ages 6 through 13. Free, register by emailing [email protected]
Nature Play Days
Sycamore Park
Friday April 14, from 1pm-3pm
Come by for an open-ended, creative play session at the park. We provide a variety of nature-based activities to encourage meaningful experiences in nature. Children will learn about the world through nature exploration, active games, and crafts. Free, no registration required.

Spring Bird Walks
Chilo Lock 34 Park
April 14, 21, and 28 from 9-10am
Over 200 species of birds have been seen at Chilo Lock 34 Park and adjacent Crooked Run Nature Preserve! Join us for these morning walks during the height of migration to see what birds have arrived. Best for ages 12 and up. Free, no registration required.

Critter Feeding
Clingman Park
Sunday April 16 at 3 p.m.
Stop by to see our cold-blooded critters eat their lunch and learn what our local wildlife do in the springtime. Learn the unique stories of our animals and maybe YOU can help feed one of them! Program will be held indoors. All ages. Free, no registration required.

Knee-High Naturalist: Frogs and Toads
Chilo Lock 34 Park
Tuesday April 18 at 10am and 4:30pm
Get outside and explore nature with your 3-5 year old at the park! Read a book, make a craft, and have a mini adventure. This month, we will be learning all about frogs and toads! Free, no registration required.

Morning Nature Walk
Chilo Lock 34 Park
April 22 from 9-10am
Take a walk with a naturalist through Crooked Run Nature Preserve to see flowers in bloom, signs of wildlife, and happenings along the river! The hike will be approximately 1.2 miles, trails are mostly flat but not accessible. Meet in the east parking lot near the yurts. Free, no registration required.

Nature Crafts: Making Paper
Clingman Park
April 23 at 1pm

Learn how to recycle old paper into new, incorporating dried flowers and natural treasures found during a walk at the park! Free, register by emailing [email protected] by April 19.
Chilo Lock 34 River History Museum Opening!
On April 20, our River History Museum will reopen for the season! The museum will be open from 9am-4pm every Thursday-Saturday until October 21. Stop by to learn about the people who lived and worked along the Ohio River, attend nature walks and other programs, and check out Crooked Run Nature Preserve. Interested in history? Become a museum volunteer here.
Landowner Conservation Series: Native Plantings
April 12, 6:30-8:30pm at Hartman Cabin
Our Landowner Conservation series gives you ways to practice conservation on and protect your land! This month, learn about the benefits and integration of native landscaping into your yard, including plant selection and care. Make a native seed bomb to take home. Free and designed for adults, register here.

Spring Litter Cleanup!
April 22, 9am-12pm
This Earth Day, grab your gloves and join Clermont Parks at East Fork or Stonelick State Park for this annual clean up, organized by Clermont Soil & Water District and the Adams-Clermont Solid Waste District. Last year, 300 volunteers removed 380 bags of trash and 71 tires from our waterways! Free, register here.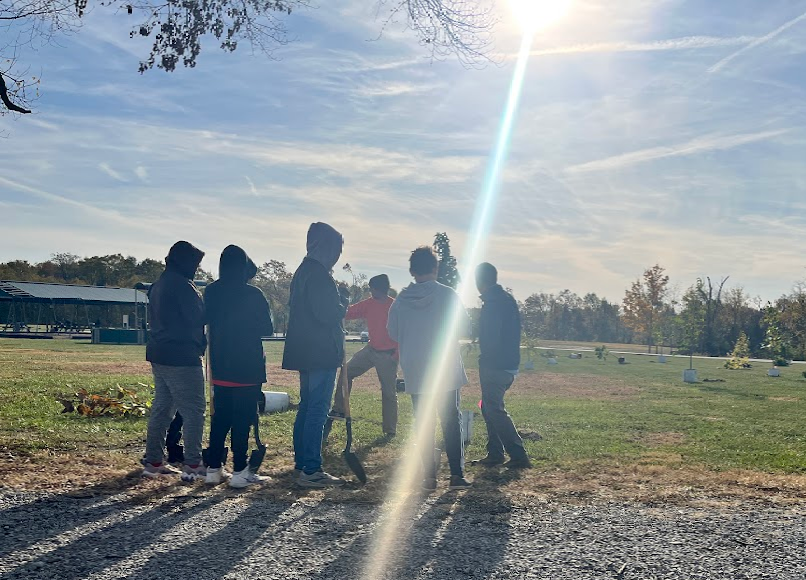 Plan a Group Volunteer Project for 2023
Are you interested in bringing your school, corporate or community group to give back at Clermont County Park in 2023? Projects include tree plantings, invasive removals, trail work or light construction projects – such as bridge, bench or picnic table upgrades. Group service projects are a great way to bond while making a difference!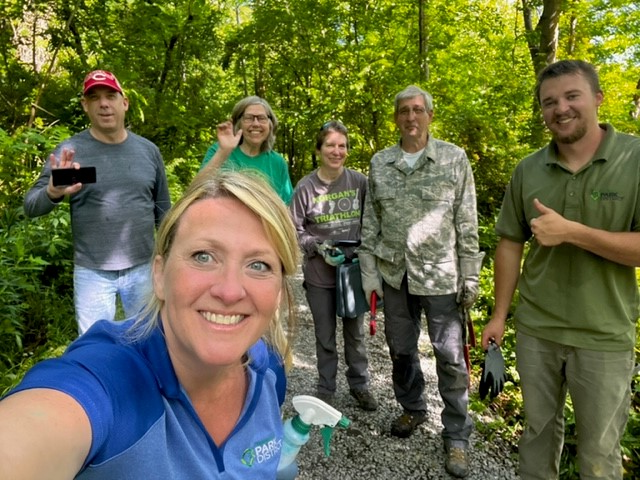 Become a Park District Volunteer!

Bring your unique skills to our volunteer team! We have openings in all volunteer positions, from photographers to naturalist assistants to our Forest Stewardship Team! All volunteers must register through BetterImpact. If you have any questions, email [email protected]
2156 U.S. Highway 50, Batavia
United States of America