Welcome to this month's edition
Good afternoon!
Spring has seemingly sprung, and I for one welcome the brighter evenings.
Having marked the end of the financial year, we're thrilled to have ended the year on a high following our Hope Hack event last month, the announcement of Kick off @3 coming to Bedfordshire and the completion of our Strategic Needs Assessment.

For those that attended, it goes without saying that attendance to the Hope Hack was sadly impacted by train strikes which affected young people attending, especially from elsewhere in the county like Bedford. While we are looking at ways to bring this incredible concept to each local authority, we would like to thank our partners that made the effort to attend the event and engage with young people.

From the Hope Collective attending in full force, to our Hope Hack hosts, panel, performers and partners old and new, it's a challenge to unpack the day and really detail the impact it had on the young people and us as professionals. I am incredibly proud of the growing network of people with a true and proven passion for the young people of Bedfordshire. What we saw was just a small glimpse of the talent amongst young people in our county and I look forward to showcasing this further in the coming months.
As mentioned above, we're delighted to be partnering with Kick Off @ 3 and Luton Town FC Community Trust to host the iconic football tournament. Have a look below for more details and how you can get involved.
Finally, after months of gruelling research and collating of data, I would like to say a huge well done to our Data and Analytics Lead Ade for completing our revised Strategic Needs Assessment (SNA). As we continue in our efforts to challenge and reduce violence and exploitation, our SNA is our comprehensive baseline document that outlines key areas of focus and how we can continue to have a positive impact in our community.
While Ade progresses a summarised version, partners are welcome to request a copy of the new report by emailing [email protected].
With that I would like to thank you in advance for taking the time to read through our updates and look forward to reading your feedback.
Kimberley Lamb | VERU Director
Kick Off @ 3 is coming to Bedfordshire
A national football tournament which aims to break down barriers between young people and the police is coming to Bedfordshire.
Open to all, Kick Off @ 3 will see the six-a-side football competition take place alongside exhibitions and demonstrations from different agencies, charities and community groups working to keep young people safe.
The tournament will be held during half term at Lea Manor High School in Luton on Wednesday 31 May and is open to under 12 and under 14 teams, those in school years seven and nine respectively.
As well as established football clubs, we are encouraging the likes of schools, other education provisions, youth clubs and community groups to enter teams into the free tournament.
Mixed teams of girls and boys as well as girls teams are encouraged to enter the competition, with the winners going on to compete in the national finals in London later this year.
Set up by serving police officer Michael Wallace, Kick Off @ 3 has gone on to help and inspire hundreds of young people across the country through the power of sport, connecting them with charities and other services.
The Luton Town Football Club Community Trust is also playing an instrumental part in organising the event.
Tasha Case, the VERU's community engagement lead, said: "Sport has been proven to have a positive and powerful impact on young people.
"The Kick Off @ 3 concept will provide the opportunity for young people of any background and football ability to come along and have fun, whilst learning more about some of the services in the county that are here to help.
"We are totally inclusive and open to all so please come along or get in touch if you would like further information."

Last month, young people in Bedfordshire had the chance to come up with policy changes that could be put before the Prime Minister.
The flagship Hope Hack is a major national programme to give young people a voice, and part of the national Hope Collective – a group of youth organisations aiming to support and provide opportunities for young people.

The young people in attendance took part in workshops to shape their own ideas and solutions around these issues before presenting them back to the wider group at the end of the day.

Held at the University of Bedfordshire Postgraduate Centre, the free event welcomed panel discussions, live performances, surprise visits and more.

Stay tuned on social media for more from the day's activities and our  prize draw winners!
VERU and PCC join forces for second successful youth conference
Hundreds of teenagers attended conferences organised by the Bedfordshire Police and Crime Commissioner and Bedfordshire's Violence and Exploitation Reduction Unit (VERU) as part of a major drive to raise awareness about issues like knife crime and violence against women and girls.
Nearly 300 year nine students attended the events which were held at venues in each local authority area.
Young people heard from VERU Youth Intervention Specialist Team Coordinator Rochelle Browne and Senior Youth Intervention Specialist Roseann Taylor. Roseann spoke to the students about her experience following the death of her 18-year-old son Azaan Kaleem, who was stabbed to death in Luton in 2018.

Roseann has since established her career in educating young people on the risks of carrying a blade and supporting those affected by gang activity to make positive life choices.
"Sadly, AJ's story isn't unique, but I believe that is why many young people connect with elements of his journey," said Ms Taylor...
Lunch at Central Bedfordshire College
Tasha stopped by Central Bedfordshire College to raise awareness of our support services and invite young people out to the Bedfordshire Hope Hack last month.
A huge thank you to the college for welcoming us and the students for stopping by the stall.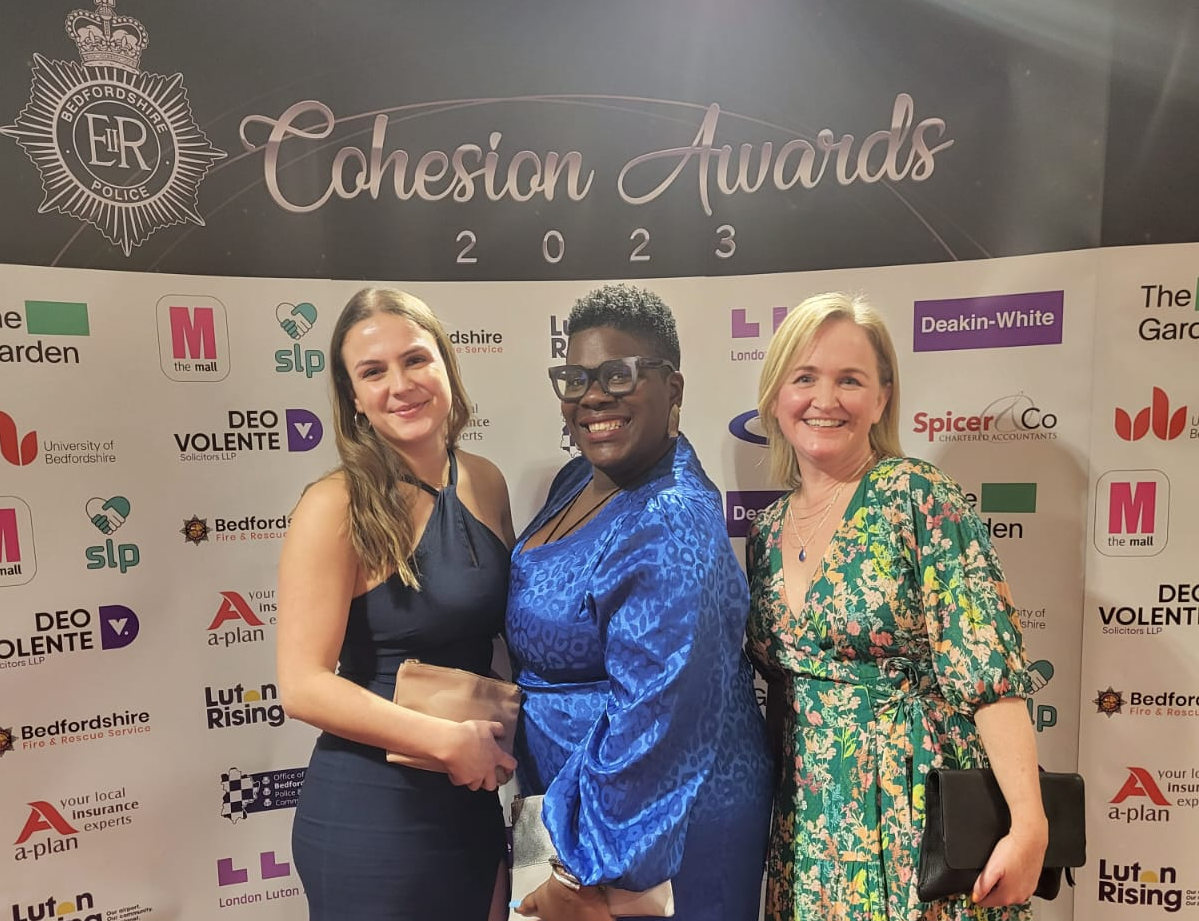 Community Cohesion Awards
Last month Tasha also attended Bedfordshire Police's Community Cohesion Awards with our VIP guests from Leicester's Violence Reduction Network (VRN), Community and Young Person Involvement Officer, Lisa Wilkinson (left) and VRN Director Grace Strong (right).
Dan Gaze Support Services
This month we're shining a light on the great work being done by VERU commissioned project, Dan Gaze Support Service.
This half term they've been out and about across Central Bedfordshire engaging with young people in the community, so much so it even got the attention of a Bedfordshire police officer who couldn't resist a game of basketball.
Come rain, shine and midnight sky, Dan Gaze and the team work to make a difference in the lives of our county's young people through engaging workshops, community outreach and mentorship.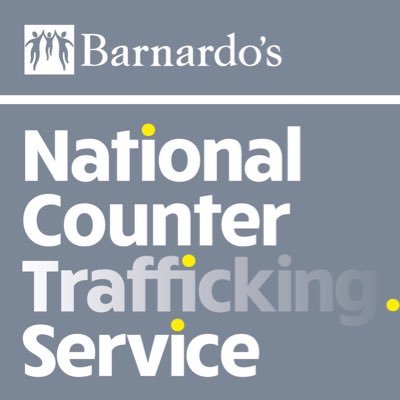 ICTG Service Awareness Raising Sessions
Join the ICTG Team for a series of awareness raising sessions aimed at increasing professionals' knowledge and understanding of issues relating to trafficking, exploitation and modern slavery.
Sessions run every Thursday throughout April, May, June and July.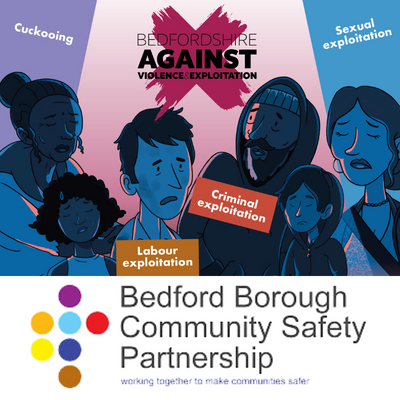 Adult Exploitation Training
Open to professionals working in the Bedford area, Bedfordshire Police's Serious and Organised Crime (SOC) team will be leading the session raising awareness of adult exploitation, the signs to spot and how to raise the alarm if you have concerns about someone.
The briefing will take place over Microsoft Teams on Wednesday 26 April between 1.30pm - 4pm.
Have your say on the violence and exploitation on girls and young women
The Commission on Young Lives and Manchester Metropolitan University are working together to examine the extent and impact of violence and exploitation of girls and young women, including around criminal gangs, and the solutions that are required to help protect girls at risk and support them to succeed.
Slavica Tobdzic from our YIS team will be collating a pan-Bedfordshire response to the study. If you or your organisation would like to respond, please get in touch with her by the close of tomorrow (Wednesday).
Please include any additional areas that you think should be considered.
What leads to vulnerability and crisis for girls and young women, including around criminal gangs and why aren't services as effective as they need them to be?
What data is available of the prevalence and nature of violence and exploitation of girls and young women including in and around gangs?
How can girls and young women at risk be better identified and who should be doing this?
How can girls and young women at risk be supported to prevent violence, exploitation and crisis and to support them to succeed?
Who should be protecting vulnerable girls and young women from exploitation and violence?
What do girls and young women at risk need and how can this be delivered at scale?
Bedfordshire Violence and Exploitation Reduction Unit
The Bedfordshire Violence and Exploitation Reduction Unit (VERU) is a network of different agencies and groups aiming to tackle the root causes of things like gang membership and prevent young people becoming involved in all aspects of gang criminality and exploitation.

[email protected]
You received this email because you signed up on our website or engaged with one of our events.
Unsubscribe