Welcome to this month's edition
Good afternoon!
Though the time has very much past for such greetings, as it's the first VERU in View of 2023 I have no choice but to start by wishing you all a very 'Happy New Year'...and what a New Year it's been.
Here at the VERU we've been off to a flying start. Most recently we were thrilled to welcome the Home Office to Bedfordshire!
The unique visit gave us the incredible opportunity not only to share the work of our in-house Youth Intervention Specialists, but also showcase some of our funded projects to the delegates and hear directly from those that benefit from the funding we provide to community interventions across the county.

We heard from Dan Gaze Support Service who shared his personal experiences in the education and justice system and how that fuels his passion to provide young people with opportunity to learn and grow. We listened as Samsons Academy lifted the lid on this issue of mental health challenges amongst young men and his efforts to combat this. We welcomed CANter Equine as they spoke about their specialist therapy service, beautiful horses and how they're helping young people work through mental health issues and bereavements. 
Young people from Mary Seacole Housing Association and Bedfordshire Open Door bravely shared how support from the respective services gave them the confidence to pursue new and ambitious careers. It was a real pleasure to give space for the arts as Next Generation Youth Theatre spoke about their positive impact. We then watched in awe as a beneficiary of their scholarship programme performed a short but emotive monologue.
We were also honoured to welcome Luton Youth Partnership Service, as they shared the important role statutory services play in keeping young and vulnerable people safe.
This is our VERU Village and despite the enormity of their work, reach and achievements, this is only the tip of the iceberg!
Another big thank you to these amazing projects and for all the others that could not present at this event for their support and ongoing work to tackle violence and exploitation amongst young and vulnerable people in Bedfordshire.

But of course, the success of the day would not have been possible without the VERU team. I would like to share a huge well done to our Community and Engagement Lead Tasha who did a fantastic job pulling everything together. A well done to our Youth Intervention Specialists who delivered a thought-provoking presentation too and to the wider team for their efforts behind the scenes.
What an amazing way to start to the new year, with the opportunity to show the beauty we see in Bedfordshire and a physical reminder of 'why'.
Kimberley Lamb | VERU Director
Out now! Youth Voices Podcast
Watch as Mary Seacole's Youth Voices panel discuss what a healthy relationship looks like, and how celebrity relationships impact our expectations.

Dan Gaze host DJ Workshop
Last month Dan Gaze Support Services and RCT Support Services teamed up with VERU and Flitwick Town Council to deliver an interactive taster workshop for young people aged 12-16 years old.
Run by DJ Tukka & DJ Danny Dutty Mix B, who between them have over 60 years experience across the world, gave young people an insight into the basic skills and tips required to become a budding DJ. 

Referred to the VERU following concerns relating to child sexual exploitation, Child B had faced a number of challenging experiences whilst also navigating a Developmental Language Disorder.
Child B began working with the YIS team last summer. One-to-one work with Child B covered a range of topics including grooming and how to be safe online. These one-to-one sessions were tailored to the child's developmental needs and included the use of videos and songs to ensure understanding.
We are pleased to report that Child B has since successfully completed the VERU programme. During our engagement Child B was able to identify unhealthy relationships and support their friends to be more aware of the different forms of exploitation too. Child B has made a significant improvement, they are aware of the risks posed online and in the community.

The YIS Team worked well with other statutory services to provide a holistic approach to supporting the child's needs, reinforcing the importance of multi-agency working. Feedback from the social worker included '…Their sessions with you have been very beneficial in building self-esteem and confidence. Giving them the opportunity to look at themselves, while encouraging and empowering them to have a voice.'
Last month, Youth Intervention Coordinator Rochelle Browne and Senior Youth Intervention Specialist Roseann Taylor delivered an engaging presentation to Year 11 and Sixth Form Students at Wixams Academy discussing child sexual and criminal exploitation. 
Roseann's powerful delivery captured an audience of over 150 students, as she highlighted a number of key topics including county lines and knife crime. 

Wixams Academy shared some excellent feedback about the delivery. Staff are still commenting on how powerful the session was and have described it as 'brilliant', 'informative' and 'engaging'. 
The academy have since requested the delivery be completed across the school to ensure all its students are empowered with the knowledge of how to keep safe, all in line with our key message – 'it takes a village..' We're delighted to have now completed the vast majority of those deliveries and we look forward to seeing you again soon for the final inputs.

Violence Reduction Unit 2021/22 evaluation published
The introduction of violence reduction units across the country has resulted in a statistically significant drop in incidents of violence without injury, according to new analysis by the Home Office.

Since VRU funding began three years ago, it is estimated that a total of 136,000 (or 243 per 100,000 persons) violence without injury offences had been prevented in funded areas.
Based on these offences avoided, a return on investment of £4.10 for every £1 of serious violence funding (VRU and Grip combined) was estimated.
The analysis, undertaken by Ecorys UK, Ipsos UK, the University of Hull and the University of Exeter, also showed encouraging indications of reductions in homicides and hospital admissions resulting from any violent injury.
These are some really encouraging signs in terms of the long term impact VRUs including our own are having on violence in our communities.
VRUs were a bold and innovative idea which have been on a real journey in terms of their development.
This is a really strong endorsement of their work and with longer term funding confirmed for VRUs for the first time, we look forward to continuing this work over the next two years and beyond.
Safer Streets programme rolled out in schools
The Safer Streets project led by the Police and Crime Commissioner's team is doing fantastic work with government funding in response to violence against women and girls.
This year the team has embarked on its most ambitious project to date with the launch of an education toolkit and competition for every middle, secondary and upper school in the county, as well as colleges.
The design competition is open to all students in year seven and above to create digital art, a short animation and/or a short film to highlight what is inappropriate behaviour and what it would look like from a bystander or a victim's perspective.
The toolkit has been developed in conjunction with the national charity Our Streets Now and includes lesson plans, assembly packs, posters and wider topical and safeguarding information for teachers.
These have been created with guidance from teachers, parents and secondary school pupils. A series of training sessions has also been developed for school staff throughout February.
These themes will be explored at the OPCC's forthcoming youth conference, which we are working closely with them on.
For more information about these projects visit the Safer Streets website or email the team.

Showing no sign of slowing down, Tash has continued to make huge strides as our Community and Engagement Lead.
Over the last few months Tash has been working hard behind the scenes on a number of events including our recent Home Office visit, as touched on by Kimberley, and future events including the Bedfordshire Hope Hack and KickOff@3!
In December, Tash joined Kickoff@3 Co-Founder Michael Wallace to meet with the Luton Town Community Trust and discuss partnering on the upcoming event.
The pair linked up again last week at the National Kickoff@3 planning meeting held at British Transport Police HQ in London, where many people from across the UK & Ireland attended to network and exchange best practice.
Other visits included a trip to commissioned project CANter Equine Assisted Learning and Therapy as they delivered their unique service with a group of young people. Teachers shared great feedback about the impact of the sessions, having seen a positive change in their young people since they began engaging with the service.

Luton Youth Partnership Service
The Luton Youth Partnership Service lead on a number of projects and initiatives that aim to not only prevent young people from offending but support them and their families in being safe, healthy and empowered.
The TREE Project
The Luton TREE Project, (Tackling, Reducing, and Ending Exploitation of Young People in Luton) is a multi-agency initiative aimed at tackling and disrupting individuals and gangs who attempt to groom and exploit young people. As part of the project, the Youth Partnership also deliver training to local organisations who have a prominent role in young people's lives. In December, they provided training to staff at Mary Seacole Housing Association, and in January held a training session with the staff at the Luton Town FC Community Trust.
Open Door Cooking Club
The Open Door Cooking Club is a scheme that helps young people and families to cook healthy and affordable meals.
Luton Youth Council
The Luton Youth Council provides young people with a platform to speak out on issues that affect their daily lives. The members have identified three priority concerns to be addressed to help improve lives for young people in Luton:
Addressing issues around poverty
Improving access to sports facilities for all young people
Increased opportunities for young people
Youth Partnership Service work in schools
The Youth Partnership Service provides workshops and 1:1 mentoring in primary and secondary schools throughout Luton. Youth workers provide sessions on a variety of different topics, including mental health and wellbeing, building resilience and confidence, and gang and knife crime awareness
For more information about all of these programmes and more, please contact the team at [email protected].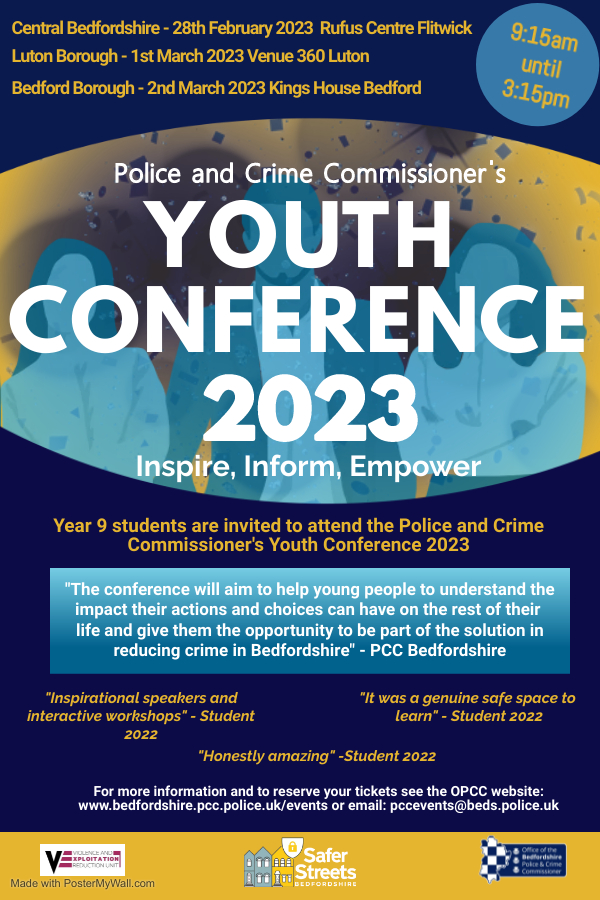 PCC's Youth Conference 2023
Year nine students from across Bedfordshire are invited to attend the Police and Crime Commissioner's Youth Conference 2023!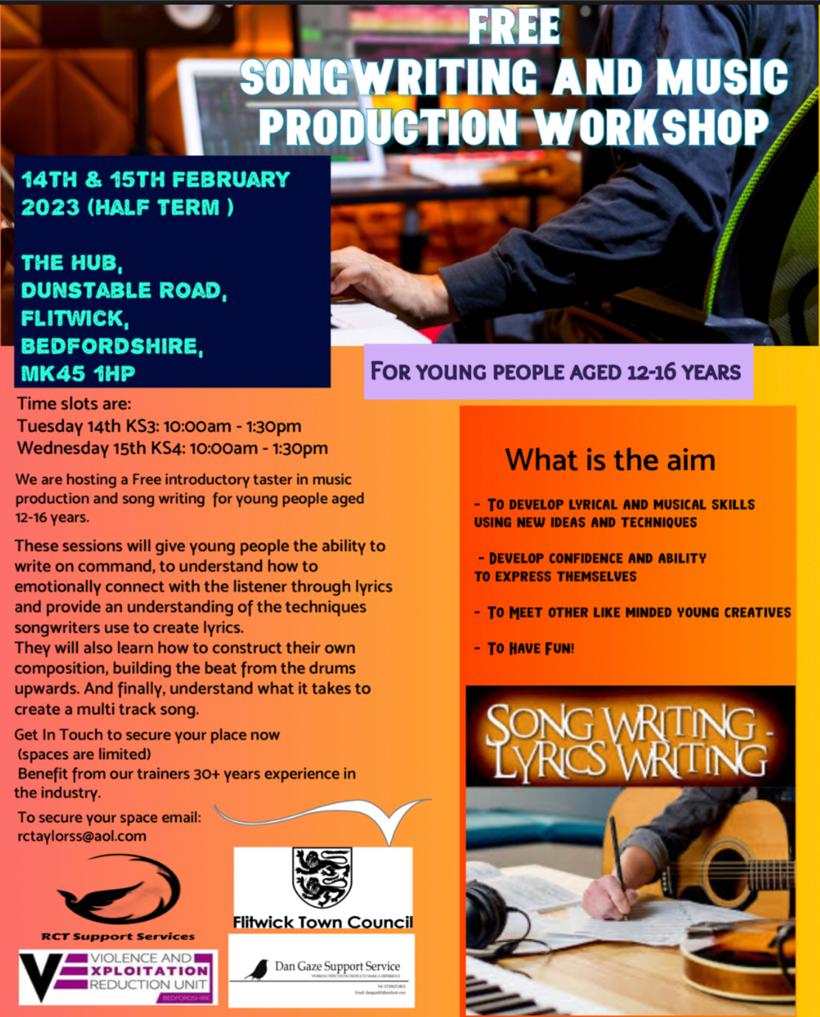 Song Writing and Music Production Workshop
Free introductory taster in music production and song writing for young people aged 12-16 years old.
Stay tuned for more details!
Bedfordshire Violence and Exploitation Reduction Unit
The Bedfordshire Violence and Exploitation Reduction Unit (VERU) is a network of different agencies and groups aiming to tackle the root causes of things like gang membership and prevent young people becoming involved in all aspects of gang criminality and exploitation.

[email protected]
You received this email because you signed up on our website or engaged with one of our events.
Unsubscribe